10 Things You Didn't Know About Adam Holiday (Interview)

Adam Holiday is an artist who has had quite the career; he has had releases on incredible labels such as Solid Grooves, 99 Waves and Suma. He has DJ'ed at places such as Café Del Mar, Tibu, Dreamers and Buddha Beach, drawing influences from the likes of Todd Terry and Paul Van Dyk, Adam's sound is wholly unique and evolves as the scene progresses. We caught up with Adam Holiday to chat about how the music he has grown up with has shaped the artist he is today.
1 — What sort of music did you listen to during your childhood?
I listened to a quite a variety of music growing up, my mom was a huge Queen fan and she would make us listen to their greatest hits on the way to school.
Michael Jackson and Nirvana were on my playlist a lot too and I also remember being quite a big fan of Eminem when he first hit MTV.
It wasn't until I was around 13 when I started getting into electronic music.
2 — What is the one artist who has constantly inspired you?
Erick Morillo for sure, he has been one of the most in-demand DJs for over 20 years and for me personally, no one rocks a club as he does.
He has adapted his sound to suit the changing times but he has still stayed true to his original vibe which can't be said for many DJs.

3 — What song first drew you to the dance music industry?
Paul Van Dyk – For An Angel, I first heard this song in school. Paul came out to a play at a rave in Johannesburg and at the time I didn't know who he was. I searched for his music online and 'For an Angel' came up. I liked the song straight away, I thought this music is so different and that's when I started looking for more electronic tracks and artists.
4 — How has your music taste evolved over the years?
My taste has definitely evolved with the how the house music scene has developed over the years but I would still like to think that the essence of my sound is still the same to what I played when I started out.
Also, now I appreciate different forms of house music, whereas before I was quite set on what I would play and listen to. I think when you start producing a lot of music you begin to appreciate different forms and styles.

5 — When you think of a favourite memory, what song comes to mind and why?
Who Da Funk – Shiny Disco Balls, I heard this track on my first night ever in Ibiza and it happened to be at Pacha. It was one of the best nights of my life and when I think back on that night, this song always comes to mind.
6 – If you could produce any other genre of music what would it be and why?
Other than house music, I think I would be producing trance but later in life, I wouldn't mind making soundtracks for movies similar to the stuff Hans Zimmer produces.
7 — What decade of music do you feel was the most influential?
2000 – 2010, these are the years where I developed my sound to what I play today and produce especially in the early 2000s. The vibe has changed a lot since then but I think if you look back at all the great house tracks they come from this decade.
8 – Where do you mostly find new music?
Haha, that's a secret!
I try to stay away as much as I can from the Beatport top 100, I have my selection of producers and labels that I follow. I also get a lot of promos sent but it is all about hunting to dig out them underground gems that no one is playing.
9 — Tell us one song that we should go and check out?
Do yourself a favour and listen to "Chriz Samz & Maysa – Makuna" on Sondos records I can't stop listening to it! Deep, dirty and driving just the way I like it.
10 — Finally, how do you think the music you listen to defines you as an artist?
Listening to music gives me inspiration when I am in the studio producing a track. I try to listen to different genres to pull ideas or get inspired. I can't speak for everyone else but what I listen to definitively has an influence on the tracks I produce.
---
CONNECT WITH ADAM HOLIDAY NOW!
Facebook
Twitter
Instagram
Beatport
Interview With Legacy: Rap, Poetry, New Music & More

Get to know Legacy, a skillful rapper who dominates the art of poetry like none other. Hailing from Arizona, his songs are gaining a lot of traction with almost 15K streams on SoundCloud. If you are looking for fresh Hip-Hop talents, then scroll down to read this interesting interview.
1 — Can you recall the moment when you thought you could be a rapper?
Honestly, I don't think I really decided lol. I was writing some poems one day and started learning how to time the syllables to the instrumentals I would find on YouTube and it became something I couldn't stop doing.
2 — How do you think your hometown has influenced the kind of music that you make?
My hometown influences everything I do, it's why I'm anxious, depressed, and happy all at the same time. Every day can be good or bad, someone can give me a dirty look one day or trash talk me and I remember the instance and add it to the stories.
3 — What's so special to you about poetry that you seem to love so genuinely?
Poetry requires you to face the darkest emotions. It makes you think about and actively reflect on everything you do and say. So when I've had a bad day, instead of bottling it entirely, I can vent through a verse – which in turn people hear and support my efforts to make it through my everyday life.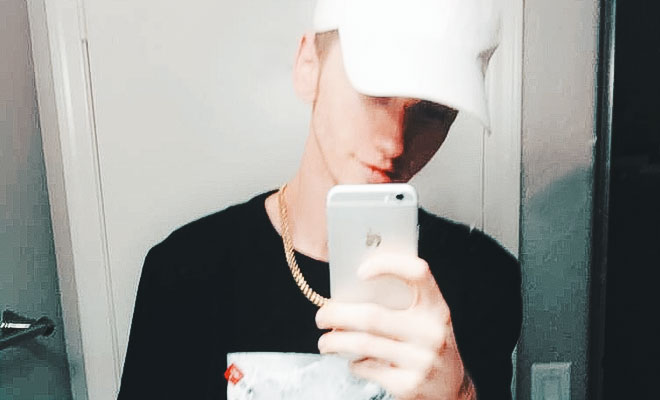 4 — Where did you take the inspiration to write most of your lyrics?
The inspiration lives in the lifestyle, the good experiences, and the bad.
5 — Do you think a good rapping performance comes from a good rapping technique? If so, what's yours?
In my opinion, if the fans/listeners are connected to what you're saying emotionally, and mentally, your performance has achieved its goal. People like having people they can relate to, all I'm doing is bringing those emotions into a poem and instrumental.
6 — Please tell us more about your song "Bad Feelings". What's the message behind it?
"Bad Feelings" is actually quite old and I'm just now really pushing for the exposure while my page is still young. However, the message never dies. What I really want people to take away from this song is that no matter what happens, no matter how hard it gets, just keep doing your thing. Time will make it better. Set goals. Keep dreaming. The longer you wait the harder it gets.
7 — As an artist, how do you deal with criticism?
Criticism is everywhere. You can walk a certain way and be judged for it. Listen to the bad things, only sometimes, when they help you improve. And hold the good things close and carry them with you. The good comments and feedback are almost a shield to the bad. They help you realize that one bad comment is one of many other really good ones. So all you can do is keep moving.
8 — Are you afraid to experiment with different music styles?
Yes, and no. It depends on the meaning of "style." Like, I hate my singing voice but I'm not afraid to try out other flows and techniques.
9 — What are your current projects?
The "Mindset EP." I'm dropping two more tracks as of right now to finalize the project. "Motion" and another untitled track that I'm working on in collaboration with my newest partner "Yung Cubb".
10 — Finally, if you weren't an artist today, what else could you see yourself doing?
Being a pro-CoD player. 💀
---
CONNECT WITH LEGACY NOW!