Top 5 Stylish Fitness Gadgets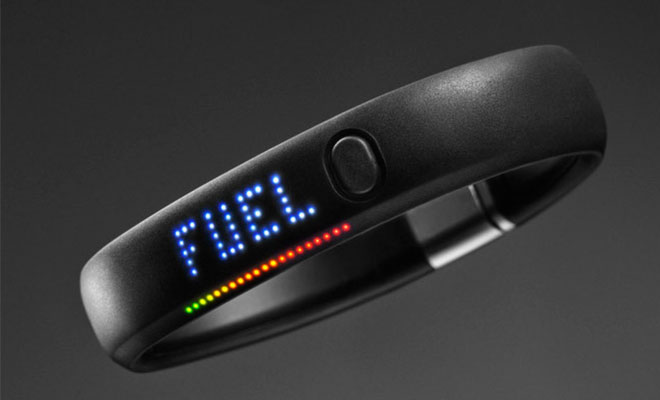 Keeping fit is not easy but it is not impossible. This has especially been made possible with the use of various devices designed to be your partner in your fitness journey. There are so many such fitness gadgets flooding the market choosing the best may not be easy for you. Here are the leading 5 in this category:
The more active you are in your daily routines, the fitter you are. Keeping track of this progress can go a long way in enabling you to give yourself a pat on the back. It motivates you to strive to do better and keep fitter fir better health. It is with this in mind that the Nike Fuelband was designed. It keeps track of the number of steps a person takes in a day and records them as fuelpoints. The more points you get, the healthier the lifestyle you are living. This band keeps track of the points by many others in the program hence boosting the morale to keep doing better than those who beat you and improving your score.
The heart is the main organ running the body band its optimal health is important as it determines the difference between life and death. With the LG HRM earphones, you can keep track of your heart's functioning while enjoying your favourite music. Simply download the app to your android or iOS device, place the strapping onto your waist or arm and plug in your earphones. You will get all the information you need to your ears, from the metabolic rate to the maximum oxygen consumption. The built-in microphone will come in handy in case of any abnormalities to help you get in touch with your doctor as soon as possible.
Are you a person who keeps stooping or assuming the wrong posture most of the time? Then this device is the right solution for you. Improve your pose and gain more esteem by simply placing the device on your back, installing the app on your smart device and learning how to be disciplined. Upright will simply teach you how to be upright by reminding you whenever you stop doing so. This is achieved by vibration of the device whenever the wrong posture is assumed. The good news is that the device is so small you can forget you are even wearing it and the comfort is simply unbeatable.
Whether you are performing your runs indoors or outdoors, this will prove to be your number one partner. By using QuickGPSFix Technology, it will keep track of your location and guide you to where you need to go fast and easily. An in-built heart rate monitor will keep track of all the changes in the heart during runs and help you ensure that you are not harmed while attempting to keep fit. You can link it to a device of choice via Bluetooth.
Just like the Tomtom runner cardio, this device has an in-built heart-rate monitor. This however is not all it offers. Keeping track of calories burnt and measuring the quality of sleep are its other functions. With an LED indicator to show when over-exertion is reacged you can be assured that with this device on your wrist you will not have to deal with any major health issues. All you need to do is stop when warned to do so.
7 Amazing Tips Of How To Take Care Of Your Custom T-Shirt

We all have that one favorite custom t-shirt which we would love to wear all-year-round if circumstances would allow. We tend to treasure that custom t-shirt as it does come with great memories.
However, the sad truth is that if not properly taken care of, these custom t-shirts tend to fade away and in some other cases, wrinkle. It has happened to most of us. The good news is that today we shall look at seven amazing tips on how to take care of your t-shirt so that you no longer have to worry about any other discoloration, wrinkle or any fuzzy textures.
💠 Avoid using bleaching detergents
Do you love your custom t-shirt? Do you like the color of your custom t-shirt? If the answer is yes, then you should stay away from bleach detergents. Why? Bleach or any strong detergents will dissolve the adhesive in cad- cut vinyl. Gradually using bleaching detergents or any strong detergents does lead to discoloration of the custom t-shirt.
💠 Use cold water for cleaning purposes
Do you intend your custom t-shirt to last for more extended periods? Then you should use cold water for cleaning purposes. Why? Using warm or hot water does make the color of the custom t-shirt to fade away quickly, and you do not want that. Also, it does interfere with the general texture of the custom t-shirt. Use of cold water does add that extra precaution and care while also prolonging the life span and condition of the custom t-shirt.
We do recommend that you hand wash all of your custom t-shirts. While washing, always turns the t-shirt upside down. Turning your custom t-shirt upside down does help to increase the custom t-shirt life by decreasing the fading of the colours.
💠 Avoid mixing custom t-shirt with a regular t-shirt
You probably saying to yourself, you already know this. As it laundry 101. However, what you did not know that you are not supposed to mix custom t-shirt with clothes that have zips or buttons. Clothes that have zips and buttons can rub against the custom t-shirt, causing more harm than good. In some cases, washing custom t-shirts with dresses that have zips and buttons tend to lead to pilling off the custom prints.

💠 Turn the custom t-shirt upside down while washing in a washing machine
Although we have talked about hand washing your custom t-shirts, the truth is we are all lazy. 90% of those who are reading this article, are probably thinking; who in this time of age has the time to hand wash clothes? If that is the case, you do need to know this. When it comes to washing any custom t-shirt using washer always turn the custom t-shirt inside out. Turning your custom t-shirt inside out does allow for one to properly clean the custom t-shirt without interfering with the colour or the prints.
💠 Avoid using the dryer
We are living in a digital world. While technology has brought so much good into our lives. It does come with its share of misfortunes. When it comes to a custom t-shirt, technology can lead to a decline in the lifespan of the custom t-shirt. While you will be tempted to dry your custom t-shirt using a dryer, never do that. Instead, take your custom t-shirt and place it under a shade. Do not put it under direct sunlight as exposure to sunlight can lead to fading of colour. Also, while drying, hang your custom t-shirt inside out.

💠 Never Iron
We all want to look clean and smart. One way of achieving this is by ironing our clothes. The bad news is that when it comes to custom t-shirt ironing does cause more harm than good.

Generally, custom t-shirts do not do well under high heat. In most cases, ironing does lead to distortion of the beautiful prints on the custom t-shirt. Instead of ironing your custom t-shirt, you can always fold the custom t-shirt and place it strategically place it under your pillow or bed. Your custom t-shirt will look as if it has been ironed. If you do have to iron your custom t-shirt, always place your iron under low heat settings. Also, turn your custom t-shirt inside out while ironing.
💠 Check the Instruction of the custom t-shirt
Each custom t-shirt is made from a variety of materials. With each element having different quality. Always keep in mind that different materials do react differently to soap or water. Understanding this will help you prolong the lifespan of the custom t-shirts. If you have no idea of the quality of the custom t-shirt, always check on the collar. There are usually manufacturing details. Some manufacturers go an extra mile, and they do provide the right instructions on how to properly manage custom t-shirts.
Conclusion
Do you love your custom t-shirt? Maybe it is that one t-shirt that you bought together with your partner. Or it is that t-shirt that you bought while on vacation. Unlike other t-shirts, custom t-shirts do come with a lot of memory. Some may be good, and some may be bad, at the end of the day they are still memories you cherish.
Today we have looked at seven amazing tips of taking care of your custom t-shirts. Hopefully, with our help, you can prolong the lifespan of your custom t-shirt.
Do you have any fantastic tips you would like to share? Share with us in the comment section below. Also, if you do have any questions or feedback, feel free to get in touch with us in our comment section — happy custom t-shirt cleaning.