Top 5 Stylish Fitness Gadgets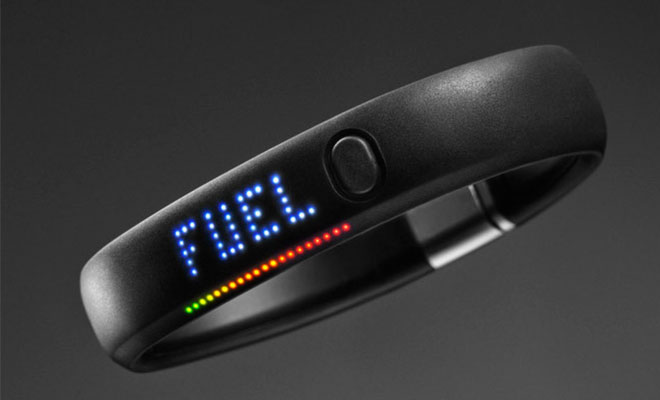 Keeping fit is not easy but it is not impossible. This has especially been made possible with the use of various devices designed to be your partner in your fitness journey. There are so many such fitness gadgets flooding the market choosing the best may not be easy for you. Here are the leading 5 in this category:
The more active you are in your daily routines, the fitter you are. Keeping track of this progress can go a long way in enabling you to give yourself a pat on the back. It motivates you to strive to do better and keep fitter fir better health. It is with this in mind that the Nike Fuelband was designed. It keeps track of the number of steps a person takes in a day and records them as fuelpoints. The more points you get, the healthier the lifestyle you are living. This band keeps track of the points by many others in the program hence boosting the morale to keep doing better than those who beat you and improving your score.
The heart is the main organ running the body band its optimal health is important as it determines the difference between life and death. With the LG HRM earphones, you can keep track of your heart's functioning while enjoying your favourite music. Simply download the app to your android or iOS device, place the strapping onto your waist or arm and plug in your earphones. You will get all the information you need to your ears, from the metabolic rate to the maximum oxygen consumption. The built-in microphone will come in handy in case of any abnormalities to help you get in touch with your doctor as soon as possible.
Are you a person who keeps stooping or assuming the wrong posture most of the time? Then this device is the right solution for you. Improve your pose and gain more esteem by simply placing the device on your back, installing the app on your smart device and learning how to be disciplined. Upright will simply teach you how to be upright by reminding you whenever you stop doing so. This is achieved by vibration of the device whenever the wrong posture is assumed. The good news is that the device is so small you can forget you are even wearing it and the comfort is simply unbeatable.
Whether you are performing your runs indoors or outdoors, this will prove to be your number one partner. By using QuickGPSFix Technology, it will keep track of your location and guide you to where you need to go fast and easily. An in-built heart rate monitor will keep track of all the changes in the heart during runs and help you ensure that you are not harmed while attempting to keep fit. You can link it to a device of choice via Bluetooth.
Just like the Tomtom runner cardio, this device has an in-built heart-rate monitor. This however is not all it offers. Keeping track of calories burnt and measuring the quality of sleep are its other functions. With an LED indicator to show when over-exertion is reacged you can be assured that with this device on your wrist you will not have to deal with any major health issues. All you need to do is stop when warned to do so.
Their clothes may outgrow them in the blink of an eye, but boys in high-school and college are also keen to look good and fashionable. This year was an interesting year in fashion for young boys, and it has proven to be a completely independent element of the fashion industry.
Boy's clothing should be comfortable for him to enjoy themselves in and look good and feel confident in. Almost everything counts from the colors to the designs right down to the stylishness of a complete outfit. Knowing the latest fashion trends will also make it easier to shop for new clothes if you have a little insight on what to buy.
Cool Colors for Boys
Warm colors make the most sense for boys throughout the seasons. Colors like coral were noted as one of the best colors for boys. Top brands agree! They were all over the trend this year and you can find coral colored tops and sweaters within your price range.

You can also go with black, brown, dark blue, gray and white for neutrality. Black and gray is also ideal for avoiding stained clothes and are generally easier to wash.
Cartoon Characters are Never Outdated
Characters like Mickey Mouse may be 91, but they are never out of style! Luckily there's a variety of merchandise with their favorite characters. Superheroes are also never out of style. The trick for winter is to make sure you have enough variety in the form of long-sleeved options and picking out some warm items featuring their favorite characters.

However, to look good and for your wardrobe to improve, you may need some income, which means you might need to look for some part-time job.
If you can't juggle school work and a part-time job, you can use the services of EduBirdie. The online professional writers will help you with everything that you need, from thesis to dissertation and college essays to homework.
Fresh Choices for Winter
In the cold season, warm jackets are great for boys. However, they might be a little bulky for some activities in college. The trick is to find a lightweight jacket that is also warm and comfortable and well insulated. These comfy jackets can range from metallic tones to a simply black hoodie with a hood.
The same goes with shoes; stylish winter boots offer both the options of style and comfort without compromising the latest fashion trends. Another option for keeping warm and trendy is by wearing a grandpa jersey; the grandpa jersey is back in style and offers extra comfort and warmth.
Cute in Denims, Tracksuits & Dungarees
From straight cut slacks to a set of dungarees – all you need is a cool t-shirt to complete an outfit. Straight cut slacks come in various cool colors and also offer great comfort and the waist is usually adjustable according to the child's size.
Tracksuits are also a great option, and offer simplicity and comfort and takes a lot of time off getting ready to go somewhere. Dungarees are also one way to ensure your little boy looks stylish and the multiple pockets offer lots of room for boys who like collecting stuff.

Dressing for Special Occasions
Special occasion coming up, and confused about what to get for yourself? You can never go wrong with a classic business suit, and for everyday use, you can swap the shirt for a turtleneck or a simple t-shirt and a jumper in winter. You can also look for lighter suits that don't necessarily constrict movements and provide ample comfort.
Cute Prints and Camouflage Designs
Prints and military-style fashion will never go out of date in the fashion world of boys; they are forever relevant. Prints vary in shapes, lines, and motifs and most of them accommodate different personalities. Many fashion lines have drawn inspiration from marine themes and created clothes featuring sea creatures.
Boys also generally love camouflage designs that mimic military uniform and these items include khaki suits, jackets, pants, decorative patch pockets, cool badges, and shiny buttons, among other elements. The military-style clothes are also fashionable in conjunction with bright colors like pink, blue, green and yellow.
Summertime Fun & Functionality
In summer, boys would typically be seen wearing t-shirts, light linen trousers, and shorts. However, you can experiment with all sorts of styles.

For instance, there are a variety of t-shirts available to play with in terms of design, color, and print. In addition, cargo shorts can never go out of style for a trip to the mall or a trip to the beach! Cargo shorts offer multiple pockets that are nice and spacey as well.
Conclusion
Shopping for clothes should not be a hassle, and should be as fun as the fun you will have once you get to have in your new and fashionable clothes.
At the top of the agenda, of course, is functionality and comfort so that you can have all the fun in the world while enjoying the confidence of looking good. Finding the right look for yourself is a lot easier once you know how to put together a cool outfit.
Author Bio
Alvin Franklin is an education expert who blogs regularly around student life in college and university. He also works as a student coach helping them overcome their life issues and build a better career. In his free time, he reads novels, plays guitar and learns new languages.