Top 5 Stylish Fitness Gadgets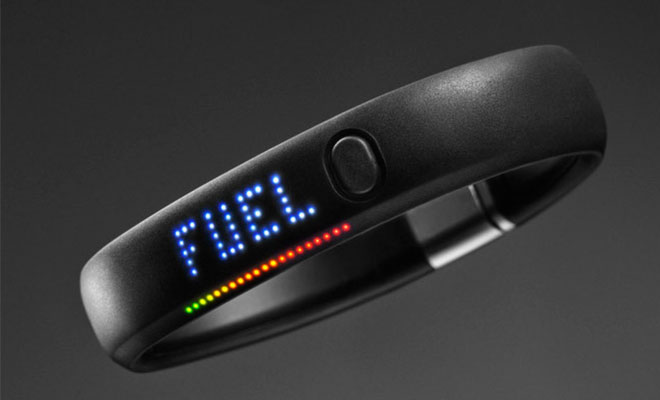 Keeping fit is not easy but it is not impossible. This has especially been made possible with the use of various devices designed to be your partner in your fitness journey. There are so many such fitness gadgets flooding the market choosing the best may not be easy for you. Here are the leading 5 in this category:
The more active you are in your daily routines, the fitter you are. Keeping track of this progress can go a long way in enabling you to give yourself a pat on the back. It motivates you to strive to do better and keep fitter fir better health. It is with this in mind that the Nike Fuelband was designed. It keeps track of the number of steps a person takes in a day and records them as fuelpoints. The more points you get, the healthier the lifestyle you are living. This band keeps track of the points by many others in the program hence boosting the morale to keep doing better than those who beat you and improving your score.
The heart is the main organ running the body band its optimal health is important as it determines the difference between life and death. With the LG HRM earphones, you can keep track of your heart's functioning while enjoying your favourite music. Simply download the app to your android or iOS device, place the strapping onto your waist or arm and plug in your earphones. You will get all the information you need to your ears, from the metabolic rate to the maximum oxygen consumption. The built-in microphone will come in handy in case of any abnormalities to help you get in touch with your doctor as soon as possible.
Are you a person who keeps stooping or assuming the wrong posture most of the time? Then this device is the right solution for you. Improve your pose and gain more esteem by simply placing the device on your back, installing the app on your smart device and learning how to be disciplined. Upright will simply teach you how to be upright by reminding you whenever you stop doing so. This is achieved by vibration of the device whenever the wrong posture is assumed. The good news is that the device is so small you can forget you are even wearing it and the comfort is simply unbeatable.
Whether you are performing your runs indoors or outdoors, this will prove to be your number one partner. By using QuickGPSFix Technology, it will keep track of your location and guide you to where you need to go fast and easily. An in-built heart rate monitor will keep track of all the changes in the heart during runs and help you ensure that you are not harmed while attempting to keep fit. You can link it to a device of choice via Bluetooth.
Just like the Tomtom runner cardio, this device has an in-built heart-rate monitor. This however is not all it offers. Keeping track of calories burnt and measuring the quality of sleep are its other functions. With an LED indicator to show when over-exertion is reacged you can be assured that with this device on your wrist you will not have to deal with any major health issues. All you need to do is stop when warned to do so.
6 Tips For Sewing Sequin Fabric
Sequin fabric can be called as the peacock of this fabric world. So flashy, so pretty, and absolutely irresistible! And the best part is it that you can sew it within minutes and that too without any hassles. You can easily transform a boring top or skirt with quick sequin work.
If you too are looking to revamp your old dress into something glittery and flashy, follow these simple tips to get that perfect look!
Go for a Simple Pattern
First things first! You need to determine the texture of your sequin fabrics like is it stretchable or not. Sequins are generally a bit bulky as compared to the tee-shirt or dress fabric and might develop a bulge. To be on a safer side; for a simple pattern like butterfly, flowers or a ladybug to start with. Though you can do some add-ons if your dress can handle it!
Don't forget the Lining
If you haven't worn sequin dresses in the past, this is a very important tip for you. Sequins can get really uncomfortable and scratchy if directly sewed on the dress. There are two options with you; either you select a dress which already has lining attached to it, or go for a pattern which includes lining in it.
Take care of your Scissors and Needles
Sequins are made from hard plastic material and are available in different colors and shapes. While sewing sequins in your dress, you need to be extra careful with your equipment. They are hard enough to dull any sharp scissors. Go for leather needles which can pierce the sequins right into the dress and saving your equipment as well.

A Press can do Wonders!
We all know that a hot iron can damage the shine of sequin. So what should be done to align them in a single direction? You can apply a bit of pressure to completely flatten them in sync of the design. Most of the times, this trick will work for you. Still, if you are looking for some more perfection, go for a rolling pin or similar things.
Prevent a Mess!
Working with sequins is undoubtedly a tough task. First you need to be extra careful with the color and shape of the sequin; second, you also need to prevent yourself from causing a mess both in your home and dress. Many times, sequins do slip and fall in the gap of the cloth that is folded with the help of sewing machine.
Best of all, make sure you sit in a clean place and clear any extra sequins sticking to your dress. This will not only enhance the intricacies and stitch of the dress but will also prevent you from public embarrassment.

Don't forget to Mark the Fabric!
Avoid starting a sequin stitch directly on the fabric. It is advisable to make a mark or outline for the design and then start stitching. This will eliminate any chances of error in the final design. Also marking on the front side of the fabric might leave its marks on the fabric. It's better to do the marking on the inside part of the dress.
No need to sweat it out!
Generally, we don't prefer to wear sequin dresses frequently. They are meant to be flashy and glossy. So, my point here is, it's okay to leave the sequins in the seam allowance. This can be a personal choice of the wearer, but the decision should be taken according to its frequency of usage. Also, you should consider removing it if it discomforts you.
These were some simple and useful tips for sewing sequin fabric. Sequins can do wonders to any fabric by adding a lot of styles and shine to it. It is essential to select the appropriate sequin color and shape that goes well with your outfit.