East & Young feat. Raphaella on Big & Dirty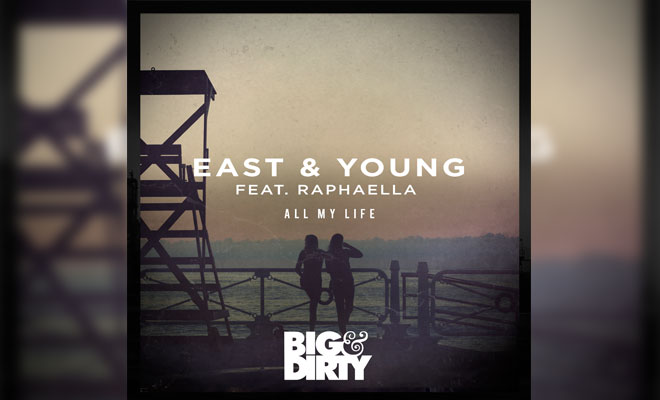 Big & Dirty Recordings is making music the right way. The label has no formal agenda, just prides itself in seriously good EDM tunes and keeping the creative process fun. Electronic music is inherently heartfelt, and Big & Dirty strives to convey that by creating a contemporary platform for a versatile group of artists. Behind the fun and fresh face of Big & Dirty lies heavy-hitting talent ranging from household names to some of the most promising up-and-coming artists in dance music. Recently, their roster tends to favor heavier basslines and big beats, but their newest artist East & Young brings a fresh touch of melodic to the table.
The Dutch duo of East & Young specializes in melodic, progressive house with a unique twist of fun-loving energy. Their newest release, "All My Life," doesn't quite reach the point of being an aggressive festival banger, but has an upbeat daytime vibe that is guaranteed to boost your spirits. Featuring autotuned, muted vocals and a dreamy melody, "All My Life" makes the listener want to dance under an electric sky with that special person who makes your beat a little faster and your hopes soar a little higher. East & Young have released successful singles on labels such as Ultra, Calvin Harris' Fly Eye Records, Big Beat/ Atlantic, Spinnin', and Defected; adding Big & Dirty to their repertoire opens doors to another niche of electronic dance music, and we can't wait to see what this dynamic duo comes up with next!
MORE INFO ON BIG & DIRTY / EAST & YOUNG
www.facebook.com/biganddirtyrecords
soundcloud.com/biganddirtyrecords
www.facebook.com/eastandyoung
https://twitter.com/eastandyoung
Nicky Romero & Florian Picasso Team Up For Uplifting, Progressive House Anthem "Midnight Sun"

Protocol Recordings label head Nicky Romero and powerhouse veteran Florian Picasso have teamed up for "Midnight Sun", a Progressive House anthem that will make your soundtrack to the upcoming festival season. Drawing from both Nicky's progressive melodies and uplifting vocals as well as Florian's signature, groovy instrumental sounds, the track evokes feel-good, carefree vibes that will last long after its final notes. "Midnight Sun" draws to a big-room crescendo at its drop, making for a guaranteed dance floor smash that you'll be hearing played out at every festival on your list. Check out what the guys have to say about their second collaboration, as they've already worked together in 2017 on "Only For Your Love":
"Working with Florian is always a pleasure, and we have a ton of fun in the studio. From the moment we started on this record I knew it was special and it all finally came together when we connected in Miami for Ultra. I'm hoping the fans will love it as much as we do." – Nicky Romero
"'Midnight Sun' has a lot of my own style, but Nicky took it to the next level and really helped the record to get to its full potential." – Florian Picasso
STREAM/DOWNLOAD
Nicky Romero has quickly progressed from a young musical prodigy to one of the most prolific names in modern dance music. He is not only a talented DJ and producer but also the label mogul of Protocol Recordings and a mentor to the up-and-coming artists whose careers he helps to cultivate. Romero has both high-profile originals and hit collaborations with artists including Avicii, Calvin Harris, NERVO, ZEDD and more. His latest releases have spanned the spectrum of electronic music, including his recent "Ups & Downs" with W&W, "Ring the Alarm" with David Guetta, dance/pop cross-over "Sometimes" with DallasK, featuring XYLØ, and remixes for Martin Garrix and Jess Glynne. Through the constant evolution of his sound and reinvestment in emerging artists, Nicky has proved his ability to evolve with the ever-changing landscape of electronic music. Nicky's collaboration with Florian Picasso takes us back to the roots of the prominent progressive sound.
Florian is synonymous with a high-octane style of dance music that focuses on larger-than-life, unrelenting riffs and raw textures and is squarely focused on the dancefloor. It's evident from the perfect company he keeps in his release schedule that he's an artist with high standards and one whose output is piquing the interest of electronic music's uppermost elite. After being a good friend of Martin Garrix's for some time, Florian collaborated with the young superstar to produce the massive Make Up Your Mind: a turbo-charged, glitchy, rowdy slice of electro house. The track received over 2M plays in just three weeks after release, cementing Picasso's rapidly rising status and introducing him to a vast new audience in the process. Above all, though, he's staying grounded through all this success.
CONNECT WITH NICKY ROMERO NOW!