Album Review: Forest Robots – Supermoon Moonlight, Pt. One

Forest Robots' first album examines the wonders of nature through music. 'Supermoon Moonlight, Pt. One', was born after the LA composer explored the landscapes at Sierra Nevada. According to the artist, this record makes a call to spend more time outdoors, and it's especially dedicated to his daughter. Furthermore, If I am not mistaken, he features some elements of classical music in conjunction with pure Electronica. In addition, the song titles seem to be taken from a very poetic world that is correlated with the album name. This turns out to be a fantasy story in the midst of nature but there are no vocals, just exquisite ambient sounds.
Following, you will enjoy my concrete analysis track-by-track.

1 – A Path Among the Woods
There's a strong distortion that intentionally alters the smooth composition, but at the same time, this becomes a magical effect. On the other hand, the harp that can be heard throughout the song gives this intro track a touch of refinement.
2 – Times When I Know You Watch the Sky, Pt 1
The continuous chimes remind me a little of the Christmas season. Indeed, I also found myself immersed in its cinematic beat construction.
3 – Shapes Shifts in the Distant Shadows
Here we have lively electronic music and something more danceable in comparison with the previous two that are designed rather to contemplate them sitting on the sofa or lying on the bed.
4 – Last Silvers of Moonlight
A dark piano melody will captivate you from the beginning to the end. The first thing that comes to mind is a horror or thriller movie. An excellent piece that makes a contrast with the rest of the tracks of this album. I really think Forest Robots has a brilliant future as a composer of soundtracks for Hollywood movies.
5 – Silhouettes Follow the Echoes
For a moment, I felt I was floating in space. It might sound funny to say, but this song applies very well to astronauts. By all means, he creates a progressive tune and its rhythm becomes more intense little by little.

6 – Then the Spider Turned into a Cloud
The slow and gentle sound creates a mysterious atmosphere. I would venture to say he also incorporates oriental sounding instrumentation at the same time.
7 – Mandelbrots in Winter
At the start, I thought this was very relaxing but then the TR-808 drum beats came to provide dynamism and something vibrant to the whole song. Without this last element, this could have been a downtempo number.
8 – While Birds Dream of Dawn and Wind
Once again, I think he repeats the same synths that were used on the previous track. The only difference I found is the presence of new audio effects that seem to come from outer space.
9 – By the Stillness of the Lake
This is the shortest song from the album. With just one minute and seventeen seconds, Forest Robots designs a soundscape that feels delicate. A little melody that incites you to enter the alpha state of mind.
10 – Follow the Towers to the Moon
The album has a great ending with bright melodies. An array of colorful electronic textures are properly calibrated to leave listeners with a memorable experience.
In conclusion, if the day has you stressed or worries go round and round in your head, then 'Supermoon Moonlight, Pt. One' is the best free medicine. Just close your eyes and chill out with these wonderful compositions.
CONNECT WITH FOREST ROBOTS NOW!
The Next Big Name In Manchester's Electronic Music Scene, Echo-Eclipse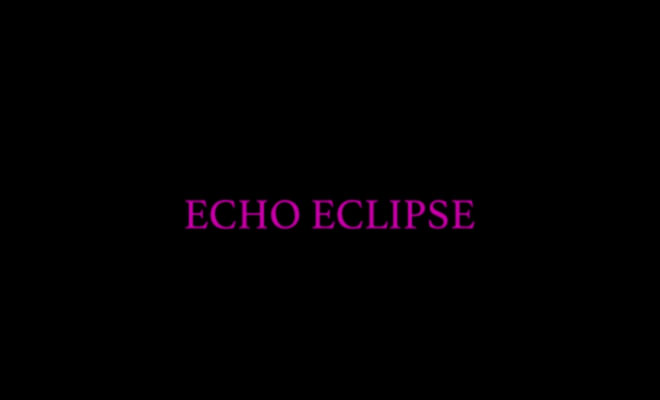 Meet Echo-Eclipse, he could easily become the next big name in Manchester's electronic music scene. Taking sonic elements from the 80s, retro and futuristic synth lines make his new single shine like gold. I'm talking about, "Rogue Simulation", which will be included in his upcoming 5th album. This style is definitely making a comeback in the 21st century.
On the other hand, use your imagination with the help of the visuals below, and you'll feel like driving late at night across a whole new dimension. As the engines roar, it'll be cool to think about how neon lights surround you within the vehicle. At just 23-years-old, the versatile, creative, and dynamic producer has released a total of 5 records. And most of them recorded in his bedroom. Believe it or not, he's completely self-taught and his biggest dream is to collaborate musically with The Weeknd. Get more updates and news on his socials.
CONNECT WITH ECHO-ECLIPSE NOW!