Album Review: NTFRMHRE – 4th Dimension

You may have noticed that I'm a fan of NTFRMHRE. To be precise, I started to like his music in May, when he released a clip for the single "Somebody Like You." Not so long ago, he released his new album '4th Dimension'. A splendid original that's definitely worth listening to. You're in for a treat with a total of 9 tracks that are the result of merged styles. That all means that this album will please all tastes. It's clear that NTFRMHRE had a new perspective when producing all these tunes. His concept proves that it is possible to combine different subgenres of electronic music. The reason is simple: It is totally better to listen to a sonically rich and stylistically broad album than one, with a narrow approach. Are you ready to enter the 4th Dimension?
Check out this track-by-track take on the record.
1 – Netjer The album opens with an instrumental track with a futuristic sound. Here the producer is applying some jazz principles into Electronica. A mélange of fast breakbeats, synths, and of course bass.
2 – Xtrapolated I like how the intro keeps a continual sound following on from the previous song. A progressively-infused tune that takes on a life of its own. Despite the cinematic feel to it, tribal drums and uplifting chords are also in the mix as they get louder and louder… it's pretty cool.
3 – Electricology NTFRMHRE now dives into the deep sounds. I love the housey vibe and the female vocal samples. It's always a winning formula in music terms since the early 90s.
4 – Pac-man It's party time!!! I do not say this just because I'm addicted to this arcade game. What really goes on is that the dose of Electro House in this tune is amazing. The Philadelphia artist didn't use part of the original theme, on the contrary, he transforms the waka waka sound creatively.
5 –  Somebody Like You My favorite song has to be "Somebody Like You". It became the first single before the official release of this record. The emotional EDM vocal track is sung by Scott Thomas. As I stated before in another article, it features haunting melodies that create a chill vibe, and it's extremely catchy. This number deserves to be a radio-friendly hit.
6 – 4th Dimension In my examination of each tune, I am now understanding that all of them have their own essence. The pumping nature of this tune will make you want to go to raves and dance all night long.
7 – Looking For You If NTFRMHRE wants to attract fans who like commercial music, then this could be the right choice as the second single. The sweet and girlish vocals from MRS and the energy of this tune is a bound to get any crowd moving.
8 – Wicked Thing Dubstep was not forgotten on the '4th Dimension' album. This one sounds a bit like the German band Scooter with a clear influence of Reggae music. A strange but interesting combination, isn't it?
9 –  Peace What a great way to end the album with relaxing sounds complemented by a nice piano melody and electronic beats. An absolute must hear record from a talented man.
---
CONNECT WITH NTFRMHRE NOW!
Big Gigantic To Embark On Twenty-Date Brighter Future Tour (Vol II)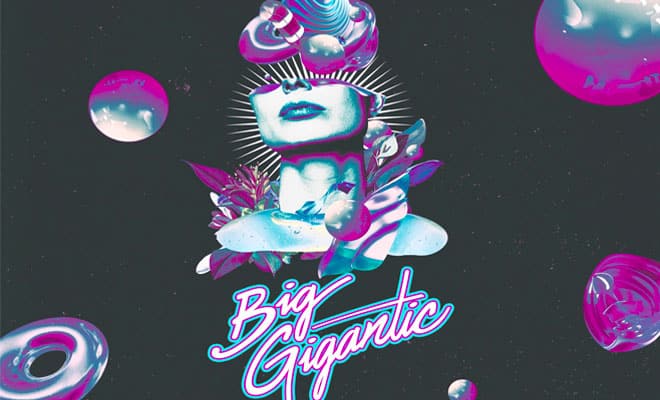 Big Gigantic will be taking their big, gigantic show on the road this winter for a twenty-date trek across the U.S, and they'll be bringing along an incredibly eclectic group of supporting acts who were just announced today; Tvboo, Eazybaked, Smoakland, A Hundred Drums, Ahee, Jaenga, Superave, Levity, Lizzie Jane and MZG. This veritable who's who of up-and-coming electronic artists will be appearing in different combinations at different shows; full details along with dates, tickets, and more can be found here.
The Brighter Future Tour Vol II will cap a wildly successful run which started last June with the release of the Brighter Future 2 album. Stacked with anthems like "Keep on Rising" [feat. Aloe Blacc], "Open Your Mind" [with GRiZ], "Just the Same" [feat. Vic Mensa & Mick Jenkins], and "Free" [feat. Elohim] the album became an instant classic for the band. To add to the celebratory launch of the tour, Big Gigantic just released a re-work of the aforementioned "Keep On Rising", just in time for the tour kick-off in Columbia, SC on 2/1.

Known for genre-bending production, live instrumentation, and a dedicated relationship with fans, Big Gigantic first amplified their hopeful message for the future on Brighter Future in 2016. It reeled in hundreds of millions of streams independently and touted bangers a la "All of Me" [feat. Logic & ROZES], "The Little Things" [feat. Angela McCluskey], "Highly Possible" [feat. Waka Flocka Flame], "Wide Open" [feat. Cherub], and more. Their music would be utilized by everyone from Apple, Wimbledon, NASCAR, NBA, HBO, and Fox to the trailers for Valerian and Dirty Grandpa. They've ignited the bills of Coachella, Lollapalooza, ULTRA Music Festival, Hangout Music Festival, Electric Forest, and Bonnaroo. Plus, they headline and consistently sell out their own Rowdytown at Red Rocks Amphitheatre—now in its 11th year for 2022. Putting their words into action, they run the 501(c)3 A Big Gigantic Difference Foundation, which supports non-profits for at-risk youth, music education, and more. Thus far, they have raised $1 million-plus for charity. In the midst of the Global Pandemic, they continued to create, pushing forward towards what would become Brighter Future 2.
CONNECT WITH BIG GIGANTIC NOW!
Experience Hypnotic Soundscapes Of Faisal J Key's New Music

Faisal J Key is a skillful electronic music producer and composer hailing from Saudi Arabia. With a passion for crafting hypnotic soundscapes, his recent cut "Roses Nudge" is sure to transport listeners to another dimension.
Drawing inspiration from the likes of Hozho, Tale Of Us, ARTBAT, Adriatique, and Mind Against, he proves to be at the forefront of the underground scene. Furthermore, he also has an exceptional ear for blending sonic textures while creating compositions that are both attractive and contagious.
Faisal J Key's debut was nothing short of explosive, he has continued to impress with a string of gems including "Up Shift" and "Attention Face." In the case of "Roses Nudge," he delivers a soothing atmosphere, melodic beats, and a driving pace moving things firmly forward.
Without a doubt, the evolution is evident in this release. Plus, he's entering a new phase of his career, which means you can expect a lot of new tracks in 2023.
Lastly, it's important to highlight that his trademark style is particularly captivating and worth experiencing. So, if you're into Minimal Techno, Progressive House, or Electronica with a twist, go and browse his catalog on Spotify.
CONNECT WITH FAISAL J KEY NOW!
Get Your Dose Of Relaxation With Guru & Cat's Music On YouTube
Guru & Cat's YouTube channel is a destination for those seeking to escape the noise of everyday life. This account features a wide selection of Lofi music, with new tracks regularly added based on comments and suggestions from the community.
If you're looking for chill vibes and an enjoyable way to unwind, consider joining the fast-growing platform on YouTube.
Such an interesting channel has gained significant recognition, including being nominated for The Webby Awards. Similarly, the mysterious producer has seen some of his animated videos go viral.
No doubt, experimenting, and improvision are the creative formula behind this project.
Nothing beats the experience of listening to these melodies with a good pair of headphones. Moreover, thanks to this Lofi YouTube channel you can immerse yourself in mellow atmospherics.
Whether you're in need of background music for studying, cooking, gaming, working, or simply want a moment of peace, Guru & Cat has something for everyone.
Each time you watch his visuals, he transports you to a world of imagination, calm, and tranquility.
Lately, he's venturing into sweet and warm tones through sax and ukelele instrumentation. The way he adds a touch of whimsy and charm to his compositions makes his Lofi YouTube channel a great choice.
CONNECT WITH GURU & CAT NOW!