"Yes, All My Life I've Loved Electronic Music!" — Andy Ellis Interview

Andy Ellis is always on the lookout for organic and electronic sounds when it comes to producing music. This interview serves as a great introduction for people who like to explore rising indie artists. In the case of Ellis, he is not a newcomer. On the contrary, his wide experience in the entertainment industry has developed over time in a band, as part of a duo and even as a TV & film soundtrack Producer.
1 — How would you describe your music to someone who has never heard it before?
I love songwriting, I love organic instruments, and I also love making music with computers, so most of my music is some hybrid form of Electro Pop or Electro-Organic Pop and then it goes all kinds of places from there – like Alternative or Psychedelic or New-Wave or some crazy version of all those. As a sci-fi nerd, I joke that my music is always some mutant form of biotechnology.
2 — What do you hope listeners will get out of your debut solo album 'Sunshine At The Edge Of The Earth'?
I want to hit you over the head with a hammer and wrap you in a wonderful warm blanket all at the same time! To me, there is something cathartic about that, especially because the album is all about conflicts – going on a journey through my conflicts to sort them all out. Maybe that can help someone else sort out their conflicts too…
3 — There's a pretty good fusion of synths and drum patterns in almost all the tracks. Are you fan of electronic music too? What artists in this genre do you admire?
Yes, all my life I've loved electronic music! Everything from vintage Nintendo Games to Japanese Anime to Prince and David Bowie, who both passed away while I was making this album, influenced it in many ways. I grew up with rock music alongside electronic music which together were always influencing my taste and style. I constantly pick up influences but some that go way back would be New Order, Tears For Fears, Tom Petty, Peter Gabriel, & Vangelis who I feel were all Electro Pop music pioneers. Some classic electronic influences of mine would be The Prodigy, Orbital, Crystal Method, Moby, Underworld, Massive Attack, & Daft Punk.
4 — What's the underlying concept of your new music video "Wasteland (Where's All The Money)"?
Wasteland is the song on the album where all the big conflicts come to a head. There are many themes it's circling like, money, death, and what's important in life, and a big one is that people's values are all out of whack. In the video, we really tried to present visually the question of what's the real Wasteland? Is it the city or the desert? Is it where you are now, where you're going, or perhaps where you've been? And depending on the answer what is actually valuable that's worth taking with you as the world becomes unrecognizable? Perhaps what we think is most important isn't and so forth. These are all questions that keep me up at night.
5 — Is it true you are currently working on a crowdsourced project? Please tell us more about it.
I had an experience while writing "My Town" which is going to be my next single which made me realize how the place I live has inspired and changed me, and I saw in making a video the opportunity to share that experience with people that listen to my music and have the video be built around their's and my relationships to the places we live. I had this idea that people all over the world could express that idea if they shot a little video on their cell phone while riding in a car and then upload it to me to put in the music video. So far I've gotten submissions from all over the U.S. and Europe and I'm super excited about what it's going to become. We are starting to edit the thing together now but I'm leaving the window open for people to send me footage up until the very last minute. The more footage the merrier! The details are all on my website here.
6 — You've been part of Black Lab, an Alternative Rock band that began in the 90's, and the Electro Pop duo The Boom Circuits for some time as well now. What made you decide to finally make a solo album?
Well a few years ago I wrote "My Town" and it created this unique nagging feeling in that I wanted to keep the song for me. Then I wrote "Faith" and I had no idea what I might do with that song and soon more songs followed in the same vein where I was spending most of my time working on them. Eventually, I was just forced to admit that I was making a whole album, and that I was going to sing it, produce it for real, and it was really happening and I was going to have to finish it. So after I submitted to that, I decided the only way to do it right was to really give my all and try to make as awesome an Andy Ellis album as I thought I possibly could.

7 — To date, what dreams would you like to fulfill as an indie artist?
Well, to me the real dream is to be able to make and distribute music directly to and for individual fans and not have to rely on any middlemen or corporations to reach people or monetize it. The online world we live in now has teased the promise of that to artists but I don't think as a culture we have really sorted it all out yet, at least not on a consistent basis. This solo album is a grand experiment for me, to see what kind of possibilities there are out there to reach people.
8 — What does it take for a producer to get into the movie soundtrack business?
It takes persistence, luck, and above all great music. It's all changed so much since I started in the business but I think the thing that is always consistent when creating music for sync (as we call it) is to keep in mind that a movie automatically changes a song from being a complete thing in and of itself to something that must now serve a greater whole. I've written songs specifically for movies and TV and also had songs that were written in and of themselves, synced very specifically for scenes so it happens both ways, but in every scenario, everyone is always thinking – how does this serve the overall emotion, the story? One way or the other that is always what's important, and then you just keep your fingers crossed and hope that the powers that be believe in the music enough to put out a soundtrack album.

9 — What's your favorite movie soundtrack you've been a part of and why?
That's hard because I'm both proud and humble of each one I've been fortunate enough to participate in. I think my favorite movie moment with my music in it is "This Blood" in Blade Trinity because it's like a little music video right in the middle of the movie. Also, RZA from Wu-Tang Clan composed a lot of music for that movie and I just love what he does; and also Crystal Method!
10 — Finally, what keeps you inspired or motivated with this artistic profession?
The idea that music and art can emotionally move someone and perhaps bottle some emotion that you can come back and access later is really what motivates me. So every time I create something I try to get better at accessing the emotional content that inspires me while also trying to grow better at communicating to people. To me, that's what's most important.
---
CONNECT WITH ANDY ELLIS NOW!
Interview With Legacy: Rap, Poetry, New Music & More

Get to know Legacy, a skillful rapper who dominates the art of poetry like none other. Hailing from Arizona, his songs are gaining a lot of traction with almost 15K streams on SoundCloud. If you are looking for fresh Hip-Hop talents, then scroll down to read this interesting interview.
1 — Can you recall the moment when you thought you could be a rapper?
Honestly, I don't think I really decided lol. I was writing some poems one day and started learning how to time the syllables to the instrumentals I would find on YouTube and it became something I couldn't stop doing.
2 — How do you think your hometown has influenced the kind of music that you make?
My hometown influences everything I do, it's why I'm anxious, depressed, and happy all at the same time. Every day can be good or bad, someone can give me a dirty look one day or trash talk me and I remember the instance and add it to the stories.
3 — What's so special to you about poetry that you seem to love so genuinely?
Poetry requires you to face the darkest emotions. It makes you think about and actively reflect on everything you do and say. So when I've had a bad day, instead of bottling it entirely, I can vent through a verse – which in turn people hear and support my efforts to make it through my everyday life.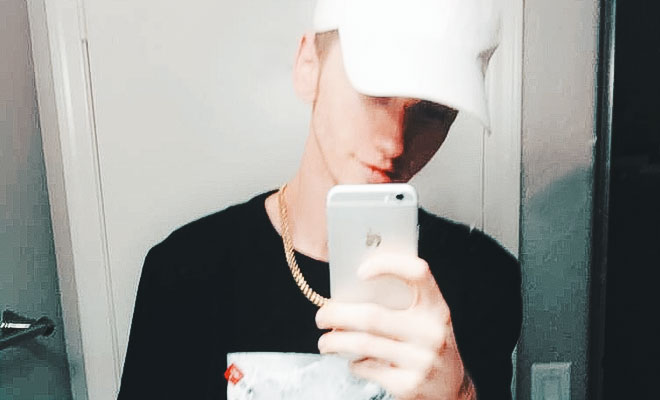 4 — Where did you take the inspiration to write most of your lyrics?
The inspiration lives in the lifestyle, the good experiences, and the bad.
5 — Do you think a good rapping performance comes from a good rapping technique? If so, what's yours?
In my opinion, if the fans/listeners are connected to what you're saying emotionally, and mentally, your performance has achieved its goal. People like having people they can relate to, all I'm doing is bringing those emotions into a poem and instrumental.
6 — Please tell us more about your song "Bad Feelings". What's the message behind it?
"Bad Feelings" is actually quite old and I'm just now really pushing for the exposure while my page is still young. However, the message never dies. What I really want people to take away from this song is that no matter what happens, no matter how hard it gets, just keep doing your thing. Time will make it better. Set goals. Keep dreaming. The longer you wait the harder it gets.
7 — As an artist, how do you deal with criticism?
Criticism is everywhere. You can walk a certain way and be judged for it. Listen to the bad things, only sometimes, when they help you improve. And hold the good things close and carry them with you. The good comments and feedback are almost a shield to the bad. They help you realize that one bad comment is one of many other really good ones. So all you can do is keep moving.
8 — Are you afraid to experiment with different music styles?
Yes, and no. It depends on the meaning of "style." Like, I hate my singing voice but I'm not afraid to try out other flows and techniques.
9 — What are your current projects?
The "Mindset EP." I'm dropping two more tracks as of right now to finalize the project. "Motion" and another untitled track that I'm working on in collaboration with my newest partner "Yung Cubb".
10 — Finally, if you weren't an artist today, what else could you see yourself doing?
Being a pro-CoD player. 💀
---
CONNECT WITH LEGACY NOW!