Antonio Giacca Interview 2014
1) Tell us a bit more about yourself
I was born and raised in Rome, Italy and I started going to clubs and DJing at 14, as my dad used to run one of most successful in the city so I used to hang out there since a very early age! After living all around the world, I am now based in Los Angeles, USA.
2 ) How would you specify your genre?
Progressive House, with a passion for funky/sexy basslines and emotional breakdowns.
3) What do you like about being a DJ?
I love sharing my biggest passion (music!) with all the like minded people coming to my performances and to give people emotions and happiness through out the tracks I produce in the studio…
4) What do you dislike about the current EDM scene?
Too many tracks sounding all the same, I feel like creativity is being lost as the scene is getting bigger and there's more money at stake. It's starting to look a lot like pop.
5) Name three producers you'd like to be compared to.
Hmmm hard to tell… Axwell, Nicky Romero, maybe Eric Prydz because I do what I love instead of trying to do what everybody else is doing?
6) In one sentence describe your new single "Deviate"
Epic and appealing to the masses without being "cheesy" or like everything else…
7) Did you participate in the music video for "Deviate"? Tell us more about it…
The video for Deviate was written and shot in my motherland, Italy. I was initially supposed to be in it as I wanted that association with something shot back home, but at that time I was too busy with touring and we got too close to the deadline. But I'm still very happy with the result, I wanted a music video with a real story, rather than just me fist pumping in a club like the usual cliche EDM video…
8) Where in the world can we hear you play in the coming months?
Just came back from playing the Groove Cruise in USA and Mexico, I am next off to a festival in California, then a mini tour in Europe with dates in Switzerland and England and of course Miami during the Winter Music Conference!
ANTONIO GIACCA – DEVIATE IS OUT NOW ON

BEATPORT
For more information about Antonio Giacca, contact Wilf Libgott of
www.hammarica.com
|
wilf@hammarica.com
Connect
http://www.antoniogiacca.com
http://www.facebook.com/antoniogiacca
http://www.twitter.com/antoniogiacca
http://www.hammarica.com/antoniogiacca
https://www.electrowow.net
Interview With Legacy: Rap, Poetry, New Music & More

Get to know Legacy, a skillful rapper who dominates the art of poetry like none other. Hailing from Arizona, his songs are gaining a lot of traction with almost 15K streams on SoundCloud. If you are looking for fresh Hip-Hop talents, then scroll down to read this interesting interview.
1 — Can you recall the moment when you thought you could be a rapper?
Honestly, I don't think I really decided lol. I was writing some poems one day and started learning how to time the syllables to the instrumentals I would find on YouTube and it became something I couldn't stop doing.
2 — How do you think your hometown has influenced the kind of music that you make?
My hometown influences everything I do, it's why I'm anxious, depressed, and happy all at the same time. Every day can be good or bad, someone can give me a dirty look one day or trash talk me and I remember the instance and add it to the stories.
3 — What's so special to you about poetry that you seem to love so genuinely?
Poetry requires you to face the darkest emotions. It makes you think about and actively reflect on everything you do and say. So when I've had a bad day, instead of bottling it entirely, I can vent through a verse – which in turn people hear and support my efforts to make it through my everyday life.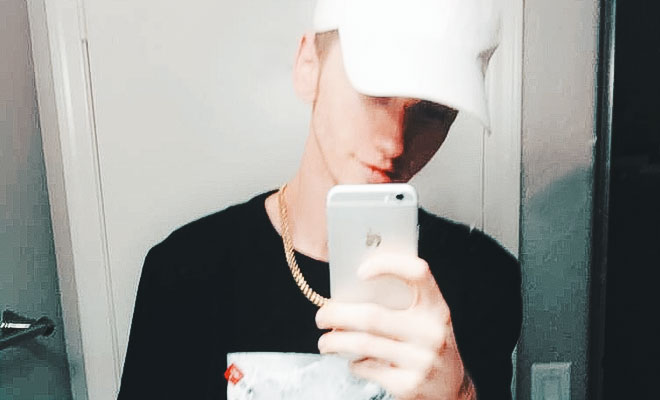 4 — Where did you take the inspiration to write most of your lyrics?
The inspiration lives in the lifestyle, the good experiences, and the bad.
5 — Do you think a good rapping performance comes from a good rapping technique? If so, what's yours?
In my opinion, if the fans/listeners are connected to what you're saying emotionally, and mentally, your performance has achieved its goal. People like having people they can relate to, all I'm doing is bringing those emotions into a poem and instrumental.
6 — Please tell us more about your song "Bad Feelings". What's the message behind it?
"Bad Feelings" is actually quite old and I'm just now really pushing for the exposure while my page is still young. However, the message never dies. What I really want people to take away from this song is that no matter what happens, no matter how hard it gets, just keep doing your thing. Time will make it better. Set goals. Keep dreaming. The longer you wait the harder it gets.
7 — As an artist, how do you deal with criticism?
Criticism is everywhere. You can walk a certain way and be judged for it. Listen to the bad things, only sometimes, when they help you improve. And hold the good things close and carry them with you. The good comments and feedback are almost a shield to the bad. They help you realize that one bad comment is one of many other really good ones. So all you can do is keep moving.
8 — Are you afraid to experiment with different music styles?
Yes, and no. It depends on the meaning of "style." Like, I hate my singing voice but I'm not afraid to try out other flows and techniques.
9 — What are your current projects?
The "Mindset EP." I'm dropping two more tracks as of right now to finalize the project. "Motion" and another untitled track that I'm working on in collaboration with my newest partner "Yung Cubb".
10 — Finally, if you weren't an artist today, what else could you see yourself doing?
Being a pro-CoD player. 💀
---
CONNECT WITH LEGACY NOW!