Birthdayy Partyy Collaborate With BigSammyZ On "Bad Bitches"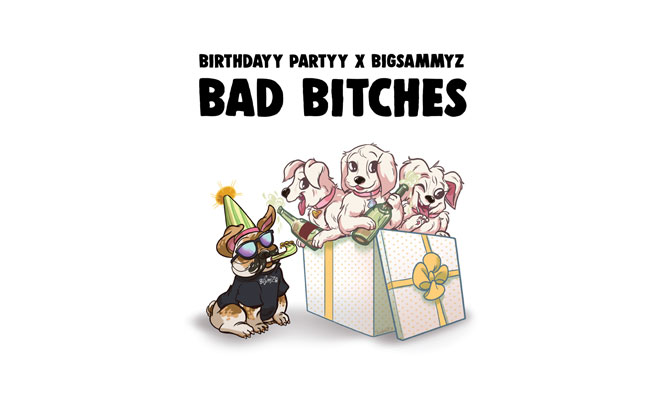 Opting for a Trap style, this time Birthdayy Party release "Bad Bitches". Listen to their collaborative effort with Chicago-native producer BigSammyZ. Obviously, my favorite part is the wub wub sound and the screechy noises. Just imagine getting lost in their crazy music at a festival. I think this could be the best way to de-stress not only your body but also your mind. Well, think it no more, the twin brothers will participate at the Spring Awakening festival in June. Actually, this will be their first show as Birthdayy Party, so you'll have the opportunity to see them in action. Meanwhile, enjoy the hybrid nature + explicit lines of "Bad Bitches", which is available today as a free download. 🎁
CONNECT
Birthdayy Partyy
Facebook
Twitter
Instagram
BigSammyZ
Facebook
SoundCloud
Sin Terry Blends Punk Vibes With Trap In New Single "Left Her On Dead"

"Left Her On Dead" by Sin Terry gives off Emo energy in a very peculiar way. At only 26 years old, the LA-based artist has developed his own sound, which blends elements of Punk and Trap music. With a sparkling captivating flow, lyrics revolve around a painful breakup. No one can deny the fact it is one of the most difficult situations to overcome in life. Therefore, he delves deeply into this disintegration of love through confessional feelings and signs of regret as the song continues to unfold.  Watch the new visuals right here.
Whoever believes his creativity exudes from his pores, is undoubtedly correct. Sin Terry grew up listening to Punk Rock, Post-Hardcore and Metalcore. One way or another, these genres influenced the tracks he writes today. Nevertheless, the latest music trends are also important when it comes to producing new stuff that will keep everybody craving for more. Among his top hits are "Keep Me Lighter," and "Anthems & Angels."
Might be a good idea to follow him on his socials as he plans to drop more original gems this year. Stay tuned!
CONNECT WITH SIN TERRY NOW!
YouTube
SoundCloud
Spotify
Instagram
LISTEN NOW: Kilo House's Trap EP 'Ruthle$$' Is Full Of Electrifying Beats

In case you're not convinced by the recent releases out there, Kilo House provides listeners a jaw-dropping Trap EP called 'Ruthle$$' that will change your mind. Certainly, its title says it all. First of all, you can expect electrifying beats, plus a good dose of booming Bass. If you take the time to thoroughly stream this EP, it's interesting to note incredible samples from classic movies he creatively applies to it. Furthermore, he keeps the hype going as all of these 4 tracks share in common a dynamic sonic structure. Press play down here.
In addition, get ready to blow out your speakers with two euphoric collaborative tunes. At this point, the LA-based producer joined forces with Tae Hero. As a result, here Rap triumphs due to the confident flow and delivery. Of course, I'm talking about "The Hopefuls" and "Sacrifice," these two jams gives you a new perspective about the style of Kilo House like never before. Together, they offer a high-energy party atmosphere, an ideal opportunity to celebrate once the COVID pandemic finally ends…
CONNECT WITH KILO HOUSE NOW!
Website
Spotify
SoundCloud
Instagram
Christmas Trap Music That Will Rock Your Speakers, "Kilo All The Bells"

Are you tired of playing "Jingle Bells" during the holidays? Then, you must try Christmas Trap music. A few years ago, Kilo House dropped "Kilo All The Bells," showcasing his eerie, dark sounds in tandem with a good dose of Bass. Certainly, it's different from what you're used to listening to. Indeed, it'll rock your speakers and probably wake up the neighbors as well, lol. 🤣
Inspired by John Carpenter's soundtracks, he tries to emulate suffocating beats that evoke tension on the fly. The f*cking Christmas' vocal samples are the icing on the cake to represent the fun nature of his work. Moreover, the emerging music producer from Los Angeles, California, goes into arpeggiated synthesizer lines + mysterious SFX in a continuous loop.
Kilo House delivers exceptional results as well as racking up thousands of streams via Spotify. Right at this time, he's planning to release a fresh Dubstep track in collaboration with his colleague, the New Zealander Logan Ellis aka Lust1nfyr3. Watch this space for upcoming announcements.
CONNECT WITH KILO HOUSE NOW!