BLK Out Bring Us A Fresh Party Anthem With New Single "All Night"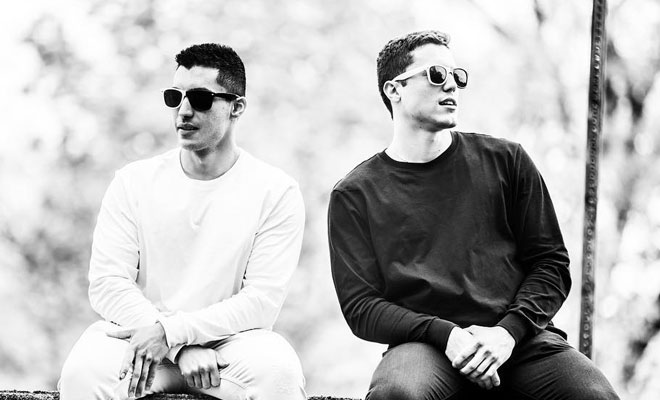 After storming the scene with their debut EP 'Lites Out' back in 2018, BLK Out are back with their latest track titled "All Night". Naturally, we're talking about a fresh party anthem that seamlessly blends House, Bass, and Progressive together to create a tune that will get dance floors jumping everywhere. BLK Out's crisp production sends listeners on a journey through serious build-ups and heavy drops. This Chicago duo is certainly not messing about!
STREAM/DOWNLOAD
BLK Out is made up of producers David Coconate and Karthik Shankar, with over 15 years of experience being musicians; the collaboration of styles between the two creates a unique and original sound that sets their music and live performances apart from others. BLK Out aspires to bring people together with their music and spreading positivity with their fans and with "All Night" they do just that. This new single is out now on Phunk Junk Records.
CONNECT WITH BLK OUT NOW!
Electro Wow Exclusive Guest Mix: Joe Hawes

UK Future House DJ and Producer Joe Hawes is an artist who radiates energy and passion with everything he does. At the age of 12, Joe picked up a set of drumsticks and fell in love with creating rhythms and grooves before going on to learning bass, guitar, and piano. 5 years later, Joe discovered the art of DJing and his electronic music career took off.
Inspired by the likes of Don Diablo and Martin Garrix, Joe fits the mould of a Future House DJ to a tee and with appearances in Amnesia, Ibiza for Cream and at a sold-out Wakestock Festival in Wales, supporting the likes of Calvin Harris and Deadmau5 along the way. Joe is currently spending his time working on his own original productions.
Check out the guest mix of all of Joe's favourite songs and remixes down here and grab your FREE DOWNLOAD.
Tracklist
1 – Tiesto – Grapevine (Joe Hawes Intro Edit)
2 – Indeep – Last Night A DJ Saved My Life (Joe Hawes Remix)
3 – Feel So Ritual (DJs from Mars x Rudeejay & Da Brozz Bootleg)
4 – Steve Aoki & Alok – Do It Again
5 – DJ Snake – Made In France
6 – KOOS – Magma
7 – Skrillex, JOYRYDE – Agen Wida
8 – Steve Angello, Laidback Luke x D.O.D – Be (Kubala Booty)
9 – MK & Gorgon City – There For You (Joe Hawes Remix)
10 – Travis Scott X Dolla Bill – Goosebumps Vibe (Daniel Rosty Smash)
11 – Skrillex & Habstrak x Ekali & Quix x Migos & Deville – Vibin Chicken Soup (Chase Me Mashup)
12 – Jauz – Thunder
13 – Tiësto & Dzeko vs. B3RROR & Axollo – Jackie Chan's Team (2 Thunders Mashup)
14 – Cinema (Chunky Dip I Hold Still Bootleg)
15 – Will K – Sour Milk
16 – Junior Jack & DAZZ X NO SIGNE – Stupidisco X High (CRIMINAL NOISE & JEAN LUC MASHUP)
17 – Brooks & Jonas Aden – Riot
18 – Julian Jordan vs. D.O.D vs. Post Melone, Dzeko – Oldskool vs. Taking You Back vs. Congratulations (Crunkz Edit)
19 – Sicks – Save My Life
20 – Rune RK, Firebeatz vs. Mesto – Calabria vs. Back & Forth (Crunkz Edit)
21 – Mo Falk – You're Wild
22 – WIBERG & Uplink – Wallflower (Extended Mix)
23 – Scary Monsters And Nice Sprites (Kastra Out Of My Mind Edit)
24 – Siks & Alex Pizzuti – Vibe (Extended Mix)
25 – Showtek – Booyah – Dibs & MGM Day Or Night Bootleg
26 – Piece Of My Dawn (DES3ETT Mashup)
27 – Coming Home (Kastra Take It Back Edit) (Intro Clean)
28 – The Drop (Kastra Lollipop Edit)
29 – Swedish House Mafia x R&K – One vs Who's In The House (DJ KUBA & NEITAN Edit)
30 – Club Bizarre (Don Diablo Edit Extended Version) (320 kbps)
31 – Joe Hawes – Shakin (Extended Mix)
32 – Joe Hawes – The Scientist
CONNECT WITH JOE HAWES NOW!