Carnage Drops Trippy Music Video For "KTM," His Debut Single As Gordo
Back in February, Carnage released "KTM" on Ultra Records to officially spearhead the launch of his new House alias GORDO, which sees him exploring a driving, four on four party-ready sides of his music. As if the groovy basslines and catchy vocals of the single were not enough, GORDO releases an official music video for "KTM" – and you are not going to want to miss it. A yellow bear starts out as the star of the show, and we quickly find out that he has many alter egos – and dance moves. GORDO has created a trippy, visually stimulating accompaniment to the track that has taken clubs like the iconic Space in Miami by storm already. If this is any hint at what is next for Carnage as he takes on a new sound and project, we cannot wait. "KTM" itself was in the works for three years while gaining work-in-progress support from some of the world's top DJs, including Sebastian Ingrosso, FISHER, Diplo, Joseph Capriati, and more.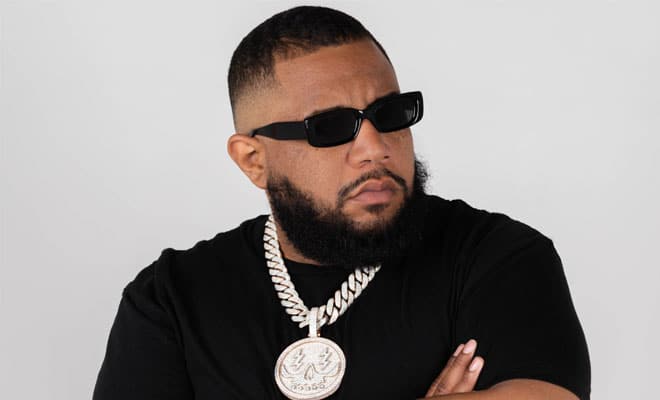 Carnage has made a name through breaking the rules and staying true to himself. The Hawaii-based artist established himself as the reigning champion of hard bass and trap music with early hits, later being one of the first artists to transition electronic music into hip-hop, rap styles, and now house music. Before launching his label Heavyweight Records in 2017, Carnage put out hit after hit such as "I Like Tuh" with ilovemakonnen, "Bricks" with Migos, "Down for Me" and "Guala" with G-Eazy, "Homie" with Meek Mill and Yung Thug, "Learn How to Watch" with Mac Miller and MadeInTYO and "iShyne" with Lil Pump. After taking a break from music and touring in 2018 to focus on his mental health, Carnage dove right back into it with his hits "Letting People Go," featuring Prinze George, and "Wait For Me" with G-Eazy and Wiz Khalifa. In partnership with the RAICES foundation, the music video for "Letting People Go" raised awareness for immigrants at the US / Mexico border and retraced Carnage's family's voyage into America, as covered by TIME and dozens of other outlets.
CONNECT WITH CARNAGE NOW!
Lukas Vane Drops Groovy Tech-House Single "All On Me"

Lukas Vane returns to Nicky Romero's Protocol Recordings with the new record "All On Me," featuring Jex, which makes his third single release on the label. It's a bold fusion of Tech and Deep House, opening with sultry vocals that serve as the topline for a bouncy beat. Vane kicks things up a notch on the drop with the addition of percussive synths and groovy melodies, making for a dancefloor-friendly gem that feels right at home in the club or at the festival stage. "All On Me" follows his previous releases "Falling" and "Push it" with FAULHABER; Lukas Vane also previously worked with Tujamo on "Drop It," which has amassed over 44M streams on Spotify.
Founded by Nicky Romero in 2012, Protocol Recordings is one of the leading imprints for innovative electronic dance music. It boasts a roster of heavy hitters, complemented by immensely talented up-and-comers such as Thomas Gold, Deniz Koyu, Teamworx, Futuristic Polar Bears, Trilane, Marcus Santoro, Stadiumx, Tim van Werd, Timmo Hendriks, Marc Benjamin and Nicky Romero himself, to name a few. Lukas Vane has always had a passion for music. It all started with music and theater lessons; at the age of 15, he laid his hands on a Pioneer midi-controller and played for days in his bedroom. A year later, he was playing at clubs throughout the country and started doing shows in Spain, Belgium, Greece, and the United States. Thus far, his music has been supported by artists such as Tiesto, David Guetta, Nicky Romero, Afrojack, Showtek, and Hardwell. In the past, he participated in a Dutch TV show, "House of Talent," which was designed to showcase rising talent and help them grow. The audience fell in love with Vane's personality and day-to-day life, creating an enormous fanbase for the young artist in the Netherlands. Vane is surely bound for big things for the rest of this year, so stay tuned for more new tracks coming soon.
CONNECT WITH LUKAS VANE NOW!
Embrace A Positive Attitude With This New Jam By Dillon Nathaniel

DJ and producer Dillon Nathaniel finds a unique connection alongside listeners who might be struggling with their mental health. His recent Tech-House jam, "Where I Belong" has immense power to unite people with lacking a sense of belonging.
Almost everyone has felt that way at least once in their life, and it's more common than you think. Even if you're going through a hard journey, this kind of cheerful music may reduce anxiety.
Available now on all major streaming platforms via Spinnin' Deep, "Where I Belong" will stir you up and remind you, you're not alone. Give it a listen below!
Tailoring beats of high-quality design, Dillon Nathaniel blends deep bass lines, massive kick drums, and delicate-sounding female vocals. In addition, everything translates into a splendid feast, where hypnotic and groovy rhythms can ignite any dance floor.
Kicking it off in true Tech-House style, "Where I Belong" is filled with fist-pumping and foot-stomping. Magically, these brilliant melodies set off a good reason to smile and embrace a positive attitude back again.
Without a doubt, it's no surprise his versatile productions have been accepted with open arms within the electronic music community worldwide.
CONNECT WITH DILLON NATHANIEL NOW!
After Working With Steve Aoki, Chemical Surf Returns To Dim Mak
Brazilian duo Chemical Surf returns to Steve Aoki's Dim Mak label with their Latin-inspired Tech-House track "Dale Loca," a fun club release that's guaranteed to get everyone on the dance floor. The duo show off their dynamic and sophisticated production style by creating a song that possesses all the key elements of a true club banger–from the bouncy bassline to the epic instrumentals to the catchy vocal riff, "Dale Loca" captures the rhythmic sounds of Latin music with the dynamic beat of house. Chemical Surf previously collaborated with Steve Aoki on "Siliwa Hay," making a great addition to the Dim Mak family.

"This track is the bomb of our sets since we made it. It was a pleasure to work with Anna Marchesini once again after our first song together six years ago. Finally, it's time to share 'Dale Loca' with the world." — Chemical Surf
Brazilian brother duo Luca and Hugo Sanches are together behind Chemical Surf which has become known for their high energy and rhythmic style. They have recently worked with Kaskade, Steve Aoki and put their own spin on MEDUZA's "Tell It To My Heart" and many others. Prior to releasing on Dim Mak, Chemical Surf's music has found a home on labels such as Spinnin' Records, STMPD RCRDS, Musical Freedom, Armada, Sony, and Warner, to name a few. Chemical Surf challenges the electronic music status quo by breaking the lines between genres. With high musical sensibility. Keep an eye out for more coming from these talented rising stars very soon!
CONNECT WITH CHEMICAL SURF NOW!