Dare to Be Dreamers Interview 2016
The San Diego band Dare to Be Dreamers combine their talent with humanitarian projects. In short words, their music & films inspire hope and make dreams come true. This sounds interesting, right? Learn a little bit more below!

1 – Why did you form the band?
I wanted to make music that wasn't confined to a box. I love EDM, hip hop, indie, etc. so I wrote songs that would bring these elements together. As we constructed the songs, we kept in mind the live experience, and built songs that would translate into an energetic and mesmerizing live show. I also wanted to create something bigger than just a band, which is why we launched the Dream Partners Initiative to use music and film to make dreams come true for struggling families and hospitalized kids.
2 – How long have you all known each other?
We've been making music together since we were kids, over 15 years of writing songs and touring together.
3 – What are your major influences?
My main influences are Bono and Ryan Tedder (of OneRepublic)
4 – Is it possible to make dreams come true through music?
Yes, and we used our first single "Still Young" to do it. A young boy with Down Syndrome, Ryan Stamper, has dreamed of being in a music video and being in a band. We flew him to San Diego and to Hollywood to star in our films and model for our album cover. We also partnered with Legoland to get him and his family free tickets while they were out here. Then our song & music video "Making Believe" raised money and awareness for a little girl who has been fighting for her life since birth, Raylea. Her dream was to meet Mickey Mouse so we flew her and her family to Disneyland for a VIP meeting with Mickey and Minnie. We also raised $10,000 to stop their home from foreclosure.
5 – How are project activities financed?
Mostly through our Dream Partners Initiative. Many of our fans believe so much in what we are doing that they have become 'Dream Partners' – these are people who give $20 a month toward making dreams come true. Proceeds from our album sales and clothing line also go to the cause. Anyone can become a Dream Partner by going to DareToBeDreamers.com
6 – What are the main topics for most of your songs? Do you think these topics will change over time?
For this album, the theme was Dream Again. It's based on the reality that many of us as kids grow up with big dreams, and big aspirations. We believe anything is possible. Then we grow older, the reality of life hits, and we stop dreaming. We stop believing. We become skeptics, understandably pessimistic toward life. I struggled with that, and this album is a hopeful reminder to return to that belief system that anything is possible. The next album will cover different ground as that journey evolves.
7 – Do you have a record label deal?
At this time, we are signed with Jericho Down Studios, an independent label in San Diego.
8 – Who wrote the lyrics for "Making Believe" and what is its message?
I (Jason David) wrote "Making Believe" after finding out my brother, and fellow band member Stephen, was leaving San Diego for a new job in Seattle. I knew he was making the right decision for his family, but part of me felt like we were growing up too fast. The song recounts our childhood memories, and it's a plea to keep playing 'make believe.' We grew up singing, rapping, and touring together and I wasn't ready for that to end. The song also is a plea to our fans to not give up on faith, and dreams, and to maintain that child-like love for life.
9 – What's the upcoming single about?
Our next single is "Dream Again" featuring Trevor Davis from NBC's The Voice. It's a beautiful song I wrote with Trevor about overcoming pain and disappointment.
10 – What advice do you have for people who want to form their own bands?
Create art that gives people value. Never use art to degrade anyone, and never make it all about yourself.
Interview With Legacy: Rap, Poetry, New Music & More

Get to know Legacy, a skillful rapper who dominates the art of poetry like none other. Hailing from Arizona, his songs are gaining a lot of traction with almost 15K streams on SoundCloud. If you are looking for fresh Hip-Hop talents, then scroll down to read this interesting interview.
1 — Can you recall the moment when you thought you could be a rapper?
Honestly, I don't think I really decided lol. I was writing some poems one day and started learning how to time the syllables to the instrumentals I would find on YouTube and it became something I couldn't stop doing.
2 — How do you think your hometown has influenced the kind of music that you make?
My hometown influences everything I do, it's why I'm anxious, depressed, and happy all at the same time. Every day can be good or bad, someone can give me a dirty look one day or trash talk me and I remember the instance and add it to the stories.
3 — What's so special to you about poetry that you seem to love so genuinely?
Poetry requires you to face the darkest emotions. It makes you think about and actively reflect on everything you do and say. So when I've had a bad day, instead of bottling it entirely, I can vent through a verse – which in turn people hear and support my efforts to make it through my everyday life.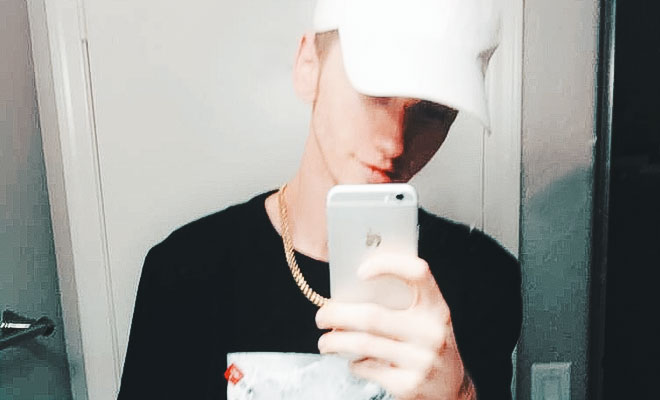 4 — Where did you take the inspiration to write most of your lyrics?
The inspiration lives in the lifestyle, the good experiences, and the bad.
5 — Do you think a good rapping performance comes from a good rapping technique? If so, what's yours?
In my opinion, if the fans/listeners are connected to what you're saying emotionally, and mentally, your performance has achieved its goal. People like having people they can relate to, all I'm doing is bringing those emotions into a poem and instrumental.
6 — Please tell us more about your song "Bad Feelings". What's the message behind it?
"Bad Feelings" is actually quite old and I'm just now really pushing for the exposure while my page is still young. However, the message never dies. What I really want people to take away from this song is that no matter what happens, no matter how hard it gets, just keep doing your thing. Time will make it better. Set goals. Keep dreaming. The longer you wait the harder it gets.
7 — As an artist, how do you deal with criticism?
Criticism is everywhere. You can walk a certain way and be judged for it. Listen to the bad things, only sometimes, when they help you improve. And hold the good things close and carry them with you. The good comments and feedback are almost a shield to the bad. They help you realize that one bad comment is one of many other really good ones. So all you can do is keep moving.
8 — Are you afraid to experiment with different music styles?
Yes, and no. It depends on the meaning of "style." Like, I hate my singing voice but I'm not afraid to try out other flows and techniques.
9 — What are your current projects?
The "Mindset EP." I'm dropping two more tracks as of right now to finalize the project. "Motion" and another untitled track that I'm working on in collaboration with my newest partner "Yung Cubb".
10 — Finally, if you weren't an artist today, what else could you see yourself doing?
Being a pro-CoD player. 💀
---
CONNECT WITH LEGACY NOW!