David Longoria Releases New Instrumental Album —— THE JOURNEY

David Longoria, trumpeter, music producer and songwriter releases 'The Journey', his first contemporary instrumental album in three years with an EDM (Electronic Dance Music) soundscape on Del Oro Music. Produced by Longoria and Robert Eibach, the twelve song collection follow the theme of a lifetime of milestones represented as a journey. From a time before birth to the afterlife, the range covers a dozen points common to most people.
Starting and ending with different versions of a theme called "Angels", Longoria presents a catchy improvised theme that brings to mind barouque trumpeting. The opening version is a beat driven dance track that seamlessly blends the classical trumpeting with edgy Progressive House production. The ending rendition is beatless and relies more on ethereal arrangement incorporating both strings and synthesizors, symbolizing the afterlife. Staying true to the theme, The Journey illustrates the songs listing as a map instead of the traditional titles list.
"I drew a map to show how each song relates to the others in the timeline of one's life," Longoria explains, adding, "Every milestone represents an important event  or point in a life".

"Genesis" is a musical representation of a single cell meeting another and dividing over and over again. One note then two, four, eight, sixteen and so forth until a melody forms. Finally a heartbeat emerges and the melody takes shape as a unique song, or being. "Playground" is a fun, dancey song that playfully bounces the trumpet's catchy melody over the beat. "Mermaids" carries a nautical theme and is meant to show the point where boys discover girls.
"Every little boy falls in love with mermaids and every little girl wants to be one", says Longoria. He describes his own experience as "a curious time when I found that girls were far prettier than we were and could be way more dangerous".
"Never Give Up", "Dodging Arrows", "The Good Life" and "Swagger" are songs that bring the theme into the formative years and into adulthood. International musicians joined in to compliment the songs including Grammy winning South African flautist Wouter Kellerman with a solo and harmonized duet with Longoria's trumpet. Funky bassist Duane "Smitty "Smith brought a memorable solo and foundation and legendary guitarist Funky Gemi Taylor lent a hand for the proud Swagger. "Decadence" shows that in one's life often we take things to excess. This dance song features the vocals of Longoria joined by Electro Pop duo Stiletto, made up of singers Katie Shorey and Andie Sandoval, and young rock lead guitarist Ariel. Stiletto's seductive vocals brought the temptation element to the song.
"To show that edgy element I needed to bring in a fun and crunchy, screaming guitarist to play off the lyrics and my wild trumpet work," Longoria explains, and adds "Ariel has such a great feel for edgy solo work I knew she would bring just the right amount of energy and edge to the song". He found that her youthful presence and tremendous talent were perfect to compliment the theme of the over-the-top song.  Longoria found her guitar solo videos on YouTube and contacted her to bring her to the studio. "I really enjoyed her take on the classic shredding guitar solos a la Eddie Van Halen and others from the vintage eras of the 1970s and 80s," he says. "She is a very talented musician as well as a very sweet young lady, which was a bit of a nice surprise!" Longoria muses.
There comes a time in life when you realize it shouldn't just be all about yourself and you want to reach out to give others a hand with words and deeds of encouragement. "I wanted to have a song on The Journey that lifts people up and can cause change in our society, even though I know that seems like a lofty goal at the onset," Longoria explains, adding "Since last year marked the 30th anniversary of Michael Jackson and Lionel Richie's iconic collaborative song "We Are The World", I wanted to take that inspiration and write something to take on an issue of today by bringing artists together to join me". He wrote a song to unite races in our modern world, by verbally sticking a flag in the notion of people standing up for one another and declaring to love one another. "We Are One" was written and produced by Longoria to attempt to do more than words. He formed a charity, We Are One Concerts, LLc to educate and involve students in discovery and the idea of uplifting each other regardless of race, culture and economics, where the proceeds of the recording can do some good. By designating profits to the good works of the charity,  Longoria felt the mission can reach many students across the country- especailly in the cities where racial tensions have been the greatest in recent years, including Ferguson, Charleston, Baltimore, New York and Chicago.
Longoria knows a bit about bringing programs to kids to encourage and inspire through music. In 2001 He, along with a few other recording artists started a concert program that produces concerts at schools and community venues with a charity called LIFT (Living Intelligently For Today). The self funded program has brought the artists across the country producing as many as 250 concerts in a year, all with no cost to schools or students.
"I asked twenty artists to join me singing on "We Are One" so we could show the power of many singing in unison, and how those voices could take on such an important issue in our time," says Longoria. He planned to produce the song with those twenty artists within two weeks and wrap up the recording project. Things got a bit out of hand. Nearly a year and a half later, Longoria has produced more than 600 artists all singing together with him on this now historic song for unity. Artists from all genres, races and generations joined in singing. Stars of Motown to now including Coasters, Drifters, Platters, Freda Payne, The Fifth Dimension, Florence LaRue, Jerry Bell (The Dazz Band), Brenda Holloway, Dawnn Lewis, Corey Feldman, Marvin Gaye, Jr., Peaches and Herb and about 595 more recorded in more than 400 recording sessions in cities all over America and Europe.
"The song and mission are far bigger than me now," he explains. In fact music business icon Russ Regan told him upon hearing it, "yes, you have a hit here, but its not just a song, it's a movement". Regan might be a good source of foresight in music. He ran some of the most successful record labels in modern history and is credited with discovering Elton John and Neil Diamond, got Jesus Christ Superstar made and gave the Beach Boys their name.
As one's life matures we discover that forgiveness and mercy are essential to ones successful human condition. Longoria wrote "Redemption" to memorialize this.

Photography on 'The Journey' was created by photographer Harrison Funk, well known for his iconic work with Michael Jackson and many other international stars. From numerous magazine covers for Time and others to his official portraits of The Queen of England, Nelson Mandela, many US presidents including Regan, Carter, Clinton, Bush Sr. and Jr. and Obama. The life theme of The Journey was photographed in the Nevada desert where the team braved 117 degree heat as they shot the pictures that became 'The Journey' illustrations.
"As grueling as it was in the overwhelming heat, we got some real magic on film," Funk beams.
Longoria is proud of each of the creative elements of the album, ranging from thephotography to the songwriting, production, performance and illustrations.
"Robert Eibach and I have created a collection of songs, mostly instrumental that will take you through the events of a life we can all relate to, a look at The Journey", Longoria says.
The Journey is available now on iTunes, Amazon and wherever music streams and is sold.
We Are one Concerts, LLC official website is http://weareoneconcerts.org
David Longoria's official website: http://davidlongoria.com
New Esotera EP 'Old As Time' — Exclusive Review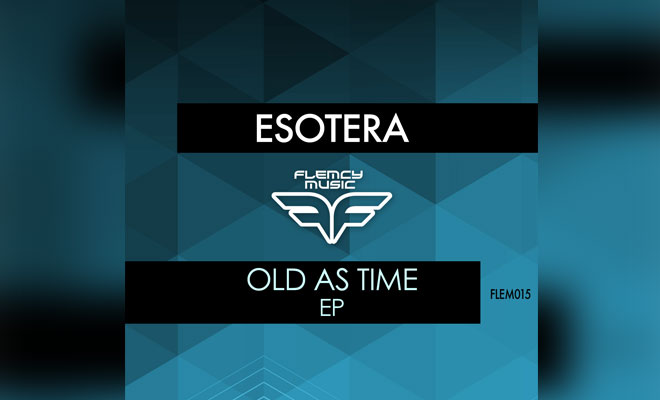 Londoner electronic musician Esotera has spent many days and nights in the studio producing the upcoming 'Old As Time' EP and obtaining outstanding results. This work represents his perfectionism and daily dedication to music. Here, he delivers Progressive House tunes that also integrate Techno in a different direction. After mixing both styles, Esotera got the secret formula for one of the best atmospheric and deliciously dreamy EPs of the year! Can't wait to download this great material in February via Flemcy Music. In conclusion, I will definitely use these three tracks on my next DJ set. Meanwhile, you can read my track-by-track review below.
1 – Old As Time WOW what an opener! Such a masterpiece tune that will take you on an audio journey. Lovely soft harmonies and progressive sounds made it quite enjoyable and relaxing at the same time.

2 – High MomentsThe second track is pretty original. It features eerie/dark music elements and pulsing beats on repeat. Esotera also adds male vocal snippets that sound like being taken from a speech. Certainly, a creative effort, don't you think?

3 – LIGOHey Techno lovers, this is definitely for the clubs! I like it because it possesses dynamism and energy. The most uplifting song and probably never will go out of day as it sounds futuristic.
AVAILABLE SOON ON BEATPORT
February 1st, 2017
CONNECT WITH ESOTERA
Facebook
Instagram
Mixcloud
Twitter
CONNECT WITH FLEMCY MUSIC
In Review: Whitedrives – Deepest Joy

Whitedrives, a music production duo from London formed in the 90s by Martin James and Wadcutter have just released a great EP called 'Deepest Joy'. This release has caught my attention because it offers 100% pure Electronica music that is not common to hear nowadays among the worldwide DJs. There are also two outstanding remixes by Ettica and Alan Cross who put their own personal touch to the original. The EP features 3 tracks in total, and each one comes with a distinctive rhythm which is beneficial for your music collection. It's diverse in sound and YES I like it!
Let's dive in with a track-by-track review:
1 – Deepest Joy (Original Mix) Keep your eyes closed while listening to this beautiful track and you will be transported into a mystical world. If I'm not wrong, you will listen clearly to a Mantra on repeat and also continuous traditional drums. All these melodic ingredients were mixed of course with Whitedrives' Electronica music. A very relaxing experience.
2 – Deepest Joy (Ettica Remix) The second track is a remix by Ettica and obviously it was intended for the clubs. Techno fans will love how creatively a hi-hat pattern was added to the original. The spiritual vocals were not removed from this version, and they match perfectly with the upbeat kick. An interesting subtle/minimal approach.
3 – Deepest Joy (Alan Cross) Here DJ Alan Cross goes much further with this remix. I think he uses a more elaborate technique by implementing more progressive and rich sounds to the mix. My favorite from the EP!
WHITEDRIVES – DEEPEST JOY
OUT NOW ON BEATPORT
CONNECT WITH WHITEDRIVES
Billboard Chart Topping Artist DROZE Returns With Solo EP To Get You Back On The Dance Floor
Gonna Be Music singer and songwriter, DROZE released this month a brilliant EP that is sure to dominate the dance floors. With his innate talent in House music, 'The Droze Project' EP proves that any of the new songs can reach the Billboard Dance Charts as he did in the past with the single "Running (Out Of Time)". His new material features a total of 4 tracks, where DROZE showcase nice vocals and catchy House beats. Important music producers such as Giuseppe D, KC Anderson, Oba Frank Lords and Michael M were also part of this project. Sincerely, this is an EP that can be on repeat forever… and you'll never get bored!
Check out my track-by-track review below:
1 – Right Here In my opinion, this is a strong EP opener. As a fan of male vocals in dance music, I would dare to say DROZE has a unique soulful style and a big voice that will make your jaw drop. This track is a clear example of that, and I like it.
2 – No Time The second track starts off with a notable hi-hat pattern. Here the rhythm sounds dark and simple but it matches perfectly with the serious lyrics of the song. He takes an interesting direction on this track, I think it's different than the other three tracks, which are more danceable.
3 – Tell Me After listening to this tune a couple of times, now I understand why it's my favorite track on this EP. The main reason:  IT'S HIGHLY ADDICTIVE. His voice sounds clear, and there's a wonderful blend of styles from soulful to upbeat.
4 – Carry On The DROZE Project EP ends with fantastically fun music! It features the Gonna Be All-Stars and somehow it reminds me of the Classic House era of the 90s. Get ready to jump, sing and shake your booty, this song could be the next hit in 2017. 🙂
DOWNLOAD 'THE DROZE PROJECT' EP
CONNECT WITH GONNA BE MUSIC NOW!
Facebook
SoundCloud
YouTube
Website