East & Young feat. Raphaella on Big & Dirty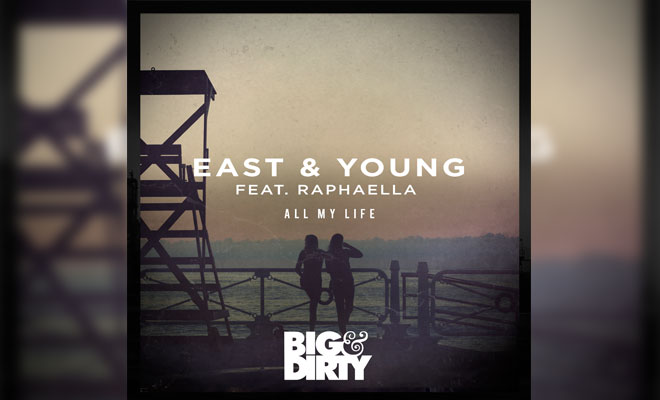 Big & Dirty Recordings is making music the right way. The label has no formal agenda, just prides itself in seriously good EDM tunes and keeping the creative process fun. Electronic music is inherently heartfelt, and Big & Dirty strives to convey that by creating a contemporary platform for a versatile group of artists. Behind the fun and fresh face of Big & Dirty lies heavy-hitting talent ranging from household names to some of the most promising up-and-coming artists in dance music. Recently, their roster tends to favor heavier basslines and big beats, but their newest artist East & Young brings a fresh touch of melodic to the table.
The Dutch duo of East & Young specializes in melodic, progressive house with a unique twist of fun-loving energy. Their newest release, "All My Life," doesn't quite reach the point of being an aggressive festival banger, but has an upbeat daytime vibe that is guaranteed to boost your spirits. Featuring autotuned, muted vocals and a dreamy melody, "All My Life" makes the listener want to dance under an electric sky with that special person who makes your beat a little faster and your hopes soar a little higher. East & Young have released successful singles on labels such as Ultra, Calvin Harris' Fly Eye Records, Big Beat/ Atlantic, Spinnin', and Defected; adding Big & Dirty to their repertoire opens doors to another niche of electronic dance music, and we can't wait to see what this dynamic duo comes up with next!
MORE INFO ON BIG & DIRTY / EAST & YOUNG
www.facebook.com/biganddirtyrecords
soundcloud.com/biganddirtyrecords
www.facebook.com/eastandyoung
https://twitter.com/eastandyoung
Project 46 Release New Track "Live Forever" In Honor Of Avicii

Project 46 pay homage to Avicii on "Live Forever", which is their fourth single since returning from a 4-year hiatus this year. It delivers all the elements we grew to know and love from one of electronic music's most prolific names on iconic tracks like "I Could Be The One," "Fade Into Darkness" and "Crime" Project 46's collaboration with Avicii himself from 2013. Opening with organic guitar instrumentals, the Canadian duo eases into uplifting melodies that gradually evolve into a progressive build-up and drop. Combined with hopeful vocals that are characteristic of Avicii's music, "Live Forever" will evoke a wonderful nostalgia that brings back the golden age of progressive house.
Canadian duo Ryan Henderson and Thomas Shaw, better known as Project 46, is known for their melodic, progressive sound that never fails to inspire and uplift listeners. They began Project 46 in 2011 and were active until 2016, with releases on Ultra Records, Monstercat, Armada, Mixmash, and collaborations such as "Last Chance" with Kaskade (which was featured on Kaskade's "Atmosphere" album), "Collide" with Laidback Luke, "Crime" with Avicii, "Daphne" with Paul Oakenfold, and "Home" with Feenixpawl, to name a few. 2020 marks the comeback of Project 46, and we are looking forward to more beautiful, vocal-driven dance tracks coming from the talented duo later this year!
CONNECT WITH PROJECT 46 NOW!