East & Young feat. Raphaella on Big & Dirty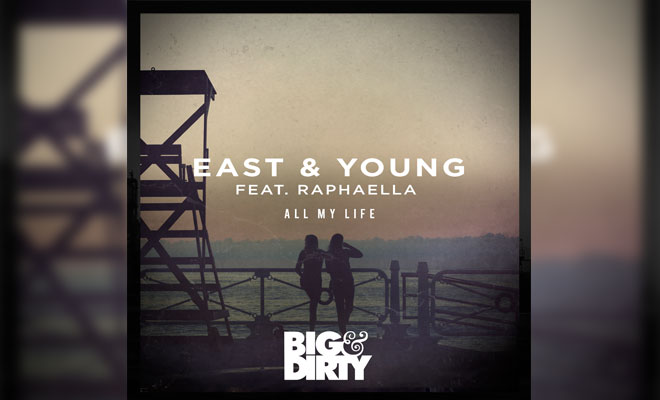 Big & Dirty Recordings is making music the right way. The label has no formal agenda, just prides itself in seriously good EDM tunes and keeping the creative process fun. Electronic music is inherently heartfelt, and Big & Dirty strives to convey that by creating a contemporary platform for a versatile group of artists. Behind the fun and fresh face of Big & Dirty lies heavy-hitting talent ranging from household names to some of the most promising up-and-coming artists in dance music. Recently, their roster tends to favor heavier basslines and big beats, but their newest artist East & Young brings a fresh touch of melodic to the table.
The Dutch duo of East & Young specializes in melodic, progressive house with a unique twist of fun-loving energy. Their newest release, "All My Life," doesn't quite reach the point of being an aggressive festival banger, but has an upbeat daytime vibe that is guaranteed to boost your spirits. Featuring autotuned, muted vocals and a dreamy melody, "All My Life" makes the listener want to dance under an electric sky with that special person who makes your beat a little faster and your hopes soar a little higher. East & Young have released successful singles on labels such as Ultra, Calvin Harris' Fly Eye Records, Big Beat/ Atlantic, Spinnin', and Defected; adding Big & Dirty to their repertoire opens doors to another niche of electronic dance music, and we can't wait to see what this dynamic duo comes up with next!
MORE INFO ON BIG & DIRTY / EAST & YOUNG
www.facebook.com/biganddirtyrecords
soundcloud.com/biganddirtyrecords
www.facebook.com/eastandyoung
https://twitter.com/eastandyoung
Klipr Delivers Catchy Progressive House Record With "Fire" On Streamin' Music Group
Indian DJ and Producer Klipr has undoubtedly kept busy throughout 2020 and this time he has delivered an electrifying new single "Fire" which has proven to be an exciting release of a challenging 2020.
Indian DJ and Producer Klipr has undoubtedly kept busy throughout 2020 and this time he has delivered an electrifying new single "Fire" which has proven to be an exciting release this year.
Klipr has worked seamlessly to craft this unforgettable progressive anthem. Focusing on the awe-inspiring vocals, he has developed a bassline that sits perfectly in the track. The song is jam-packed with everything we love about progressive house music. Enticing vocals, a catchy hook, and an unexpected banger of a drop which will definitely make you want to show some moves on the dance floor just as the music video portrays.
Keshav Bhardwaj aka Klipr, Founder of music record label Streamin' Music Group says "Fire" was always about bringing that dance music energy. It's all about celebrating the good times and cherishing the moments that make life feel grand.
The track is available on all digital platforms including Spotify, Apple Music, Beatport, Amazon Music, to name a few.
About Klipr
Klipr is an up-and-coming electronic house and electro artist based out of New Delhi, India. Inspired by the international electronic music scene, Klipr makes music that captures the feelings of excitement and energy experienced at a music festival. With a passion for music and a unique drive to succeed, Klipr is sure to become one of the hottest new names in the electronic/house genre!
As Klipr continues to develop and mature as an artist, he continues to show signs of becoming one of the most promising new acts in the near future. Fans of Klipr can also get a taste of his music through his work as part of the DJ/Producer duo BlareMob. Working with his childhood friend Himanshu Chhabra, the duo also makes music in the electronic house and electro genres.
About Streamin' Music Group
SMG, which was officially launched in India in May this year, was originally launched in 2018, with their base in Rotterdam, Netherlands. SMG is currently releasing music by Klipr, a solo project by Keshav Bhardwaj, and BlareMob a combined project by Keshav Bhardwaj and Himanshu Chhabra.
CONNECT WITH KLIPR NOW!