East & Young feat. Raphaella on Big & Dirty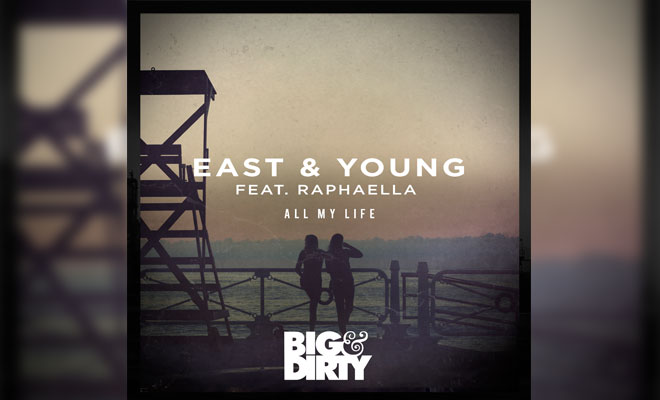 Big & Dirty Recordings is making music the right way. The label has no formal agenda, just prides itself in seriously good EDM tunes and keeping the creative process fun. Electronic music is inherently heartfelt, and Big & Dirty strives to convey that by creating a contemporary platform for a versatile group of artists. Behind the fun and fresh face of Big & Dirty lies heavy-hitting talent ranging from household names to some of the most promising up-and-coming artists in dance music. Recently, their roster tends to favor heavier basslines and big beats, but their newest artist East & Young brings a fresh touch of melodic to the table.
The Dutch duo of East & Young specializes in melodic, progressive house with a unique twist of fun-loving energy. Their newest release, "All My Life," doesn't quite reach the point of being an aggressive festival banger, but has an upbeat daytime vibe that is guaranteed to boost your spirits. Featuring autotuned, muted vocals and a dreamy melody, "All My Life" makes the listener want to dance under an electric sky with that special person who makes your beat a little faster and your hopes soar a little higher. East & Young have released successful singles on labels such as Ultra, Calvin Harris' Fly Eye Records, Big Beat/ Atlantic, Spinnin', and Defected; adding Big & Dirty to their repertoire opens doors to another niche of electronic dance music, and we can't wait to see what this dynamic duo comes up with next!
MORE INFO ON BIG & DIRTY / EAST & YOUNG
www.facebook.com/biganddirtyrecords
soundcloud.com/biganddirtyrecords
www.facebook.com/eastandyoung
https://twitter.com/eastandyoung
Electro Wow Guest Mix: subduxtion

subduxtion brings together an exclusive guest mix for Electro Wow. The talented DJ and music producer strikes back with an energizing and powerful mix featuring the best Progressive House tracks from impressive acts alongside some hits of his own.
Following the highly acclaimed release of his EP 'Rezone', the DJ has kept busy working on new music as well as curating hot mixes for his weekly radio show 'Dark Signals Radio.'
Now, he introduces this special guest mix that will surely become an instant favorite. Press play and enjoy this amazing musical journey guided by subduxtion's unparalleled style.
Tracklist
1. Robert Babicz – Dubtek 1 (Original Mix)
2. Midnight Traffic – Unseen Locations (Original Mix)
3. Lee Holman – Rumours of My Deep Demise (Original Mix)
4. subduxtion – Enigma (Original Mix)
5. Kajis, Movement Machina – Zone (Mike Koglin Remix)
6. Del Fonda – Come Closer (Original Mix)
7. Two Are – In The Sky (Original Mix)
8. Carl Weller – Trippin' (Extended Mix)
9. subduxtion – Lust (Original Mix)
10. Nicco (N.D) – No More (Refresh Remix)
11. Sam Hopgood (Emergence (Hobin Rude Remix)
12. Kostyn Outta – Falcon (Original Mix)
13. subduxtion – Seek (Original Mix)
14. Basil O'Glue – Nostos (Original Mix)
CONNECT WITH SUBDUXTION NOW!
Timmo Hendriks Releases Emotive Progressive House Tune "Lonely World"

Timmo Hendriks returns to Protocol Recordings with another deep progressive gem titled "Lonely World," which demonstrates his sonic style perfectly. The Dutch producer opens with cinematic, undulating melodies and soulful vocals that evoke a hopeful feeling, while cavernous basslines add the right amount of depth to this otherwise emotive track. "Lonely World" proves once again that Hendriks's dynamic production style can feel right at home for both the club and festival circuit, as well as easy radio play. No wonder why it's Hendriks's 25th single release on Nicky Romero's label. The new single follows Timmo's "I Need To Know" from August with Scott Forshaw vs. JJ Beck and Sam Welch, and such great collaborations from the past as "Into The Light" with Nicky Romero and "Keep Me Close" with Jeffrey Sutorius (both are rapidly approaching 6M combined streams).
Founded by Nicky Romero, Protocol Recordings is one of the leading imprints for innovative house music; it boasts a roster of heavy-hitters complemented with immensely talented up-and-comers, all with a diverse range of sounds that are guaranteed to light up a dance floor. Dutch artist Timmo Hendriks first made his debut on the label with 2018's "In My Head," with Lennart Schroot, followed by "Thinking About You" as part of Protocol's "Miami 2019" EP, which has garnered almost 4M streams on Spotify. His next releases, such as "Magical" with Lindequist, "By Your Side" with Jordan Grace, or "Be Alright" with Marc Benjamin, continued to show increased energy and a more mature production style, which resulted in more great collaborations such as "Into The Light" with Nicky Romero, "Hold Me Down" with Marc Benjamin and VY•DA, "Remember" with Stadiumx, as well as "Keep Me Close" with Jeffrey Sutorius. He has become a household name and veteran of the Protocol team. Keep an eye out for what's next.
CONNECT WITH TIMMO HENDRIKS NOW!
Almero Unveils Progressive House Single "Outer Love" On Protocol

French producer Almero is back on Protocol Recordings with his next single on the label, a deep progressive gem titled "Outer Love." The track perfectly exemplifies his signature style, opening with cinematic and undulating melodies underneath emotive vocals and a groovy, underground-oriented bassline. The artist's talent lies in creating tracks that feel cathartic and dreamy yet upbeat and dancefloor-friendly and, just as his previous releases, "Outer Love" strikes home perfectly. Almero's recent releases on Protocol include this summer's "Come Back Again" and "So Much Love" with Nicky Romero earlier this year, among many others.
Founded by Nicky Romero, Protocol Recordings is one of the leading imprints for innovative electronic dance music. It boasts a roster of heavy-hitters, complemented with immensely talented up-and-comers such as Thomas Gold, Deniz Koyu, Teamworx, Futuristic Polar Bears, Trilane, Marcus Santoro, Stadiumx, Tim van Werd, and Nicky Romero himself, to name a few. All with a diverse range of sounds that are guaranteed to light up a dance floor. Almero is already making waves; he debuted on Protocol in 2020 with "They Don't Know" with CAMARDA and then followed with "Focus" with DØBER, 2021's "Good Old Days" with CAMARDA, "Run" with Teamworx, and solo singles "Do Again" and "Midnight Love." He has additional releases on Universal Music, Spinnin' Records, Anjunabeats, Smash The House, Hexagon, and has earned support from Hardwell, Sander van Doorn, Nicky Romero, Sunnery James & Ryan Marciano, Blasterjaxx, and Thomas Gold. Stay tuned for more releases coming from Almero and more of the Protocol artists.
CONNECT WITH ALMERO NOW!