Everything You Ever Wanted To Know About Country Duo Poppyiris

Unquestionably, timeless romantic songs are the specialty of Poppyiris. In this exclusive interview, you can know them better. Moreover, if you want to chill and listen to Country music, you might enjoy their latest offering entitled, "Why The Hell Knot". Scroll down and happy reading!
1 — Thanks for your time, where are you located?
Poppyiris is a duo from Nashville and Los Angeles.
2 — What are you known for?

Deedee:  I am known for writing Country songs and Broadway Musicals.  One of my musicals, "Waiting For Johnny Depp" was selected by Tony Award-winning producer Ken Davenport to be featured in the Rave Music Festival this past summer in NYC.  The show is definitely gaining momentum across the country.  I co-wrote it and starred in it and won Best Actress for my performance at The Valley Theatre Awards here in Los Angeles.
Mike:  I am in high demand as a session singer in Nashville and I share the stage with a lot of cool cats. I recently performed with Garth Brooks, Miranda Lambert and Keith Urban.  I am very fortunate to make my living as a musician.
Poppyiris is known for our timeless love songs and our harmonies.  People love each of us as performers in our own right but together,  they kind of go wild over the union of our voices.
3 — What do you do for a living?
Deedee: Write songs, books, teach songwriting and perform.
Mike:  I am a session musician and a bass player.  I tour with a lot of amazing artists including the legendary Loretta Lynn. We are also both session musicians who sing on other people's albums.

4 — How much experience or expertise do you have in music?

Deedee:  When I was 21 I started singing commercials in New York.  You could hear my voice on commercials like Avis Rent A Car, Heinz Ketchup, IBM and Toshiba.  I was also the jingle voice for a Japanese radio station for years. If you combine the list of people we have shared the stage with, it is a list of the who's who of American Music.
We have collectively shared the stage with Loretta Lynn, Willie Nelson, Kenny Rogers, Martina McBride, LeAnn Rimes, Chris Cagel, Stephen Bishop, Glen Campbell, Keith Urban, Garth Brooks, and the list goes on and on and on.
5 — Studies

Deedee:  I have a Bachelor of Fine Arts in theatre from Hofstra University and a minor in music.
Mike: I came to Nashville the week after HS graduation…  My cousin is a professional bass player here and had already gotten established in the Nashville music community…  I got here on a Monday and on Tuesday he got a call about a new artist needing a bass player who also could sing harmonies, he told them about me and on Thursday (less than a week of being in Nashville) I was on my way to Las Vegas with my first artist gig.
6 — Music influences

Billy Joel, The Beatles, Kenny Rankin, Dan Fogelberg, The Police, Brett Eldredge, Loretta Lynn,  Rascal Flatts, Garth Brooks, and Keith Urban.
7 — Aspirations or hopes

We want to open for a major Country act like Reba, Keith Urban, Lady Antebellum or Eldredge, on the road!  We want a bunch of Grammys and CMA awards as well.  We wouldn't mind starring in a few movies too!
8 — Achievements or awards

Deedee:  I'm pretty proud of winning the Los Angeles Music Award's singer/songwriter of the year

Mike: I  won Tasmanian Independent Country Music Awards International Artist Of The Year last year.
9 — How would you describe your music style?

Contemporary Country with an R&B influence.
10 — Other details about your life and personality

Deedee: I have written a book called The Lemonade Maker about turning obstacles into opportunities and I love public speaking and singing about the subject. I enjoy helping mankind become more causative over his problems and less a victim.  Life is all about learning to handle the punches in a positive way.
Mike: My parents were always very supportive of my music with the lessons and making sure my bills got paid when times were tough!
I never take for granted that kind of support. It takes a village to make a great artist.
Deedee:  Yes, my mom and dad were exactly the same. Always there to back me up on all my music endeavors.  We couldn't do it without the support of family and wonderful friends.
---
CONNECT WITH POPPYIRIS NOW!
Interview With Legacy: Rap, Poetry, New Music & More

Get to know Legacy, a skillful rapper who dominates the art of poetry like none other. Hailing from Arizona, his songs are gaining a lot of traction with almost 15K streams on SoundCloud. If you are looking for fresh Hip-Hop talents, then scroll down to read this interesting interview.
1 — Can you recall the moment when you thought you could be a rapper?
Honestly, I don't think I really decided lol. I was writing some poems one day and started learning how to time the syllables to the instrumentals I would find on YouTube and it became something I couldn't stop doing.
2 — How do you think your hometown has influenced the kind of music that you make?
My hometown influences everything I do, it's why I'm anxious, depressed, and happy all at the same time. Every day can be good or bad, someone can give me a dirty look one day or trash talk me and I remember the instance and add it to the stories.
3 — What's so special to you about poetry that you seem to love so genuinely?
Poetry requires you to face the darkest emotions. It makes you think about and actively reflect on everything you do and say. So when I've had a bad day, instead of bottling it entirely, I can vent through a verse – which in turn people hear and support my efforts to make it through my everyday life.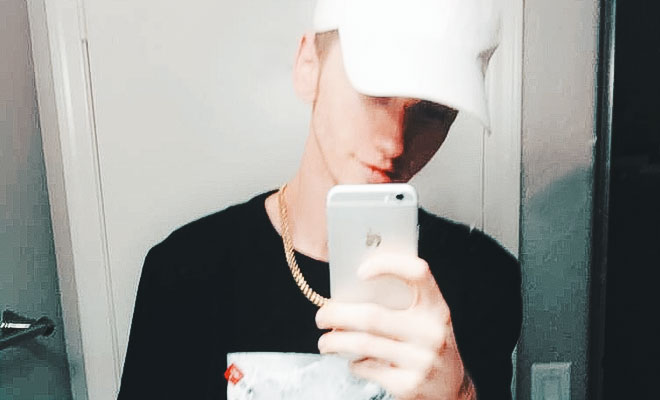 4 — Where did you take the inspiration to write most of your lyrics?
The inspiration lives in the lifestyle, the good experiences, and the bad.
5 — Do you think a good rapping performance comes from a good rapping technique? If so, what's yours?
In my opinion, if the fans/listeners are connected to what you're saying emotionally, and mentally, your performance has achieved its goal. People like having people they can relate to, all I'm doing is bringing those emotions into a poem and instrumental.
6 — Please tell us more about your song "Bad Feelings". What's the message behind it?
"Bad Feelings" is actually quite old and I'm just now really pushing for the exposure while my page is still young. However, the message never dies. What I really want people to take away from this song is that no matter what happens, no matter how hard it gets, just keep doing your thing. Time will make it better. Set goals. Keep dreaming. The longer you wait the harder it gets.
7 — As an artist, how do you deal with criticism?
Criticism is everywhere. You can walk a certain way and be judged for it. Listen to the bad things, only sometimes, when they help you improve. And hold the good things close and carry them with you. The good comments and feedback are almost a shield to the bad. They help you realize that one bad comment is one of many other really good ones. So all you can do is keep moving.
8 — Are you afraid to experiment with different music styles?
Yes, and no. It depends on the meaning of "style." Like, I hate my singing voice but I'm not afraid to try out other flows and techniques.
9 — What are your current projects?
The "Mindset EP." I'm dropping two more tracks as of right now to finalize the project. "Motion" and another untitled track that I'm working on in collaboration with my newest partner "Yung Cubb".
10 — Finally, if you weren't an artist today, what else could you see yourself doing?
Being a pro-CoD player. 💀
---
CONNECT WITH LEGACY NOW!