Exclusive Interview: Discover Nigeria's Promising Hip-Hop Artist FascoJ
Believe it or not, there's growing talent in Nigeria. With this interview, you will discover everything about FascoJ. The promising Hip-Hop artist just dropped his debut album 'Curves', and has a desire to expand his horizons. For the very first time, FascoJ shares with us his own story and latest music project. Scroll down and read the rest.
1 – Tell us about your musical journey. How did you become FascoJ?
My musical journey has been an exciting experience in my whole life career and perspective for me. Because if you asked me these questions when I was young, I would say I wanted to be a doctor or rather a pilot or even a soldier…But then I fell in love with music. In 1999, when I was only 4 years old I had grown siblings who will play music all day after school and I had no choice but to watch and listen to them, while I had my friends watching cartoons at such age, my elder siblings inspired by the whole thing they watched all day which was Hip-Hop, RnB, Pop music and a few Rock and Country music as well.
My real name is John Fasanmade Adeoye (Born on March 11th, 1995), better known by the stage name of FascoJ. I used to be called "Jaguar" in elementary school, and when I got to middle school a group of friends started calling me by my elder brothers' last name which was David because they saw how much I was inspired by his music through him. I went from "FascoD" to "Don John" in high school but after my first live performance on stage I opted for "FascoJ" as my artistic name. Actually, it came from my first and last name altogether.

2 – What do you think makes your music style different from other artists?
Well, I grew up in a country called Nigeria, somewhere in Africa where most people listen to Afro-beats, Apala, Fuji, Reggae and so on… There wasn't much of Rap, Hip-Hop nor RnB music. Many artists in the country never thought of it as a thing for Africans, but when I was growing up I felt inspired by my elder siblings and the music they used to listen. I found a lot much more interest in the foreign content of music from the sound to the lyrics and I turned them up into poems in my poetry classes at elementary school. I was in love with American and Canadian-type of music. So, I decided to try something a little more different and that's how I found my style of music a little bit different from other artists in my country. It's been really exciting for me finding my passion in the Hip-Hop/Rap field of music.
3 – Is Nigeria a good place for Hip-Hop artists? How do you see the music scene over there?
Currently, now in the Nigerian Hip-Hop and Rap field, we have a handful of artists, not to mention citizens that were born outside the country in foreign lands and came back to Nigeria to implement their style. Nearly in 2011, we already had artists playing this genre but I'm not going to lie to you, the promotion has been tough knowing that 70% of people in the country weren't used to the Hip-Hop style, so it's a struggle in that field to get fans. However, with experience, effort, and perseverance we've been able to acquire about 30% of fans in that area and with our efforts, I believe in the next years to come, there will be a new generation to inspire others in the Nigerian music industry.

4 – Who inspired you to launch your latest album 'Curves'?
Growing up I used to love music, to be more precise, American Hip-Hop, Rap, RnB and Pop musicians were my idols. To cite some artists, 2pac, Biggie, Dr Dre, Snoop Dogg , Ice Cube, Xzibit, Big Pun, JayZ, Nate Dogg, Eminem to Ja Rule , Nelly , Bow Wow, Chingy, Lil Romeo, Cassidy, Ludacris, Kanye West, Lil Wayne, Gucci Mane, Bossie Badass, Ashanti, Brandy, Beyonce, Fat Joe, Kelly Rowland, Micheal Jackson, 50 Cent, The Game, Lloyd Banks, Chris Brown, Buck, Lloyd, Omarion and including the recent artists on the scene like Drake, Nicki Minaj, Lil Uzi Vert, Wiz Khalifa, Currensy, Berner, Dave East, Young MA, and I could go on for days mentioning them all…
But my first album 'Curves' came through me as that experience when entering an unknown field in the music industry where Hip-Hop and Pop wasn't a people thing, so I thought of all the life curveball quotes would throw at me that time, knowing that this material wasn't inspired by half of the populations' in the country. So, I named it "Curves" because life has thrown curve balls and the struggle to find your voice heard in such situations at the time was not easy but with effort, hard work and perseverance I was able to go through success.
5 – Which is your favorite track? Why?
Fortunately, I love every single song on the album so it's hard to pick one because they all have different melodies and tunes to the heart. But, it was right after I released the album 'Curves' and I started dropping singles when I stumbled on my favourite track "No Time" outside the album and I played it over and over till I was in love and even obsessed with it… "No Time" was a great collaborative song for me not with any much specific story in mind, but really something most people listen to because of the bravery and confidence most people usually need when going through hard times of knowing you're worth and people around trying to ride you down, bring you down in scenarios where you know with all you got, you've got to stand for yourself and persevere no matter what the danger or issues are. At the end, everyone is worth it, so the message of this song is to raise people's hopes and not to belittle anyone for what they want to believe in.
6 – From your view, what's exciting about the whole album?
Apart from the fact my music is so different from what most people are used to listen to in the country, It's exciting for me because the journey wasn't easy and I was inspired by my own potentials trying to comply both, rapping and trapping, and even the singing aspect is a little bit more with explicit lyrics in the contents. Of course, this felt amazing and creative to what's known in the Nigerian music industry. So, yeah, it's an exciting album from my view.
7 – Did you collaborate with other artists on this record?
Yes, I collaborated with a few of my colleagues from childhood friends to intuitional colleagues we all had the same taste and perspective of music, which was amazing. Exploring with them our potentials, I was able to learn more of what the Hip-Hop fans are interested in, which made things a lot much easier to work with at the time we produce the album and the singles. It was such a great experience.

8 – How important is social media to you as an artist?
In the current era we live in, social media is everything to me and as someone who has been in the fandom since I was 9 years old, social media has really helped me out in getting myself out. It helps me to find out and listen to other people's opinions on their music tastes, which inspires me a lot as well in doing what I'm doing now.
9 – What's next for you?
Well, currently at the moment I started my projects on the 'Curve' album. Since last year, I have been dropping song after song and haven't really set up a music video project on any of the singles yet. So, I think shooting visuals for my songs in order to get more recognition and publicity of who I am as an artist in the world and doing live performances are the next big things on my mind.
10 – Where do you see yourself in the next 10 years?
Well, one sure way to gain a level of success in the music industry keeps relation to the phrase "never ever stop making music" as simple to not stop "being one". Most artists give up after an overnight success, but in reality, goals are likely to be reached through years in the making.
---
CONNECT WITH FASCOJ NOW!
Interview With Legacy: Rap, Poetry, New Music & More

Get to know Legacy, a skillful rapper who dominates the art of poetry like none other. Hailing from Arizona, his songs are gaining a lot of traction with almost 15K streams on SoundCloud. If you are looking for fresh Hip-Hop talents, then scroll down to read this interesting interview.
1 — Can you recall the moment when you thought you could be a rapper?
Honestly, I don't think I really decided lol. I was writing some poems one day and started learning how to time the syllables to the instrumentals I would find on YouTube and it became something I couldn't stop doing.
2 — How do you think your hometown has influenced the kind of music that you make?
My hometown influences everything I do, it's why I'm anxious, depressed, and happy all at the same time. Every day can be good or bad, someone can give me a dirty look one day or trash talk me and I remember the instance and add it to the stories.
3 — What's so special to you about poetry that you seem to love so genuinely?
Poetry requires you to face the darkest emotions. It makes you think about and actively reflect on everything you do and say. So when I've had a bad day, instead of bottling it entirely, I can vent through a verse – which in turn people hear and support my efforts to make it through my everyday life.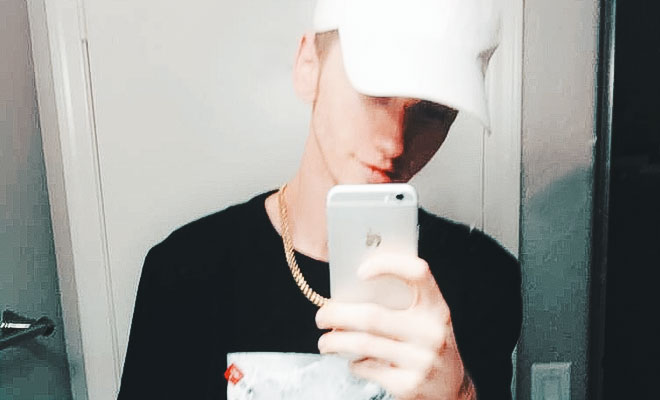 4 — Where did you take the inspiration to write most of your lyrics?
The inspiration lives in the lifestyle, the good experiences, and the bad.
5 — Do you think a good rapping performance comes from a good rapping technique? If so, what's yours?
In my opinion, if the fans/listeners are connected to what you're saying emotionally, and mentally, your performance has achieved its goal. People like having people they can relate to, all I'm doing is bringing those emotions into a poem and instrumental.
6 — Please tell us more about your song "Bad Feelings". What's the message behind it?
"Bad Feelings" is actually quite old and I'm just now really pushing for the exposure while my page is still young. However, the message never dies. What I really want people to take away from this song is that no matter what happens, no matter how hard it gets, just keep doing your thing. Time will make it better. Set goals. Keep dreaming. The longer you wait the harder it gets.
7 — As an artist, how do you deal with criticism?
Criticism is everywhere. You can walk a certain way and be judged for it. Listen to the bad things, only sometimes, when they help you improve. And hold the good things close and carry them with you. The good comments and feedback are almost a shield to the bad. They help you realize that one bad comment is one of many other really good ones. So all you can do is keep moving.
8 — Are you afraid to experiment with different music styles?
Yes, and no. It depends on the meaning of "style." Like, I hate my singing voice but I'm not afraid to try out other flows and techniques.
9 — What are your current projects?
The "Mindset EP." I'm dropping two more tracks as of right now to finalize the project. "Motion" and another untitled track that I'm working on in collaboration with my newest partner "Yung Cubb".
10 — Finally, if you weren't an artist today, what else could you see yourself doing?
Being a pro-CoD player. 💀
---
CONNECT WITH LEGACY NOW!