Exclusive Interview: KOPPS Discuss New Song "Get Juicy" + Upcoming EP
KOPPS' good sense of humor is as likable as their music. Sure enough, they can convince thousands of curious listeners with their eccentricities and original ideas. Hailing from Rochester, NY, these artists have caught my attention with their newest track, "Get Juicy". Check out our exclusive interview with the band in order to get first-hand details about an upcoming EP, and this sex-posi song.
1 – Can you tell us the story behind your new single "Get Juicy"? How did the idea come up?
We sometimes come up with a word or phrase as a joke and it later becomes a song. That's kind of what happened with "Get Juicy". Kyle brought the phrase to a writing session and we already had a track started without a concept, and with all the wet and farty production sounds happening, we knew it was going to be a match.
2 – How did you start picking what visuals will go on the cover art?
We could have easily gone with the female/hypersexual/juicy innuendo but then had a thought about using a hairy dude to get this across instead. "Juicy" to us represents any of the major bodily fluids and actual drinkable beverages, so why discriminate? In this art, we combine the idea of pee with the idea of blue raspberry fruit punch, and we think it gets across nicely.

3 – Are you considering launching a music video for "Get Juicy"?
We are launching a couple of pieces of CONTENT for it, I will say that… 😉
4 – Is blending elements of pop, rock and electronic music or is this sound part of your signature style?
I think we all have a very different and individually eclectic sense of taste and this comes through in our writing and ends up landing at "Our sound." We have written songs and said to each other ok this is cool but it's not really a KOPPS song. It's something we know when we hear it, and sonically for it to be "US" enough… things need to be interesting.
5 – When will you release your next EP?
Likely spring or summer 2020!
6 – How different is this upcoming project from your debut EP 'Fuck Jams' (2012)?
I would say its quite different but also similar. We have grown production-wise from a grittier sound to something a hair more polished. We have moved from very alternative-dance to more of an alt-pop sphere, which is fine because we all love pop music to some degree. Back in the "fuck jams" days, I was also finding my footing as far as my sound in this project as a vocalist, which is reflected in some songs sounding vastly different from others. My voice is pretty versatile and we were playing with that a lot back then. I started off as a youngster really focusing on soul music, but always loved 90s dance and a ton of Rock too, and I feel like as with everything else about our sound, the way I vocalize combines those elements. In the last 3-4 years, I think I have really solidified what I want to sound like vocally for KOPPS.
7 – Do you feel fans or the music industry put too much pressure on your creativity?
I will never be upset with FANS for wanting to be engaged with what we are making. From day 1 our stuff has been on the highly creative end visually and sonically, so it's always a fun challenge to see wtf we will come up with next. The most high-pressure thing to me is the internet and Instagram, feeling like you need to churn out low-quality content constantly to keep your audience engaged. It doesn't give space sometimes to sit with creative thoughts and really work on something for a long time that could be great. I think we struggle with that at times and the pace of everything.
8 – If you could collaborate with one artist, who would it be?
Missy Elliot
9 – Finally, what would you say it's your major goal within your music career?
We would like to inspire freedom, empowerment, and escapism in our fans. I want to be a 5-star entertainer really and captivate people who come to shows…I want to eventually play to huge audiences consistently and feel the energy exchange. It is a literal drug for everyone involved.
---
CONNECT WITH KOPPS NOW!
Interview With Legacy: Rap, Poetry, New Music & More

Get to know Legacy, a skillful rapper who dominates the art of poetry like none other. Hailing from Arizona, his songs are gaining a lot of traction with almost 15K streams on SoundCloud. If you are looking for fresh Hip-Hop talents, then scroll down to read this interesting interview.
1 — Can you recall the moment when you thought you could be a rapper?
Honestly, I don't think I really decided lol. I was writing some poems one day and started learning how to time the syllables to the instrumentals I would find on YouTube and it became something I couldn't stop doing.
2 — How do you think your hometown has influenced the kind of music that you make?
My hometown influences everything I do, it's why I'm anxious, depressed, and happy all at the same time. Every day can be good or bad, someone can give me a dirty look one day or trash talk me and I remember the instance and add it to the stories.
3 — What's so special to you about poetry that you seem to love so genuinely?
Poetry requires you to face the darkest emotions. It makes you think about and actively reflect on everything you do and say. So when I've had a bad day, instead of bottling it entirely, I can vent through a verse – which in turn people hear and support my efforts to make it through my everyday life.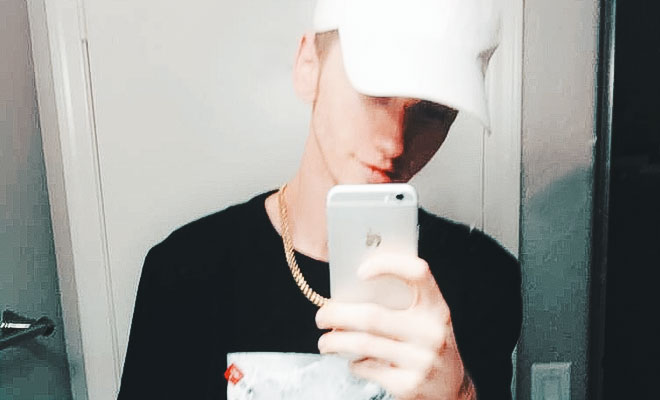 4 — Where did you take the inspiration to write most of your lyrics?
The inspiration lives in the lifestyle, the good experiences, and the bad.
5 — Do you think a good rapping performance comes from a good rapping technique? If so, what's yours?
In my opinion, if the fans/listeners are connected to what you're saying emotionally, and mentally, your performance has achieved its goal. People like having people they can relate to, all I'm doing is bringing those emotions into a poem and instrumental.
6 — Please tell us more about your song "Bad Feelings". What's the message behind it?
"Bad Feelings" is actually quite old and I'm just now really pushing for the exposure while my page is still young. However, the message never dies. What I really want people to take away from this song is that no matter what happens, no matter how hard it gets, just keep doing your thing. Time will make it better. Set goals. Keep dreaming. The longer you wait the harder it gets.
7 — As an artist, how do you deal with criticism?
Criticism is everywhere. You can walk a certain way and be judged for it. Listen to the bad things, only sometimes, when they help you improve. And hold the good things close and carry them with you. The good comments and feedback are almost a shield to the bad. They help you realize that one bad comment is one of many other really good ones. So all you can do is keep moving.
8 — Are you afraid to experiment with different music styles?
Yes, and no. It depends on the meaning of "style." Like, I hate my singing voice but I'm not afraid to try out other flows and techniques.
9 — What are your current projects?
The "Mindset EP." I'm dropping two more tracks as of right now to finalize the project. "Motion" and another untitled track that I'm working on in collaboration with my newest partner "Yung Cubb".
10 — Finally, if you weren't an artist today, what else could you see yourself doing?
Being a pro-CoD player. 💀
---
CONNECT WITH LEGACY NOW!