Get Into The Shoegaze Pop World Of The Migraine Aura With This Debut EP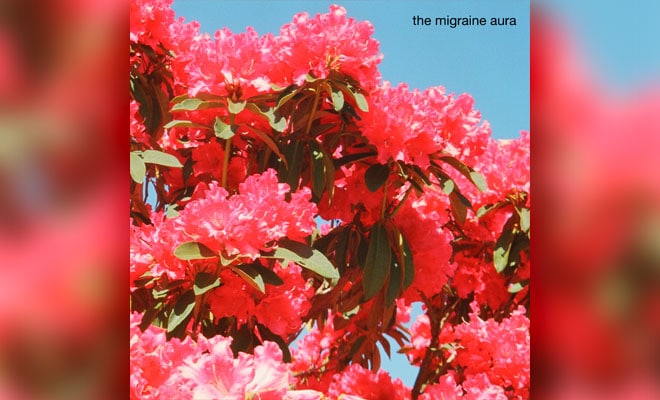 Hailing from Tacoma, WA, AJ Dudick has a very interesting artistic project called The Migraine Aura. Growing up as a music lover, he became obsessed with Rock, Punk, Metal, and his favorite hobby of playing the guitar became his passion. Interestingly enough, the present-day pandemic motivated him to write and record his debut EP. This ear-pleasing material features the collaboration of five trained vocalists for each track.
You can discover his Shoegaze Pop world (Gloom-Pop style) with high-quality cuts produced by the artist himself. Most of these tunes are 100% radio-friendly, plus, the raw vibrant energy truly gives you goosebumps. In terms of versatility, you'll enjoy strident, blistering guitar chords, different tones, and lyrics that push an attractive narrative about relatable things. Believe it or not, it took him just 4 months to complete this album. Furthermore, listeners will feel a strong The Smiths, The Cure, and New Order influence throughout. Seriously, there's a classic vibe to it as well. Above all, I highly recommend you support this project especially because The Migraine Aura is donating a good portion of his earnings from this new EP to the American Civil Liberties Union. Learn more on his website.
CONNECT WITH THE MIGRAINE AURA NOW!
Rhett Daneka: Soaring Through Life From Aviation To Rock Music

Born and raised in Baytown, Texas, Rhett Daneka initially started college at Texas Tech after graduating from Robert E. Lee High School in 1986. However, his interest in aviation led him to overcome financial challenges to pursue his dreams.
Within less than five years, Rhett earned his ATP and became a Gold-Seal Flight Instructor, eventually becoming Chief Flight Instructor at Hooks Airport. Later, he dedicated himself to piloting an Air Ambulance, rescuing premature infants from small towns, and transporting them to top neonatal hospitals.
In the early 2000s, Rhett transitioned to self-employment, discovering a passion for singing. After a decade-long hiatus from music, Rhett reignited his enthusiasm in 2020, assembling a top-tier team of musicians, producers, a renowned studio, and a vocal coach to fulfill his creative ambitions.
Nowadays, Rhett Daneka is fronting Daneka Nation, his musical project. The band has released six singles since January 2021 and is now busy making more music for people everywhere.
Listen to his most recent track, "Fight Song," on Spotify, which has garnered over 300,000 streams so far.
Undoubtedly, the lyrics of "Fight Song" convey a message of empowerment, resilience, and determination, highlighting the strength to beat the odds and follow one's goals. Besides, this tune exists with the purpose of keeping your spirits high.
Somehow, it's necessary to listen to the guitar chords and passionate vocals behind this rockish track to rise up stronger and not let problems defeat us. Indeed, Friedrich Nietzsche's wisdom holds weight: "Without music, life would be a mistake."
In short, Rhett's journey from a pilot to the stage shows that perseverance can make your dreams come true, no matter when you start.
CONNECT WITH DANEKA NATION NOW!
Samantha LaPorta Delivers Pop-Rock Anthem "Lies Are Your Truth"

Hold onto your seats, because Samantha LaPorta is back in action with a fresh Pop-Rock anthem, "Lies Are Your Truth." It's incredible how she channels the vibes of Paramore and Evanescence with an explosive energy that will give you goosebumps.
Besides haunting melodies, the American singer-songwriter explores the twisted world of manipulation, immersing listeners in the emotional turmoil of being deceived.
In true "Fight Club" fashion, "Lies Are Your Truth" mirrors the mind games of the cult classic. Similar to the movie, this song gives you a choice: either you're trapped in someone's manipulative web, or you're the one in control, avoiding the truth right in front of you.
Be sure to hit that play button below and add it to your playlist for maximum enjoyment.
By the same token, you won't be able to resist getting lost in her emotionally charged vocals and powerful arrangement. Not to mention, this single is truly a treat for fans of Alternative and Pop-Rock music.
With pounding drums and fuzzy guitar riffs in tow, the lyrics pierce the soul. Plus, her unfiltered verve ignites an incandescent spark of passion in the atmosphere.
Naturally, crafting a signature sound is a process which requires time, but it's evident that nowadays Samantha LaPorta has already mastered the art of standing out from the crowd.
CONNECT WITH SAMANTHA LAPORTA NOW!
Steve Major's Powerful Visuals Reflect Ongoing Crisis In Ukraine
The incredible new music video for "TORN" by Steve Major reflects the ongoing crisis in Ukraine. You will want to experience this masterpiece that will leave a lasting impression on your heart and mind.
Even though he's a Canadian artist, this song means a lot to him. It's really personal because he used to live in Ukraine like a local and has friends there too.
With "TORN," he directly speaks to those who have experienced feelings of helplessness. It reminds everyone they are not alone, especially when facing tough challenges.
The lyrics of this song are centered around a sense of understanding and kindness. It's like a call to everyone, inspiring us all to unite and crave peace worldwide.

People who've been through the horrors of war and conflict need a helping hand today. And there's nothing better than powerful visuals to raise awareness or implement a real change.
The distorted guitars, heavy drums, and intense vocals hit you in the gut, and it's freakin' awesome!
But it's not just about the adrenaline rush; it's the sense of liberation and the opportunity to express oneself authentically. Fortunately, Steve Major complies with all the quality parameters.
CONNECT WITH STEVE MAJOR NOW!