Get Into The Shoegaze Pop World Of The Migraine Aura With This Debut EP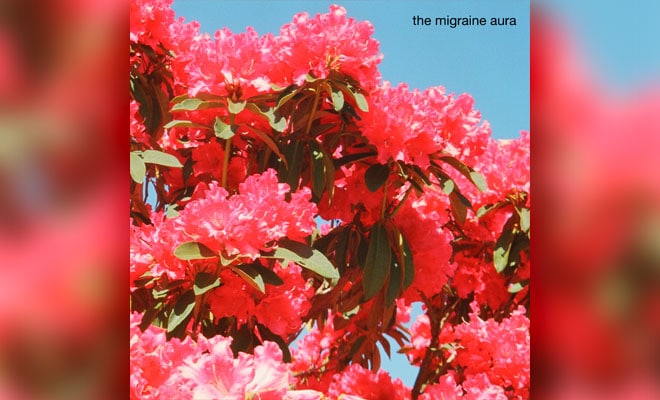 Hailing from Tacoma, WA, AJ Dudick has a very interesting artistic project called The Migraine Aura. Growing up as a music lover, he became obsessed with Rock, Punk, Metal, and his favorite hobby of playing the guitar became his passion. Interestingly enough, the present-day pandemic motivated him to write and record his debut EP. This ear-pleasing material features the collaboration of five trained vocalists for each track.
You can discover his Shoegaze Pop world (Gloom-Pop style) with high-quality cuts produced by the artist himself. Most of these tunes are 100% radio-friendly, plus, the raw vibrant energy truly gives you goosebumps. In terms of versatility, you'll enjoy strident, blistering guitar chords, different tones, and lyrics that push an attractive narrative about relatable things. Believe it or not, it took him just 4 months to complete this album. Furthermore, listeners will feel a strong The Smiths, The Cure, and New Order influence throughout. Seriously, there's a classic vibe to it as well. Above all, I highly recommend you support this project especially because The Migraine Aura is donating a good portion of his earnings from this new EP to the American Civil Liberties Union. Learn more on his website.
CONNECT WITH THE MIGRAINE AURA NOW!
"Wicked Bogus, Kid", Immerses You Into The Music World Of Deja Solo

Deja Solo's brand new track "Wicked Bogus, Kid," radiates with an authentic Alt-Rock sound. Everything he creates at the studio is an outburst of his soul. Over time, he has developed an eclectic musical style that reflects influences that range from Jimi Hendrix, Linkin Park, and Audioslave to Hip-Hop stars like Tupac Shakur, Eminem, and Kid Cudi.
On a side note, the independent artist from Southern New Hampshire confesses that music saved his life. Moreover, he believes that it can help you cope with loneliness. So, it doesn't matter if you're getting through the darkest hours of your life, Deja Solo's songs are there to connect with your emotions. By virtue of his compelling vision, his honest, raw, and expressive lyrics are pure gold.
Stream in full, "Wicked Bogus, Kid" right here.
The emerging artist will release his third EP entitled 'BLACKOUT' on January 22nd, 2021. I absolutely believe that this material is poised to capture your attention in his music world even further when it arrives. Get more details on the links below.
CONNECT WITH DEJA SOLO NOW!
Rock Band Blind Season Release Stupendous Single "One Final Goodbye"

Meet Alternative Rock band Blind Season. Incorporating heavy guitar riffs mixed with pounding drums, their latest single "One Final Goodbye" is something pretty stupendous. In the blink of an eye, these artists prove themselves to be good at improvising lyrics and intricate melodies. Certainly, I think this song reflects a relationship going through a grieving process or a toxic situation. Plus, the bottom line for listeners is that forcing yourself to be happy doesn't work.
"One Final Goodbye" will be featured on the rock band's upcoming album. In addition, as new details emerge, I can confirm this material is inspired by Tim Burton's movies, known for his dark, gothic, and horror-esque stories. What's more, they'll also explore themes like loneliness and noxious circumstances you can feel identified with. Overall, you'll have to wait for more cuts with raw energy, aggressiveness, and musical twists. Trust me, sit tight, it will be worth the wait.
CONNECT WITH BLIND SEASON NOW!
Donald Trump Goes To Jail In Dear Banshee's Music Video — WATCH
It should go without saying that 2020 has been the craziest year to occur in America. Indie Rock band Dear Banshee showcases a recap of the annual events and even predict the imprisonment of Donald Trump in their animated clip for "Plagued."
It should go without saying that 2020 has been the craziest year to occur in America. Indie Rock band Dear Banshee showcases a recap of the annual events and even predict the imprisonment of Donald Trump in their animated clip for "Plagued." Video Director Andy Markantonatos seeks to highlight episodes like the pandemic, the BLM protests, and the elections with awesome claymation techniques. While its realistic lyrics don't reflect this context, they are magnificent in their own way.
With the right drum pattern, electronic elements, and nice guitar riffs, it's impossible not to enjoy Dear Banshee's unique art. Believe it or not, each member of the San Francisco-based band recorded their own part from their home studios during the quarantine period. Despite difficulties, the end result speaks so well of their professionalism. So far, the feedback from their fans is positive, and they're already eager to hear similar tunes. I'm not kidding, it's definitely worth checking out the catchy vocals and the chorus above all else.
CONNECT WITH DEAR BANSHEE NOW!