Sexy Grannies Remake Benny Benassi´s "Satisfaction" Music Video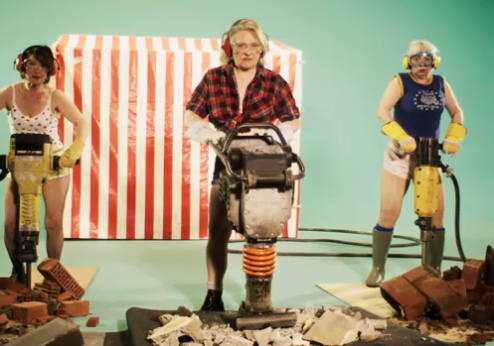 The first Electro anthem ever made on planet Earth is a Benny Benassi song called "Satisfaction". Indeed, this is my favourite song of all time, and its glorious sound will be always in vogue. This song was part of Benny Benassi's 'Hypnotica' album which was released in 2003, and it got gold certification in Australia, Belgium, France and in The United States of America.
Well, now in 2011 an international organization Equal Payday have decided to make an interesting campaign by remaking Benassi's video "Satisfaction". This special video features a group of sexy grannies who can prove to us that they can work as hard as men. The idea behind this year's campaign is that getting paid fewer equals having to work longer. Many parodies have been made, but no one has ever done this for a real advertiser, and to address a real problem. The video is the perfect setting to symbolize women who have to work too long.
More Information ↓
http://www.pay-equity.org/day.html 
How Music Can Give You A Competitive Edge

As most readers already know, music transcends art and entertainment becoming a powerful tool for motivation and creativity. Listening to music can have a huge impact on our productivity levels, the quality of our output, and our performance.
Extensive research has been conducted over the last decade that discovered the many benefits of listening to music in certain situations, such as while working, studying, or competing in sporting events.
If you're looking for a way to gain a competitive edge, whether that's in the office or at the gym, read on to discover how music can help you achieve this.
Music gets you in The Zone
Colloquially known as The Zone, the Flow state is a positive mental state of altered awareness. Have you ever performed an activity where you're completely immersed in what you're doing, fully energized and focused, and enjoying every moment? That's the flow state, everything is functioning on a happy autopilot with very little conscious effort.

Music can be a powerful catalyst for getting in the flow, ensuring a completely stimulating experience that enhances performance. Some athletes, for example, talk about listening to certain songs or pieces of music to assist them with getting in the zone before an event, game, or match. Energizing motivational vibes are recommended here.
Music triggers good emotions
It's very much human nature to associate music with positive memories and experiences (and negative ones too, but we won't be talking about them today) and many studies have been conducted that link music with positive emotions.
Music that evokes good memories and a positive emotional response boosts internal motivation, which is crucial in sticking with a gym program or meeting urgent work deadlines.

Taking this concept further, a research team at the Georgia Southern University discovered that the power of music also extends to transforming states of mind from negative to positive.
During the study, the research team found that certain songs and pieces of music could divert attention away from negative feelings in participants (like fatigue and boredom), lowered their feelings of anger and depression, and stimulated enhanced performances when carrying out tasks and activities.
Musical inspiration
Often, the music that you already know and love, and associate with positive experiences, will be the best music to listen to when you want to nail your performance. If you're looking for some inspiration for your playlists, however, check out the following top tracks:
Motorhead – Ace of Spades
Lemmy, Eddie, and Phil's homage to Texas Poker is filled with gaming references, making it a top choice with pro poker players. It doesn't just come in handy when you want to up your game on the felt, however, as its intense, driving rhythm will get you instantly focused no matter what you're doing.
Beyonce – Run the World (Girls)
Not just for girls, Beyonce's 2011 feminist anthem is a modern-day classic, inspiring choreographers, performers, and athletes for almost a decade. An ultimate hype song, if you want to get yourself focused and pumped up for a challenging situation, make sure you blast this one as loud as possible.
David Bowie – Heroes
We could fill article after article with suggestions of David Bowie songs to listen to, but Heroes is one of his most uplifting and optimistic. Legend has it that it even played a part in the fall of the Berlin Wall after Bowie performed at the Reichstag in 1987. If you want to feel like you too could be a hero, just for one day, this is the song for you.