Sexy Grannies Remake Benny Benassi´s "Satisfaction" Music Video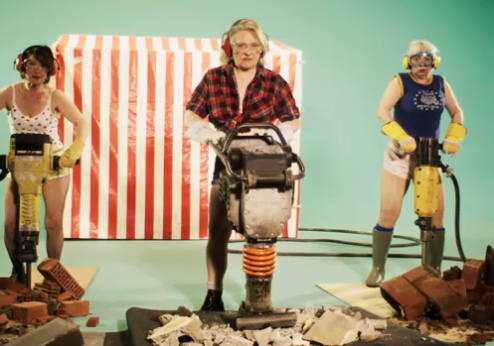 The first Electro anthem ever made on planet Earth is a Benny Benassi song called "Satisfaction". Indeed, this is my favourite song of all time, and its glorious sound will be always in vogue. This song was part of Benny Benassi's 'Hypnotica' album which was released in 2003, and it got gold certification in Australia, Belgium, France and in The United States of America.
Well, now in 2011 an international organization Equal Payday have decided to make an interesting campaign by remaking Benassi's video "Satisfaction". This special video features a group of sexy grannies who can prove to us that they can work as hard as men. The idea behind this year's campaign is that getting paid fewer equals having to work longer. Many parodies have been made, but no one has ever done this for a real advertiser, and to address a real problem. The video is the perfect setting to symbolize women who have to work too long.
More Information ↓
http://www.pay-equity.org/day.html 
How Has The Inclusion Of Pop Music Helped Certain Games Live Long In The Memory?

There are many things that evoke strong feelings of recollection in people. They include smell and taste, and it only takes a small dose to open the floodgates for the memories to gush in. One of the best ways to engage memory is through music, with neuroscientists discovering that people are more likely to remember words if they learn them alongside an accompanying track. Pop music has been used successfully in a number of games to make them more enjoyable. But the audio has another function as well. It can serve to immortalize the games because, whenever someone hears that music, they will think of the title in which they heard it first.
Tony Hawk's Pro Skater is a Good Example of a Solid Accompanying Track
Tony Hawk's Pro Skater and its sequel, Tony Hawk's Pro Skater 2, are considered among the defining titles of the PlayStation and were hugely popular when they were released in 1999 and 2000 respectively. They had exceptional and engaging gameplay, but one of the most-loved things about the games was the choice of songs playing in the background while players skated around. These included classics like Bring The Noise by Public Enemy and Superman by Goldfinger.

Activision Blizzard decided to remaster the game for modern consoles, updating all the surroundings and graphics to put them in line with the standard of offerings available today using the Unreal Engine 4. A lot of the aspects of the game remain the same, with some features being updated.
What is most notable about the rerelease of the two original games for PlayStation 4, Xbox One, and Microsoft Windows is the fact that developer Vicarious Visions chose to keep all the songs from the originals. This has helped bring about feelings of nostalgia in players who enjoyed the games twenty years ago. It should come as no surprise, then, that the new game sold more than one million units within the first two weeks of its release.
Slot Developers Using Popular Music and Acts to Gain Immortality
Music can also help certain games stand out in a highly saturated market, and this has been shown to good effect in slot games. There seems to have been a rise in music-themed slots in recent years, and top developer NetEnt is leading the way with its NetEnt Rocks range of games. The acts used for these games include legendary acts Guns N' Roses, Motorhead, and Jimi Hendrix – one of the best guitarists of all time. The music makes the games iconic, but also gives them immortality as classic tracks like Paradise City and Ace of Spades never get old.
One of the newest musical slots on the market is Music Stage from PlayPearls. It's designed to make the player feel as though they are the pop star, playing in front of a sell-out audience. This is a technique that has been used to good effect in offerings like Guitar Hero, as it allows the player to imagine what it would be like to rock out in front of adoring fans. When people play this game, the music helps stir up emotions, making the title memorable for years to come.

Music has added another foundation to games to make them even more memorable and enjoyable. Developers who get their music choices right can lead players to think about their games even when they aren't playing them. All it takes is for the song to come on to trigger those feelings of nostalgia for the game.