Sexy Grannies Remake Benny Benassi´s "Satisfaction" Music Video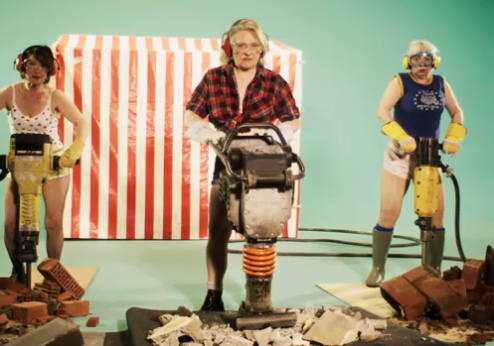 The first Electro anthem ever made on planet Earth is a Benny Benassi song called "Satisfaction". Indeed, this is my favourite song of all time, and its glorious sound will be always in vogue. This song was part of Benny Benassi's 'Hypnotica' album which was released in 2003, and it got gold certification in Australia, Belgium, France and in The United States of America.
Well, now in 2011 an international organization Equal Payday have decided to make an interesting campaign by remaking Benassi's video "Satisfaction". This special video features a group of sexy grannies who can prove to us that they can work as hard as men. The idea behind this year's campaign is that getting paid fewer equals having to work longer. Many parodies have been made, but no one has ever done this for a real advertiser, and to address a real problem. The video is the perfect setting to symbolize women who have to work too long.
More Information ↓
http://www.pay-equity.org/day.html 
Top NetEnt Music-Themed Slot Games For 2022
NetEnt is a software developer famous for developing slots with unique themes and special game mechanics. One of the main qualities of their titles is that players get quickly immersed in the gaming atmosphere and there's no risk of getting bored. The Scandinavian producer of casino games has a reputation for developing some of the most enduring franchises. Music-themed slots are at the cornerstone of their portfolio and three Rock-inspired games stand out from the crowd as the best.
It all began with Guns N' Roses
Guns N' Roses is an iconic ban that any Rock fan is surely familiar with. The amazing songs and the easy-to-recognize band members have ensured the popularity of the band long after it disbanded. NetEnt decided to create an entire series of slots and online pokies which you can play here — dedicated to Rock music and the first installment celebrated the achievements of these memorable artists.
The Guns N' Roses video slot pays tribute to the band and players can listen to some of their best songs while the reels are set in motion. The game also has a high return to players of 98%, which makes it a good choice even for those who don't necessarily like Rock music. Since its release, the slot kept gaining popularity and it continues to be one of the most appreciated games out there.
Jimi Hendrix's slot met the high expectations
Guns N' Roses was a huge hit for NetEnt and the Scandinavian software developer had big shoes to fill with the next installment. The Jimi Hendrix slot met and even exceeded those expectations, with a high-paying game with fun gameplay. This slot pays almost as well and the songs playing in the background are just as immersive, so players hit two birds with one stone.
Even though the RTP is slightly lower, the multiple winning combinations and the sheer fun of playing this slot make the experience easy to recommend. When players get lucky and claim a big win, the music ramps up to mark the occasion and make the moment truly memorable.
Lemmy Kilmister Remembered in Motörhead slot
Lemmy Kilmister's death came as a huge blow for those who loved you're welcome music, especially fans of the iconic Motörhead band. NetEnt wanted to pay tribute to this amazing artist and that's why the third installment in the music-themed slots was dedicated to him. The game is still one of the most popular ones in 2022 and it proudly inherits the legacy of Guns N' Roses and Jimi Hendrix.
The graphics are sharp and the music unmistakable along with some of the easiest-to-recognize tracks playing in the background. This game is mobile-friendly and can be tried in demo format, but the most exciting way to enjoy it is on real money. Rock music fans, as well as slots enthusiasts who seek the best music-themed titles for 2022, should give these fantastic games a shot.
EDM An Avenue To Take Your Soul To Higher Ground
Millennial generations may be turning away from traditional religion, but they are a deeply spiritual bunch who simply find new ways to congregate, feel like part of a community, and find and give support to others. As stated by Harvard Divinity School professor, Casper ter Kuile, younger generations fulfill their spiritual needs by embracing rituals and "creating a world of joyful belonging." They have the same need for strong relationships and a sense of connection to something larger than themselves, but they are finding it through new avenues, ranging from CrossFit to SoulCycle and even EDM music.
Music and Spirituality
The Bible itself points to an inexorable link between music and spirituality. Psalm 149:3, for instance, says, "Let them praise his name in dance, make music with tambourine and lyre." Of course, to bring this passage into current times, you can simply replace the words 'tambourine and lyre' with 'electronic dance music.' Lovers of this type of music know that there are moments of transcendence that reach a place beyond the worries and cares of everyday life; a series of undeniably beautiful sounds that are reminders of something universal and eternal. The experience can be emotional, cerebral, and even fantastical.
Breathing and EDM
To potentialize the ability of EDM to take you to higher ground, combine your listening experience with breathing. You can start out by honing techniques like pranayamic, controlled, or Sonoma breathing. These enable you to be aware of the connection between body and mind. They calm you and help you battle stress and currently, thousands of people across the globe are learning to teach breathing techniques to people battling anxiety, depression, and other mental issues. Once you become a master at abdominal and controlled breathing, you can try more transcendental types of breathing, including holotropic breathwork, a technique coined by Stanislave and Christina Grof. It is similar to 'panting' and, when conducted correctly, enables practitioners to enter in an altered or psychedelic state. For many, this state enables them to gain better self-understanding and to reach parts of their psyche that cannot be accessed consciously.
Top EDM Tunes to Lose and Find Yourself Through
Just a few tunes you may like to practice breathing to include Reflective Part 1 and Part 2 by Bassnectar, comprising highly engaging tunes that immerse you in a futuristic fantasy and balance spacey sounds with harder breaks that beg your body to move. Open the Vault by Ill-Esha is ideal for someone after a fantastical experience that is sweet and refreshing, a bit like a cool drink on a hot summer's day. Then of course there is Communication by Armin van Buuren. This DJ is known for his upbeat Trance tracks, which transport you into dreamlike, emotional words from the first few seconds.
Electronic Dance Music, particularly transcendental music, is one of many ways that younger generations are seeking to hone their spirituality. Music, like prayer, meditation, and other spiritual pursuits, can make you feel like part of something larger than yourself. It also provides the chance to meet and connect with others who are keen to take a musical trip to a place filled with energy, dynamism, and peace, all at once.
11 Side Hustles For Musicians And Music Lovers
There are many ways to make money as a musician. Side hustles in the music industry can include writing, making beats, and even transcribing music. This is not a new concept. Many musicians are generating income through different types of creative endeavors. From composing to playing live, you can make money as a musician without the need to get on stage. Here are some ideas to make money as a musician.
Transcriptionists receive audio files
Professional musicians usually take on transcription as a side job while they pursue their full-time careers. Most transcription jobs are virtual, so you don't get to see your client in person. But if you enjoy working remotely, transcription is the job for you. You'll be able to work for long hours alone without losing your focus. Just be sure you can catch mistakes, or your work will dry up in no time. You'll also need good organizational skills and time management skills.
Create Mobile Games
Another great way to earn extra as a musician is to create money-making mobile games and generate money as a composer for mobile games. These games are fast-growing and feature graphics and sound effects. They can also be a powerful marketing tool for your band or artist. There are many ways to get started, from writing jingles for commercials to creating music for Kickstarter-funded games.
However, before you earn money as a mobile game composer, you need to find a niche and be willing to adapt to new situations. Indie mobile phone games are a massive part of the gaming industry and often seek composers with a more modest background.
Selling merch
One of the most effective ways to sell merch for your music is by surveying your fans. You can do this online or through social media to find out what your fans like best. Once you've gathered enough information, you can design merchandise that fans will want. Make sure to set a reasonable price. While plenty of different products are available to sell, you should start by choosing the most popular items.
Merchandise items can include CDs, t-shirts, and more. It can be as simple as creating a poster with the details of the merch item. You can also try digital merch, such as sheet music downloads or album lyrics.
Using affiliate links
You can sign up for an affiliate program as a musician if you have a large following of other musicians. You can earn a commission for every sale made by one of your audience members through an affiliate link to a music store. Another popular affiliate program is Amazon Associates. You will receive a commission when your audience purchases a product from Amazon through your affiliate link.
Beatmakers sell beats online
It's easy for a beat maker to sell their music beats online, but how do you get people to purchase them? Email outreach is crucial, and you can get the word out about your work using the following tools:
SoundCloud has millions of users and a vast number of talented artists. So you can network on SoundCloud and attract potential customers. In addition, YouTube is a mecca for musicians. It has 3 billion monthly searches and 2 billion unique users, making it the world's second-largest social media network and the most popular website for artists. The best part? Anyone can sell their music beats here!
Video Tutorial
Another way to monetize your audience is to create a video tutorial. You can also create a YouTube channel for your songs and make a tutorial on how to use various plug-ins. Many musicians enjoy teaching others. Creating a tutorial on how to use a certain piece of music can be a great way to turn your hobby into a full-time income. If you're passionate about music, you could even create a tribute band and make a living performing at corporate events and private parties.
Event planners can build a freelance business
There are many things to consider when creating an event. For example, you must decide whether you will work with online or live audiences. If you want to work with live audiences, you may choose to specialize in virtual or hybrid events. There are also many types of live events you can take online. Some of the most popular events are festivals, fundraisers, and corporate events. Music lovers, however, may want to start a freelance business planning events for musicians.
Writers can write about music
Whether you're interested in writing about popular or classical music, you can do so in various ways. Music journalism, also known as music criticism, involves writing about the latest news in the music industry, reporting on concerts and tours, reviewing albums, and analyzing trends. The written word was first used in classical music analysis in the early nineteenth century when formal music journals were founded. A writer's voice and critical ear are developed through reading a variety of genres and styles of music.
Crowdfunding
Using crowdfunding as a means of monetization for your music can be a lucrative endeavor for artists who want to put their work out into the world. However, this method does require a great deal of planning and work. The first step in making your campaign successful is researching the various crowdfunding platforms and sites. While some have project managers to help you, others do not.
Creating a Patreon account
Creating a Patreon page for your music can be a great way to make money as a musician online. However, it's important to remember that a Patreon campaign will only be successful if you have a compelling story to tell.
Once you've created your Patreon account, you need to get strategic. Create a presence on multiple social media platforms. This great way to build a fan base and get new subscribers. You should also use paid social media marketing to increase your exposure. Once you get a decent amount of patrons, you can consider expanding your marketing strategy to reach as many potential patrons as possible.
Getting paid for performance royalties
If you're an independent musician, you may have wondered if there is a way to get paid for performance royalties as a musician. The short answer is yes. The easiest way to get paid for your music is by signing up with a website like SoundExchange, which collects performance royalties for musicians. While you don't need to join these websites to get paid, you can sign up for them to earn more money.
Final thoughts
Many musicians dream of earning passive income. While it might seem difficult at first, and you're unlikely to land a high-profile gig, you shouldn't give up. The opportunities for success will come. With all these money-making opportunities, you'll soon be able to make the most of your music and fame.