Sexy Grannies Remake Benny Benassi´s "Satisfaction" Music Video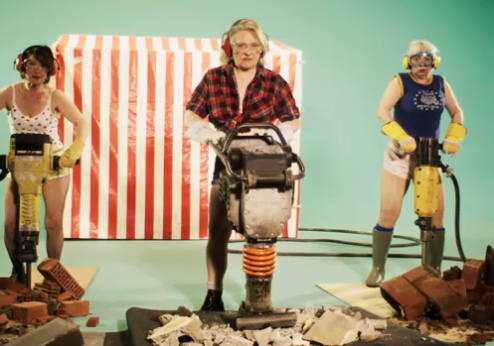 The first Electro anthem ever made on planet Earth is a Benny Benassi song called "Satisfaction". Indeed, this is my favourite song of all time, and its glorious sound will be always in vogue. This song was part of Benny Benassi's 'Hypnotica' album which was released in 2003, and it got gold certification in Australia, Belgium, France and in The United States of America.
Well, now in 2011 an international organization Equal Payday have decided to make an interesting campaign by remaking Benassi's video "Satisfaction". This special video features a group of sexy grannies who can prove to us that they can work as hard as men. The idea behind this year's campaign is that getting paid fewer equals having to work longer. Many parodies have been made, but no one has ever done this for a real advertiser, and to address a real problem. The video is the perfect setting to symbolize women who have to work too long.
More Information ↓
http://www.pay-equity.org/day.html 
From Art To Author: The Evolution Of The Pearl

Black Pearl evolution from body art to music has taken another step into the creative industry. The St. Louis based company has published its first novel titled "Eating the Forbidden Fruit" written by Roland Sato Page. Those in the Midwest may recognize the brand from it's CEO/Rapper Yung Ro. Well, Roland Sato Page is Yung Ro's father and manager. Now the tables have turned. Yung Ro is managing his father as a newcomer author. The forthcoming book is a gritty fiction novel based on true events that happen to Roland as a former police officer indicted on federal drug trafficking charges. The story will take you on a roller coaster ride of good ole memories from his past marching on to the rise and fall of his career. Experience the conflict between his loyalty to his childhood affiliations or his oath to the badge. Roland wrote the memoirs during his detainment. Eating the Forbidden Fruit is a man's testimony you can't run from sin cause it will definitely catch up to you. Yung Ro encouraged his father to write his story for the world to know the truth. Black Pearl street credibility has been fueled by two generations of business hustling that was spawned by Roland's reputation. The media portrayed Roland as a ruthless individual fueled by greed. Read the truth of one man's loyalty to his family. The book will be available on Jan 2020 all over book outlets and stores.

Eating the Forbidden Fruit is a gritty fiction novel loosely based on true events in author Roland Sato Page's life. The newcomer author delivers a personal journey into his rise and demise as a St. Louis City Police Officer. He takes the readers on a roller coaster ride of good ole family memories to the nightmarish reality of being a police officer indicted on federal drug charges. During his trial, he wrote memoirs as a testimonial of redemption. Roland's case stems from conflict of his childhood affiliation and his oath to uphold the law. What is certain one can't run from sin for karma is much faster. Falling from grace can be like hell on earth.
MORE INFORMATION