Interview | Questions & Answers With Mateo Paz

Mateo Paz has turned his progression up to the next level this year. With big releases and more time in the spotlight, he is looking to build on the rich vein of experience he has earned with his passion for Electronic music over a considerable period. He looks to grow and doesn't plan to stop until the whole world knows about the Mateo Paz sound. We caught up with him to get some background information about the musician, for those who have yet to hear his work.
1 – Hey! What's going on in the world of Mateo?
Well, Mateo's world is full of sounds! Currently, I am preparing a few singles and I am really excited to see your reaction.
2 – Where about are you based?
Currently, I am based in Los Angeles. Not long ago, I was based in Emirates, worked as a resident DJ there. It was exciting, but I am always looking for new challenges.
3 — How long have you been working in the Dance music scene? And how did it all start?
I think about 19 years ago. But I guess all started when I listened to music with my Dad, who is very passionate about it. He took me to a concert of a well-known Polish band when I was only 3 years old, but I fell asleep… But when I was 10, he took me to an old Berlin factory for Prodigy's concert. I think that this was a huge factor. I just fell in love with Electronic music and that's how it has been to this day.

Once I got the bug, it started with creating a vinyl collection. My favourite place was London then, and I especially liked the Plastic Fantastic shop at Covent Garden. There was a great manager – Oliver MacGregor, who I remember well.
4 — Describe your sound in three words!

Fresh, modern and listenable.
5 – Who were your influences as you got into Dance music?

I can't name any specific name, as the greatest influence was the revolution in musical electronics, it was technical possibilities that developed my sensitivity.
6 — What have been your career highlights so far?

I played as a teenager at cool festivals in Poland such as Global Gathering, Sensation or A Day at the Park with big names like Carl Cox, Tocadisco or Armin van Buuren.
Last year was very interesting. For the first time, I decided to wander around the world and seek inspiration for activities in music. I was a DJ for 7 months in Abu Dhabi and Dubai as a resident DJ in clubs. Other than European culture, it ennobled me and strengthened me in self-realization.
I also released a track with Grammy-nominated producer Eddie Amador – Feel Alright. Not long ago my remix Danny Darko was 4th on Beatport top 10 and also with Kwanza Jones, where we got into top 20 on Billboard chart.
7 — What does this year hold for you?

I'm looking forward to seeing what Los Angeles can offer me. Asmik Shiroyan – Armenian Eurovision singer and I are preparing new track right now. I'm also going to release two singles with an amazing Mexican singer.
8 — What's your ultimate career dream?

Start the party on Mars (kidding). Not easy to answer but my goal is to be successful and make a living from the job I love to do.
9 — Can you tell us about any upcoming releases and projects you've got lined up?

Estribo Records of parent label Proton Music – My remix of Deng & Slavak – Lunar Path in the middle of October and some singles that are waiting to be signed.
10 — Whose releases have impressed you most this year?

Eelke Kleijn – The Calling
Sebastian Leger – Love Star
Nick Muir, John Digweed, Eagles & Butterflies – Crazy Diamond
FISHER (OZ) – Stop It
11 — What is your aim for the next few months?

Get a good booking agent and management so I can be 100% focused on creating music.
12 — Can you tell us something not many people know about you?

At a height of 2m, they call me "Short" in the house. I have sensitivity, but I tread heavily on the ground with shoe size 47(12.5 UK).
13 — Anything to add or shout outs?

I would like to thank you and all the people for reading this. Also, to my friends and all people believing in me from early stage. I believe hard work pays off eventually.
---
CONNECT WITH MATEO PAZ NOW!
Interview With Legacy: Rap, Poetry, New Music & More

Get to know Legacy, a skillful rapper who dominates the art of poetry like none other. Hailing from Arizona, his songs are gaining a lot of traction with almost 15K streams on SoundCloud. If you are looking for fresh Hip-Hop talents, then scroll down to read this interesting interview.
1 — Can you recall the moment when you thought you could be a rapper?
Honestly, I don't think I really decided lol. I was writing some poems one day and started learning how to time the syllables to the instrumentals I would find on YouTube and it became something I couldn't stop doing.
2 — How do you think your hometown has influenced the kind of music that you make?
My hometown influences everything I do, it's why I'm anxious, depressed, and happy all at the same time. Every day can be good or bad, someone can give me a dirty look one day or trash talk me and I remember the instance and add it to the stories.
3 — What's so special to you about poetry that you seem to love so genuinely?
Poetry requires you to face the darkest emotions. It makes you think about and actively reflect on everything you do and say. So when I've had a bad day, instead of bottling it entirely, I can vent through a verse – which in turn people hear and support my efforts to make it through my everyday life.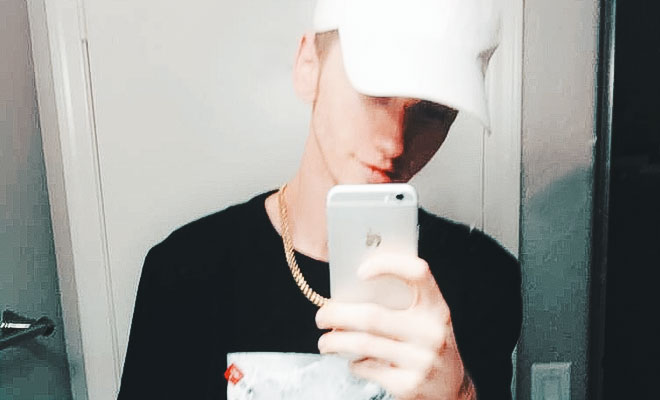 4 — Where did you take the inspiration to write most of your lyrics?
The inspiration lives in the lifestyle, the good experiences, and the bad.
5 — Do you think a good rapping performance comes from a good rapping technique? If so, what's yours?
In my opinion, if the fans/listeners are connected to what you're saying emotionally, and mentally, your performance has achieved its goal. People like having people they can relate to, all I'm doing is bringing those emotions into a poem and instrumental.
6 — Please tell us more about your song "Bad Feelings". What's the message behind it?
"Bad Feelings" is actually quite old and I'm just now really pushing for the exposure while my page is still young. However, the message never dies. What I really want people to take away from this song is that no matter what happens, no matter how hard it gets, just keep doing your thing. Time will make it better. Set goals. Keep dreaming. The longer you wait the harder it gets.
7 — As an artist, how do you deal with criticism?
Criticism is everywhere. You can walk a certain way and be judged for it. Listen to the bad things, only sometimes, when they help you improve. And hold the good things close and carry them with you. The good comments and feedback are almost a shield to the bad. They help you realize that one bad comment is one of many other really good ones. So all you can do is keep moving.
8 — Are you afraid to experiment with different music styles?
Yes, and no. It depends on the meaning of "style." Like, I hate my singing voice but I'm not afraid to try out other flows and techniques.
9 — What are your current projects?
The "Mindset EP." I'm dropping two more tracks as of right now to finalize the project. "Motion" and another untitled track that I'm working on in collaboration with my newest partner "Yung Cubb".
10 — Finally, if you weren't an artist today, what else could you see yourself doing?
Being a pro-CoD player. 💀
---
CONNECT WITH LEGACY NOW!