Interview | Questions & Answers With Adam Noah
Read this exclusive interview with Bronx-based rapper Adam Noah. Not so long ago, he released the music video for "Blaze", which is a heartfelt tribute to his late mother. On the other hand, he's currently promoting his brand new album 'Trajectory', that could be relatable to some listeners as its concept revolves around life itself.
1 — Hello Adam, when did you begin to develop a passion for Hip-Hop & Rap?
Growing up in the Bronx, Rap was a part of the environment. My older brother was always playing Pun and BIG around the house. I lost a lot of people in my life due to violence, sickness, natural causes, and writing was my only therapy since I was 8 years old. Although I have a passion for music in general, I always felt that Rap was more direct and true to who I am.
2 — Who are your musical influences?
Eminem, Nas, Jay-Z, Pun, Mos Def, Big L, Fabolous, the Beatles, the Neptunes, Justin Timberlake, Frank Ocean, Marvin Gaye, Jadakiss to name a few.
3 — What's your creative process behind your lyrics?
Most of the times it starts with an instrumental. If it doesn't speak to me, I don't write. Sometimes I have an idea and I go back to that beat I wasn't feeling a year ago. There are other times I have a melody or a verse, and we start making the music from scratch.

4 — Do you produce your own beats?
Yes. I started making beats in high school. Going to thrift shops, buying vinyl off online marketplaces, and experimenting on FL Studio. However, I'm starting to work with other producers and getting more involved in the mixing/mastering aspect of my music. I'm starting to fall in love with actually making each track sound like what I hear in my head.
5 — You recently released the music video for "Blaze". Why did you choose to film it in your bedroom?
I've sacrificed a lot to chase my dreams. I had to leave my childhood home at a young age because I was misunderstood. A lot of my friends are living with their parents and I'm renting out a bedroom. A lot of pain and overthinking goes on in my bedroom. It was only right to perform Blaze in that setting.
6 — Who would you dedicate this single to?
It's definitely for my mom. I wrote it while she was dying and I just want her to know my presence is not a waste. I have a purpose and this music is going to do great things not only for my family but for the world.
7 — On another note, why we should listen to your latest album 'Trajectory'?
Everyone struggles in life, I think 'Trajectory' highlights it very well. From being homeless to being in a job that you clearly hate, there is something for everyone on that project. Everyone makes life sound easy until it's time to live it. Bringing lyricism, songwriting, musicality together, makes the album something special.
8 — What's your favorite track from this material so far?
It changes every time I listen to the project. Currently, my favorite track is "Conditioned". Heading into my job while listening to that track makes me want more out of life.
9 – Any plans to do live performances?
Definitely. I have a lot of ideas to bring these smaller venues to life as well. A lot of people are performing pretty much the same nowadays, it's time to give people an actual experience. You can always email: contact@theadamnoah.com and I'll kill your stage.

10 – What else is happening next in Adam Noah's world?
I'm working on an EP called 'Save UR Emotions', S.UR.E. for short. I'm coming out with a lot more visuals, Melo's Story was just the beginning. Also working on a collab with a couple of West Coast artists. So I'm pretty much going back and forth from NY to LA. I'm trying to spend all the time I have outside of my 9-5 to make this happen, staying as busy as possible.
---
 CONTACT WITH ADAM NOAH NOW!
Interview With Legacy: Rap, Poetry, New Music & More

Get to know Legacy, a skillful rapper who dominates the art of poetry like none other. Hailing from Arizona, his songs are gaining a lot of traction with almost 15K streams on SoundCloud. If you are looking for fresh Hip-Hop talents, then scroll down to read this interesting interview.
1 — Can you recall the moment when you thought you could be a rapper?
Honestly, I don't think I really decided lol. I was writing some poems one day and started learning how to time the syllables to the instrumentals I would find on YouTube and it became something I couldn't stop doing.
2 — How do you think your hometown has influenced the kind of music that you make?
My hometown influences everything I do, it's why I'm anxious, depressed, and happy all at the same time. Every day can be good or bad, someone can give me a dirty look one day or trash talk me and I remember the instance and add it to the stories.
3 — What's so special to you about poetry that you seem to love so genuinely?
Poetry requires you to face the darkest emotions. It makes you think about and actively reflect on everything you do and say. So when I've had a bad day, instead of bottling it entirely, I can vent through a verse – which in turn people hear and support my efforts to make it through my everyday life.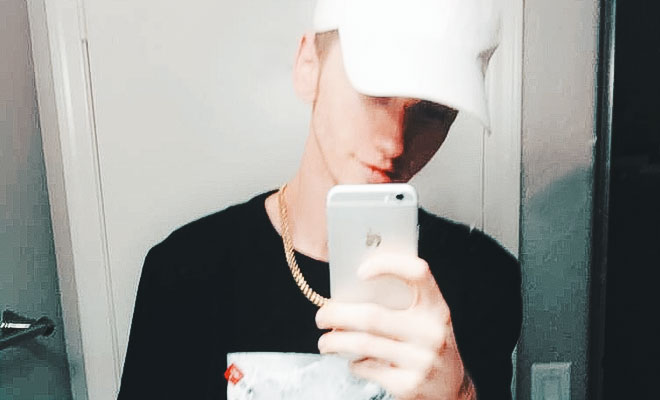 4 — Where did you take the inspiration to write most of your lyrics?
The inspiration lives in the lifestyle, the good experiences, and the bad.
5 — Do you think a good rapping performance comes from a good rapping technique? If so, what's yours?
In my opinion, if the fans/listeners are connected to what you're saying emotionally, and mentally, your performance has achieved its goal. People like having people they can relate to, all I'm doing is bringing those emotions into a poem and instrumental.
6 — Please tell us more about your song "Bad Feelings". What's the message behind it?
"Bad Feelings" is actually quite old and I'm just now really pushing for the exposure while my page is still young. However, the message never dies. What I really want people to take away from this song is that no matter what happens, no matter how hard it gets, just keep doing your thing. Time will make it better. Set goals. Keep dreaming. The longer you wait the harder it gets.
7 — As an artist, how do you deal with criticism?
Criticism is everywhere. You can walk a certain way and be judged for it. Listen to the bad things, only sometimes, when they help you improve. And hold the good things close and carry them with you. The good comments and feedback are almost a shield to the bad. They help you realize that one bad comment is one of many other really good ones. So all you can do is keep moving.
8 — Are you afraid to experiment with different music styles?
Yes, and no. It depends on the meaning of "style." Like, I hate my singing voice but I'm not afraid to try out other flows and techniques.
9 — What are your current projects?
The "Mindset EP." I'm dropping two more tracks as of right now to finalize the project. "Motion" and another untitled track that I'm working on in collaboration with my newest partner "Yung Cubb".
10 — Finally, if you weren't an artist today, what else could you see yourself doing?
Being a pro-CoD player. 💀
---
CONNECT WITH LEGACY NOW!