Interview | Questions & Answers With Karen Atkins
In the last few years, Singer/Songwriter Karen Atkins returned to the world of music with a renewed vision of life. She still has a special love for guitars and everything associated with New Age. With this interesting interview, she gives full details about her new song "High On Love (Can't Get Too)", which comes in the form of a spaced-themed clip. I highly recommend you to watch it!
1 – First of all, how would you describe your music style to new listeners?
Soulful indie pop-rock influenced by 70's R&B and 90's alternative rock flavors with Conscious/New Age themes. Others have likened my music to singer/songwriters like Sheryl Crow and Juliana Hatfield. My biggest influences are Stevie Wonder, Jim Morrison, the Beatles, Led Zeppelin, Simon & Garfunkel and Billy Joel.
2 – Is your music a job, a hobby or something else?
Music is my spiritual sustenance and deepest passion. It is certainly more than a hobby or just a job. It is the way in which I connect to the deepest part of my inner world and a way to express that to the outer world.
3 – How long have you been working in the music industry?
On and off for over 20 years. I had an active career back in the 90's and built a solid following in NYC. After the musician lifestyle of constant travel, late-night gigs, poor nutrition, and smokey bars took a toll on my health, I quit and delved into the world of alternative health. In 2011, after regaining my energy and moving to California, I reconnected with my creative passions and literally felt summoned by the mountain where I live to start writing music again. I recorded a 12-song album in 8 weeks called The Vibration Project and created a book of photographs and stories to accompany it. I struggled internally with whether to engage in music professionally and finally made the decision to come back fully last year with the release of my album In My Room.

4 – Why did you call your new single "High On Love (Can't Get Too)"?
Just on a very simple level, you really can't have too much love! That's pretty much what we're made of, that's what this universe is all about as far as I'm concerned.
I had a pretty profound experience a number of years ago, where I had this feeling like there was actually nothing but love and the only thing I needed to do was let it radiate through my pores. And I didn't have to actually accomplish anything, I didn't have to do anything.
That was a really big revelation for me. That I could just let love be with me and let it radiate.
Many things may look bleak, but I believe there's something happening above the apparent bleakness. My life's work is to tune into what's happening on the channel above. What does the channel of love have to say about this experience right now?
It may sound kind of Pollyanna, but it's actually very practical. It's very tangible to be choosing the frequency that you want to vibrate in. Ultimately, we all have a choice.
And that's really the main message of the song.
5 – Can you name some songs or artists that have influenced this new single?
Earth Wind and Fire, Stevie Wonder and the Jackson 5. This song, in particular, is centered around the bass line, which was inspired by the fact that Reggie Hamilton (known for playing with Seal and Mariah Carey) was going to be playing the bass on the recording. His bass playing blows me away and when we decided to work together, I was determined to write a bass line that was going to be fun for him to play!
6 – Why is the music video related to the SpaceX Rocket Launch?
In the music video, I'm flying around space in a red Tesla Roadster, in search of a backup planet. We filmed this video in May of 2017, and with various delays in the post-production, decided to release it at the beginning of February 2018. Little did I know that CEO of SpaceX and Tesla Elon Musk announced in December that he was going to be launching his own cherry red Tesla Roadster in the Falcon Heavy rocket aiming for Mars! We ended up "launching" the music video on the same day the Falcon Heavy launched – with Elon Musk's dummy "Starman" flying through space in the red Tesla, which looked so much like scenes from my video!
7 – Do you believe there is life out there?
I think it would be pretty narrow-minded of us to think that there isn't life out there in this vast universe. It's only been 400 years since Galileo was exiled for saying the earth revolved around the sun, which is now considered factual and common sense. There's so much we still don't know, and it's exciting to think about the possibilities. I'm all about keeping my mind open to new information.

8 – Is playing live something you like to do or is it just an artist's duty?
I enjoy playing live, but I feel that I can connect more deeply to the meaning and feeling of the music when I'm in the studio, so I prefer the process of recording more than playing live. The part I love about playing live is the connections I get to make with people. But I did burn myself out when I focused on gigging and touring – it was hard to manage my health through it.
9 – We are sure all your songs are special to you but do you have a favorite one?
I generally tend to prefer the more soft-spoken, introspective songs, but sometimes one of my upbeat songs has a melody that just pulls me in. That's the case with my song "Julian". It's also a favorite of a lot of my fans, especially because the music video for "Julian" features 2 adorable kids who come together to create a machine that turns garbage into energy. It's a sweet story and we had such a fun time making the video. A brilliant artist/inventor friend of mine even created a life-size garbage to the energy machine for the video! 🙂 here's the video if you want to check it out:
10 – Finally, what's next for Karen Atkins?
That's not a short answer because I'm a pretty active woman!
Musically, "High on Love" is the first single for my new album that I plan to release this summer and I'm working on my next music video for a Paul Simon Cover, "Slip-Slidin' Away". We're adding a little optimistic twist to the video and some cool visual effects!
In the wellness space, I'm launching an "Inner Circle" program where I will share very simple tools, practices, and resources for succeeding in living a healthy, balanced, creative and fulfilling life.
And of course, I plan to continue sharing the lifestyle practices that I've been living and sharing for the last 20 years.
---
CONNECT WITH KAREN ATKINS NOW!
Facebook
Twitter
Instagram
Website
Interview With Legacy: Rap, Poetry, New Music & More

Get to know Legacy, a skillful rapper who dominates the art of poetry like none other. Hailing from Arizona, his songs are gaining a lot of traction with almost 15K streams on SoundCloud. If you are looking for fresh Hip-Hop talents, then scroll down to read this interesting interview.
1 — Can you recall the moment when you thought you could be a rapper?
Honestly, I don't think I really decided lol. I was writing some poems one day and started learning how to time the syllables to the instrumentals I would find on YouTube and it became something I couldn't stop doing.
2 — How do you think your hometown has influenced the kind of music that you make?
My hometown influences everything I do, it's why I'm anxious, depressed, and happy all at the same time. Every day can be good or bad, someone can give me a dirty look one day or trash talk me and I remember the instance and add it to the stories.
3 — What's so special to you about poetry that you seem to love so genuinely?
Poetry requires you to face the darkest emotions. It makes you think about and actively reflect on everything you do and say. So when I've had a bad day, instead of bottling it entirely, I can vent through a verse – which in turn people hear and support my efforts to make it through my everyday life.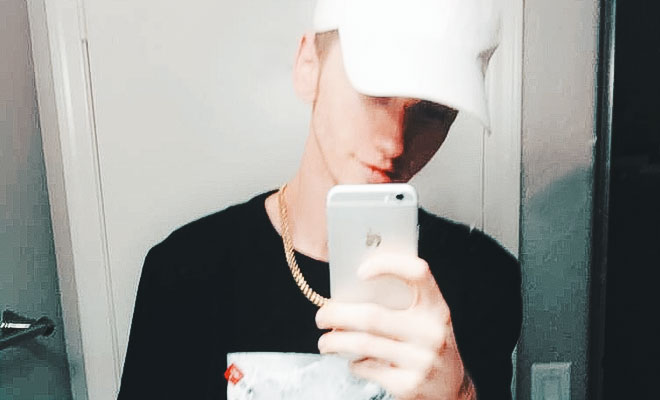 4 — Where did you take the inspiration to write most of your lyrics?
The inspiration lives in the lifestyle, the good experiences, and the bad.
5 — Do you think a good rapping performance comes from a good rapping technique? If so, what's yours?
In my opinion, if the fans/listeners are connected to what you're saying emotionally, and mentally, your performance has achieved its goal. People like having people they can relate to, all I'm doing is bringing those emotions into a poem and instrumental.
6 — Please tell us more about your song "Bad Feelings". What's the message behind it?
"Bad Feelings" is actually quite old and I'm just now really pushing for the exposure while my page is still young. However, the message never dies. What I really want people to take away from this song is that no matter what happens, no matter how hard it gets, just keep doing your thing. Time will make it better. Set goals. Keep dreaming. The longer you wait the harder it gets.
7 — As an artist, how do you deal with criticism?
Criticism is everywhere. You can walk a certain way and be judged for it. Listen to the bad things, only sometimes, when they help you improve. And hold the good things close and carry them with you. The good comments and feedback are almost a shield to the bad. They help you realize that one bad comment is one of many other really good ones. So all you can do is keep moving.
8 — Are you afraid to experiment with different music styles?
Yes, and no. It depends on the meaning of "style." Like, I hate my singing voice but I'm not afraid to try out other flows and techniques.
9 — What are your current projects?
The "Mindset EP." I'm dropping two more tracks as of right now to finalize the project. "Motion" and another untitled track that I'm working on in collaboration with my newest partner "Yung Cubb".
10 — Finally, if you weren't an artist today, what else could you see yourself doing?
Being a pro-CoD player. 💀
---
CONNECT WITH LEGACY NOW!