Interview | Questions & Answers With Swordkilla
Here you can learn more about Giuseppe Marci aka Swordkilla. The Italian producer opens up about his beginnings, signature sound, and inspirations. Moreover, discover why Australia became his new home and get all the details of his latest single "A Dreamer's Tale". Scroll down for the full interview.
1 – When did you start making music?
Everything started in 1999, thanks to my brother, which was a b-boy, getting involved in breakdance led me to get to know funk and the awesome groove of the break-beats. I reckon Def Cut was one of the most influential producers by that time, for me. In 2006 was the time where I started to have a deep interest in vinyl collection, mainly old school rap, soul and funk, leading me to have an automatic immersion in digging into turntablism and beat-making. That was the year where I completely got involved in that and producing specifically for rappers.
2 – How would you describe the Swordkilla sound to someone who has never heard your tracks?

My latest sound has been blended with raw rap from the past, just to name a few; Onyx, Wu-Tang Clan, DJ Premier. And most recently with experimental electronica and trip-hop such as DJ Krush, DJ Shadow, Dauwd, Bonobo and so on. I would say that if you are looking to that old school beat sound from the '90s and the newest trip-hop, there, is where you'll find my current style, large spectrum but surely a good connection of styles and messages.
3 – What inspires you the most, Hip-Hop or Electronic music?

Electronic, as grandmaster Spotify says that I spend too many hours listening to it.
4 – Why did you decide to move to Australia?

It wasn't in my plan to be honest, till one day. Coming back to Italy was no option. Long story short, I was living in The Netherlands for 4 years, then got eventually tired of it, sold everything as well as my studio, packed 40 liters backpack and went to Thailand and Vietnam backpacking for about a month and a half. In Vietnam, I was running out of money, as mentioned going back to Italy (Sicily) was no option at all, same for The Netherlands, the closest place to make some money was Australia. So, I eventually booked a ticked a few days before my visa ran out in Vietnam, and went to Melbourne, and here I am 2 years after in Western Australia. Not sure if that's what normal people do.
5 – How different or similar is the music scene in Australia in comparison to Europe?

A bit different maybe "flat" in certain aspects, even if I must say that Melbourne feels like European for certain aspects, especially about electronic music, there is a large community of tech house producers and events managers, one of them is Eat The Beat, which has a large portion of the event organisation in Melbourne, and god they are dope as hell! Same goes for hip-hop, but that does not feel the way I felt it while living in Rotterdam which had still that 90's and fresh vibe at the same time, in any aspects b-boys/girls, graffiti scene, rappers. No offense, but I still definitely love the music scene in Europe.
6 – How long did it take you to produce your new single, "A Dreamer's Tales"?
My latest single "A Dreamer's Tales" has been produced a couple of years ago, which has been modified sometimes. It took about a month to set it all up when I started, sample research, editing, audio manipulation, and mastering. Only lately I decided to publish it, gotta confess that I have many singles that I never published in the past, so once in a while, I dig back my hard drive and pick one.
7 – Did you use the sampling technique on this tune?

Yes, I did, some samples are from vinyl, some found digging online albums in those amazing rare find blogs. I usually love to dig into old school blogs and find rare Japanese sounds as well as jazz and soul.
8 – Is it right to say this track puts listeners in a relaxing mood?

Yes, definitely, this track is meant to give a chilling vibe as well as a message to keep up with your dreams by not letting negative forces to hold you back.
9 – Are you happy with the end result?

I am, but I want to reach more clarity in my tracks, that's what I'm working on right now. It might take more time to release new tracks since I'm working on a new, better, studied and clear sound for my music.
10 – Finally, what can expect from Swordkilla in 2020?

Many achievements! I'm working on building a promotional agency that helps musicians reach their target audience, and it's going very well. With music will be the same, I will be taking more time on producing this year, and I'm planning to deliver the best I can from the last 10 years. I've been doing this, so feel free to follow my Spotify page for my next releases.
---
CONNECT WITH SWORDKILLA NOW!
Interview With Legacy: Rap, Poetry, New Music & More

Get to know Legacy, a skillful rapper who dominates the art of poetry like none other. Hailing from Arizona, his songs are gaining a lot of traction with almost 15K streams on SoundCloud. If you are looking for fresh Hip-Hop talents, then scroll down to read this interesting interview.
1 — Can you recall the moment when you thought you could be a rapper?
Honestly, I don't think I really decided lol. I was writing some poems one day and started learning how to time the syllables to the instrumentals I would find on YouTube and it became something I couldn't stop doing.
2 — How do you think your hometown has influenced the kind of music that you make?
My hometown influences everything I do, it's why I'm anxious, depressed, and happy all at the same time. Every day can be good or bad, someone can give me a dirty look one day or trash talk me and I remember the instance and add it to the stories.
3 — What's so special to you about poetry that you seem to love so genuinely?
Poetry requires you to face the darkest emotions. It makes you think about and actively reflect on everything you do and say. So when I've had a bad day, instead of bottling it entirely, I can vent through a verse – which in turn people hear and support my efforts to make it through my everyday life.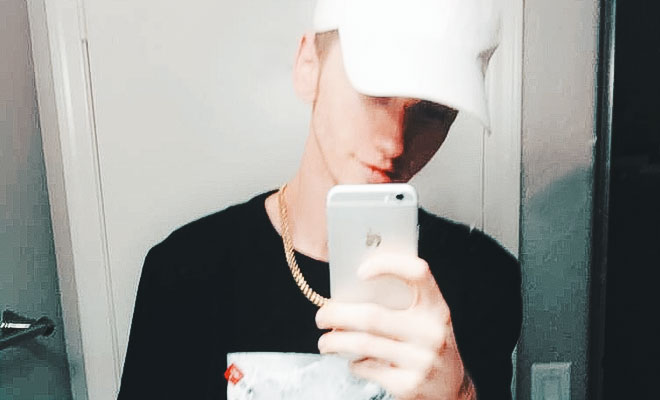 4 — Where did you take the inspiration to write most of your lyrics?
The inspiration lives in the lifestyle, the good experiences, and the bad.
5 — Do you think a good rapping performance comes from a good rapping technique? If so, what's yours?
In my opinion, if the fans/listeners are connected to what you're saying emotionally, and mentally, your performance has achieved its goal. People like having people they can relate to, all I'm doing is bringing those emotions into a poem and instrumental.
6 — Please tell us more about your song "Bad Feelings". What's the message behind it?
"Bad Feelings" is actually quite old and I'm just now really pushing for the exposure while my page is still young. However, the message never dies. What I really want people to take away from this song is that no matter what happens, no matter how hard it gets, just keep doing your thing. Time will make it better. Set goals. Keep dreaming. The longer you wait the harder it gets.
7 — As an artist, how do you deal with criticism?
Criticism is everywhere. You can walk a certain way and be judged for it. Listen to the bad things, only sometimes, when they help you improve. And hold the good things close and carry them with you. The good comments and feedback are almost a shield to the bad. They help you realize that one bad comment is one of many other really good ones. So all you can do is keep moving.
8 — Are you afraid to experiment with different music styles?
Yes, and no. It depends on the meaning of "style." Like, I hate my singing voice but I'm not afraid to try out other flows and techniques.
9 — What are your current projects?
The "Mindset EP." I'm dropping two more tracks as of right now to finalize the project. "Motion" and another untitled track that I'm working on in collaboration with my newest partner "Yung Cubb".
10 — Finally, if you weren't an artist today, what else could you see yourself doing?
Being a pro-CoD player. 💀
---
CONNECT WITH LEGACY NOW!