Interview | Questions & Answers With Zeb Samuels

"Lost In My Dreams" is the first single release taken from the highly anticipated debut album 'Hope & Light' from Deep Heads label boss, Zeb Samuels. Scroll down and discover all about this fresh talent.
1 — First of all, what made you fall in love with music?
I think one of the first memories I can recall, is hearing my brother play Phil Collins and really liking what I heard.
I must have been about 4. Then as an 80's kid, Michael Jackson was the first artist I was fanatical about, at the age of about 6. I vividly remember getting 'Bad' on tape and playing it to death and trying to dance like him at any opportunity.
2 — How did you become a multi-instrumentalist? Do you have a favorite instrument?
I started playing the piano at about the age of 6 and then Trumpet when I was 9.
I then took up the drums when I was about 11 I think.
Then I gave it all up and started DJing when I became a teenager, but massively regret it now.
I then picked up the piano again in 2016 and would say this is my instrument of choice.

3 — Do you consider yourself an underground artist?
I don't really think about it, to be honest. I consider myself as someone who makes what I feel and want and hope that it's received as a unique listening experience.
I think some music I make is definitely for a small niche of people and maybe that would define it as underground, but I haven't released that much music, so not sure where it sits.
4 — What's your goal: artistic success or commercial success?
I just want to be able to write and create music that I feel happy with personally. I love the process of writing and creating and just hope that I can continue to do this as long as I live. To me, joy and happiness are within the process, not the reception. Although, of course, I want people to enjoy what I make, but this is secondary.
5 — Why is your debut album entitled 'Hope & Light'?

I felt like the overall tone and message I wanted to communicate was of hope & staying positive in the face of adversity.
The writing has a lot of messages and content about my feelings of struggle and pain, but I try to write and focus on the resolution of these battles.
6 — Can you tell us more about the topics and subjects behind your new songs?
I guess the last question sort of answers this, but also touches on a lot of my relationships I have been through.
Some of the songs also just represent a thought process that doesn't necessarily have a specific topic and just act as a canvas to lay down my thoughts and feelings.
7 — What made you want to work with Faded Tapes on your second single "First Written"?
I have known Joe for a while now, through Occult. He sent me some bits to listen to that we could potentially collaborate on.
I love his lo-fi approach to music and contacted him for some music, as I have always been drawn to his sound.
8 — Why did you opt for an animated music video?
I have always liked the idea of making myself into an animation of some sort and came across the illustrator/ director Rachel Seropian.
I fell in love with some of her work and thought it would be a perfect style for my music. The organic feel of her work really projects visually the way I want my music to be seen and was over the moon with the finished video.
9 — What was the main message you wanted to send to fans with "First Written"?
Stay positive.
10 — Finally, what can we expect from Zeb Samuels in 2020?
More music. 😉
---
CONNECT WITH ZEB SAMUELS NOW!
Interview With Legacy: Rap, Poetry, New Music & More

Get to know Legacy, a skillful rapper who dominates the art of poetry like none other. Hailing from Arizona, his songs are gaining a lot of traction with almost 15K streams on SoundCloud. If you are looking for fresh Hip-Hop talents, then scroll down to read this interesting interview.
1 — Can you recall the moment when you thought you could be a rapper?
Honestly, I don't think I really decided lol. I was writing some poems one day and started learning how to time the syllables to the instrumentals I would find on YouTube and it became something I couldn't stop doing.
2 — How do you think your hometown has influenced the kind of music that you make?
My hometown influences everything I do, it's why I'm anxious, depressed, and happy all at the same time. Every day can be good or bad, someone can give me a dirty look one day or trash talk me and I remember the instance and add it to the stories.
3 — What's so special to you about poetry that you seem to love so genuinely?
Poetry requires you to face the darkest emotions. It makes you think about and actively reflect on everything you do and say. So when I've had a bad day, instead of bottling it entirely, I can vent through a verse – which in turn people hear and support my efforts to make it through my everyday life.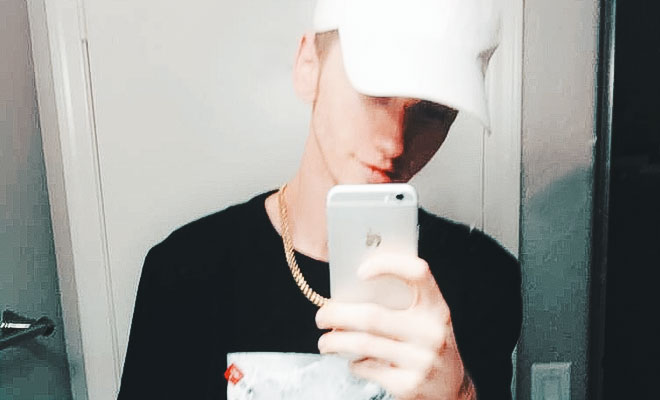 4 — Where did you take the inspiration to write most of your lyrics?
The inspiration lives in the lifestyle, the good experiences, and the bad.
5 — Do you think a good rapping performance comes from a good rapping technique? If so, what's yours?
In my opinion, if the fans/listeners are connected to what you're saying emotionally, and mentally, your performance has achieved its goal. People like having people they can relate to, all I'm doing is bringing those emotions into a poem and instrumental.
6 — Please tell us more about your song "Bad Feelings". What's the message behind it?
"Bad Feelings" is actually quite old and I'm just now really pushing for the exposure while my page is still young. However, the message never dies. What I really want people to take away from this song is that no matter what happens, no matter how hard it gets, just keep doing your thing. Time will make it better. Set goals. Keep dreaming. The longer you wait the harder it gets.
7 — As an artist, how do you deal with criticism?
Criticism is everywhere. You can walk a certain way and be judged for it. Listen to the bad things, only sometimes, when they help you improve. And hold the good things close and carry them with you. The good comments and feedback are almost a shield to the bad. They help you realize that one bad comment is one of many other really good ones. So all you can do is keep moving.
8 — Are you afraid to experiment with different music styles?
Yes, and no. It depends on the meaning of "style." Like, I hate my singing voice but I'm not afraid to try out other flows and techniques.
9 — What are your current projects?
The "Mindset EP." I'm dropping two more tracks as of right now to finalize the project. "Motion" and another untitled track that I'm working on in collaboration with my newest partner "Yung Cubb".
10 — Finally, if you weren't an artist today, what else could you see yourself doing?
Being a pro-CoD player. 💀
---
CONNECT WITH LEGACY NOW!