Interview | Questions & Answers With Yoda Popz
DJ & Producer Yoda Popz has an interesting story to tell through this exclusive interview. Funny thing is that he immersed himself in the rave culture at the end of the 90s, and years later his family motivated him to pursue his dreams in the music world. Today, Chris Foster (real name) has released a significant number of original tracks that have gained thousands of streams and the attention of many EDM lovers.
1 — First of all, tell me about yourself. How did you transition to a music producer?
I got out of the Army in 1999 and that is when I was first introduced to EDM music. Techno, Trance, and Hardstyle were the types of EDM I listened to. I fell in love with the rave scene and the culture. Didn't matter where you came from, who you were, everyone was so accepting. Just there to have a great time and escape with the music. EDM was an escape for me and brought me such happiness. Over the years, yes I'm 46 now, I lost touch with music and it wasn't until my daughter Devan and son Nick showed me some of their music two and a half years ago. I was blown away as I thought EDM was gone. I showed them the CD's of the music I used to listen as well. They decided that it was time we went to a show at Red Rocks Amphitheater. My first show was Slander and Dada Life, then a few weeks later, Illenium and Flux Pavilion! I was hooked! My family saw how happy the music made me and I joked and said: "I should make EDM music". Everyone immediately agreed, so I signed up for Ableton classes with Discosapien Academy and the rest is history.
2 — What has been the most rewarding thing about making tunes?
Watching people react and enjoy my music, in their own unique way, hands down. A friend I met at an Excision concert listened to my song "Hold Me" and said to me, "wow, I just went on an amazing emotional journey, I thought I was gonna cry and smile at the same time".
3 — How long have you been going to raves along with your family?
We started going two and a half years ago. We have never been able to get all 7 kids together at the same time but we have managed to get 5 with us last year at Electric Forrest!

4 — Are your children also pursuing art as a career?

And far as a career, I am not sure, but my son, daughter and her husband all make EDM music! I know my son is going to perform.
5 — What's your favorite music festival? Why?
So far it's Electric Forrest but we are going to EDC Las Vegas this year for the first time so I will have to let you know!

6 — What can fans expect from your new single "Hold Me"?

This song takes you on your own personal journey. It doesn't have lyrics for a specific reason. The song allows the individual to imagine words that fit their world and moment. I feel that by the end of the song you'll have a sense of empowerment or triumph
7 — Surprisingly, your debut single "Crazy About You" surpassed 30K plays on multiple streaming channels. Do you think "Hold Me" will go the same way in time?
I am truly shocked at how many plays this song has. I told my wife I would be happy with 10 plays and likes. I am so humbled by the reaction this song has received. I think "Hold Me" may do better in the long run because it doesn't have words and the melody is very powerful but only time will tell.
8 — Which commercial or underground DJs from the Dubstep or Future Bass scene do you admire?

There are so many amazing and talented producers and DJ's out there. I absolutely love Illenium, Excision, Skrillex, and so many more, there's just too many to list. Illenium is my absolute favorite though because his music is inspiring, emotional and raw and I really dig that.

9 — I noticed most of your tracks tend to be more instrumental. Are you considering collaborating with a vocalist in the near future?
Yes, one day for sure. When I have the right songs I will definitely look at including vocalists.
10 — Finally, what advice do you have for someone who wants to start a music career?
First and foremost, do this for you, no one else. If you are true to your vision, people will vine with you and your music. This journey has been very difficult, and there's a huge learning curve. Ask questions, be open to learning and doing things differently than you think you know how. I've learned so much in the past two years and I am excited about the future.
---
CONNECT WITH YODA POPZ NOW!
Interview With Legacy: Rap, Poetry, New Music & More

Get to know Legacy, a skillful rapper who dominates the art of poetry like none other. Hailing from Arizona, his songs are gaining a lot of traction with almost 15K streams on SoundCloud. If you are looking for fresh Hip-Hop talents, then scroll down to read this interesting interview.
1 — Can you recall the moment when you thought you could be a rapper?
Honestly, I don't think I really decided lol. I was writing some poems one day and started learning how to time the syllables to the instrumentals I would find on YouTube and it became something I couldn't stop doing.
2 — How do you think your hometown has influenced the kind of music that you make?
My hometown influences everything I do, it's why I'm anxious, depressed, and happy all at the same time. Every day can be good or bad, someone can give me a dirty look one day or trash talk me and I remember the instance and add it to the stories.
3 — What's so special to you about poetry that you seem to love so genuinely?
Poetry requires you to face the darkest emotions. It makes you think about and actively reflect on everything you do and say. So when I've had a bad day, instead of bottling it entirely, I can vent through a verse – which in turn people hear and support my efforts to make it through my everyday life.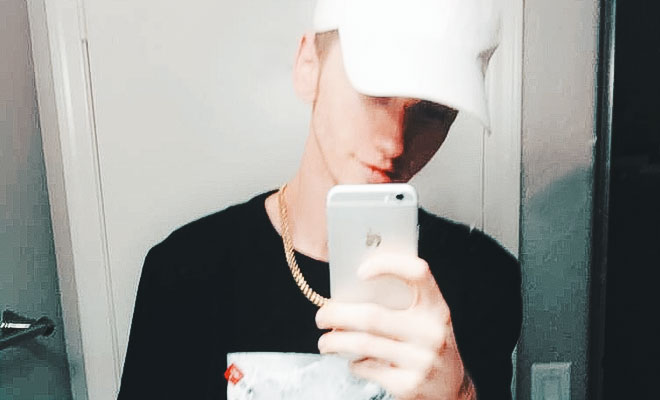 4 — Where did you take the inspiration to write most of your lyrics?
The inspiration lives in the lifestyle, the good experiences, and the bad.
5 — Do you think a good rapping performance comes from a good rapping technique? If so, what's yours?
In my opinion, if the fans/listeners are connected to what you're saying emotionally, and mentally, your performance has achieved its goal. People like having people they can relate to, all I'm doing is bringing those emotions into a poem and instrumental.
6 — Please tell us more about your song "Bad Feelings". What's the message behind it?
"Bad Feelings" is actually quite old and I'm just now really pushing for the exposure while my page is still young. However, the message never dies. What I really want people to take away from this song is that no matter what happens, no matter how hard it gets, just keep doing your thing. Time will make it better. Set goals. Keep dreaming. The longer you wait the harder it gets.
7 — As an artist, how do you deal with criticism?
Criticism is everywhere. You can walk a certain way and be judged for it. Listen to the bad things, only sometimes, when they help you improve. And hold the good things close and carry them with you. The good comments and feedback are almost a shield to the bad. They help you realize that one bad comment is one of many other really good ones. So all you can do is keep moving.
8 — Are you afraid to experiment with different music styles?
Yes, and no. It depends on the meaning of "style." Like, I hate my singing voice but I'm not afraid to try out other flows and techniques.
9 — What are your current projects?
The "Mindset EP." I'm dropping two more tracks as of right now to finalize the project. "Motion" and another untitled track that I'm working on in collaboration with my newest partner "Yung Cubb".
10 — Finally, if you weren't an artist today, what else could you see yourself doing?
Being a pro-CoD player. 💀
---
CONNECT WITH LEGACY NOW!