Interview With Legacy: Rap, Poetry, New Music & More

Get to know Legacy, a skillful rapper who dominates the art of poetry like none other. Hailing from Arizona, his songs are gaining a lot of traction with almost 15K streams on SoundCloud. If you are looking for fresh Hip-Hop talents, then scroll down to read this interesting interview.
1 — Can you recall the moment when you thought you could be a rapper?
Honestly, I don't think I really decided lol. I was writing some poems one day and started learning how to time the syllables to the instrumentals I would find on YouTube and it became something I couldn't stop doing.
2 — How do you think your hometown has influenced the kind of music that you make?
My hometown influences everything I do, it's why I'm anxious, depressed, and happy all at the same time. Every day can be good or bad, someone can give me a dirty look one day or trash talk me and I remember the instance and add it to the stories.
3 — What's so special to you about poetry that you seem to love so genuinely?
Poetry requires you to face the darkest emotions. It makes you think about and actively reflect on everything you do and say. So when I've had a bad day, instead of bottling it entirely, I can vent through a verse – which in turn people hear and support my efforts to make it through my everyday life.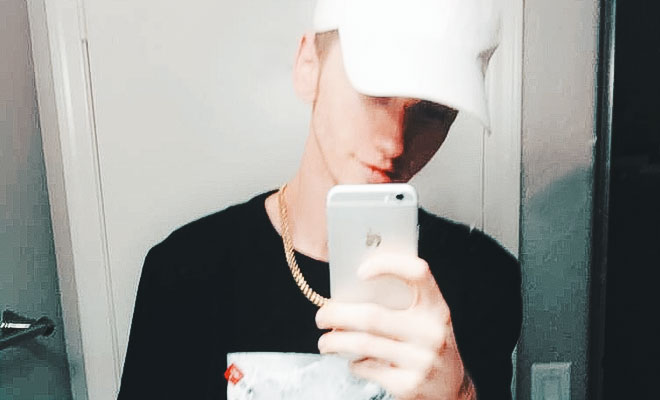 4 — Where did you take the inspiration to write most of your lyrics?
The inspiration lives in the lifestyle, the good experiences, and the bad.
5 — Do you think a good rapping performance comes from a good rapping technique? If so, what's yours?
In my opinion, if the fans/listeners are connected to what you're saying emotionally, and mentally, your performance has achieved its goal. People like having people they can relate to, all I'm doing is bringing those emotions into a poem and instrumental.
6 — Please tell us more about your song "Bad Feelings". What's the message behind it?
"Bad Feelings" is actually quite old and I'm just now really pushing for the exposure while my page is still young. However, the message never dies. What I really want people to take away from this song is that no matter what happens, no matter how hard it gets, just keep doing your thing. Time will make it better. Set goals. Keep dreaming. The longer you wait the harder it gets.
7 — As an artist, how do you deal with criticism?
Criticism is everywhere. You can walk a certain way and be judged for it. Listen to the bad things, only sometimes, when they help you improve. And hold the good things close and carry them with you. The good comments and feedback are almost a shield to the bad. They help you realize that one bad comment is one of many other really good ones. So all you can do is keep moving.
8 — Are you afraid to experiment with different music styles?
Yes, and no. It depends on the meaning of "style." Like, I hate my singing voice but I'm not afraid to try out other flows and techniques.
9 — What are your current projects?
The "Mindset EP." I'm dropping two more tracks as of right now to finalize the project. "Motion" and another untitled track that I'm working on in collaboration with my newest partner "Yung Cubb".
10 — Finally, if you weren't an artist today, what else could you see yourself doing?
Being a pro-CoD player. 💀
---
CONNECT WITH LEGACY NOW!
Öwnboss & Selva Dish On The Creation Of "RIOT" — Interview

Closing out the festival season with a bang, Brazilian talents Öwnboss and Selva team up on anthemic dance hit "RIOT" for their debut on the respected label Monstercat. Not only a mainstage monster, "RIOT" gears up to take on the virtual world as the official anthem in the latest Brazilian-themed season of the sports-based video game Rocket League.
We caught up with Öwnboss and Selva to go behind the scenes on the making of "RIOT."
1 — First of all, how do you maintain a balance between staying true to your own unique style while collaborating and complementing each other's musical style?


Selva: I think the fun part about collaborating is to mix things up and see what happens. That being said, presenting ideas with context, staying true to yourself, and respecting the collaborator's input is the formula to create something interesting that you wouldn't come up with yourself. For example, Öwnboss has his famous lead synth, but we never forced it in. The progression choices and the energy that builds up until the drop made that synth not only essential but also brought the power we needed for the drop!
Öwnboss: I would say that I don't have much of that balance because I'd say I don't follow only a single style, you know? My sound is what I like to play, what makes sense at the moment, and what makes me happy. Of course, "Move Your Body" is a track that defines me in a way and I'm very proud of it, but I always try to evolve and improve my productions, as happened here with Selva. "RIOT" had more than 10 versions that went through various musical styles, which speaks a lot to my trajectory as a producer as well. The final version was our favourite, and it brings a lot of who we are as musicians.
2 — "RIOT" is set to debut in Rocket League's battle arenas. Is this the first time you have produced music for video games?

Öwnboss: That's a good question because we didn't really produce the song thinking about having it in a video game, but that's exactly what happened in the end. I had the pleasure of having "Move Your Body" on the Formula 1 2022 soundtrack, I believe for the size the track has taken by playing on the stages worldwide. With "RIOT," I think we were able to produce such an exciting, rebellious song…. almost like a generational anthem, that seeing it as a soundtrack for such an important and young game like Rocket League turns out to be a perfect fit. "RIOT" really has a feel of action and adrenaline.
Selva: Yes, for me it's the first time. I still am getting used to hearing my kids across the house turning on Rocket League and hearing my song!
3 — What qualities do you like the most about the vocals on 'RIOT'?
Selva: I think the vocals are the soul of this song. We built the song around it, and we worked really hard for the production to play the role of enhancing the power of those lyrics.
Öwnboss: I agree. I really like the contrast between the vocals of the children singing in a very high-pitched tone and Brian's voice, more serious. I think it's a very good balance since the sonorities complement each other. Another thing that catches me is this "battle anthem" vibe of hers, it feels half revolutionary, like… Pink Floyd. It had been a while since I'd received a vocal with this strength, and I believe that's why this track became so important to us.
4 — Imagine you could incite a riot for change. What goal would you inspire people to stand up for?
Öwnboss: That's a tough question to answer because the world needs a lot of change, so how do you choose the most important one? Or the most urgent. What comes first in my mind is a riot for people to be themselves, without being ashamed and without worrying about what others will think. Be yourself. I think it is a path of no return to freedom and happiness. Probably the world would be better and lighter if everyone could follow that.
Selva: Interesting question! I think once you create a song and put it out into the world, the meaning of it is no longer yours to choose. Everyone has a different life experience and people digest ideas and messages in a very singular way. At first, this song didn't have a political angle, but it can absolutely have.
I'd say: start a riot in your heart, soul, and mind.
5 — Öwnboss, your busy 2023 World Tour is currently underway. How does the release of "RIOT" fit into your tour's momentum?
Öwnboss: The release of "RIOT" in the middle of my tour was very important because I was able to play the track on various stages around the world without it being released. People don't know it, but the music captivates almost instantly, which makes it an important reinforcement for my sets. I see the audience eager to learn the lyrics. I can say "RIOT" certainly arrived at a good time.

6 — Selva, as a platinum-certified songwriter and producer, you have worked with prominent names in the EDM scene. What new things did you learn from this collaboration?
Selva: I think of myself as a songwriter above anything, and I'm blessed enough to work with so many different accomplished and talented artists, including Öwnboss whom I have written a number of songs. "RIOT" is a special one for me, and it just felt right to represent this one by his side. I personally learned to trust my gut more than ever.

7 — Can you capture the essence of "RIOT" in just one sentence?
Öwnboss: RIOT is energetic, revolutionary, and catchy.
Selva: All revolutions start in the soul.
8 — Were there any specific elements that made the creation of this track particularly challenging?
Selva: The chorus. We knew the chorus was potent and strong, but it was challenging to "dose" it through the song. We did a bunch of versions in order to land one that we felt delivered the chorus without being repetitive and enhanced it.
Öwnboss: Yeah, the vocals, for sure. And the collaboration with a children's choir, which is the "extra touch" and makes it different from anything that I've ever produced before.
9 — What specific role did you play while working on "RIOT"?
Öwnboss: The lyrics were written by Brian, so my main role was to help set the musicality of the track, creating a climax on the chorus and the revolutionary footprint we wanted for it. Then, another challenge of ours was to integrate the high-pitched voice of the children's choir with the other elements of the track, so that it would be dense, dynamic and keep the rebellious tone.
Selva: As mentioned I was on the songwriting. I dove in on the production as well later on, but I'd say I mainly focused on melody and lyrics and let my main man Öwnboss do his thing and create the whole context and drop.
10 — If a future collaboration opportunity arises, what new things would you be interested in exploring?
Selva: I'd like to have another go at exploring a RIOT-like anthemic chorus again, maybe in a higher BPM.
Öwnboss: Each collaboration is the reflection of the moment that I'm living. After that everything changes, so I think it's hard to answer this question. I will always explore what is true and meaningful to me in that moment, so my music can speak to others.
---
CONNECT
Öwnboss
Facebook
Instagram

Selva
Facebook
Instagram
Exclusive Interview: Paul Mayson Delves Into His Debut Album 'One Life'
Paul Mayson's first-ever album, 'One Life,' is like a special mix of his love for House music, blended with different kinds of sounds and cool collaborations from artists all over the world. You definitely don't want to miss this interview!
1 — With the release of your debut album 'One Life,' what are your expectations for how listeners will connect with the music?
My goal was to showcase my story and my sound. And for it to be an uplifting, positive, and summery album. Hopefully, it feels like that! It's a collection of songs made at the moment, to make you feel happy and free. It's about embracing life, the good things and the bad. And about doing what makes you happy.
2 — You've teamed up with a diverse range of international artists on this material. Please let us know how these collaborations came to be.
It was really exciting taking elements from different genres, working with a group of great artists who come from very different backgrounds, and bringing all of these sounds and flavors together on one project. A lot of artists I meet myself, reach out to the people I'm interested in. I often travel abroad to work on music together and do sessions in London or LA. Sometimes collabs can also happen through the label or the publisher, but ultimately it's great to have an artist-to-artist relationship.
3 – What compelled you to emphasize the themes of life, freedom, and diversity in this album?
I'm very passionate about House music culture and the way it started. Which was all about positivity and celebrating life together. I love that message and think the soulful, feel-good element of House music is what always really attracted me to the genre. And to music in general, including other genres like Soul and RnB.

4 – Can you share more details about the process of integrating experimental elements into the music production of your album?
A few of the songs (like "Tell Me How" and "I Want You") were basically made during one big jam session. It's me just trying out completely different sounds, textures, and rhythms and experimenting with live drums, guitars, and whatever I feel like. Letting go of any rules connected to dance music allows for a really fresh approach to the album songs.
6 – How does the artwork complement the album's concept?
It emphasizes the feel-good element and the overall message of the album. Life is in front of you, it's there for the taking. You're in the hallway, step into the light and embrace life.

7 – Will there be another amazing music video like "Have It All," dropping in the near future?
We released a really cool art piece and visualizer for the album which I'm very excited about!
8 – Given your ambition to push boundaries within the Dance genre, do you think the bunch of producers already out there could make it tough for you to really stand out?
I think individuality is key. Doing something you're passionate about. Telling your own story. If you go into that process, the outcome will be unique. Not following trends and doing my own thing is what helps me stand out and allows me to be ahead and I try to keep pushing myself.
9 – Among your studio essentials, what's the item that you consider the cornerstone of your setup?
Quite a lot of my work is digital. I carry my laptop around and can produce and write anywhere with it, whether it's my home studio, the studio in Amsterdam, a hotel, or even an airport. That's what makes it flexible and international! Just being able to work anywhere and get the creative process going. At home I also love my Adam A77x monitors and I also use a Prophet synth.
---
CONNECT WITH PAUL MAYSON NOW!
Exploring "My Friends": Tobtok Talks Creative Process And More!
In this exclusive interview, Swedish producer Tobtok discusses all the details about his latest single as part of the ongoing countdown to the upcoming 'My Friends' EP. This is a collaborative effort with farfetch'd that you definitely shouldn't overlook.
1 — Congratulations on the release of "My Friends." Please tell us more about the influences and musical style that shaped this cool track.
Thanks! This tune has taken inspiration from bits and pieces of tracks I've been into over the last 10 years, everything from Daft Punk to Fred Again. It contains a lot of micro samples and vocal lines that are in a similar vein as old French House records, but we also wanted to experiment with the current UK rave sound, which we think ended up in a pretty unique and interesting way.
2 — How did you and farfetch'd navigate the creative process together, especially when faced with differing ideas or disagreements?
We were kind of on the same page with most things to be fair. Jerry from farfetch'd is a very creative guy and he loves to bash out new ideas, which worked well for me to develop into full songs. We worked on every track together in my studio and finished them off together. Of course, we had some different ideas about certain things but since none of us had a big ego, we just compromised. I think when you like the same kind of music, you usually think quite alike.
3 — What sets this collaboration apart from your previous singles?
I think this is possibly the strongest single from the EP. It feels catchy and is super simple yet not too boring. It also has Jerry's voice in it which is unique to any other of our tracks.
4 — Can you share any funny anecdotes about specific moments while crafting "My Friends"?
We have hidden a few wacky voice notes in it as a sort of ambiance. It can be heard in the second verse or whatever you wanna call it. You clearly hear Jerry laughing about something, but I can't remember what it was.

5 — Is this tune part of an upcoming album or EP?
It's track no.3 from our 'My Friends' EP which has a total of 6 tracks. It was released via Perfect Havoc on 29th September.
6 — What are your emotions when your music receives recognition and praise from other producers in the industry?
It's always so much fun to get praise from your peers and colleagues. These people live and breathe music and probably hear way more stuff than the average listener, so I guess they tend to be less impressed by music.

7 — Has your signature sound as Tobtok undergone changes over the years?
Haha most definitely. I started out with French House which evolved into Nu-Disco. I later jumped on the Tropical House train (quite early on in my defense). Left that and tried something cooler with my track "ABER," and from there, it's been more of a mix between UK and Deep House.
8 — Is there any specific music genre you're eager to explore?
Old School Disco and Soul. I'm a big fan of the 70s as a whole, that's why I've bought a few vintage Roland pieces in my studio and a Rhodes Piano.
9 — Considering the global nature of music today, are there any international artists you'd love to collaborate with?
I love Jungle right now, for reasons made quite obvious in the previous question. They've mastered this cool retro 70's/Motown sound and yet managed to make it sound fresh somehow. I'd love to just hang out in the studio with them and see what they do.
10 — As we conclude, do you feel that there's a certain formula that artists can follow to produce chart-topping hits?
Nowadays, it's all about doing something that stands out from what everyone else is doing and probably also adding a sprinkle of nostalgia and familiarity into something. A good example is the new Peggy Gou record which is a massive hit that takes inspiration from ATB but puts it in a new and interesting context. It doesn't hurt to have a massive TikTok following either lol.
---
CONNECT WITH TOBTOK NOW!