Interview With Legacy: Rap, Poetry, New Music & More

Get to know Legacy, a skillful rapper who dominates the art of poetry like none other. Hailing from Arizona, his songs are gaining a lot of traction with almost 15K streams on SoundCloud. If you are looking for fresh Hip-Hop talents, then scroll down to read this interesting interview.
1 — Can you recall the moment when you thought you could be a rapper?
Honestly, I don't think I really decided lol. I was writing some poems one day and started learning how to time the syllables to the instrumentals I would find on YouTube and it became something I couldn't stop doing.
2 — How do you think your hometown has influenced the kind of music that you make?
My hometown influences everything I do, it's why I'm anxious, depressed, and happy all at the same time. Every day can be good or bad, someone can give me a dirty look one day or trash talk me and I remember the instance and add it to the stories.
3 — What's so special to you about poetry that you seem to love so genuinely?
Poetry requires you to face the darkest emotions. It makes you think about and actively reflect on everything you do and say. So when I've had a bad day, instead of bottling it entirely, I can vent through a verse – which in turn people hear and support my efforts to make it through my everyday life.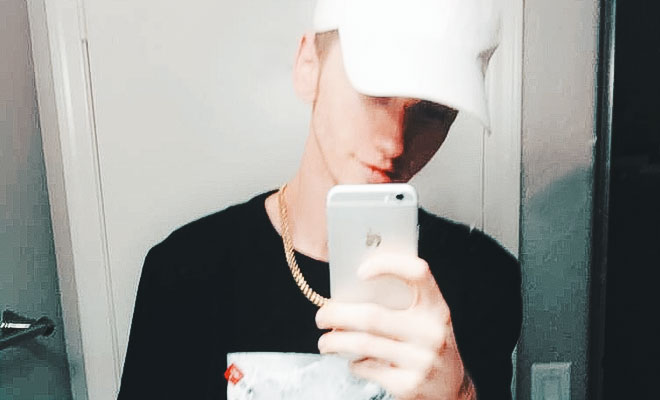 4 — Where did you take the inspiration to write most of your lyrics?
The inspiration lives in the lifestyle, the good experiences, and the bad.
5 — Do you think a good rapping performance comes from a good rapping technique? If so, what's yours?
In my opinion, if the fans/listeners are connected to what you're saying emotionally, and mentally, your performance has achieved its goal. People like having people they can relate to, all I'm doing is bringing those emotions into a poem and instrumental.
6 — Please tell us more about your song "Bad Feelings". What's the message behind it?
"Bad Feelings" is actually quite old and I'm just now really pushing for the exposure while my page is still young. However, the message never dies. What I really want people to take away from this song is that no matter what happens, no matter how hard it gets, just keep doing your thing. Time will make it better. Set goals. Keep dreaming. The longer you wait the harder it gets.
7 — As an artist, how do you deal with criticism?
Criticism is everywhere. You can walk a certain way and be judged for it. Listen to the bad things, only sometimes, when they help you improve. And hold the good things close and carry them with you. The good comments and feedback are almost a shield to the bad. They help you realize that one bad comment is one of many other really good ones. So all you can do is keep moving.
8 — Are you afraid to experiment with different music styles?
Yes, and no. It depends on the meaning of "style." Like, I hate my singing voice but I'm not afraid to try out other flows and techniques.
9 — What are your current projects?
The "Mindset EP." I'm dropping two more tracks as of right now to finalize the project. "Motion" and another untitled track that I'm working on in collaboration with my newest partner "Yung Cubb".
10 — Finally, if you weren't an artist today, what else could you see yourself doing?
Being a pro-CoD player. 💀
---
CONNECT WITH LEGACY NOW!
Exclusive Interview: Steven Jones On Lockdown & Writing "Shedding My Skin"

Steven Jones' recent release "Shedding My Skin" is heavily influenced by swirling synths and drum machines. The outcome of cutting-edge Synthpop with the vintage-esque aesthetic is what makes his music so special. What's more, the spread of COVID-19 accompanied by large lockdown periods become the inspiration for his latest lyrics. Scroll down and learn more about this interesting song.
1 –  When it comes to your music, what three words best describe it?
Dystopian Analog Beauty.
2 – How have you been keeping yourself entertained this lockdown?
I've continued to practice yoga on a daily basis. I've done more walking in the park than ever before. I've made a special project of carefully listening to the back catalogues of my favourite artists. I've watched lots of movies and read a pile of books. Lockdown has given me a time to experiment with video, take moody photos, and pen obscure apocalyptic lyrics.
3 – I'm loving the vibes of your new EP, "Shedding My Skin", what's the inspiration behind this material?
"Shedding My Skin" is a lockdown anthem. I suspect a lot of artists will have been inspired by the deep strangeness of the world's response to COVID-19. This EP is our response. The starting point was Kevin O'Dowd's claustrophobic lyrics. Using these as a foundation, I created a basic demo I tended to reflect the dislocation and fear of the quarantined mind. I envisaged a skeletal soundscape out of which a voice intones images of despair and hope. Once this was achieved, Logan added his cinematic electronics and sleek production. The dub mix, "New Skin" purifies the emotion of the isolated spirit of lockdown into sheer atmospherics. A wordless cry from behind a closed door.
4 – How much time did you work for this EP?
One of the most interesting aspects of lockdown was a sense of timelessness. It's easy to spend hours recording and experimenting. I suppose I worked on the demo for a few days before Logan got busy with it at Sky Studios. It was a relatively speedy process.
5 – I'm curious about your creative process, what comes first lyrics or sound?
The songwriting process usually begins with sound. A basic demo provides an atmosphere or emotional cue from which the lyrics arise. I usually start by improvising a vocal on the track, singing whatever comes into my head. So often the lyrics come right out of my subconscious. After several improvised takes I'll begin to feel a structure appearing. Then I'll begin to edit the lyrics. When there is something the feels like a song, I'll send the stems Logan who will make suggestions, play in new melodies and add dynamics. We discuss ways to refine the atmosphere or take it in unexpected directions.
6 – Do you have a specific writing technique for the lyrics?
It starts with improvisation around themes that currently preoccupy me. I take inspiration from novels, films, art, overheard conversations, dreams. Sometimes I'll draw from my own experience and encode this into the song. Many lyrics arise spontaneously in response to the mood of the track. Sometimes we have a song title which guides the overall content of a lyric. I have a very language-based thought process so I can easily generate imagery and curious sentences.

7 – What do you prefer, analog or digital synths? Performing live or working in the studio?
We can appreciate both as warm and icy sounds soundscapes, but I know Logan likes to focus on vintage hardware, that was used to create the synth soundscapes for the final Visage albums recorded before Steve Strange died.
Live performance is exciting and it's an amazing feeling to sing one's own songs but I prefer recording. I find it immensity fulfilling to write and record songs and then allow them to live in the world. I feel it's like capturing time. I think my love of recording has its roots in my life-long passion for records! I've always preferred listening to an album than going to a performance. Gigs are cool but nothing beats immersion in the self-contained sonic world of a great album!
8 – Is your music only suitable for nostalgic lovers of the 80s or Synthwave fans?
I suspect that a lot of people view us as a Synthwave duo arising from a scene based in nostalgia. And while it's true that our musical DNA can be traced back to the electronics of the early 80s, I'm keen that our records are creatively vital and future-thinking. Our music is a direct reaction to modernity and not a flight from it and we actively reject pastiche!
Some of our songs draw upon the world around us. "Corrupt State", "Deluxe Tourist" and "Supply Chains" look at issues of corruption, "Syria" is an ode to the ongoing war and "For Europe" laments our departure from the EU.

9 – Beyond music, are you a big fan of movies and books? Any recommendations?
My current reading list consists of the surreal poetics of William Burroughs. I recommend "Cities Of The Red Night" for a journey into the bizarre. And for light relief, "An Officer And A Spy" by Robert Harris.
"The English Patient" for doomed romance. Polanski's "Macbeth" for windswept tragedy and "Network" for a cynical take on the media!
10 – Lastly, if you could design your dream music video right now, what would it look like?
A virtual swim through the cosmos, a shimmering journey from darkness to light…
---
CONNECT WITH STEVEN JONES & LOGAN SKY NOW!