Jimmy Turturici – Celestial Tabernacle EP (Cold Star)

There is a certain kind of mystique & spark that never dims along the foggy & sleepy coast of the Monterey peninsula. Beyond the lore of the Jazz Festival, Monterey Pop & histories that date back to the founding of California; one of their many great local icons Jimmy Turturici has been busy working on a wealth of material, readying the release of his new EP Celestial Tabernacle available November 25 via his imprint Natural Satelite, presenting the premiere of "Cold Star". Jimmy's latest single takes audiences to the iciest dance floors of the cosmos, following his recent ambient work Beyond Dissolving, his extensive compilations The Past & The Future recently showcased the soundscapes previously embarked upon with a compass pointed to influential & exciting new directions from the elusive artist. His lauded Noumenal Loom single "Dancing By The Radio" & it's follow-up "Aurora" were rumored to have partially informed & inspired aspects of the audio aesthetic Molly Nilsson's Zenith where anachronisms of the digital & brass ages collide together in the synthesis of the audio ore created now in the current & common era.
The making of Celestial Tabernacle saw Turturici employing Ben Herod once again on both tenor & baritone saxophone, and Harvey Birrell on mastering duty while commissioning Giant Claw/Orange Milk sound & visual art-maestro Keith Rankin to make one of his Salvador Dalí of the thirty-first century album cover art pieces. The result is a three-dimensional rendering of a statue bust of a cartoon like figure staring forward & skyward amid a backdrop with a deep blue, yellow, magenta, pink & silver color palette that resembles cross sections of the stratosphere seen through psychotropic lenses that reveal the layers & levels in all things. Jimmy tunes the controls to mirror & mimic the brightest & most brilliant moons & satellites seen from observatory stations & high powered telescopes beamed toward the most keen constellations & cosmic coordinates. But don't let all the outer space allusions & motifs get it twisted, "Cold Star" is one of the biggest dance singles the Sicily by Monterey artist has ever made. Having been part of countless groups & projects over the years with an amassed solo arsenal that continues to grow with time; Jimmy Turturici's "Cold Star" provides a ballroom blitz of tested patience where a stoic & fashionable dance party breaks out amid a rumble of rhythms & kinetic beat coordinates that pilots some of the most jagged & frenetic work built around paranormal synth hooks that will stay with you. Join us following the debut listen for an exclusive interview.
► STREAM "COLD STAR" (CLICK HERE)
---
1 – First tell us what the fall to winter passage has been like for you in Monterey?
It's been kind of surreal to be honest; a lingering feeling of uncertainty has been building up. The weather is great though, as a member I visit the Monterey Bay Aquarium often to daydream; finding moments of happiness only after orchestrating my version of a synth opera. Definitely been more contemplative of late; the sadness in the passing of David Bowie has definitely crept into my music. Hence my recent release of Beyond Dissolving was pretty much a result of that.
2 – Tell us about how your singles "Dancing By The Radio" & "Aurora" have brought about this evocative four track cycle with Celestial Tabernacle EP.
Almost immediately after completing "Dancing by the Radio" and "Aurora" I had began working on Celestial Tabernacle. In fact, I came up with the EP name on my way back home form my short European tour in 2015. Working with such a perceptive and amazingly talented musician like Ben Herod—who plays the saxophone—helped me to set the creative bar a little higher this time around. I was definitely more prepared and had a clear vision of what I wanted when recording Celestial Tabernacle. Any artist will tell you, being able to hum or simulate an instrument and then hearing it played back to you exactly the way you heard it in your head is an inspiring experience and one I only found when working with Ben…therefore it only made sense to incorporate more of his talents when creating Celestial Tabernacle. I'm definitely looking forward to incorporating more of the talented brethren in the local Monterey jazz scene.
3 – What sorts of discoveries did you find along your path during the making of Celestial Tabernacle?
Solitude facilitates creativity and when feeling down or overwhelmed meditation can be used like a candle lighting your way out of a dark tunnel—metaphorically speaking. Also it's best to record music on an empty stomach.
4 – As someone who always has multiple burners going so to speak, what are you currently developing in the studio?
I'm currently working on a minimalistic [sic] electro synth pop set with a good friend local singer & songwriter Kristen Gradwohl [of local Monterey County band Valley Soul], her amazing voice and warm positive personality enabled a great working relationship, kindly helping me sift through while taking notes on most of my music form the past two years finding over 40 potential songs and ideas to work but the work always continues, even if I wanted to I'm unable to stop.
5 – Hopes for 2017?
That its better then 2016, man… it's been a very sad year for so many people on this pale blue dot.
6 – Ways that people can have a voice in today's weird times?
Take chances, be willing to step out of your comfort zone.
Jimmy Turturici's Celestial Tabernacle EP is now available through his label Natural Satelite.
New Esotera EP 'Old As Time' — Exclusive Review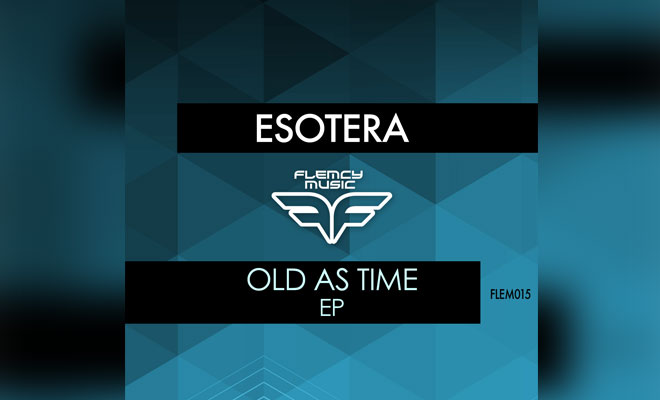 Londoner electronic musician Esotera has spent many days and nights in the studio producing the upcoming 'Old As Time' EP and obtaining outstanding results. This work represents his perfectionism and daily dedication to music. Here, he delivers Progressive House tunes that also integrate Techno in a different direction. After mixing both styles, Esotera got the secret formula for one of the best atmospheric and deliciously dreamy EPs of the year! Can't wait to download this great material in February via Flemcy Music. In conclusion, I will definitely use these three tracks on my next DJ set. Meanwhile, you can read my track-by-track review below.
1 – Old As Time WOW what an opener! Such a masterpiece tune that will take you on an audio journey. Lovely soft harmonies and progressive sounds made it quite enjoyable and relaxing at the same time.

2 – High MomentsThe second track is pretty original. It features eerie/dark music elements and pulsing beats on repeat. Esotera also adds male vocal snippets that sound like being taken from a speech. Certainly, a creative effort, don't you think?

3 – LIGOHey Techno lovers, this is definitely for the clubs! I like it because it possesses dynamism and energy. The most uplifting song and probably never will go out of day as it sounds futuristic.
AVAILABLE SOON ON BEATPORT
February 1st, 2017
CONNECT WITH ESOTERA
Facebook
Instagram
Mixcloud
Twitter
CONNECT WITH FLEMCY MUSIC
In Review: Whitedrives – Deepest Joy

Whitedrives, a music production duo from London formed in the 90s by Martin James and Wadcutter have just released a great EP called 'Deepest Joy'. This release has caught my attention because it offers 100% pure Electronica music that is not common to hear nowadays among the worldwide DJs. There are also two outstanding remixes by Ettica and Alan Cross who put their own personal touch to the original. The EP features 3 tracks in total, and each one comes with a distinctive rhythm which is beneficial for your music collection. It's diverse in sound and YES I like it!
Let's dive in with a track-by-track review:
1 – Deepest Joy (Original Mix) Keep your eyes closed while listening to this beautiful track and you will be transported into a mystical world. If I'm not wrong, you will listen clearly to a Mantra on repeat and also continuous traditional drums. All these melodic ingredients were mixed of course with Whitedrives' Electronica music. A very relaxing experience.
2 – Deepest Joy (Ettica Remix) The second track is a remix by Ettica and obviously it was intended for the clubs. Techno fans will love how creatively a hi-hat pattern was added to the original. The spiritual vocals were not removed from this version, and they match perfectly with the upbeat kick. An interesting subtle/minimal approach.
3 – Deepest Joy (Alan Cross) Here DJ Alan Cross goes much further with this remix. I think he uses a more elaborate technique by implementing more progressive and rich sounds to the mix. My favorite from the EP!
WHITEDRIVES – DEEPEST JOY
OUT NOW ON BEATPORT
CONNECT WITH WHITEDRIVES
Billboard Chart Topping Artist DROZE Returns With Solo EP To Get You Back On The Dance Floor
Gonna Be Music singer and songwriter, DROZE released this month a brilliant EP that is sure to dominate the dance floors. With his innate talent in House music, 'The Droze Project' EP proves that any of the new songs can reach the Billboard Dance Charts as he did in the past with the single "Running (Out Of Time)". His new material features a total of 4 tracks, where DROZE showcase nice vocals and catchy House beats. Important music producers such as Giuseppe D, KC Anderson, Oba Frank Lords and Michael M were also part of this project. Sincerely, this is an EP that can be on repeat forever… and you'll never get bored!
Check out my track-by-track review below:
1 – Right Here In my opinion, this is a strong EP opener. As a fan of male vocals in dance music, I would dare to say DROZE has a unique soulful style and a big voice that will make your jaw drop. This track is a clear example of that, and I like it.
2 – No Time The second track starts off with a notable hi-hat pattern. Here the rhythm sounds dark and simple but it matches perfectly with the serious lyrics of the song. He takes an interesting direction on this track, I think it's different than the other three tracks, which are more danceable.
3 – Tell Me After listening to this tune a couple of times, now I understand why it's my favorite track on this EP. The main reason:  IT'S HIGHLY ADDICTIVE. His voice sounds clear, and there's a wonderful blend of styles from soulful to upbeat.
4 – Carry On The DROZE Project EP ends with fantastically fun music! It features the Gonna Be All-Stars and somehow it reminds me of the Classic House era of the 90s. Get ready to jump, sing and shake your booty, this song could be the next hit in 2017. 🙂
DOWNLOAD 'THE DROZE PROJECT' EP
CONNECT WITH GONNA BE MUSIC NOW!
Facebook
SoundCloud
YouTube
Website