Interview | Questions & Answers With Lenell Brown

Lenell Brown has featured on a number of collaborations with some of Spain's top DJs and Producers such as The Zombie Kids, Fonsi Nieto, and Robbie Rivera. Lenell Brown is also the resident vocalist at one of Spain's most prolific record labels 'Clipper's Sounds', his gospel upbringing paved the way for his career to span across the world, touring in places such as Japan, America, and Switzerland. We caught up with Lenell to talk more about life behind the stage.
1 — Tell us a brief overview of your performing career?
I will try and keep it brief because I have been very Blessed and fortunate to have a pretty extensive performing career!
I grew up singing Gospel in church. That's where my love for singing started and then spread out to Go-go, Hip-Hop, and R&B music. Then I toured and worked for the International performing organisation UP with People for 6 years where I performed in a 2-hour musical show through 28 countries and 49 states.
After touring and settling in Switzerland, I started singing and performing Rock and Blues as the lead singer for the incredible Blues guitarist Rolf "LL" Lüthi & The Handyman and started my career as a recording artist first writing and recording hooks on other artist projects. I went back on tour in Switzerland performing with the HipHop R&B group Duke Sheltic. We placed in the final top 10 acts of Switzerland to tried and qualify for the 2011 Eurovision. We lost but the nationwide television exposure was fantastic!

I became a solo recording artist and worked and toured with some great artists mainly in the Hip-Hop genre; starting with Swiss award-winning Rapper Steff La Cheffe. I then partnered up with Ice-Ts legendary Rhyme Syndicate member "The Syndicate Sniper" Donald- D where we toured Holland, Germany, England and Poland and recorded a number of tracks. I also recorded and performed with several other talented and incredible artists highlighted by receiving my gold album for my participation on the REMADY & Manu-L album "Original".
2 — How do you prepare yourself before going on stage?

I always say a prayer that gets my mind and soul right. Then I have my hot tea and lemon with a bit a tea on the side and about 2 or 3 hours before I warm up my voice short and at 100% and then 30 minutes before I step on stage, I do light vocal warm-ups mainly consisting of runs and scales.
3 — What is the most important element of a performance in your opinion?

Technical wise I would say house sound and a great monitor sound.
4 — What's the best gig you've ever played?
One of the best shows I've performed at was in Canet en Roussillon in France at "Complexe La Luna" where I was featured performing with Swiss superstar DJ "Remady".

5 — What tips do you have for budding vocalists?
Be ready, perfect your talent to the best of your ability and don't worry about the talents of another artist. Focus on your own talent and make it work for you. Be open and flexible and pleasant to work with. Just by being pleasant and a joy to work with will open so many doors for you.
6 — Do you have anyone you would love to do a duet with?
I would really love to do a duet with Lisa Stansfield, I absolutely love her.
7 — How did you initially get into singing?
I grew up in church and it was very natural to sing in the Gospel Choir.
8 — Finally, do you have any upcoming gigs that people can come and see you perform?
Unfortunately, I haven't got any upcoming gigs as of yet… Currently, I'm preparing for a video shoot in Italy in January for my next single release on January 10, 2020. mixed by Grammy-award winning mixer James Hover who mixed the radio edit on the upcoming release "One Day", So we are focusing and getting set for the new year so that we can hit the ground running.
---
CONNECT WITH LENELL BROWN NOW!
Interview With Legacy: Rap, Poetry, New Music & More

Get to know Legacy, a skillful rapper who dominates the art of poetry like none other. Hailing from Arizona, his songs are gaining a lot of traction with almost 15K streams on SoundCloud. If you are looking for fresh Hip-Hop talents, then scroll down to read this interesting interview.
1 — Can you recall the moment when you thought you could be a rapper?
Honestly, I don't think I really decided lol. I was writing some poems one day and started learning how to time the syllables to the instrumentals I would find on YouTube and it became something I couldn't stop doing.
2 — How do you think your hometown has influenced the kind of music that you make?
My hometown influences everything I do, it's why I'm anxious, depressed, and happy all at the same time. Every day can be good or bad, someone can give me a dirty look one day or trash talk me and I remember the instance and add it to the stories.
3 — What's so special to you about poetry that you seem to love so genuinely?
Poetry requires you to face the darkest emotions. It makes you think about and actively reflect on everything you do and say. So when I've had a bad day, instead of bottling it entirely, I can vent through a verse – which in turn people hear and support my efforts to make it through my everyday life.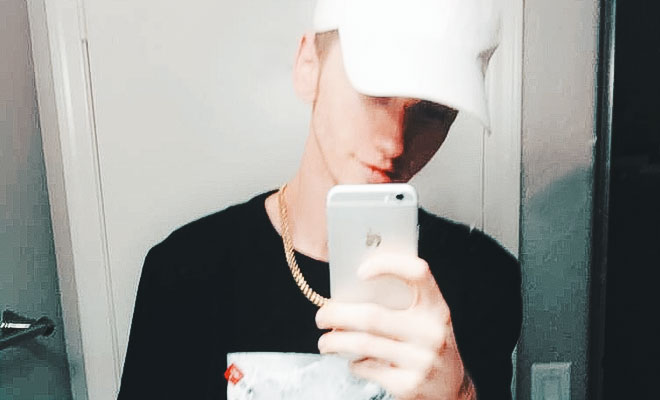 4 — Where did you take the inspiration to write most of your lyrics?
The inspiration lives in the lifestyle, the good experiences, and the bad.
5 — Do you think a good rapping performance comes from a good rapping technique? If so, what's yours?
In my opinion, if the fans/listeners are connected to what you're saying emotionally, and mentally, your performance has achieved its goal. People like having people they can relate to, all I'm doing is bringing those emotions into a poem and instrumental.
6 — Please tell us more about your song "Bad Feelings". What's the message behind it?
"Bad Feelings" is actually quite old and I'm just now really pushing for the exposure while my page is still young. However, the message never dies. What I really want people to take away from this song is that no matter what happens, no matter how hard it gets, just keep doing your thing. Time will make it better. Set goals. Keep dreaming. The longer you wait the harder it gets.
7 — As an artist, how do you deal with criticism?
Criticism is everywhere. You can walk a certain way and be judged for it. Listen to the bad things, only sometimes, when they help you improve. And hold the good things close and carry them with you. The good comments and feedback are almost a shield to the bad. They help you realize that one bad comment is one of many other really good ones. So all you can do is keep moving.
8 — Are you afraid to experiment with different music styles?
Yes, and no. It depends on the meaning of "style." Like, I hate my singing voice but I'm not afraid to try out other flows and techniques.
9 — What are your current projects?
The "Mindset EP." I'm dropping two more tracks as of right now to finalize the project. "Motion" and another untitled track that I'm working on in collaboration with my newest partner "Yung Cubb".
10 — Finally, if you weren't an artist today, what else could you see yourself doing?
Being a pro-CoD player. 💀
---
CONNECT WITH LEGACY NOW!