Matstubs Talks New Platform Designed For Indie Artists — BitSubmit
Check out our interview with DJ & Producer Matstubs, who is the founder of BitSubmit. This is a powerful platform designed for indie artists like yourself. A new tool that will speed up the whole marketing process so that your music can get noticed among labels, radio stations, and blogs. Learn more below.
1 – What's the biggest lesson you've learned since funding BitSubmit?
I have learned that musicians are not putting nearly enough into their marketing strategy. It took me a long time to realize that this industry is a lot more than simply making music. So many artists go unnoticed, even when their music is incredible. Imagine a painter leaving their art in a basement for no one to see. It's a shame because there's a ton of music out there that deserves the spotlight.
2 – What benefits and opportunities do this platform offer to indie musicians?

BitSubmit allows artists to easily connect with the very best in the industry. Spotify & Apple Music Playlist curators, YouTube music channels, record labels, Soundcloud promoters, music blogs, radio stations and so on. We made it as easy as possible to send music to hundreds of places in seconds – it's mind blowing how easy it is to automate releases with it.
Something that holds back a lot of musicians is the money for guaranteed promotion. Sometimes placements can run into the thousands of dollars for a single promotion – that is way too unrealistic for a lot of upcoming artists. We wanted to level the playing field, so instead all artists will get an equal shot at submitting their music to the largest promoters.

3 — How many people are behind this project?

For the first year, it was just my partner and I as we built the platform from the ground up. We built it alongside both artists and networks because we wanted to make sure we developed it right and got everything that was needed. After we launched, we saw a lot of growth and interest in the platform, so we decided to bring on a few more developers and a customer relations team. Every day we work together to make BitSubmit a better platform.
4 — Do you think there are other similar platforms on the web? What makes BitSubmit stand out from the rest?

Sure, there are some others, but they don't do the job. I am a musician myself under Matstubs, so I've tried all the different submission platforms. I came into a ton of things that were straight up amateur… bland websites, hard to use interfaces, low-quality networks. Ultimately it was a waste of money. This is why I set out to create BitSubmit. Not to sound arrogant, but anything that these other platforms do, we do it better. I can only say this because that is exactly what our goal was when developing BitSubmit. Our platform is by far the most simple to use and straightforward. Our networks are the highest quality in the industry. Our artists get results and it's as simple as that.
5 — As a marketing tool, what's probably its best feature?
Let's go through what happens when you don't use BitSubmit. You make a track… Okay, now you need to think of the top 100 electronic music networks that you want to send it to. That's going to take you a bit of time to research. Not only that, but you actually have to go and find the contact for each of these networks. More time wasted. Once you finally have all the contacts in your spreadsheet, you need to send an email to every single one, hoping that your email doesn't get lost in their inbox.
These networks are getting hundreds of emails per day – yours probably isn't even getting opened. Now you can sit and wait for a few weeks and maybe you'll get a reply – but most of the time, you're in the dark. The process sucks. Now imagine doing all of that in 10 seconds. Imagine that you are guaranteed to get listened to. Imagine you can track exactly when each network will listen to you. Imagine getting valuable feedback from them. This is what BitSubmit will allow you to do. Essentially we're putting your marketing on steroids – and at the same time allowing you to spend more time making music.

6 — How about pricing? What's the difference between the premium and the professional plans?
The main difference between the plans is the amount of bits you get per month. Bits are used to submit your music to different networks. I would suggest at least the Premium plan for artists that are serious about getting their music out there.
7 — What record labels and blogs are working directly with the platform?
There's too many to list… EDM·com, Trap Party, ZIAS, Royal Music, NightBlue, Diversity… we've got hundreds of powerful outlets. We have local radio stations, internet radio stations, music blogs, YouTube Channels, streaming playlist curators (Spotify & Apple music), Soundcloud promoters, Instagram pages. If the network is quality, then they are most likely with us.
8 — Can you talk about the contest you have recently launched on the platform?

For sure! We're always giving away awesome things to help our musicians get to the next level. We just recently gave away KRK Rokit studio monitors and a pair of studio headphones. We want to do more for our artists than simply help them market music. We want to help artists get to the next level in any way we can. We write up blog posts with helpful tips, give away cool equipment, and most important give you a world leading marketing platform.
9 – What temporary challenges are the users currently facing on BitSubmit?

There will always be a challenge to get heard. Although we make it extremely easy to make connections, your music still has to be on point. Musicians need to consider the fact that every single one of us has our own bias towards our own music and we may not agree with feedback from others. But handling objective feedback is such an important part of growing as an artist. This doesn't mean that artists need to give up their creativity or choices when it comes to making music, but if 9/10 people think you're singing flat, you're probably singing flat.
10 – Finally, what further improvements would you like to implement in the near future?

We have something big in the works for our artists. I can't discuss it in detail just yet, but it is going to be extremely powerful for connecting with brands and other alternative outlets. We're very excited about pushing it. We have a lot of room to grow, but we're working hard every day to make it happen. We're excited about the future.
---
CONNECT WITH BITSUBMIT NOW!
Website
Facebook
Twitter
Instagram
Interview With Legacy: Rap, Poetry, New Music & More

Get to know Legacy, a skillful rapper who dominates the art of poetry like none other. Hailing from Arizona, his songs are gaining a lot of traction with almost 15K streams on SoundCloud. If you are looking for fresh Hip-Hop talents, then scroll down to read this interesting interview.
1 — Can you recall the moment when you thought you could be a rapper?
Honestly, I don't think I really decided lol. I was writing some poems one day and started learning how to time the syllables to the instrumentals I would find on YouTube and it became something I couldn't stop doing.
2 — How do you think your hometown has influenced the kind of music that you make?
My hometown influences everything I do, it's why I'm anxious, depressed, and happy all at the same time. Every day can be good or bad, someone can give me a dirty look one day or trash talk me and I remember the instance and add it to the stories.
3 — What's so special to you about poetry that you seem to love so genuinely?
Poetry requires you to face the darkest emotions. It makes you think about and actively reflect on everything you do and say. So when I've had a bad day, instead of bottling it entirely, I can vent through a verse – which in turn people hear and support my efforts to make it through my everyday life.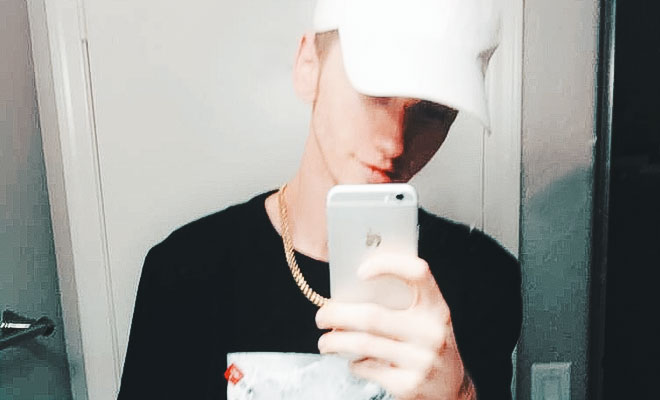 4 — Where did you take the inspiration to write most of your lyrics?
The inspiration lives in the lifestyle, the good experiences, and the bad.
5 — Do you think a good rapping performance comes from a good rapping technique? If so, what's yours?
In my opinion, if the fans/listeners are connected to what you're saying emotionally, and mentally, your performance has achieved its goal. People like having people they can relate to, all I'm doing is bringing those emotions into a poem and instrumental.
6 — Please tell us more about your song "Bad Feelings". What's the message behind it?
"Bad Feelings" is actually quite old and I'm just now really pushing for the exposure while my page is still young. However, the message never dies. What I really want people to take away from this song is that no matter what happens, no matter how hard it gets, just keep doing your thing. Time will make it better. Set goals. Keep dreaming. The longer you wait the harder it gets.
7 — As an artist, how do you deal with criticism?
Criticism is everywhere. You can walk a certain way and be judged for it. Listen to the bad things, only sometimes, when they help you improve. And hold the good things close and carry them with you. The good comments and feedback are almost a shield to the bad. They help you realize that one bad comment is one of many other really good ones. So all you can do is keep moving.
8 — Are you afraid to experiment with different music styles?
Yes, and no. It depends on the meaning of "style." Like, I hate my singing voice but I'm not afraid to try out other flows and techniques.
9 — What are your current projects?
The "Mindset EP." I'm dropping two more tracks as of right now to finalize the project. "Motion" and another untitled track that I'm working on in collaboration with my newest partner "Yung Cubb".
10 — Finally, if you weren't an artist today, what else could you see yourself doing?
Being a pro-CoD player. 💀
---
CONNECT WITH LEGACY NOW!