Music Gateway Website Launch Imminent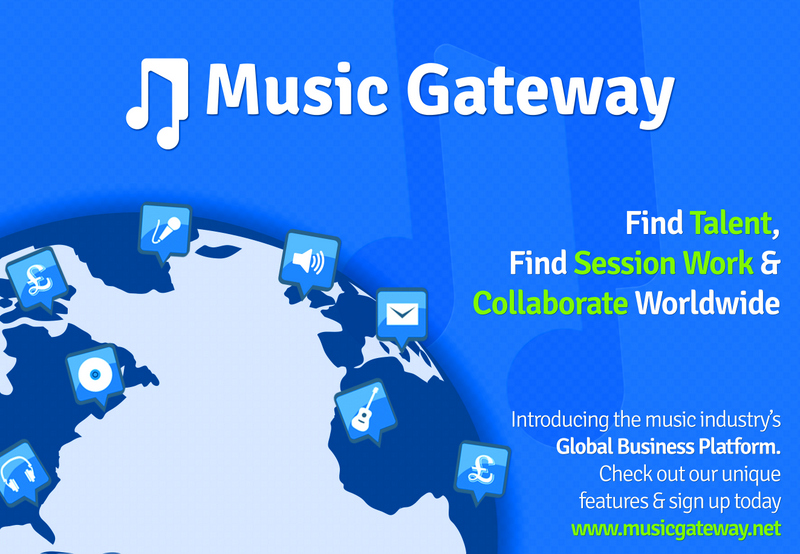 If you have been keeping tabs on music industry news recently it will have been hard not to notice the attention Music Gateway has received. There is much anticipation and support across the board (including an April feature in Music News) for their much needed global platform which stimulates new revenue from existing masters and makes it easy for everyone to A&R their own projects or for management and labels to tap into new talent and work their roster.
"I'm not going to lie, it's been tough! What with the downturn in the global economy, IT development hurdles, investment seeking and a number of barriers to overcome to get the company into this position, it fills me with great pride and joy that we are now ready to fully launch. This isn't some simple brochure website or another social media platform, no, it's got focus, it's functional with purpose, it's simple yet delivers features like file transfers & electronic payments, all geared towards supporting your career development and generating work opportunities for both individuals and companies alike."
explains Founder & Managing Director Jon Skinner
LinkedIn

.
Jon spent 26 years in the Music Industry gaining a wealth of knowledge and experience from being a DJ, producer and record label owner to working closely with international artists and running his own independent record store in the '90s hay days.
"I was in a good place to bring to the table what I felt, was a much needed business platform and saw a huge gap in the market. Music Gateway was developed by my in-house IT team, not by some outsourced techies trying to second guess what the industry & musicians may want. Music Gateway connects all the creative roles, allowing them to work, get hired, paid and collaborate on the global stage." Jon goes on to explain that there are a host of websites offering a wide range of distribution, social media for music, such as Soundcloud and ReverbNation, licensing / sync portals and other Artist-to-Fan services, all of which deal with the end recording or end user. What is clearly different about Music Gateway, is that it is strictly Business 2 Business; it provides a service for people during the creative process and a development / project stage for any recording, person or company. "Content is King" Jon states. The Music Business isn't some sugar-coated industry, it is hard work and to be successful, you need a lot more than just talent. Music Gateway will certainly improve your chances of making the right connections and reward you financially for your hard work. Music Gateway brings the talent to your projects, an A&R vehicle designed to streamline connections in a targeted way, creating secure surroundings and empowering the individual. So whether you are one of the rising stars of the music world, or you have an established career and need a more streamlined way of collaborating with other artists, Music Gateway is your new timesaving friend.
https://www.electrowow.net
HEART FX And Joe Jury Are Getting Us Warmer With Their New Single "King Without A Throne"

After releasing their first single "Thinking Of You" on Flamingo Recordings, the Austrian duo, HEART FX consisting of Markus Schulz & Mario Staniek, mesmerize us with their newly-born release with its tongue-in-cheek title, "King Without a Throne". As the leading voice softly goes "I'm looking for a place to settle down, yes it's hard to find the shelter in this town", it transfers us to the cavernous space created somewhere above our heads, reminding us that everybody gets lonely and nostalgic at times. And so do HEART FX, bewitching us with their music sensibility and mysterious aura. You might be a bit surprised that the following label is responsible for the release. It's the Dutch Big & Dirty brand, previously standing for edgy club sounds, are now redefining themselves. As they say about their new direction "We aspire to travel the world, only to worry about deadlines. We encourage freedom of speech, still rather stay quiet than cause a scene. We aim for real friendships, but spend valuable time on our phones. Yet we find balance in music. (…)'Cause music works like a drug." However, if we are to believe that the most glorious form of art is, indeed, music, then – Big & Dirty and HEART FX get along perfectly.
► BUY / STREAM (CLICK HERE)
Both, the mysterious yet symbolic title and seemingly fairytale artwork for the cover of the single, "King Without A Throne" touch us with their enigmatic and sensitive aura. Still, the production, with all its halo does not bring any naive or shallow atmosphere to the track, but it perfectly suits what we would love to hear in cold, autumn evenings or what we would like to dance to on vivid dancefloors being surrounded by electronic music lovers. Just like HEART FX like listening to sad music when they're down and dance in their rooms when they're excited. That magical set of contradictions is smoothened by music which keeps them in balance, and "King Without A Throne" makes an excellent example to believe that our fresh duo, HEART FX cannot imagine life without their queen – music, herself and they will surely surprise us with their next, forthcoming singles.
MORE INFO ON HEART FX
Facebook | Soundcloud | Twitter
NEW ALBUM: 'Cloudontime' By Fiasco Disaster Is Out!
Check out the new album 'Cloudontime' by artist Fiasco Disaster. It was released 11.09.2016 and contains a total of 6 tracks. A great combination of beats and experimental synth sounds would be a fresh new addition to your trance and ambient music collection!
'CLOUDONTIME' BY FIASCO DISASTER
IS NOW AVAILABLE
iTunes – Amazon Music – Spotify – AmoLink
LISTEN: Chelsea Cutler – Wake Up (Remixes)

Out now through Ultra Music comes a wicked pair of remixes inspired by Chelsea Cutler's 'Wake Up.' The East Coast hailing singer and songwriter has just signed with the prestigious label, and this month sees both Sondr and Cuebrick take on her enigmatic single.
► BUY / STREAM (CLICK HERE)
Sondr is up first with a delicately lilting remake, providing well-placed percussion and an easy sense of groove – layering Cutler's vocals in waves over the top. The Cuebrick edit opens fluidly and with an air of serenity, before adding dynamic drum patterns, expressive chords and gathering tension with its progressive energy.
This remix package is a great introduction to the sounds of Chelsea Cutler, and both featured artists have put forward high caliber versions of the powerful 'Wake Up.'
CONNECT WITH CHELSEA CUTLER