Music Gateway Website Launch Imminent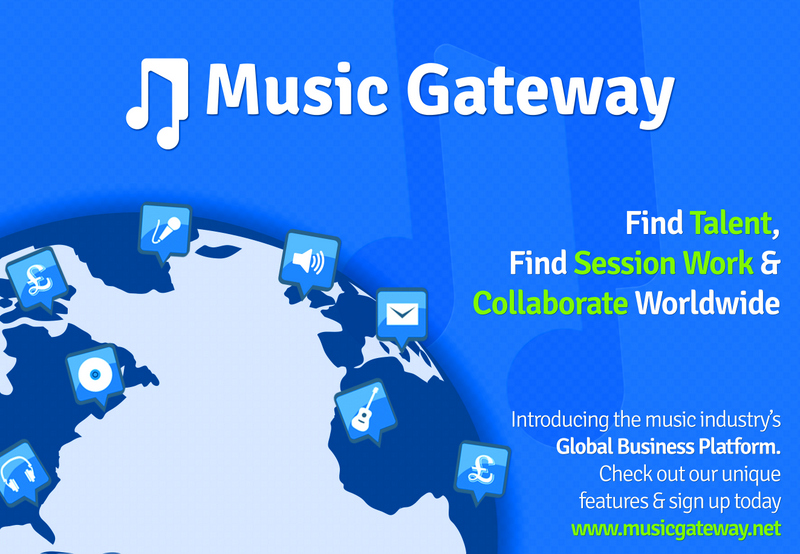 If you have been keeping tabs on music industry news recently it will have been hard not to notice the attention Music Gateway has received. There is much anticipation and support across the board (including an April feature in Music News) for their much needed global platform which stimulates new revenue from existing masters and makes it easy for everyone to A&R their own projects or for management and labels to tap into new talent and work their roster.
"I'm not going to lie, it's been tough! What with the downturn in the global economy, IT development hurdles, investment seeking and a number of barriers to overcome to get the company into this position, it fills me with great pride and joy that we are now ready to fully launch. This isn't some simple brochure website or another social media platform, no, it's got focus, it's functional with purpose, it's simple yet delivers features like file transfers & electronic payments, all geared towards supporting your career development and generating work opportunities for both individuals and companies alike."
explains Founder & Managing Director Jon Skinner
LinkedIn

.
Jon spent 26 years in the Music Industry gaining a wealth of knowledge and experience from being a DJ, producer and record label owner to working closely with international artists and running his own independent record store in the '90s hay days.
"I was in a good place to bring to the table what I felt, was a much needed business platform and saw a huge gap in the market. Music Gateway was developed by my in-house IT team, not by some outsourced techies trying to second guess what the industry & musicians may want. Music Gateway connects all the creative roles, allowing them to work, get hired, paid and collaborate on the global stage." Jon goes on to explain that there are a host of websites offering a wide range of distribution, social media for music, such as Soundcloud and ReverbNation, licensing / sync portals and other Artist-to-Fan services, all of which deal with the end recording or end user. What is clearly different about Music Gateway, is that it is strictly Business 2 Business; it provides a service for people during the creative process and a development / project stage for any recording, person or company. "Content is King" Jon states. The Music Business isn't some sugar-coated industry, it is hard work and to be successful, you need a lot more than just talent. Music Gateway will certainly improve your chances of making the right connections and reward you financially for your hard work. Music Gateway brings the talent to your projects, an A&R vehicle designed to streamline connections in a targeted way, creating secure surroundings and empowering the individual. So whether you are one of the rising stars of the music world, or you have an established career and need a more streamlined way of collaborating with other artists, Music Gateway is your new timesaving friend.
https://www.electrowow.net
Notaker's "Infinite" Facilitates Your Sonic Journey to Another Universe

Imagine sailing through time and space in a world of endless stars, watching the earth fall away from sight on a fateful and uncertain pilgrimage to a distant galaxy. Even if you never dreamed of being an astronaut, Notaker's newest track "Infinite", to be released on mighty Monstercat, will take you on an epic adventure to your mind's wildest destination. Stepping away from his usual progressive sound for a more futuristic and digital vibe, Notaker is here to be our commanding astronaut on our journey to another world.
Before he ever started producing music, David Nothaker – better known as Notaker – was fascinated by science and space, especially the concept of something having no end. For "Infinite", he was inspired by the limitless quality of the mind; our minds can take us places our bodies will never be able to, and oftentimes music serves as a catalyst to facilitate that passage. Inspired by legends like Hans Zimmer, Deadmau5, and Eric Prydz, Notaker specializes in creating an atmosphere around his productions to immerse the listener in the story of his sound, rather than just the track itself. He has certainly achieved that with "Infinite", so stay tuned for more sonic experiences coming from this promising up and comer soon!
MORE INFO ON NOTAKER
Facebook | Soundcloud | Twitter
Video Premiere: Boys Noize feat. POLIÇA – Starchild
Today, Boys Noize reveals the video for his third track of the upcoming Mayday album, "Starchild" featuring Poliça. The video is shot by LIL INTERNET in Miami and stars Poliça's Channy Leaneagh.
Director LIL INTERNET explains the background of the video director LIL INTERNET: "The original inspiration was a harrowing film released last year by artists Alli Coates and Signe Pierce called "American Reflexxx." The film, which depicts a masked woman walking through Myrtle Beach with violent results, ended up showing that Frankenstein narratives of persecution and misunderstanding of the "other" can unfold very easily in real life and in real time, even today. With Alli and Signe's inspiration- and blessing to do the video- I set up a similar scenario with Poliça in a narrative of an alien falling from space and landing in South Beach. We put her in a nude bodysuit and a clear raincoat and walked around and basically just filmed what happened. Poliça is just a naturally magnetic performer- she elicited immensely beautiful moments- and while we didn't have a result nearly as violent as Alli and Signe's film, we did end up capturing deep emotion and complicated responses in scenes that lie somewhere between fantasy and reality. There's many layers you can extract from the responses we captured, and I could talk forever about them, but most importantly I have to thank Poliça for her gorgeously ethereal- and incredibly brave- performance (there were more than a few extremely uncomfortable moments for her), to Alli Coats and Signe Pierce for the inspiration and giving me the OK to do this video, and of course for Boys Noize for giving me free reign to do several videos for him over the course of this album release, all of which were adventures in themselves. I do recommend watching American Reflexxx as a counterpart to the "Starchild" video, and thinking about what both videos say about humanity and society – and if there is anything we need now more than ever, it's empathy for the "other," whoever the "other" is to you."
EDM Remix of Pia Dean's Latest Track "Gone" feat. Scarlet Cox
Check out songwriter/producer Pia Dean's latest remix of "Gone", featuring the emotive vocals of Scarlet Cox.
"Gone" is a superb dance/pop remix and one of Pia Dean's finest moments to date! An excellent hands-in-the-air dance tune which is sure to set any club on fire! This special remix was produced for all  EDM fans young and old. Enjoy it.
CONNECT
Reverb Nation
Twitter
Facebook
YouTube