Music Production 101 With: Novado

Novado's impressive catalogue of DJing performances and his own productions is something special. He has taken the Dance music industry by storm over the last few years and is continuing to grow at a lightning pace. We know a lot about him, but we always want to know more, so we caught up with him to learn more about what he does in the studio and how he makes his magical productions come to life!
1 – Were you self-taught?
For the most part, yes. After my first few years of learning production on my own I took a production course at AP Academy in Stockholm. I also made friends with one of the teachers there who gave me private classes for a while and let me sit with him in the studio while he mixed tracks, which helped a lot.
2 – How did you develop your music production skills and talents?

A lot of it honestly came from just putting a lot of time into it. Especially in the first years when I got started it wasn't uncommon for me to spend anywhere between 10-16 hours a day on producing! When you spend so much time on something you'll naturally develop your skills.

3 – Where do you get your inspiration from when producing new music?

I go out a lot and also play a lot of gigs myself. My main inspiration comes from moments during a night out where the music really grabs your attention and cuts through the haze, so to speak. You can feel when a vibe like that is created on the dance floor and things go from just being surface-level fun to having a deeper side to them.
4 – What's the typical process you go through when working on a new tune?

I will typically start with a melody or by writing a chord progression, that's usually where my inspiration comes from!
5 – Do you have a specific method of production you stick to?

The process I try to follow is based on building a track starting with the creative parts and moving down to the technical parts from there.
6 – When you are producing, what are your go-to plugins and equipment?
When it comes to processing plugins, I use Logic's internal stuff and the Waves series for the main part. I do use other third party plugins too; I love the FabFilter EQ and their distortion plugin Saturn. I use the Valhalla reverb all the time too.
I've got a pretty simple setup, with a pair of Yamaha HS-8 monitors and an AKAI midi keyboard. It all really happens in the box!
7 – What's your favourite synth?

Right now it's Serum by Xfer. I use Spire by Reveal Sound a lot too.

8 – And your favourite sample pack?

I think Audentity have some great sample packs, Sample Tools by Cr2 also put out some great stuff.
9 – Do you have a favourite plugin for your mixdowns and masters?

That would be the FabFilter EQ, I use it all the time!
10 – What plugins/equipment is on your master channel?

When I master my own tracks it's mainly just a question of pushing up the volume of the track. For that purpose, I think AOM's Invisible Limiter is amazing. I'll typically do some light compression too, using the SSL compressor from Waves. For other purposes I think it makes more sense to do changes in the mix if you are mastering your own tracks.
11 – How long does it usually take you to complete a new track?

It really depends on the track. Typically the best tracks come together very naturally though, and it goes quicker. It could be a matter of 3-4 days, or up to a month!
12 – Which traits do you think make an excellent producer?
Habit (or consistency) and creativity.
13 – Finally, what can we expect in terms of new music from Novado?

It will be a surprise!
---
CONNECT WITH NOVADO NOW!
Facebook
Twitter
SoundCloud
Instagram
Interview With Legacy: Rap, Poetry, New Music & More

Get to know Legacy, a skillful rapper who dominates the art of poetry like none other. Hailing from Arizona, his songs are gaining a lot of traction with almost 15K streams on SoundCloud. If you are looking for fresh Hip-Hop talents, then scroll down to read this interesting interview.
1 — Can you recall the moment when you thought you could be a rapper?
Honestly, I don't think I really decided lol. I was writing some poems one day and started learning how to time the syllables to the instrumentals I would find on YouTube and it became something I couldn't stop doing.
2 — How do you think your hometown has influenced the kind of music that you make?
My hometown influences everything I do, it's why I'm anxious, depressed, and happy all at the same time. Every day can be good or bad, someone can give me a dirty look one day or trash talk me and I remember the instance and add it to the stories.
3 — What's so special to you about poetry that you seem to love so genuinely?
Poetry requires you to face the darkest emotions. It makes you think about and actively reflect on everything you do and say. So when I've had a bad day, instead of bottling it entirely, I can vent through a verse – which in turn people hear and support my efforts to make it through my everyday life.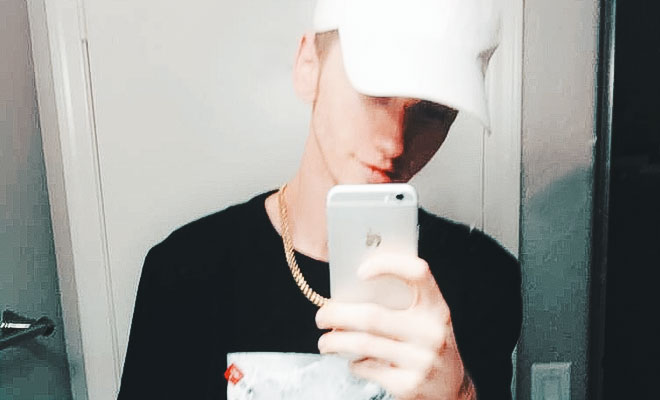 4 — Where did you take the inspiration to write most of your lyrics?
The inspiration lives in the lifestyle, the good experiences, and the bad.
5 — Do you think a good rapping performance comes from a good rapping technique? If so, what's yours?
In my opinion, if the fans/listeners are connected to what you're saying emotionally, and mentally, your performance has achieved its goal. People like having people they can relate to, all I'm doing is bringing those emotions into a poem and instrumental.
6 — Please tell us more about your song "Bad Feelings". What's the message behind it?
"Bad Feelings" is actually quite old and I'm just now really pushing for the exposure while my page is still young. However, the message never dies. What I really want people to take away from this song is that no matter what happens, no matter how hard it gets, just keep doing your thing. Time will make it better. Set goals. Keep dreaming. The longer you wait the harder it gets.
7 — As an artist, how do you deal with criticism?
Criticism is everywhere. You can walk a certain way and be judged for it. Listen to the bad things, only sometimes, when they help you improve. And hold the good things close and carry them with you. The good comments and feedback are almost a shield to the bad. They help you realize that one bad comment is one of many other really good ones. So all you can do is keep moving.
8 — Are you afraid to experiment with different music styles?
Yes, and no. It depends on the meaning of "style." Like, I hate my singing voice but I'm not afraid to try out other flows and techniques.
9 — What are your current projects?
The "Mindset EP." I'm dropping two more tracks as of right now to finalize the project. "Motion" and another untitled track that I'm working on in collaboration with my newest partner "Yung Cubb".
10 — Finally, if you weren't an artist today, what else could you see yourself doing?
Being a pro-CoD player. 💀
---
CONNECT WITH LEGACY NOW!