One Of The Coolest Xmas Songs Of 2020, "Santa Baby" By Glüme
"Santa Baby" by Glüme is an exclusive release via Italians Do It Better. I swear this is one of the coolest Xmas songs of 2020 you'll ever hear.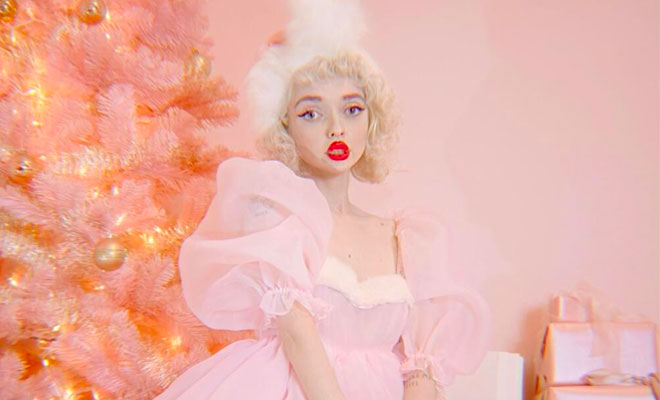 "Santa Baby" by Glüme is an exclusive release via Italians Do It Better. I swear this is one of the coolest Xmas songs of 2020 you'll ever hear. If you feel tired of the same old boring classics in your holiday playlist, then you must try this Electro-Pop cover, which pays tribute to  Eartha Kitt. Best of all, the vintage-looking music video directed by Ryan McBride will transport you to an empty roller disco.
With dreamy synths and delicate vocals that radiate sensuality, Glüme is quickly grabbing the attention of curious web surfers. Certainly, the ethereal and melancholic feel to it transcends time and space. The actress and singer from America known as the Walmart Marilyn, is currently running the #GlumeTikTokChallenge. Basically, she's asking her fans to recreate the video of "Santa Baby," the hottest clip is going to be rewarded on December 12th. Just go for it!
CONNECT WITH GLÜME NOW!
Pop This On Your Headphones, "Sorry Wrong Person" By Matilde Girasole

"Sorry Wrong Person" will get stuck in your head due to its captivating nature. Hailing from Italy, Matilde Girasole continues to impress listeners with her extraordinary vocals. Of course, her previous single "Cup of Tea" deserves massive applause, and luckily this one follows the same line. So, do yourself a favor, and stream in full this new jam right here.
It's worth mentioning, you'll get a rush of emotions while she reaches the singalong chorus. Literally, it's amazing the way she portrays her self-confidence through the introspective lyrics of "Sorry Wrong Person." In addition, the booming bass along with her usual modern Electro-Pop melodies could get you dancing in your seat. Make sure to keep an eye on Matilde's socials as she will release soon her next cut "Doorbell" on January 29th, 2021.
CONNECT WITH MATILDE GIRASOLE NOW!
Too Much Botox? Watch The Weeknd's Shocking Video "Save Your Tears"

Beyond doubt, some cosmetic procedures can improve your looks. However, too much Botox can disfigure your face. That's probably the case of Abel Tesfaye aka The Weeknd who reappears in his new music video with a shocking appearance. The latest single he is promoting with this clip is called "Save Your Tears," another singalong anthem featuring epic synths. Some of his fans believe this is a response to the Grammys, taking into account the artist's discontent.
Last November, the 30-year-old singer claimed on Twitter that the awards show is corrupted. With this in mind, it is public knowledge that he wasn't nominated, but I also think this is kinda suspicious because his recent Electro-Pop tunes are pretty addictive (In Your Eyes, Blinding Lights). Anyway, feel free to interpret the visuals below as you wish. Likewise, if you want to find out why too much Botox looks bad, watch this video.
CONNECT WITH THE WEEKND NOW!
THE GRIND THEORY, A Humanoid From 2058 Releases "Heartbeat"

If you have ever wonder how music will sound in the future, the answer is THE GRIND THEORY. Dead at birth and cloned in 2058, this ingenious humanoid showcases his artistic talent on the comeback single "Heartbeat." Following a five-year hiatus, at present, he shows no signs of stopping. What's more, "Heartbeat" features an extra layer of futuristic synths and a rockish feel to it. Unlike what most people believe about cyborgs and their unemotional and cold nature, THE GRIND THEORY proves the contrary as there's an overflow of feelings once you hear the stunning vocals.
You will notice a blend of influences that range from Power Glove, Peter Gabriel, Don Henley to Prince, Phil Collins, Depeche Mode, Erasure, George Michael, Pet Shop Boys, plus more! Whether you're listening with headphones or not, the penetrating synth lines and the electrified rhythm feel like pounding through your chest. For one reason or another, his cutting-edge sound leaves everyone craving for more.
On a side project, THE GRIND THEORY has composed scores for movies such as Streets of Vengeance (2016), The Hotel Of Dark and Nasty Things (2015), and Slashlorette Party coming out soon in 2021.
CONNECT WITH THE GRIND THEORY NOW!