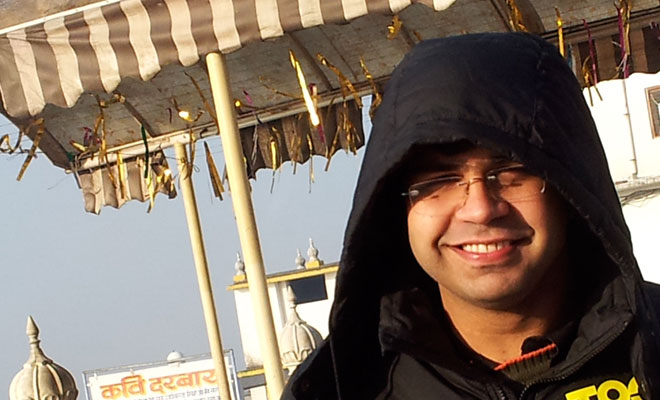 Sansadj has become one of the India's most loved and respected new DJs. He is also a doctor but he always has time for his #1 passion, which is music. Electro WOW caught up with Sansadj to talk about his life as an artist and his opinion about different things.
1 – Where did the name Sansadj come from?
When I was little, I spent most of my time with my grandparents up until the 5th grade; my parents were trying to establish themselves as doctors in their private setup. So before going to bed, my grandfather who was an English teacher would always tell me a story. I remember him once telling me a poem from Shakespeare in which death of a man was compared to the end of a play. In that play, the writer uses sans teeth, sans words, sans eyes again and again. Even though the word meant without but just the context and the way it was used stuck with me at an innate level, it was done so beautifully. Adding dj at the end was just a choice to be more easily recognizable.
2 – What has been the biggest challenge for you as a DJ?
Well there are some challenges that every starting DJ faces like how to build your name, how to get the right promotion, how to stand out among myriad of people trying to put out their music etc.
Then their were and are unique challenges for me for example I work as a doctor in the day so that leaves me with a much lesser time than most other people to give to my music. Also running and building an entire recording label from scratch has its own challenges. Talking to lawyers, distributors, artwork people, video production team, public relations, signing new artists while producing your own music and also working as a doctor can take the shit out of you but music is my passion, at the same time I would not be doing anything else.
Then the other major challenge for me was making my parents understand why I wanted to risk and go in the music industry where chances of success were limited when I had already been in medicine for around 8 years. That was really the hard part, to make my family understand how important this was for me.
Also unlike Dutch and other European countries, where djing and electronic music production is well established, in India it is still booming, relatively new. Some clubs want DJ's to play Bollywood or Punjabi music, edm is just no-no, the scene has improved but still can grow further. As far as common layman is concerned I have seen well-educated people know nothing about electronic dance music here. Festivals like Sunburn and VH1 supersonic have helped but most people I feel are showoff's and poser's, just to give you an example many people here confuse electronica to be big room house only, as you know my 1st release is a combination of trance and deep house, I have had some people come up to me and ask why are not producing some like 'that' where by 'that' they usually mean big room house. Also people questioned me and gave me the looks as if "what the fuck is he doing?" more so when I started out, but sometimes even now. This kind of ignorance irritates me and amuses me at the same time. I can keep laughing all day long.
3 – As a doctor…do you think Trance music is a good medicine?
Yes, I definitely think so, not just trance music though, music of any kind. I feel music is one of the few things that can make you great through any thing or time in your life. For me music is a medicine definitely. I am always listening to something or the other. Whether I am walking or driving to the hospital it doesn't really matter. I love trance but I listen to house, Bollywood music, Arabic, rock, pop, alternative, dubstep, chillstep etc, as long as I like something, its totally fine with me.
4 – Why do you think Trance is a popular music genre in India?
Well, I don't know what the stats say, but I think big room house is currently more popular. As I said earlier, the feeling I have is people here confuse big room house to be electronica only. I have meet very few people who have a lets select interest in trance. Most people head to big festivals here only when a big name artist comes with big marketing. For local artists, getting support it's totally another issue whether it's the government, club owners or public in general.
5 – Where do the inspirations for your new extended play "Different Shades Of Same Colors" come from?
Well, as u already know I was depressed some time back, so ophthalmology didn't interest me, I had a messy break up with the girl I was supposed to marry, I was lost. Only music gave me hope, happiness. Once I decided I wanted to get into this industry, I just started producing what came to me, I didn't think of the genre, didn't think of anything. I was lucky to have support from my brother, from my childhood friends; those were some tough times but I didn't lose sight of the good times that came before them. I just felt Life as a full circle that it is, good with bad, a mixture, a combination that we all go through but can't really phantom. So I created those 4 tracks to represent each stage of life as it and ended the EP where it began. That's why the artwork is subdivided into 4 sections as well.
6 – What software or music equipment do you use to produce your own music?
Software, currently I am using is currently FL Studio. Equipment I produced Different shades with was a 13 inch Macbook Pro, a Focusrite 2i4 audio interface and Senheisser HD280 PRO closed back headphones for monitoring. Most people produce using monitors, an approach I am not really comfortable with, I like the in-ear feel my headphones provide where I can feel each layer of music, synths that I produce at a given select time. My kit definitely needs an upgrade though, that will be happening soon enough I think.
7 – Have you ever thought about collaborating with a vocalist?
Sure, I have. I have already started work on my next project, 2-3 tracks down the line, and yes I will be very interested in collaborating with a vocalist. I have already written lyrics for 3 tracks, so I am definitely looking forward to that. The important thing is that musically speaking, the vocalist and I should be on the same wavelength. Plus mutual respect and co-ordination is also important, u can't get along well with everybody I guess.
8 – How can you help other artists that want to be part of Morior Invictus Recordings?
As CEO and co-founder of the company, there is one thing I clearly want to tell any artist looking to release a track on our label – I set this company up because I love electronic music, not because I wanted to rip you off. The music is all that matters. If your music is good enough, whether u are established or not, playing gigs or not, we will give you a chance. We are very straight and very honest. We tell artist what it is; we can provide you with best artwork, a graphic animation YouTube video, distribution to all the major stores and public representation. In this regard I believe in quality over quantity. We work on a release-by-release basis so as to give maximum exposure to the track being released. Artists who have signed with us can testify to that. Ultimately we do our best to promote each track, but there is no guarantee of how well it will do on the web market, some do really well while others don't.
9 – Is there something you dislike about the music industry?
Well, if there's one thing really, it will be show offs and posers, that's about it. I am a very simple, straightforward and honest person. I am not superstitious but I do believe in karma. So I prefer dealing with people who don't bitch around and stab other people in the back.
10 – Any producers you would want to collaborate with in the future?
Among big names I guess, Armin Van Burren because he was one of the people I looked up to and still look up to while making music. Hardwell and Swedish House Mafia for their distinct progressive house, Avicii and Deadmau5 for their unique and wonderful music, they are just a breath of fresh air. Also I would have no problem in a collaboration with any artists on my label, I wouldn't have signed them if I didn't believe in their music, Strelok and AMSS both have some great tunes coming up.
Dar.Ra Talks Latest Single And Confirms New Album In 2021 — Interview

Following the release of his latest single "Rise Like The Sun" along with its proper EP, Dar.Ra also plans to drop a new album in 2021. 'Ballads For The Down-Trodden' has been confirmed to be out by the end of January. In this exclusive interview, the British artist talks about the recent single, the most important details on the upcoming album, but also his various side projects, which include his own radio show.
1 – Can you reveal to us the name of your upcoming album?
I have two new projects out, a single called "Rise Like The Sun" with 6 killer remixes. One from Columbia and one from Sri Lanka from a killer Producer called Vidula who did the "Lights" remix from the new kinda normal album.
I did the other mixes which have a tribal House feel and an Ambient 6 am Chill Out mix. All mixes have a Sunshine title, from UK Sunshine mix, Indian Sun mix to Australian, Indonesian, USA, and Columbian mix. It's all about not being dictated too in your time here and "Rising Like The Sun" every day of your life.
The other project is more of an alias back vibe and is a compilation of slower more Ballad type songs that I have had released over the years. I am doing a radio show called The Kusha Deep Radio show which is going out around the world through various Radio outlets and I did this show which featured some of the laid-back tracks I've done and I thought it would make a great album of torchlight songs. The album is 12 tracks long and is titled 'Ballads For The Down-Trodden' and is out later this month.
I am also working on a new album of songs for the spring with a new single planned for the first quarter of the year release.
2 – Were there specific things that helped you get creative?
I'm always inspired by life, it's hard not to be unless you shut off from what's going on around you. Even in the middle of a global pandemic, I had two singles out "Stand Up For The Heroes", "Rise Like The Sun" and the 'Whisky n Honey' EP plus two remixes out. I also started doing a new project which is now syndicated around the world called The Kusha Deep Radio Show, which started off playing tracks that I had out over the past 25 years.

I also started doing a TV show with a Washington DC-based journalist MJ Godfrey which is a cultural review show looking at things happening in the UK and the USA. I've also written the next album to follow up on 2019's 'New Kinda Normal'. If you stay open to ideas and let them flow it's a natural vibe for staying creative.
3 – Are you discovering new sounds on this new record?
I explore different sounds all the time, I'm getting known for merging styles and creating new hybrids like Rock Step a vibe that featured on the 'New Kinda Normal' album which mixed the elements of Rock and EDM together which you can feel on tracks like "Nightstepper," "The Beat" and "Heart Shape Pill." There's also a genre called Gothic Soul which you can hear on tracks like "The Lights" and "Whisky n Honey." I was feeling the Latin vibe on "Rise Like The Sun."
I wanted something uplifting that holds no allegiance to what's happening in the charts but has a classic Santana vibe mixed with that Gothic style vocal.
The actual record itself is truly global, the mixes and mastering were done all over the world, the drums recorded in Italy, the Horns in Portugal, the rest in the UK. I love that about the technology vibe that you can work with people everywhere now.



4 – How many tracks will there be on the album?
The album 'Ballads For The Down-Trodden' has 12 tracks and "Rise Like The Sun" single has 6 mixes on it. The new album will have around 12 tracks on it as well, value for money I say!
5 – What themes will the new album explore?
The new album has some wide themes such as loyalty on a track called "No Time For Tears" which has a cool Rock vibe about it. There's a track about power struggles with relationships on "Don't Make Me Beg." There's a track about migrants looking for a safe place to call home on "Renegade Serenade." At the moment, it's looking very love-oriented in one way or another.



6 – Did you collaborate with other artists?

I do work with other artists when the vibe is right. I'm doing a track with a producer called KDX in the UK, a Deep House kinda groove.
7 – What makes your latest single "Rise Like The Sun" special to listeners?
It's honest, it's real and it's played with passion.
8 – What exciting projects can we expect from your label Kusha Deep Records?
All the above and more.
9 – Can you tell us more about your 2021 tour? 

We were supposed to be doing a US tour last year, not sure how things will pan out this year but would be good to get out on the road again for a bit.
10 – The global pandemic forced the music industry to try innovative things. What do you think about private live zoom concerts?
I played Rock the Lockdown back in May and we had a few thousand people all rocking out to the set. I also did a US online tour in the summer which broadcast shows into the venues from my studio. I've been doing lots of interviews from Brazil to America, Australia, and the UK online which is ace as you don't have to drive anywhere. Less hit on the climate and you can hit so many more people with a live stream if it's set up properly.
Nothing will take the place of a jam in front of people, but I think the live stream is here to say alongside the live gig. I love technology though so it's all good in my book. Be safe out there and looking forward to partying with you all soon!
---
CONNECT WITH DAR.RA NOW!
Quickfire Interview With: SOUNDQ
Hailing from Krakow, the cultural capital of Poland, Kuba Kubica aka SOUNDQ carries the flag of innovation when it comes to producing electronic music. The interview below is very clear and gives you a deep insight into his art. Scroll down to read his answers.
1 – You've been composing songs since…
Year 2000. The year when computer records got screwed by the two 0s was the year when I started programming a dodgy Korg workstation.
2 – You got involved in the music realm because…
I found it liberating not to have to depict anything. To be able to express what I feel without saying or drawing what it was.
3 – Your sound is…
As incomplete as I am. There's always at least one element causing some imbalance. You're never quite sure if it all won't fall apart.
4 – Your biggest inspiration is…
I am most creative when I'm deadbeat and stressed out. So, in a way, pressure inspires me – or rather makes my creative juices flow faster.
5 – People should listen to your new track "Bad Lot" because…
It offers a glimpse into a complete world – fatalistic, sexy, and dangerous.
6 – If you want to know who SOUNDQ is, listen to the track…
"Bad Lot." And if you've heard it already, give "This Heart" a spin.
7 –Your most memorable career moment so far has been…
Crossing the Ural Mountains in -30 degrees Celsius to play a death metal gig in Jekaterynburg.
8 – Your dream is…
Long forgotten the moment I wake up.
9 – Your next release is called…
"Disco Turista Antifascista."

10 – Your all-time favourite track is…
That's a tough one. I'll go with "My Kingdom" by Future Sound of London.
11 – Your favourite place to write songs is…
I love coming up with ideas when I'm traveling. Not a lot of occasions for that in 2020 though.
12 – If you weren't an artist, you'd probably be…
An Instagram influencer pretending he's a XIXth Century French flaneur. All dressed in epoch clothes doing product placement for travel gear and shit.
13 – You'll only stop making music if…
I don't think I have it in me to stop.
14 – In a few years, you want to be…
Able to go out without a mask, play gigs, laugh together with large groups of people. Travel to big cities and get lost wandering through them.
15 – What are you doing for the rest of the day?
It's evening already, so I'm going to be busy writing music till late.
---
CONNECT WITH SOUNDQ NOW!
Singer-Songwriter Media Mogul Martone Ready To Launch IRMIX Radio

On March 1st, 2021, IRMIX Radio will be your new alternative to find out the hottest music and your favorite talk-shows. Best of all, it will be in operation 24 hours a day and 7 days per week. The CEO behind this online broadcasting station is singer and songwriter Martone who opens up about this project in the following interview.
1 – What should people know about IRMIX Radio, and can listeners expect to hear when listening to the station?
What people should know about IRMIX Radio is that it is not a hobby and that we have a top-notch staff willing and able to conduct serious, fun, and enlightening interviews, plus, shows. Listeners can expect to hear their favorite artists when it comes to RnB, Hip-Hop, Dance, Indie, and Gospel.
2 – How many radio shows will you broadcast?

Possibly ten to twelve in total. We have a stellar show host roster, some of the shows require hosts. While others do not. I am so looking forward to telling you about them.

3 – Have you already interviewed artists in advance of its official premiere?
No, I have not interviewed artists in advance of the premiere date. That will happen around February for prerecorded interviews for the shows. Lately, I have been interviewing strictly for the website at the moment, and those interviews have been extraordinary, not because I did them, but because of the people that I interviewed and their responses to my questions.
4 – Please tell us more about your collaborators or the staff behind IRMIX radio.
The Staff
The staff is amazing, we have Donia Collier, Arricca Oberlin, and LA Jackson who are the account executives for the station. They are in charge of bringing revenue into the station from the banner, and commercial ad sales. They are excellent at what they do.
Lamont Hicks is in a league of his own when it comes to video editing, there is no other that can do what he does, the way that he does it. He created The Legends Panel and Madonna Dearest for VH1. We worked together prior when I did my show Industry Revue in the Mix, so I am proud to welcome him back.

Spotlight
So, I will be hosting a show called Spotlight, where I give an in-depth interview with celebrities about their careers, career longevity sort of like the interviews that I post on www.irmixradio.net/interviews, I will play a few of their songs.
The Bridge with Cory George
Cory George is a Certified Clinical Trauma Specialist, he has appeared on Iyanla Fix My Life on OWN. "The Bridge with Cory George" was created by the author, mental health practitioner, producer, and award-winning television host Cory George and is the vehicle that showcases what he describes as his "purpose work". On-the-air "soul-work sessions" with those that have been negatively affected by various forms of trauma, crisis, and other negative circumstances combined with conversations with compelling guests whose stories are compelling and riveting yet also motivational and inspiring are the heart of the show. He believes that every conversation is a conversation that is worth having. It's time to take an honest look at salvageable situations and how information and compassion can lead to remarkable breakthroughs.
Common Sense Required
Common Sense Required is designed around two girlfriends who have a passion for discussing provocative topics including relationships, pop culture, lifestyle, networking, and more. Throughout their conversations, common sense always comes to the forefront. What happened to good old Common Sense? People are always searching and seeking answers from a variety of sources when Common Sense is readily available, and it is FREE! Olivia Pope says it best…"What does your gut tell you?" Where education, intelligence, and street smarts are not necessarily, required, but common sense, definitely is! Stacey and Wanda will be the judge if you have it or not.
Time Tuesdays with Tee
Tina Spence is a former model and Hollywood actress. She hosts Tea Time Tuesdays with Tina. She will be interviewing actors, singers-songwriters about their latest projects, delving deep into their careers.
Friday Night Jamz
Friday Night Jamz with DJ Suspence, DJ Extreme Detroit, and DJ Cos – they have rotating schedules. Their styles vary when it comes to playing music, generally, it is House music in all of its variations. I am talking about traditional House music, the kind of House music that you would hear walking into clubs in Detroit, Chicago, New York, and LA. DJ Cos has been known to play club mixes of RnB songs which is always appreciated.
Some shows are host free, like The Drive which will put you in the mind of The Move on XM Radio station back in the day. The Billboard weekly Top 20 countdown from the hot 100 charts.
I am currently in negotiations with bringing on some syndicated shows, that I really cannot talk about at the moment until the deal is done. I will say that all of these shows are exciting, my team from the administrative staff to the radio show hosts bring the experience and skills to make IRMIX Radio a success. I am very proud of the team I have assembled and their abilities.
5 – What challenges did you face since the start of this project?
Man, I have been working around the clock since the beginning of November, when I decided that I was going to bring the station back. Some of the challenges were building the website on my own, designing the look for the ROKU Channel, writing all of the content that you see on the website, aside from the bios of our show hosts and staff they did that themselves, scheduling interviews for content, listening to the artist's music, then coming up with the questions for the interview.
Finding the right people who can and will bring revenue to the station, coordinating show schedules, contracts, writing contracts, interviewing potential staff, writing policies and procedures for the staff, and more writing, a lot of writing. Sometimes, I felt that there are not enough hours in the day, but I did all of those things because I believe in what I am doing, I believe in what we are all doing. The funny thing is, I found the time to finish up on my personal development by completing my Life Coaching certification, all within the last 30 days.
6 – Will IRMIX Radio be available globally or locally?
IRMIX Radio is global with a local feel if you can imagine that. We are based out of Detroit, MI but the show hosts are scattered throughout the United States.
7 – Are you working exclusively with the ROKU app?
For now, yes. But I do have plans to expand to other platforms by summer 2021.
8 – Is IRMIX radio a platform for unsigned artists, and being an artist yourself and making the switch back to the interviewer, have you given up on your recording career?
We are certainly an unsigned artist-friendly radio station, but we do also play artists that have established careers in music. For what I have in mind in the way that the programming will go, it will blend seamlessly. To answer your question, no, I have not given up on my recording career, I am just on hiatus at the moment, as you know that this is due to COVID. I do not see the need for me to release any new music right now especially since all of my music is performance-based music, if I cannot perform it the way I want to, then it can wait.
9 – What type of experience do you have when it comes to interviewing guests? What are some things that artists should expect when being interviewed by you, and how can artists submit their music?
A lot of people do not know this, but I was 13 years old when my entertainment career started. I started out interviewing guests for a music video show called Video Control, that I produced, directed, and hosted, in Lansing, MI, on cable access channel 37.
My guests can expect 100% professionalism, as for indie artists, I will be speaking with them from artist to artist point of view. I have first-hand knowledge of the challenges that artists face when it comes to being heard and having their music supported, so they can expect an in-depth interview. When it comes to submitting music, they must submit their broadcast quality, no more than 4-minute tracks to submissions@irmixradio.net with that, they must also submit high-resolution photos through Google Drive, along with the photo credits so we can post their info on www.irmixradio.net.
10 – Finally, what's your ultimate goal with IRMIX radio?
It is two-fold, we have a vision and a mission. The vision is To be the number one source for music, news, talk radio, and entertainment worldwide. The mission It is IRMIX Radio's mission to create responsible radio programming that will provoke thought and inspire our listeners through music and conversation.
---
CONNECT WITH IRMIX RADIO NOW!
Website
ROKU
Facebook
Twitter
Instagram