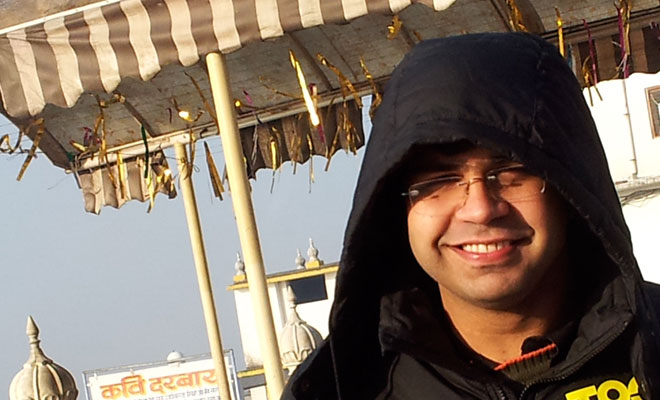 Sansadj has become one of the India's most loved and respected new DJs. He is also a doctor but he always has time for his #1 passion, which is music. Electro WOW caught up with Sansadj to talk about his life as an artist and his opinion about different things.
1 – Where did the name Sansadj come from?
When I was little, I spent most of my time with my grandparents up until the 5th grade; my parents were trying to establish themselves as doctors in their private setup. So before going to bed, my grandfather who was an English teacher would always tell me a story. I remember him once telling me a poem from Shakespeare in which death of a man was compared to the end of a play. In that play, the writer uses sans teeth, sans words, sans eyes again and again. Even though the word meant without but just the context and the way it was used stuck with me at an innate level, it was done so beautifully. Adding dj at the end was just a choice to be more easily recognizable.
2 – What has been the biggest challenge for you as a DJ?
Well there are some challenges that every starting DJ faces like how to build your name, how to get the right promotion, how to stand out among myriad of people trying to put out their music etc.
Then their were and are unique challenges for me for example I work as a doctor in the day so that leaves me with a much lesser time than most other people to give to my music. Also running and building an entire recording label from scratch has its own challenges. Talking to lawyers, distributors, artwork people, video production team, public relations, signing new artists while producing your own music and also working as a doctor can take the shit out of you but music is my passion, at the same time I would not be doing anything else.
Then the other major challenge for me was making my parents understand why I wanted to risk and go in the music industry where chances of success were limited when I had already been in medicine for around 8 years. That was really the hard part, to make my family understand how important this was for me.
Also unlike Dutch and other European countries, where djing and electronic music production is well established, in India it is still booming, relatively new. Some clubs want DJ's to play Bollywood or Punjabi music, edm is just no-no, the scene has improved but still can grow further. As far as common layman is concerned I have seen well-educated people know nothing about electronic dance music here. Festivals like Sunburn and VH1 supersonic have helped but most people I feel are showoff's and poser's, just to give you an example many people here confuse electronica to be big room house only, as you know my 1st release is a combination of trance and deep house, I have had some people come up to me and ask why are not producing some like 'that' where by 'that' they usually mean big room house. Also people questioned me and gave me the looks as if "what the fuck is he doing?" more so when I started out, but sometimes even now. This kind of ignorance irritates me and amuses me at the same time. I can keep laughing all day long.
3 – As a doctor…do you think Trance music is a good medicine?
Yes, I definitely think so, not just trance music though, music of any kind. I feel music is one of the few things that can make you great through any thing or time in your life. For me music is a medicine definitely. I am always listening to something or the other. Whether I am walking or driving to the hospital it doesn't really matter. I love trance but I listen to house, Bollywood music, Arabic, rock, pop, alternative, dubstep, chillstep etc, as long as I like something, its totally fine with me.
4 – Why do you think Trance is a popular music genre in India?
Well, I don't know what the stats say, but I think big room house is currently more popular. As I said earlier, the feeling I have is people here confuse big room house to be electronica only. I have meet very few people who have a lets select interest in trance. Most people head to big festivals here only when a big name artist comes with big marketing. For local artists, getting support it's totally another issue whether it's the government, club owners or public in general.
5 – Where do the inspirations for your new extended play "Different Shades Of Same Colors" come from?
Well, as u already know I was depressed some time back, so ophthalmology didn't interest me, I had a messy break up with the girl I was supposed to marry, I was lost. Only music gave me hope, happiness. Once I decided I wanted to get into this industry, I just started producing what came to me, I didn't think of the genre, didn't think of anything. I was lucky to have support from my brother, from my childhood friends; those were some tough times but I didn't lose sight of the good times that came before them. I just felt Life as a full circle that it is, good with bad, a mixture, a combination that we all go through but can't really phantom. So I created those 4 tracks to represent each stage of life as it and ended the EP where it began. That's why the artwork is subdivided into 4 sections as well.
6 – What software or music equipment do you use to produce your own music?
Software, currently I am using is currently FL Studio. Equipment I produced Different shades with was a 13 inch Macbook Pro, a Focusrite 2i4 audio interface and Senheisser HD280 PRO closed back headphones for monitoring. Most people produce using monitors, an approach I am not really comfortable with, I like the in-ear feel my headphones provide where I can feel each layer of music, synths that I produce at a given select time. My kit definitely needs an upgrade though, that will be happening soon enough I think.
7 – Have you ever thought about collaborating with a vocalist?
Sure, I have. I have already started work on my next project, 2-3 tracks down the line, and yes I will be very interested in collaborating with a vocalist. I have already written lyrics for 3 tracks, so I am definitely looking forward to that. The important thing is that musically speaking, the vocalist and I should be on the same wavelength. Plus mutual respect and co-ordination is also important, u can't get along well with everybody I guess.
8 – How can you help other artists that want to be part of Morior Invictus Recordings?
As CEO and co-founder of the company, there is one thing I clearly want to tell any artist looking to release a track on our label – I set this company up because I love electronic music, not because I wanted to rip you off. The music is all that matters. If your music is good enough, whether u are established or not, playing gigs or not, we will give you a chance. We are very straight and very honest. We tell artist what it is; we can provide you with best artwork, a graphic animation YouTube video, distribution to all the major stores and public representation. In this regard I believe in quality over quantity. We work on a release-by-release basis so as to give maximum exposure to the track being released. Artists who have signed with us can testify to that. Ultimately we do our best to promote each track, but there is no guarantee of how well it will do on the web market, some do really well while others don't.
9 – Is there something you dislike about the music industry?
Well, if there's one thing really, it will be show offs and posers, that's about it. I am a very simple, straightforward and honest person. I am not superstitious but I do believe in karma. So I prefer dealing with people who don't bitch around and stab other people in the back.
10 – Any producers you would want to collaborate with in the future?
Among big names I guess, Armin Van Burren because he was one of the people I looked up to and still look up to while making music. Hardwell and Swedish House Mafia for their distinct progressive house, Avicii and Deadmau5 for their unique and wonderful music, they are just a breath of fresh air. Also I would have no problem in a collaboration with any artists on my label, I wouldn't have signed them if I didn't believe in their music, Strelok and AMSS both have some great tunes coming up.