Skytech Teams Up With LILO And Cappa On "Beggin' For Thread"

CYB3RPVNK veteran Skytech returns to R3HAB's label with his rendition of BANKS's hit "Beggin For Thread," an energetic and Big-Room influenced gem produced in collaboration with South Korea-born, Sweden-based master of covers and reworks LILO and LA-based singer/songwriter Cappa, whose past collaborations include working with SNBRN, Justin Caruso, TELYKast, and more. Riding on a deep, groovy bassline with a steady buildup, Skytech brings his dancefloor-friendly style to the indie classic while preserving the original's emotive vocals. "Beggin For Thread" follows Skytech's recent single "Scrolling Up" with Fafaq as All That MTRS, as well as his remix for R3HAB, Luis Fonsi, and Sean Paul's "Pues." LILO is known for his official covers of Kylie Minogue's "Can't Get You Out of My Head" and Milky Chance's smash hit "Stolen Dance." See below for what the artists had to say about making their "Beggin For Thread" cover:
"BANKS's original song "Beggin For Thread" was one of my personal anthems of 2014, so when I first heard LILO's electronic demo version, I immediately fell in love with it, and I had to jump on it to finish the production. The process was a lot of fun, and I believe I added some Skytech flavor to it." – Skytech.
"I really enjoyed working with Skytech and Cappa on this beauty and hope to be working with them in the near future again. I hope you all enjoy listening to it as much as we enjoyed creating it. It's an honor dropping this tune on one of my idol's label!" – LILO
"The process of working with Skytech and LILO was great. They already came up with the idea for the track. Since we're located in different parts of the world, I went to the studio and laid the vocals with my engineer. We actually communicated a lot over Instagram. It was a fun process!" – Cappa
Mateusz Dziewulski, better known by his artist name Skytech – is already a household name in his home country of Poland, and the rest of the world is soon to follow. His name first appeared on the map when R3HAB discovered his original track "Tiger" and then helped Skytech put final production touches on it, proving to be a winning team after "Tiger" skyrocketed to over 100M streams on all platforms. Since then, the two have worked on numerous tracks together via the CYB3RPVNK imprint, such as "Fuego," "What You Do," "Hyperspace," "Starflight," and more, fusing their sounds to make music that is club and festival-friendly while never sacrificing substance and soul.
CONNECT WITH SKYTECH NOW!
Minelli Drops Perfect Dance-Pop Hybrid With 'Silver & Gold – Chapter II'

"And I'll be right back to brighten up your days," is not just some lyric from one of the songs on Minelli's newest album. It is a promise guaranteed to be kept as soon as you press play on 'Silver & Gold – Chapter II.' The album contains the perfect synergy of Pop, Dance, and EDM, sprinkled across 14 fresh and effervescent songs. So, get ready to jump and get high on music with Minelli's newest release.
Silver & Gold | Chapter II represents Minelli's vision and inspirations that she gained, traveling around the world to find the perfect pitch for her youngest newborn. The artist was not alone in this journey, as great names in production and songwriting such as Freedo (Chainsmokers, Rita Ora, Galantis, Ava Max), Jordan Shaw (Afrojack, Armin van Buuren) or Yoshi Breen (Tiesto, Karol G, Lost Frequencies) collaborated with her.
Minelli teased you with three songs that you already know, "Think About U," "Could Be Something," and "Deep Sea," and now she is coming with 11 more: "Silver & Gold," "Maracatu," "Crazy," "Tonight," "Drinks on Mi," "Stay Awake," "Vitamin U," "Routine," "Memories," "Don't U Worry" and "Kill the Lights" and she is excited to know which one is your favourite.
Minelli is one of the most successful Eastern European singers and songwriters, having written many hits for famous artists, such as 'UP' and 'Flashbacks' for INNA, or 'Addicted' for Sickotoy. Her releases, 'Rampampam' and 'Nothing Hurts', have dominated the music charts globally, cumulating over 185 million streams and over 350 million views. 'Rampampam' even reached number #4 in the Global Shazam top and #1 in Global Dance Shazam for several weeks. In addition, 'Deep Sea', her song in collaboration with the famous DJ, R3HAB, landed on some of the most prominent Spotify and Apple Music playlists while receiving airplay throughout Europe.
Talking about 'Silver & Gold – Chapter II, Minelli said: "It is here, and it is yours. From now on, this album is not just mine, but yours to play with, enjoy and share the best memories on it. May my songs be the soundtrack to your own movie, to your own most fabulous and fun adventures. I hope you enjoy the mix and match between Pop, Dance, and EDM that I have baked for you for almost two years. All the love."
CONNECT WITH MINELLI NOW!
You Won't Believe MELON's Unique Interpretation Of "Tom's Diner"
Rejuvenate your ears with MELON's uplifting party music thanks to his debut album, 'This Is MELON, Vol. 1 (Dance).' To everybody's surprise, he reworks many hits, but nothing surpasses his unique spin on "Tom's Diner."
In fact, this brand-new electrifying version sounds as perfect as the original. It goes without saying that Suzanne Vega would be extremely impressed with MELON's exceptional rendition, which aims to prompt euphoria in clubs.
Despite incorporating contemporary textures and stomping beats, there's still a sense of nostalgia that transports you to another time.
Interestingly, his debut project is more than just a collection of vibrant tunes. Actually, the incognito DJ and producer hopes to inspire the next generation of virtuosos who are getting into the EDM scene.
On the other hand, he also commits to creating a substantial impact by providing opportunities for emerging talents through his collaborations via the Dance Fruits Music artist collective.
But not only that, the high energy and excitement of party music always create a fun atmosphere anywhere it's played. Therefore, if you're searching for infectious anthems, "Tom's Diner" and the rest of the covers are sure to satisfy your craving.
Keep an eye on his social media channels for updates!
CONNECT WITH MELON NOW!
R3HAB & World's First Global Pop Group Now United Drop "Run Till Dark"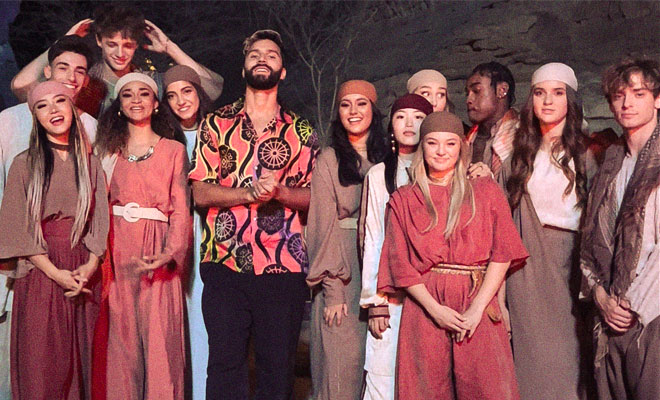 R3HAB and Now United once again team up in the studio for their new Dance-Pop single "Run Till Dark," out now via Liquid State. With the veteran producer's chameleon-esque prowess when it comes to mastering different styles of music, R3HAB fuses breezy melodies and a soft, undulating bassline to bring a worldly, organic feeling to this euphonious song. Now United's 18 international artists represent many different cultures and aspects of the world, which they bring to "Run Till Dark"'s emotive and hopeful lyrics. Filmed in northwest Saudi Arabia's ancient city of AlUla, the accompanying music video tells a story of R3HAB on a pilgrimage for the source of a song, and after journeying all day, has an incredible celebration of music with Now United. No matter if you're a fan of electronic or softer styles, "Run Till Dark" is truly a feel-good gem, following R3HAB's collaboration with Afrojack "Shockwave," and on the flip side, Now United's most recent "Forever United Tour" which saw the global pop group performing at legendary venues in São Paulo, Brazil (Allianz Parque Stadium), and Lisbon, Portugal (Altice Arena). In the past, R3HAB has also produced and written the following hit singles for Now United – "Jump" (over 57M views on Youtube) and "One Love" (54M views).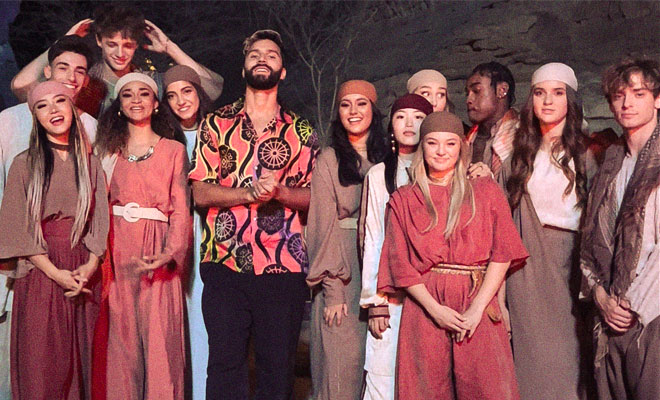 "I have always been a huge fan of how Now United represents so many cultures in harmony, so I'm beyond excited to join forces again for our new single 'Run Till Dark' because their vibrant pop energy pairs naturally with my vision of dance-pop. In "Run Till Dark," we tap into the unique musical pulse the world has to offer, which we captured in our new music video shot in the mesmerizing oases of Alula. Our hope is that listeners realize we're all running to the same pulse and, in this moment, feel how connected we are." — R3HAB
CONNECT WITH R3HAB NOW!