Standly Finds Fame On TikTok With Modern-Day Perreo Hit "Mi Gata"
The famous 19-year-old singer was born in Chile and found overnight notoriety on TikTok after his song "Mi Gata" went viral. Standly knows well the power of modern-day Perreo and Reggaeton, converting them into trendy sounds.
Standly, whose real name is Camilo Paredes developed his songwriting and production skills in high school. From the beginning, he wanted to study Law and Physical Education, but his plans changed with the sudden success of his music.
Amazingly, "Mi Gata" has garnered over 71 million streams in the last six months. Besides that, the fresh banger is a joint effort with his compatriot El Barto.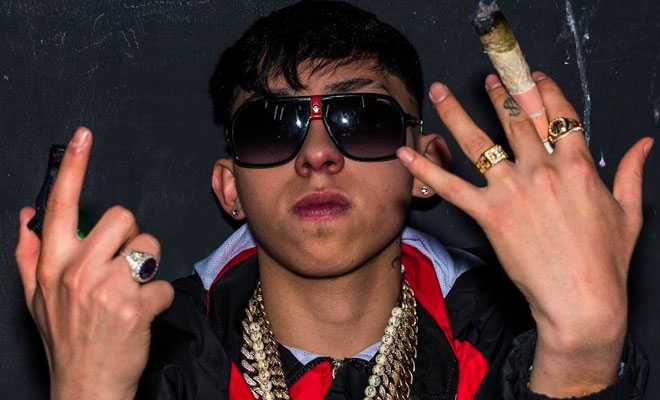 Undoubtedly, his TikTok stardom results in new opportunities. What's more, the emergence of sensational young talents in Chile will soon turn Santiago into the capital of Reggaeton.
Up to now, Standly's "Mi Gata" is still a top-ranking track on TikTok. In between dance challenges and viral trends, there's something catchy about his flow and rhythm. Perhaps, it's the earworm chorus and rhymes which compare attractive women with cats.
At the end of the day, such an uplifting tune is expanding across Latin America, the U.S., and beyond. Lastly, I highly recommend "Pégate," another one of his great works that feels pretty captivating.
CONNECT WITH STANDLY NOW!
Relationship Drama? Listen To SOULFIA & Kidd Voodoo's "bye bye"
Hey everyone, check out this new jam from Chilean artist SOULFIA featuring Kidd Voodoo. It's called "bye bye" and the dope Reggaeton beat will get you movin'.
The song tells a story about a relationship that started off hot and heavy but ended up crashing and burning. Similarly, when two people get together real quick and intense, but then all sorts of drama comes between them.
Definitely, this romantic Reggaeton track reminds you to appreciate the good times, learn from the bad, and wish each other the best moving forward.

As a matter of fact, this ain't SOULFIA and Kidd Voodoo's first collab. Last year, they teamed up on a track called "Bellakera" which was a banger.
Not surprisingly, SOULFIA has been killing it lately. Early this year she won Best Urban Artist at the Pulsar Awards in Chile. She even went to Spain for the first time recently to represent her country internationally.
Currently, she continues to explore different sounds and styles while collaborating with the hottest Latin American rappers out there.
Without further ado, go and listen to "bye bye" and more amazing hits in this Reggaeton playlist curated by Electro Wow.
CONNECT WITH SOULFIA NOW!
La Cruz Defies Hetero-Norms Of Reggaeton With New Gay Anthem
La Cruz is really turning his dreams into reality as a rising gay Reggaeton star. The dude just dropped his second single, "Easy Boy," and he's already taken over the Internet, racking up thousands of streams.
If you're a big fan of his first international hit, "Te Conoci Bailando," I can guarantee this new banger also deserves all the praise. Between the steamy Spanish rhymes and the infectious beats, this song is an instant addition to my Spotify Reggaeton playlist.
Moreover, it's no surprise to see La Cruz achieve major success so quickly. Ever since arriving on the scene, he's been on a mission to change the game and make urban music more inclusive.
Seeing such an unapologetically gay artist like him top the charts gives me so much hope. Certainly, the next step is a new album inspired by all the relatable stories he raps about.
By all means, he is at the forefront of Reggaeton's evolution, boldly defying the hetero-norms that have traditionally characterized the genre. In particular, this shift is undoubtedly considered positive, as it not only breaks barriers but also opens up new avenues for diversity within the music industry.
CONNECT WITH LA CRUZ NOW!
Heat Up Your Reggaeton Playlist With "Piscina" By Maria Becerra
It's time to admit your Reggaeton playlist is in dire need of an upgrade. Lucky for you, Argentinian singer Maria Becerra just dropped "Piscina," which has all the ingredients to instantly become your go-to jam for dancing.
With an instant earworm of a chorus, the rapid-fire rapping from Chencho Corleone, and the exceptional beats produced by Ovy On The Drums, define what a hot track is. Unquestionably, "Piscina" will soon become the star of any Reggaeton playlist featuring your fave Latin hits.
Not to mention, the music video is straight-fire! Maria Becerra looks incredible by the pool as she effortlessly vibes out to the song. Plus, you can tell she enjoys what she does.

Chencho compliments Maria Becerra's energy perfectly when he comes in with his own bars. Of course, it's like, just as awesome as her killer collab with J Balvin in "Que Más Pues?."
If you're trying to spice up your Reggaeton rotation with some new heaters, then look no further than this catchy jam. Your ears (and dance moves) will thank you…
Trust me, you'll be the neighborhood DJ everyone's requesting it from soon enough. Vamos!
CONNECT WITH MARIA BECERRA NOW!