The Best Remake Of Ian Van Dahl's "Castles In The Sky" Sung By HALIENE
Ian Van Dahl's "Castles In The Sky" must be one of your favorites timeless sing-along anthems. Music producers MaRLo and Triode along with HALIENE did a great remake of this classic hit. Of course, nothing will be able to surpass the original version that brings us good memories of the 2000s. In any case, I like the new arrangements implemented.
Certainly, chord progressions, high levels of intensity, chorus, and the breakdown are summarized in pure perfection. Dense and propulsive, this track doesn't lose the essence of the progressive style. Moreover, emotions will uplift any soul, and the visuals clearly make justice to this premise. Right away, you're about to enjoy an amazing piece of art from certified talents within the contemporary Trance genre. The cover of "Castles In The Sky" is also designed explicitly for DJ use at festivals or clubs. Just cross your fingers and hope the pandemic ends soon. 
CONNECT WITH HALIENE NOW!
Reality Test Adds Electrifying Spin On MR.BLACK & Gproject's "We Are One"
Blessing us all with a remix for the ages, Reality Test (real name Nica Iliuhin Loren) has added an electrifying spin to MR.BLACK and Gproject's highly explosive collaboration, "We Are One." Leaving no doubt to the imagination, the Tel Aviv-based DJ/Producer continues to rise amongst the elite of our community, and with renditions of such nature, it is only fair to say that her status will continue to elevate on the most constant of levels.
Taking on a Psytrance single of such magnitude, Reality Test ensures that the essence created throughout the original product has remained intact, but at the same time, also adds her own distinct sound that has been causing quite havoc through both her own singles, as well as her remixes.

Influenced by the endless possibilities surrounding music production, Reality Test came along as the second project during her time within our community, and when working with an array of different genres, it only made sense that this was the concept that she would deliver as time progressed. Garnering support from some of the biggest names within our scene, as well as signing for no other than Vini Vici's imprint, Alteza Records, this artist to watch was now well and truly on her way towards global dominance.
Fast-forward to now, each of her productions has amassed millions of streams worldwide, whilst, at the same time, she has been performing on the biggest of stages around the globe. Inspired on the daily, this latest remix further advocates her true passion for mastering her craft, with MR.BLACK and Gproject's collaboration acts as the perfect stepping stone towards further enhancing her presence and of course, reaching the elite status within our community.
Gproject and Reality Test ignited a sonic revolution with their previous collaboration, "The Hook," a blazing release in 2022, all under the HYBIT imprint of MR.BLACK. This collaboration, akin to a musical supernova, demonstrated the explosive synergy between these two phenomenal talents, leaving listeners awestruck and craving more.
Destined for nothing less than the very top of the charts, "We Are One (Reality Test Remix)" will have anyone out of their seats and straight onto the nearest dance floor in no time at all. Oozing with energy from start to finish, each musical element has been incorporated in a manner that will scintillate even the toughest of crowds, with Reality Test once again showcasing the undeniable musical prowess that she possesses.
A rendition for the ages, be sure to check out this certified hit in all its glory below, whilst streaming is also available through all major platforms.
CONNECT WITH REALITY TEST NOW!
Vini Vici Team Up With Gabry Ponte For Hard-Hitting Anthem "Damage"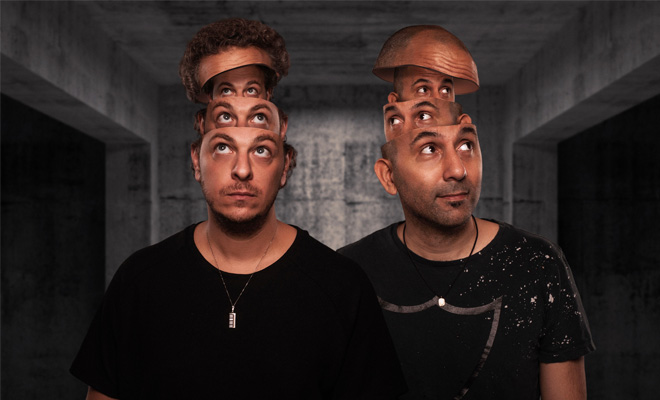 Teaming up for the ultimate collaborations, Psytrance duo Vini Vici and Italian DJ/Producer Gabry Ponte have blessed fans alike with the release of "Damage." A hard-hitting and highly dynamic single, the musical chemistry between these acts is out of this world, and the end product is truly spectacular.
With collaborations far from few within the electronic dance industry, it is always with great eagerness that we await for two heavyweights of our scene to team up, and this time we have exactly that. Having worked alongside in the past for their hit release 'Lo Nevosh,' Psytrance duo Vini Vici and Italian DJ/Producer Gabry Ponte have once again combined their genius musical minds, and in turn, have blessed us all with the ultimate hard-hitting anthem, in the form of 'Damage.' Fusing their unique styles of play in a manner that will scintillate even the toughest of crowds, this latest release acts as a clear statement towards the undeniable musical prowess that each acts possesses, but at the same time, also amplifies their versatile natures and their capabilities of adapting to any type of style or genre that they opt to venture with.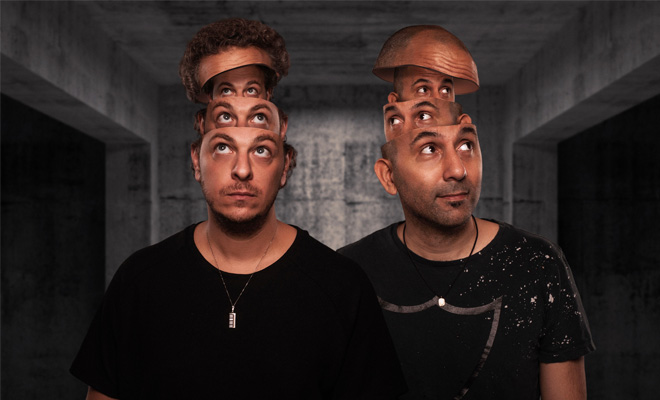 Leaving their own distinct mark within the Psytrance scene, Vini Vici are often regarded as the ultimate pioneers of the genre, and by constantly pushing boundaries, they have been able to evolve their sound(s) to even further dimensions, and in turn, work alongside the biggest names within our community, no matter the genre that they may specialise in. Comprised by Matan Kadosh and Aviram Saharai, the Israeli duo have shown no signs of slowing down, and with collaborations of such nature, it is fair to say that their legendary status is well and truly granted. In a similar fashion, Gabry Ponte rose to fame when part of iconic group Eiffel 65, and with a vast array of hits to his name, the Grammy-nominated and multi-platinum producer, has been able to impact our scene as a solo act, whilst at the same time also having worked alongside the likes of Timmy Trumpet, R3HAB, and Aloe Blacc when just naming a few.
A fusion of two truly iconic acts, 'Damage' is the latest endeavour that will have listeners feeling some type of way, with each musical element incorporated in the most immersive of fashions. Representing the differing sounds of each act, this highly-addictive and dynamic track will have anyone out of their seats and straight onto the nearest dance floor in no time at all, and in turn, further advocating the undeniable musical chemistry that has formed when Vini Vici and Gabry Ponte join forces. Destined for nothing less than ultimate success, 'Damage' is out now under Smash The House Records, so be sure to check out this certified hit in all its glory below, with streaming also available through all major platforms here. Don't forget to also leave your own thoughts in the comments section. Enjoy!
CONNECT WITH VINI VICI NOW!
Tensteps Teases Album Release With 6th Single "Paradise Tonight"

Tensteps is here with another compelling production off his upcoming album. The sixth and final single before the album releases in full, "Paradise Tonight" is a striking new track released in collaboration with Sendr, featuring the vocals of Robin Vane. Set for release via Andrew Rayel's label Find Your Harmony, "Paradise Tonight" is a powerful reminder why Tensteps' signature style and sound is one to follow closely as he gears up to release his highly anticipated album 'Infinite' on October 6.
Speaking about the collaboration, Tensteps says:
"When Alex (Sendr) first sent me his draft of the track, it gave me a healthy dose of nostalgia. The whole track felt like it had all these elements of progressive house and progressive trance that I loved when I was first really getting into dance music -those Audien/Arty/2010's Anjunabeats kind of vibes. There was no way I could turn down the collaboration on this, and I immediately got to work building it out and making everything sound as full and luscious as possible." 
"Paradise Tonight" features the signature emotive vocals of Robin Vane, a singer-songwriter from The Netherlands who has several impressive collaborations in his catalogue, including productions with Armin van Buuren and Omnia. With songs that have surpassed 7 million plays on streaming platforms and have reached the well-known Beatport Top 10, Robin Vane is a top-tier talent in electronic music, and his inclusion in this new release adds a vibrant layer of colour into the mix.
About his work with Robin Vane, Tensteps mentions:
"I wrote the topline for this song myself, and when we met Robin, it was clear he was the right choice to bring it to life. He's got such a unique voice that added so much warmth and character to the song."
"Paradise Tonight" features a bouncy low end and a pounding, fervent beat that starts off the track, as a growling acid bassline and driving rhythms build the intensity. The captivating vocals of Robin Vane hold the focus, taking listeners into the breakdown where atmospheric pads, anthemic details, and intensifying elements guide into the drop where massive supersaws complete the vibe, providing a high-energy climax to the track.
This new release from Tensteps proves his skills and talents as a producer, showcasing his top-notch production and earworm, Pop-infused songwriting. With a momentum that is sure to continue as he releases his debut full-length album next month, Tensteps is raising the bar and quickly making a name for himself in the dance music scene. Don't forget to follow Tensteps across social media as he announces new releases, upcoming projects, and live dates.
CONNECT WITH TENSTEPS NOW!