Vini Vici Team Up With Gabry Ponte For Hard-Hitting Anthem "Damage"
Teaming up for the ultimate collaborations, Psytrance duo Vini Vici and Italian DJ/Producer Gabry Ponte have blessed fans alike with the release of "Damage." A hard-hitting and highly dynamic single, the musical chemistry between these acts is out of this world, and the end product is truly spectacular.
With collaborations far from few within the electronic dance industry, it is always with great eagerness that we await for two heavyweights of our scene to team up, and this time we have exactly that. Having worked alongside in the past for their hit release 'Lo Nevosh,' Psytrance duo Vini Vici and Italian DJ/Producer Gabry Ponte have once again combined their genius musical minds, and in turn, have blessed us all with the ultimate hard-hitting anthem, in the form of 'Damage.' Fusing their unique styles of play in a manner that will scintillate even the toughest of crowds, this latest release acts as a clear statement towards the undeniable musical prowess that each acts possesses, but at the same time, also amplifies their versatile natures and their capabilities of adapting to any type of style or genre that they opt to venture with.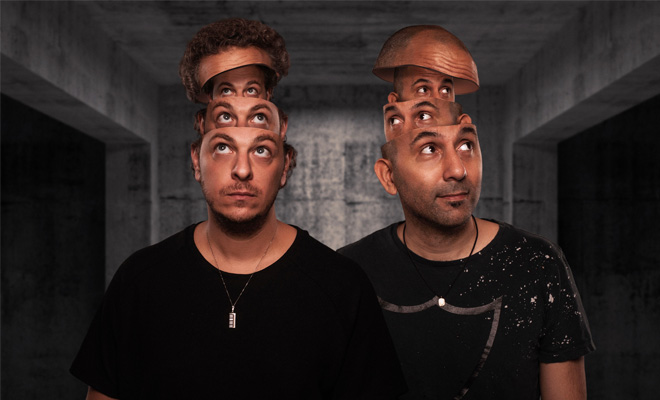 Leaving their own distinct mark within the Psytrance scene, Vini Vici are often regarded as the ultimate pioneers of the genre, and by constantly pushing boundaries, they have been able to evolve their sound(s) to even further dimensions, and in turn, work alongside the biggest names within our community, no matter the genre that they may specialise in. Comprised by Matan Kadosh and Aviram Saharai, the Israeli duo have shown no signs of slowing down, and with collaborations of such nature, it is fair to say that their legendary status is well and truly granted. In a similar fashion, Gabry Ponte rose to fame when part of iconic group Eiffel 65, and with a vast array of hits to his name, the Grammy-nominated and multi-platinum producer, has been able to impact our scene as a solo act, whilst at the same time also having worked alongside the likes of Timmy Trumpet, R3HAB, and Aloe Blacc when just naming a few.
A fusion of two truly iconic acts, 'Damage' is the latest endeavour that will have listeners feeling some type of way, with each musical element incorporated in the most immersive of fashions. Representing the differing sounds of each act, this highly-addictive and dynamic track will have anyone out of their seats and straight onto the nearest dance floor in no time at all, and in turn, further advocating the undeniable musical chemistry that has formed when Vini Vici and Gabry Ponte join forces. Destined for nothing less than ultimate success, 'Damage' is out now under Smash The House Records, so be sure to check out this certified hit in all its glory below, with streaming also available through all major platforms here. Don't forget to also leave your own thoughts in the comments section. Enjoy!
CONNECT WITH VINI VICI NOW!
Epic Trance Vibes: Panteros666 Releases "Let UwU Go"
Parisian producer Panteros666 is set to make his debut on HARD Recs with the release of the euphoric anthem "Let UwU Go." The single marks the beginning of a new era for the label, showcasing the producer's signature "hard dream" sound that blends classic and upbeat tones.
"Let UwU Go" bustles with epic Trance vibes, accompanied by pitched vocals, dreamy melodies, and emotional breaks and builds. The track combines thudding kick drums and pulsing bass to create something euphoric against a stunning Eurodance canvas.
Panteros666 describes the track as a balance between solid beats for raves and blissful, dreamy synth elements. Moreover, the overall theme is a love-fueled cruise through a picturesque dreamscape with heavy Y2K vibes and an underlying sense of hope.

Panteros666, known for his unique fusion of Eurodance and Y2K internet influence, has gained support from notable figures in the electronic music scene.
Without a doubt, "Let UwU Go" is a dope mixture of nostalgic Trance and chest-pumping Techno, offering you a glimpse into Panteros666's distinctive musical world.
CONNECT WITH PANTEROS666 NOW!
Vocal Trance Classics Revived In "Cry" By Nils van Zandt
Are you yearning for the nostalgic sounds of Vocal Trance classics that once graced the world, thanks to European acts like Lasgo, Sylver, and Milk Inc.? Your wait is over, as Nils van Zandt is proud to unveil his latest single, "Cry," which pays homage to the very essence of this genre.
What's more, this new tune features the vocal talents of a legendary Belgian singer whose identity remains a closely guarded secret, keeping fans in suspense.
Set against the mesmerizing backdrop of Thailand, the accompanying music video is pure creativity. The clip seamlessly blends cutting-edge AI-generated visual effects with real-life footage, creating a cool visual experience that complements the song's emotional depth.
Nils van Zandt, renowned as a multi-gold and platinum hit producer and DJ, marks his triumphant return with "Cry." Obviously, this infectious earworm is destined to occupy a special place in your heart, with emotive lyrics as its core ingredient, delivering a powerful fusion of vintage Trance music vibes.
As he continues to innovate and inspire, "Cry" promises to be a sonic time capsule, transporting you back to the golden era of Vocal Trance classics while carving a path for the future.
Stay tuned for more!
CONNECT WITH NILS VAN ZANDT NOW!
Dillon Francis' Catchy Song "I'm My Only Friend" Is Trance Music
Get lost in the Trance vibes of Dillon Francis' catchy song "I'm My Only Friend," and brace yourself for a surge of energy. Obviously, he needs no introduction; being a prominent figure in the dance music scene for over a decade is worthy of recognition.
Whether it's a trend or not, recently, artists like Calvin Harris and Romy have also adopted the uplifting Euro Trance sound that originally gained popularity in the late 90s and early 2000s. Today, Dillon Francis and Arden Jones follow the same formula, and the results speak for themselves.
What's more, the music video showcases the sheer euphoria that can be experienced when listening to the repetitive and hypnotic qualities. of this banger. The most enjoyable part is the main character in these visuals, an American cowboy who senses every beat in his veins and expresses it through dance.
At the same time, the way he crafts its build-ups and the climax creates an eargasmic effect for your ears.
Without a doubt, if there's something that can induce a positive mood in you, it's surely this Dillon Francis catchy song. Beyond that, his devoted fanbase will love his latest 6-track EP, making it one of his most streamed projects to date.
CONNECT WITH DILLON FRANCIS NOW!