When You Feel Ambient Music Is So Relaxing… Listen To 'Drone 1'

Shizo van de Sunflower is known for his unique perspective on Electronica. In fact, he creates an impactful sonic landscape through experimental Ambient music. That being said, his album 'Drone 1' is a must-listen.
The Dresden-based artist is seeking to break away from the stress and depression caused by the global pandemic, the climate crisis, and the Ukraine war. On this basis, the sleek 8-track production provides sounds for deep relaxation.
In order to restore his mental balance, this project helped him cope with the tormented reality. As a result, such an exploratory sonic venture also invites listeners on an out-of-this-world getaway.
Most importantly, 'Drone 1' is available in vinyl format via Amazon.
Sonically speaking, Shizo van de Sunflower employs a deceleration formula, which reduces the overall speed of the beats progressively. What's more, there are some interferences or glitchy electronic noises, giving greater originality to the whole textures.
Don't underestimate the importance of taking time to breathe easily. Without a doubt, the 'Drone 1'album is filled with hermetic tones that are perfect for chilling out.
Sometimes, you get so caught up in your life and what's going on around you that you become overwhelmed and tense. The simple solution is to unwind and appreciate non-traditional music like the one stated above.
CONNECT WITH SHIZO VAN DE SUNFLOWER NOW!
Step Into Another Dimension With Moon And Aries' New Video
Get hooked on Moon And Aries' new music video "From Another Dimension," taken from their latest EP 'Break The Matrix (Episode Three).' The duo is stepping up their game with this material and showing off cutting-edge melodies.
If you're into futuristic rhythms, then German composer and producer Tom Aries and Canadian singer-songwriter Jordana Moon are definitely worth checking out. And by futuristic, I mean the unconventional fusion of sonic textures, going from Trance, and Electro-House to Pop.
Beyond question, these groundbreaking artists push the boundaries of sounds in their recent single. Moreover, the enchanting vocals will hypnotize you right from the start, all this complemented by animated visuals that are equally mesmerizing.
Somehow, I truly think Moon And Aries are on a mission to raise some good vibes as they love crafting irresistible notes. Although it seems very fanciful, "From Another Dimension" will inspire you to access a higher state of being.
Also, it's important to mention, 'Break The Matrix (Episode Three),' is the last chapter that blends various styles into something new and unique. Conceptually, it's a bold statement about leaving the old world behind and creating a new one.
After the successes of their first album "The Arrival" and the "Paradise" EP, they continue to work hard to stay at the forefront of the indie scene.
CONNECT WITH MOON AND ARIES NOW!
Naïfic's "AUTOCHTONE" Unites Humanity Through Powerful Music
Naïfic, a French artist with Lakota roots has released a new song titled "AUTOCHTONE" that features a mix of powerful electronic and acoustic melodies borrowed from his cultural background, resulting in an exceptional sensory voyage.
Undoubtedly, "AUTOCHTONE" is more than just a catchy tune; it's a deep appreciation of humanity and the planet we call home. It urges everyone to unite, look towards a common goal, and love each other.
Interestingly, the music video showcases an abandoned place, illustrating how human beings can reinvent themselves and create fresh expressions of art and beauty.
On the other hand, Naïfic thinks that we have the potential to do well in any circumstance and therefore we should focus on the task of safeguarding the Earth. Indeed, this belief is at the core of his magical and eclectic music.
What's more, to connect with his audience, he will soon embark on a tour, which he is not calling a "concert tour" but a "Pow Wow," inspired by his culture. This gathering will serve as a celebration where people come together as a family to exchange ideas on a profound level.
Of course, isn't that amazing? Get additional details on his socials below.
CONNECT WITH NAÏFIC NOW!
Big Gigantic To Embark On Twenty-Date Brighter Future Tour (Vol II)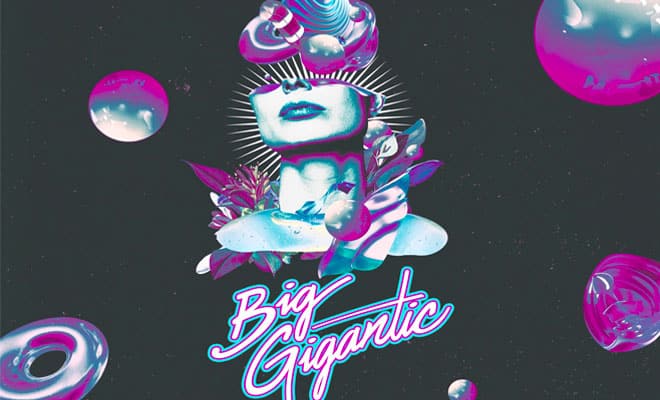 Big Gigantic will be taking their big, gigantic show on the road this winter for a twenty-date trek across the U.S, and they'll be bringing along an incredibly eclectic group of supporting acts who were just announced today; Tvboo, Eazybaked, Smoakland, A Hundred Drums, Ahee, Jaenga, Superave, Levity, Lizzie Jane and MZG. This veritable who's who of up-and-coming electronic artists will be appearing in different combinations at different shows; full details along with dates, tickets, and more can be found here.
The Brighter Future Tour Vol II will cap a wildly successful run which started last June with the release of the Brighter Future 2 album. Stacked with anthems like "Keep on Rising" [feat. Aloe Blacc], "Open Your Mind" [with GRiZ], "Just the Same" [feat. Vic Mensa & Mick Jenkins], and "Free" [feat. Elohim] the album became an instant classic for the band. To add to the celebratory launch of the tour, Big Gigantic just released a re-work of the aforementioned "Keep On Rising", just in time for the tour kick-off in Columbia, SC on 2/1.

Known for genre-bending production, live instrumentation, and a dedicated relationship with fans, Big Gigantic first amplified their hopeful message for the future on Brighter Future in 2016. It reeled in hundreds of millions of streams independently and touted bangers a la "All of Me" [feat. Logic & ROZES], "The Little Things" [feat. Angela McCluskey], "Highly Possible" [feat. Waka Flocka Flame], "Wide Open" [feat. Cherub], and more. Their music would be utilized by everyone from Apple, Wimbledon, NASCAR, NBA, HBO, and Fox to the trailers for Valerian and Dirty Grandpa. They've ignited the bills of Coachella, Lollapalooza, ULTRA Music Festival, Hangout Music Festival, Electric Forest, and Bonnaroo. Plus, they headline and consistently sell out their own Rowdytown at Red Rocks Amphitheatre—now in its 11th year for 2022. Putting their words into action, they run the 501(c)3 A Big Gigantic Difference Foundation, which supports non-profits for at-risk youth, music education, and more. Thus far, they have raised $1 million-plus for charity. In the midst of the Global Pandemic, they continued to create, pushing forward towards what would become Brighter Future 2.
CONNECT WITH BIG GIGANTIC NOW!