GasBeatz Newest Release Setting The Internet On Fire! 🔥

GasBeatz newest track "Gas Chamber" is quickly gaining steam online, lighting up the blogosphere. High energy with dirty bass to make you want to rock to the beat and lose yourself in the music! I was able to catch up with Gasbeatz for a quick Q&A interview, check out our conversation below.
1 — When did you know you wanted to become a music producer/DJ? 
Once my Christian metal band broke apart, my heart still belonged to music and I was soul searching for quite some time. I picked up DJing so fast it was like second nature to me. The second I touched Ableton I knew right then and there I wanted to become a music producer. I had never felt so at home or had such a strong sense of wanting something so badly. I had finally found my true passion, and have devoted my life to it spending on average 9 plus hours a day in the studio and I couldn't be happier.
2 — Where do you see yourself as a DJ/Producer in the next 5 years?

In 5 years I see myself thriving to do my absolute best exceeding my expectations and goals!! It's nothing but discipline hard work and focus coming from this hungry upcoming and aspiring DJ/Music Producer.

3 — Who are some of the producers and DJs you admire?

Honestly, the list can go on and on with all the amazing talent we have in this industry, but my top 3 influences would have to be 1st Skrillex being number one given the fact that he pretty much put dubstep on the map! 2nd would have to be Bassnectar. His unique style and hard hitting bass lines are absolutely out of this world, not to mention, he has the best visual graphics designs in the industry, in my opinion. 3rd Excision makes number 3 for me. The Godfather of wubs and heavy bangers he has set the tone for new age Dubstep.
---
CONNECT WITH GASBEATZ NOW!
Interview With Legacy: Rap, Poetry, New Music & More

Get to know Legacy, a skillful rapper who dominates the art of poetry like none other. Hailing from Arizona, his songs are gaining a lot of traction with almost 15K streams on SoundCloud. If you are looking for fresh Hip-Hop talents, then scroll down to read this interesting interview.
1 — Can you recall the moment when you thought you could be a rapper?
Honestly, I don't think I really decided lol. I was writing some poems one day and started learning how to time the syllables to the instrumentals I would find on YouTube and it became something I couldn't stop doing.
2 — How do you think your hometown has influenced the kind of music that you make?
My hometown influences everything I do, it's why I'm anxious, depressed, and happy all at the same time. Every day can be good or bad, someone can give me a dirty look one day or trash talk me and I remember the instance and add it to the stories.
3 — What's so special to you about poetry that you seem to love so genuinely?
Poetry requires you to face the darkest emotions. It makes you think about and actively reflect on everything you do and say. So when I've had a bad day, instead of bottling it entirely, I can vent through a verse – which in turn people hear and support my efforts to make it through my everyday life.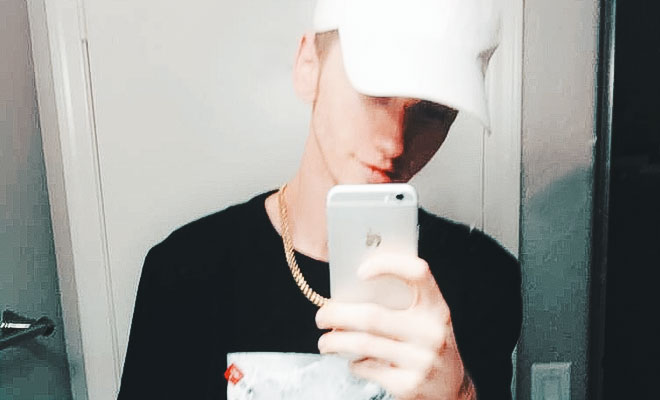 4 — Where did you take the inspiration to write most of your lyrics?
The inspiration lives in the lifestyle, the good experiences, and the bad.
5 — Do you think a good rapping performance comes from a good rapping technique? If so, what's yours?
In my opinion, if the fans/listeners are connected to what you're saying emotionally, and mentally, your performance has achieved its goal. People like having people they can relate to, all I'm doing is bringing those emotions into a poem and instrumental.
6 — Please tell us more about your song "Bad Feelings". What's the message behind it?
"Bad Feelings" is actually quite old and I'm just now really pushing for the exposure while my page is still young. However, the message never dies. What I really want people to take away from this song is that no matter what happens, no matter how hard it gets, just keep doing your thing. Time will make it better. Set goals. Keep dreaming. The longer you wait the harder it gets.
7 — As an artist, how do you deal with criticism?
Criticism is everywhere. You can walk a certain way and be judged for it. Listen to the bad things, only sometimes, when they help you improve. And hold the good things close and carry them with you. The good comments and feedback are almost a shield to the bad. They help you realize that one bad comment is one of many other really good ones. So all you can do is keep moving.
8 — Are you afraid to experiment with different music styles?
Yes, and no. It depends on the meaning of "style." Like, I hate my singing voice but I'm not afraid to try out other flows and techniques.
9 — What are your current projects?
The "Mindset EP." I'm dropping two more tracks as of right now to finalize the project. "Motion" and another untitled track that I'm working on in collaboration with my newest partner "Yung Cubb".
10 — Finally, if you weren't an artist today, what else could you see yourself doing?
Being a pro-CoD player. 💀
---
CONNECT WITH LEGACY NOW!