Interview | Questions & Answers With A.Def
A.Def explain the powerful message on "OP8 of the Masses". Hip-hop artists Nick FuriouStylz and X24 released a new single that refers to the excessive use of technology. Learn more about their views, the pair's early beginnings, and much more than that, exclusively here!
1 — Where did you get the idea for your artistic name?
NF: Both X24 and I grew up with Attention Deficit Disorder. We have always shared in the reality that are both high energy, eccentric kind of guys.
X24: Yeah… The name was initially Attention Deficit, but I got sick of writing it out. Sort of telling…
2 — How did you come together to work on this project?
NF: We had united forces early on in our Hip-Hop careers in the early 2000s. X was from Santa Fe and I was in Albuquerque but my brother went to the same high school as X. The first-ever real project was called Desert Planet Arrakis. Which featured X, AKA motive, Nick, AKA The Lyrical Gunslingar, and my brother, Kauz Kat. It was a lot of fun and we learned so much but it was a young man's game with young men's expectations.
X24: This is around the time when the whole DIY Hip-Hop scene was really in full swing. We were in our late teens but took it all so seriously! I moved to Oakland in 2001. When I move back to New Mexico, Nick and I decided to make a song, and sort of unofficially formed A.Def.
NF: A.Def really came about and took shape over the next couple years with renewed vigor and interest and a focus on being silly, yet cutting edge.
X24: It's a little crazy that it's taken us this long to create an album. I mean, we both have solo music, and Nick has other bands and projects as well. A.Def has a life of its own, however. We haven't lived in the same town since I left Albuquerque in 2001, but we have such infectious energy when we get together to create.
3 — Do you define your music style as Hip-Hop or is it something else?
NF: We truly define what we do as Hip-Hop, both culturally and musically. The stuff that's coming out in the ethers these days, to me, really isn't Hip Hop in the true sense. We want you to nod ya head.
X24: We just wanna make stuff that we like. Genre notwithstanding, when we get together, we really try to allow each other to experiment and create whatever we're feeling. We don't necessarily like the same music or things, but we always allow each other the space to express how he feels.
4 — Do you agree with the phrase, "Religion is the opium of the people"? Why?
NF: Yes and No. The opium we are referring to in OP8ofthemasses is the lack of affection and a general malaise associated with how technology has coveted all societies. The gradual deadening of what is to be human.
X24: The song clearly references that quote, but it's not about religion or faith. Like Nick said, we see technology, especially social media, mobile gaming, etc., as literally opiating the masses.
5 — Is your new single "0P8 Of The Masses" a protest song?
NF: More of a wakeup call to humanity. A call to action before it is too late to reverse the course of a bleak future.
X24: But it's also hopeful. Ava's character at the end poses a hopeful future and question. It leaves us with a bit of confidence. And though the video ends in a repeated loop, the question "Where is your light?" is what the listener/audience is left with.
6 — Was it easy to agree when it felt done?
NF: Yes. We both work really well with one another. Taking away only what's necessary to co-create some great art.
X24: Agreed… I think with any artistic venture there will always be differences envisioned initially. But we really trust each other and, despite some minor speed bumps, always trust in the partnership.
7 — How can you interpret the story behind its music video?
X24: The story really centers on the idea that we're all leeward towards and trapped into the technology of our modern world. But it's a double-bladed sword. We make music with electronics and computers. We benefit from the technology. We also feel, in many ways, isolated. I think, in a lot of ways, the story is more of a visual representation of the lyrics of the song. The concept and theme are very present in today's world.
NF: The lyrics centered on the actions of the characters. The blissful sleep, the awakening, the escape, and ultimately the loop takes them right back to where they began. Technology has both helped and hindered humankind and we feel a gentle shift in the world in consciousness, awareness, empathy, and ambition. Our world is no doubt to blame but how does one ever truly get out or "escape" this matrix?
8 — Is there any funny anecdote that you remember about filming this clip?
X24: Too many to count! We shot the video in an old and dirty basement. It was very cold out, and the heater was broken. The crew were all wearing coats while we were working. There was a lot of conversation between Tim McC, the director, Nick, and myself about the best way to visually represent the song. Thank God the crew and Ava were such heroes, putting up with us as we bickered about the details of the shoot.
NF: We didn't have a huge budget. At one point on the big shoot day we offered the crew a coffee drink or whatever from a coffee shop. I remember X and I going and reading off a pretty funny order and really entertaining the barista lady. Then we comically juggled 8 or so drinks, both hot and cold, in the car and back to our location barely making it without a disaster. Fun times.

9 —Why did you collaborate with Ava Del Cielo on this release?
NF: Ava is an obvious "double threat" talent and we agreed that she would bring her unique style and talent to the project. We also gravitated toward a stand out co-star. Ava definitely puts her stamp on the antagonist in the story.
X24: Ava's amazing. From our earliest conversations about featuring her on the song, before a video was ever envisioned, her enthusiasm and energy were so infectious. She was an obvious choice!
10 — Finally, what is the overall concept of your forthcoming album?
The Soundtrack of a Dystopian Future — We are really excited about the project! Ranging from playful to poignant, aimed at self-awareness and dark, socio-political, storytelling. We are also collaborating with some great musicians and playing with all sorts of sounds. What we are getting into is amazing! It can be difficult working on an album when we don't live in the same city, but every time we get together, we both bring so much energy to the party. We can't wait to share it!
---
CONNECT WITH A.DEF NOW!
Interview With Legacy: Rap, Poetry, New Music & More

Get to know Legacy, a skillful rapper who dominates the art of poetry like none other. Hailing from Arizona, his songs are gaining a lot of traction with almost 15K streams on SoundCloud. If you are looking for fresh Hip-Hop talents, then scroll down to read this interesting interview.
1 — Can you recall the moment when you thought you could be a rapper?
Honestly, I don't think I really decided lol. I was writing some poems one day and started learning how to time the syllables to the instrumentals I would find on YouTube and it became something I couldn't stop doing.
2 — How do you think your hometown has influenced the kind of music that you make?
My hometown influences everything I do, it's why I'm anxious, depressed, and happy all at the same time. Every day can be good or bad, someone can give me a dirty look one day or trash talk me and I remember the instance and add it to the stories.
3 — What's so special to you about poetry that you seem to love so genuinely?
Poetry requires you to face the darkest emotions. It makes you think about and actively reflect on everything you do and say. So when I've had a bad day, instead of bottling it entirely, I can vent through a verse – which in turn people hear and support my efforts to make it through my everyday life.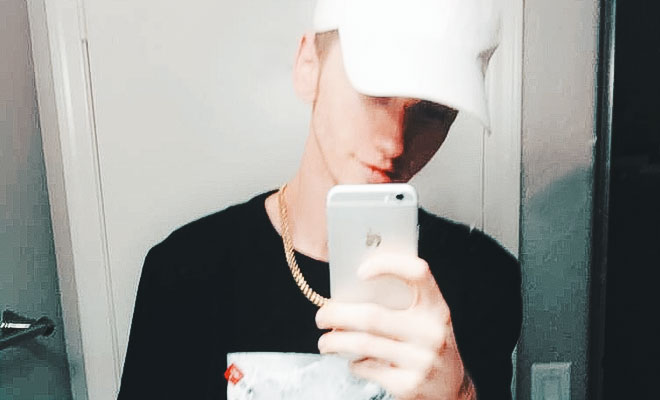 4 — Where did you take the inspiration to write most of your lyrics?
The inspiration lives in the lifestyle, the good experiences, and the bad.
5 — Do you think a good rapping performance comes from a good rapping technique? If so, what's yours?
In my opinion, if the fans/listeners are connected to what you're saying emotionally, and mentally, your performance has achieved its goal. People like having people they can relate to, all I'm doing is bringing those emotions into a poem and instrumental.
6 — Please tell us more about your song "Bad Feelings". What's the message behind it?
"Bad Feelings" is actually quite old and I'm just now really pushing for the exposure while my page is still young. However, the message never dies. What I really want people to take away from this song is that no matter what happens, no matter how hard it gets, just keep doing your thing. Time will make it better. Set goals. Keep dreaming. The longer you wait the harder it gets.
7 — As an artist, how do you deal with criticism?
Criticism is everywhere. You can walk a certain way and be judged for it. Listen to the bad things, only sometimes, when they help you improve. And hold the good things close and carry them with you. The good comments and feedback are almost a shield to the bad. They help you realize that one bad comment is one of many other really good ones. So all you can do is keep moving.
8 — Are you afraid to experiment with different music styles?
Yes, and no. It depends on the meaning of "style." Like, I hate my singing voice but I'm not afraid to try out other flows and techniques.
9 — What are your current projects?
The "Mindset EP." I'm dropping two more tracks as of right now to finalize the project. "Motion" and another untitled track that I'm working on in collaboration with my newest partner "Yung Cubb".
10 — Finally, if you weren't an artist today, what else could you see yourself doing?
Being a pro-CoD player. 💀
---
CONNECT WITH LEGACY NOW!