Interview | Questions & Answers With Dar.Ra

Dar.Ra has been referred to as a "Rock and Roll diamond in the rough" by the media. Currently, this talented British artist has his eyes on the U.S. market. He talks about this subject and much more in this exclusive interview. Scroll down and learn a bit more about him.
1 — First of all, does your artistic name have a special meaning?
My actual full name is Darragh, an Irish name.
Growing up in England with an Irish name was always a challenge as people could never say it properly or they would knock it because it was different from Jack or John, so I got a lot of stick at school and didn't really fit in. It did me a favour as I found a friend in Music.
I ended up making it shorter to Dar.Ra to make it easier for people to get their heads around.
2 — At this moment, what stage are you in your music career?
An exciting stage of the journey. Making bigger and better-sounding recordings than ever before. Singing stronger, playing better and writing material that I hear in my head clearer.
I also have an amazing team around me from Harvey Summers who co-produces the releases, to HIP agency in NYC who help get the message out to the good people of America.
3 — We all know you have made a name for yourself in your homeland. Are you currently willing to expand your music into the American market?
America is where its at for most people with ambition. I have always looked at working in the States. I love the way Americans think. They always seem to see the bigger picture and are open to new ideas. That's why its the biggest country on earth, it sees new ideas and runs with them. A lot of places do not think like that and do not support their homegrown talent, that's why the biggest ideas find there way across the pond. Like the internet, television, fashion, music.

There has been a feedback loop from the US to the world. Like say Rock n Roll which is an American invention, which the Brits took on and re-shaped it and sold it back with a new package, which the UK did well for a few years. America has the biggest potential because of that openness to new ideas even the reshaping of their own ideas. As long as it carries on doing that it will always be the vanguard. God Bless America for that.
4 — How would you describe the lyrics of your new singles "Heart Shaped Pill" and "Night-Stepper" to someone who hasn't listened to them yet?
"Heart Shaped Pill" is about redemption from excess. The main character has everything but is living with a hole in his soul, and is crying out for something or someone to show him the way to something more than sex, drugs, and whatever kind of vibe you drop.
"Night-Stepper" is basically about someone who only comes alive at night.
It's based on the lifestyle of a musician, when you're touring you sleep a lot of the days away and live your days at night. Its hard to switch to a normal routine when you have lived your life like that. When you get into a relationship with someone who has a day job, they think your from another planet cause your awake all night making music in the studio while they are crashed out. Then you're saying goodbye when they leave for work in the morning. It's hard to keep those relationships going when you're wired up like that.
5 — Do you believe Rock music is still relevant despite the EDM boom in America?
As long as Rock Music can reinvent itself, with vibes like what we're doing then yes I do believe it will remain relevant. The thing about Rock music is it can take many forms, its organic which means it will always sound fresh, unlike a lot of EDM which let's be honest has a sell-by date. A live drummer can switch the feel change the tempo, accent the groove, whereas a 909 ain't going anywhere other than the 4 on the floor.
You put on "Rubber Soul" by The Beatles or "My Generation" by The Who and it will sound fresh to anyone who turns it up loud and allows themselves to go beyond the need to fit in with what everyone else is saying is dope.
The same rule applies for EDM as it does Rock it has to reinvent itself and dare to go to other places otherwise it will eat itself.
6 — Are you interested in experimenting with different styles or genres in the future?
Always experimenting, that's what we do at Kusha Deep Music which is my label. The sound I create for my releases at the moment is what we are calling Rock Step which is a mixture of Rock music and dance grooves.
I grew up in the Era where House music exploded in England but was aways into the Mod vibe. If you look at a band like the Small Faces they did the same kind of thing but mix guitars with classic RnB. In a track like "Night-Stepper" I was jamming a House music bassline with a distorted electric guitar and that's how that track was born.
I will finish off this album which will comprise of the Three EPs and some extra remixes and then move on to something else. I am looking to make a more Ambient record with more space and less pace, something that just floats around in the air a bit. Like Sex After Cigarettes who are my favourite band at the moment. They featured on the Killing Eve soundtrack and just knocked me out when I heard them. I thought the singer was a girl, so it blew me away when I found out he was a guy with a beard.
7 — You have recently released two amazing music videos. Which one is your favourite? 
That's like asking a mother who is her favourite child.
I love them both for different reasons.
"Heart Shape Pill" is a search for some kind of meaning in someone's life who has everything and nothing. It's the pull to find something that makes your mind ask that eternal question what is this thing we call life really all about. Once you have everything and there is still a void inside you, eventually you have to go deeper into what we are here for. Once you start going deeper and looking at spirituality then the journey begins. The only real freedom in this life we will ever find is through a connection with a higher way of thinking. Going beyond just yourself and what you can have and rising into a place some call the divine. I read the Tibetan Book Of the Dead when I was 16 and it changed the way I looked at things. One of the things that stood out for me was the statement if you limit your material wants you limit your suffering. Basically the less you desire the freer you become. It kind of goes against human nature though and that's why a lot of people can't go there, they see having everything is the goal, and to tell them that all they become is slaves to material things makes a lot of humans think you're mad.
8 — What do you want people to take away from your visuals?
It's all about going on a journey with the music and films, I love concepts so every song works on a different theme that I think might say something about life as that's what an artist should do is reflect what they see or hear and put it into some kind of context that might shine a light on a certain situation. I do think its best though to leave people to put their own spin on what its about and get whatever they can out of it. If whatever that makes someone feel something about what they see or hear or moves an emotion inside then its job done.
9 – Are you currently working on new music or planning upcoming live shows?
The Next EP titled 'New Kinda Normal' has just been mastered and we are planning some killer new films to go with the two lead tracks "The Beat" and "Diamonds In The Shadows".
That should be out in Jan 2019 with the next EP in production now. Expect big epic tunes as you heard with 'Dirty Lil Secrets'.
I am in a constant state of writing and if I'm not writing I'm thinking about what I'm going to write about.
10 — Finally, what's the best moment you remember in your life as an artist?
Doing this interview with you of course.
---
CONNECT WITH DAR.RA NOW!
Interview With Legacy: Rap, Poetry, New Music & More

Get to know Legacy, a skillful rapper who dominates the art of poetry like none other. Hailing from Arizona, his songs are gaining a lot of traction with almost 15K streams on SoundCloud. If you are looking for fresh Hip-Hop talents, then scroll down to read this interesting interview.
1 — Can you recall the moment when you thought you could be a rapper?
Honestly, I don't think I really decided lol. I was writing some poems one day and started learning how to time the syllables to the instrumentals I would find on YouTube and it became something I couldn't stop doing.
2 — How do you think your hometown has influenced the kind of music that you make?
My hometown influences everything I do, it's why I'm anxious, depressed, and happy all at the same time. Every day can be good or bad, someone can give me a dirty look one day or trash talk me and I remember the instance and add it to the stories.
3 — What's so special to you about poetry that you seem to love so genuinely?
Poetry requires you to face the darkest emotions. It makes you think about and actively reflect on everything you do and say. So when I've had a bad day, instead of bottling it entirely, I can vent through a verse – which in turn people hear and support my efforts to make it through my everyday life.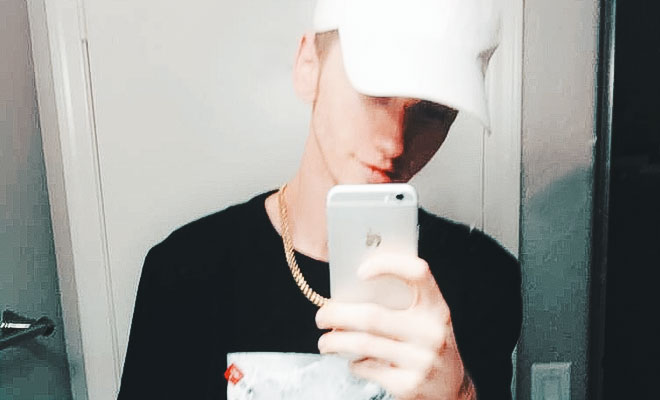 4 — Where did you take the inspiration to write most of your lyrics?
The inspiration lives in the lifestyle, the good experiences, and the bad.
5 — Do you think a good rapping performance comes from a good rapping technique? If so, what's yours?
In my opinion, if the fans/listeners are connected to what you're saying emotionally, and mentally, your performance has achieved its goal. People like having people they can relate to, all I'm doing is bringing those emotions into a poem and instrumental.
6 — Please tell us more about your song "Bad Feelings". What's the message behind it?
"Bad Feelings" is actually quite old and I'm just now really pushing for the exposure while my page is still young. However, the message never dies. What I really want people to take away from this song is that no matter what happens, no matter how hard it gets, just keep doing your thing. Time will make it better. Set goals. Keep dreaming. The longer you wait the harder it gets.
7 — As an artist, how do you deal with criticism?
Criticism is everywhere. You can walk a certain way and be judged for it. Listen to the bad things, only sometimes, when they help you improve. And hold the good things close and carry them with you. The good comments and feedback are almost a shield to the bad. They help you realize that one bad comment is one of many other really good ones. So all you can do is keep moving.
8 — Are you afraid to experiment with different music styles?
Yes, and no. It depends on the meaning of "style." Like, I hate my singing voice but I'm not afraid to try out other flows and techniques.
9 — What are your current projects?
The "Mindset EP." I'm dropping two more tracks as of right now to finalize the project. "Motion" and another untitled track that I'm working on in collaboration with my newest partner "Yung Cubb".
10 — Finally, if you weren't an artist today, what else could you see yourself doing?
Being a pro-CoD player. 💀
---
CONNECT WITH LEGACY NOW!