Interview | Questions & Answers With Draxum

I have the opportunity to catch up with aspiring DJ and Producer Draxum. He opens up about the early stage of his career, his new single "Savagery" and a little of everything related to music. If you have a passion for Bass House, then this is a must-read interview!   

1 – Where did you artistic name "Draxum" come from?
I had been serious about music for a while and decided I needed an artist name. I went back and forth with my brother about what it should be and then he came home from work and said Draxum that's your name. I liked how it sounded, it had a nice ring and caught my ear, thus Draxum was born.
2 – What sparked the idea of producing electronic music? How would you define your style?
I got into EDM when listening to Skrillex's "Scary Monsters and Nice Sprites" changing my thoughts on music. I define my style as experimental bass house because I have an experimental style in my sound design, lying over grimy 808's.
3 – How much time do you dedicate to music? 
I produce music every day and try to dedicate at least 12 hours on each track I release. In addition to that I dedicate a week to pick out the best songs, I believe will connect with my crowd, during my Live Mix's.
4 – What was the production process like on your latest single "Savagery"?
The production started a year ago in October of 2016. I started it at 4am and worked on it until 8am. I worked all night to paint a picture with sound for my audience. This single is about a man breaking into a house, robbing and killing 2 roommates, the drop symbolizes the person's panic and speedy exit of the house. In the break of the song I take the song outside to follow the exit of the man as he escapes the police that have responded to the gun fire. Then we approach the second drop that symbolizes his relaxed swagger due to his successful escape.
5 – I like the design of your artworks, and I noticed all of them are inspired by an outer space theme. Are you a big fan of science fiction?
Not so much science fiction, however, space has always sparked my visual interest. Thus, I gain a lot of creativity from it, making it easier to use as symbolism, which is key to my craft.

6 – Who are some of your influences today? Do you have any favorite track that marked your life?
My influences are artist such as: Gucci Mane, Future, Metro Boomin, Frank Sanatra and Metallica.
A track that marked my life would have to be "Heavy" by Gucci. This song blended that trap bounce with these experimental sounds and it blew my mind. This song released in 2009 and uses sounds so out of the box for that time period. The song has a lot to do with how I take on production and sound design today.
7 – Do you have in mind any festivals or clubs you'd like to play in the future?
I have always wanted to be a part of Holy Ship, I love the energy of the cruise and would love to drown it in bass. I would also love to play underground shows across the world to develop a close experience with my fans and spread positivity everywhere I go.
8 – Can you reveal us secret details about your upcoming EP and single?
My EP is dropping in March of 2017 and I am so hype to put It out!! Last year I started working on it after making my latest single "Savagery" and have been on a mission ever since. It is a 5 song EP reflecting my experimental bass house style. I will be releasing another single from the EP in January as well as an exclusive ID and Mix in December.
9 – What is the best mixtape you have done so far? Why?
The best mixtape/album will have to be "Yearbook" by Drew Famous. I produced the 3rd track on this project and it charted #40 on iTunes Top 40 Albums List. This was the best project I could have been a part of within hip-hop. Since I produce it on the side to clear my head when I'm not making House; for it to chart was really dope.
---
CONNECT WITH DRAXUM NOW!
Facebook
Twitter
SoundCloud
Instagram
Interview With Legacy: Rap, Poetry, New Music & More

Get to know Legacy, a skillful rapper who dominates the art of poetry like none other. Hailing from Arizona, his songs are gaining a lot of traction with almost 15K streams on SoundCloud. If you are looking for fresh Hip-Hop talents, then scroll down to read this interesting interview.
1 — Can you recall the moment when you thought you could be a rapper?
Honestly, I don't think I really decided lol. I was writing some poems one day and started learning how to time the syllables to the instrumentals I would find on YouTube and it became something I couldn't stop doing.
2 — How do you think your hometown has influenced the kind of music that you make?
My hometown influences everything I do, it's why I'm anxious, depressed, and happy all at the same time. Every day can be good or bad, someone can give me a dirty look one day or trash talk me and I remember the instance and add it to the stories.
3 — What's so special to you about poetry that you seem to love so genuinely?
Poetry requires you to face the darkest emotions. It makes you think about and actively reflect on everything you do and say. So when I've had a bad day, instead of bottling it entirely, I can vent through a verse – which in turn people hear and support my efforts to make it through my everyday life.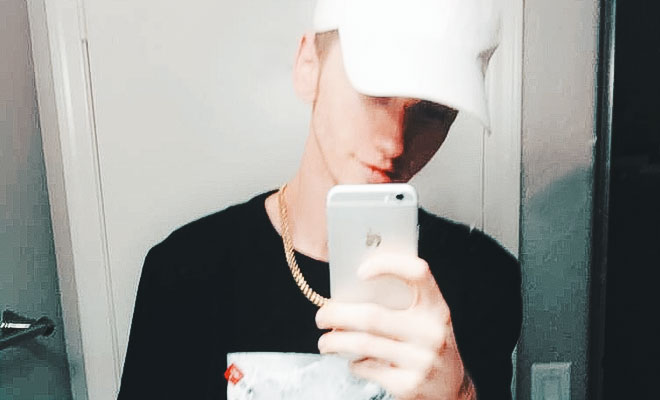 4 — Where did you take the inspiration to write most of your lyrics?
The inspiration lives in the lifestyle, the good experiences, and the bad.
5 — Do you think a good rapping performance comes from a good rapping technique? If so, what's yours?
In my opinion, if the fans/listeners are connected to what you're saying emotionally, and mentally, your performance has achieved its goal. People like having people they can relate to, all I'm doing is bringing those emotions into a poem and instrumental.
6 — Please tell us more about your song "Bad Feelings". What's the message behind it?
"Bad Feelings" is actually quite old and I'm just now really pushing for the exposure while my page is still young. However, the message never dies. What I really want people to take away from this song is that no matter what happens, no matter how hard it gets, just keep doing your thing. Time will make it better. Set goals. Keep dreaming. The longer you wait the harder it gets.
7 — As an artist, how do you deal with criticism?
Criticism is everywhere. You can walk a certain way and be judged for it. Listen to the bad things, only sometimes, when they help you improve. And hold the good things close and carry them with you. The good comments and feedback are almost a shield to the bad. They help you realize that one bad comment is one of many other really good ones. So all you can do is keep moving.
8 — Are you afraid to experiment with different music styles?
Yes, and no. It depends on the meaning of "style." Like, I hate my singing voice but I'm not afraid to try out other flows and techniques.
9 — What are your current projects?
The "Mindset EP." I'm dropping two more tracks as of right now to finalize the project. "Motion" and another untitled track that I'm working on in collaboration with my newest partner "Yung Cubb".
10 — Finally, if you weren't an artist today, what else could you see yourself doing?
Being a pro-CoD player. 💀
---
CONNECT WITH LEGACY NOW!