Interview | Questions & Answers With Velvet Code
I got the chance to interview Velvet Code, an award-winning Canadian artist whose powerful vocal range shines on his latest single "Mary Offered Ladybugs And Love Yous". The song is taken from the 2019 album 'Dreamer', receiving over 100K streams on Spotify. Interestingly, he has collaborated with the one and only, Wendy Starland, responsible for discovering Lady Gaga's talent in her early days.
Marlon Wurmitzer (real name) reveals he's taking a different musical direction in the years to come, and much more… You can learn everything about below!
1 — As a Toronto-based artist, what is your favorite aspect from the local scene?
It's pretty exciting if you are in the west end and have a way of finding out where the cool parties are. It's quite secretive, so you have to make some friends who will bring you to one and then jump from one party to another. Places in Kensington are always the coolest. It's a sign of the times, like the 80s, where the cool parties are the ones that are not advertised.
2 — What initially drew you towards Electro-Pop as your music style?
It's not always Electro-Pop, but this last album was definitely in that direction given my fans were hoping for one like this. I was a big fan of Goldfrapp in 2004 and that drew me to Electro-Pop initially. From there, I grew into my own flavor of the sound.
3 — Musically I think you share a lot of similarities with Erasure and Depeche Mode. Do you agree?

Erasure, yes, but whenever I hear Depeche Mode, I wonder why, as I'm not nearly as dark as they are. I think my use of synths differs from them as well. Perhaps my older material could fall into that category, but I don't think you'll find my new upcoming material similar.
4 — Which modern bands or singers currently inspire you?
DJ/Producers are inspiring me these days, as I'm moving more into an EDM world with my new material and performances. Producers like Ben Gold, Calvin Harris, Cosmic Gate, Hardwell, and Dada Life, are in my sets all the time.
5 — The lyrics in your most recent song "Mary Offered Ladybugs And Love Yous" feel so deep. Was it hard to write these verses?
I usually find time alone and immerse myself into the song before writing lyrics. It's a difficult process, but as long as I find the space and it's uninterrupted, I'm fine. It took a few weeks.
6 — The music video looks amazing. How many days did it take you to film the visuals?
Two days of filming, but months of planning. A lot of great people were involved in the creation. The team at Route Eleven which won two Juno Awards including for their latest Grimes video, some amazing designers, and my stylist, Marek, for this video who brought those stylists together, Marek. Most notably though, Peter Lilly and Neil Patrick Hansen who orchestrated the shots. I'm grateful for all those who contributed.
7 — Did you choose the location and the concept of this clip?

I was heavily involved in the creation of the concept, yes. The location was chosen by the Route Eleven team.

8 — How would you describe the feedback from your loyal listeners so far?

My fans which I consider my family, were excited when I came out with my first album in almost 10 years. I wanted to keep it real, while taking things a step further into a new reality, one of hope and aspirations. I look forward to moving deeper into the positive side of things in my next album, as the world needs more of that.
9 — Where do you see Velvet Code's music headed in the future?
I am experimenting with new sounds now and expect to release new material in early 2020. Progressive, Trance and Electro are what to expect, and I really interesting live show set up. Stay up to date on my Instagram for details on that!
10 — Lastly, if you could offer up one piece of advice that might help new artists, what would it be?
Never quit. As artists, it's our service, our duty to create and to entertain. Things will get hard, but if you persevere, you will eventually make it.
---
CONNECT WITH VELVET CODE NOW!
Interview With Legacy: Rap, Poetry, New Music & More

Get to know Legacy, a skillful rapper who dominates the art of poetry like none other. Hailing from Arizona, his songs are gaining a lot of traction with almost 15K streams on SoundCloud. If you are looking for fresh Hip-Hop talents, then scroll down to read this interesting interview.
1 — Can you recall the moment when you thought you could be a rapper?
Honestly, I don't think I really decided lol. I was writing some poems one day and started learning how to time the syllables to the instrumentals I would find on YouTube and it became something I couldn't stop doing.
2 — How do you think your hometown has influenced the kind of music that you make?
My hometown influences everything I do, it's why I'm anxious, depressed, and happy all at the same time. Every day can be good or bad, someone can give me a dirty look one day or trash talk me and I remember the instance and add it to the stories.
3 — What's so special to you about poetry that you seem to love so genuinely?
Poetry requires you to face the darkest emotions. It makes you think about and actively reflect on everything you do and say. So when I've had a bad day, instead of bottling it entirely, I can vent through a verse – which in turn people hear and support my efforts to make it through my everyday life.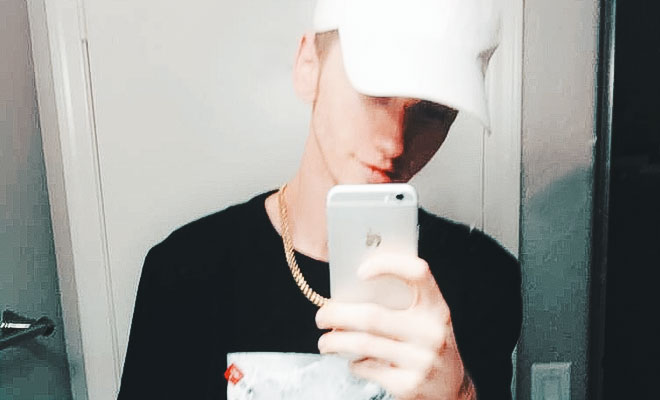 4 — Where did you take the inspiration to write most of your lyrics?
The inspiration lives in the lifestyle, the good experiences, and the bad.
5 — Do you think a good rapping performance comes from a good rapping technique? If so, what's yours?
In my opinion, if the fans/listeners are connected to what you're saying emotionally, and mentally, your performance has achieved its goal. People like having people they can relate to, all I'm doing is bringing those emotions into a poem and instrumental.
6 — Please tell us more about your song "Bad Feelings". What's the message behind it?
"Bad Feelings" is actually quite old and I'm just now really pushing for the exposure while my page is still young. However, the message never dies. What I really want people to take away from this song is that no matter what happens, no matter how hard it gets, just keep doing your thing. Time will make it better. Set goals. Keep dreaming. The longer you wait the harder it gets.
7 — As an artist, how do you deal with criticism?
Criticism is everywhere. You can walk a certain way and be judged for it. Listen to the bad things, only sometimes, when they help you improve. And hold the good things close and carry them with you. The good comments and feedback are almost a shield to the bad. They help you realize that one bad comment is one of many other really good ones. So all you can do is keep moving.
8 — Are you afraid to experiment with different music styles?
Yes, and no. It depends on the meaning of "style." Like, I hate my singing voice but I'm not afraid to try out other flows and techniques.
9 — What are your current projects?
The "Mindset EP." I'm dropping two more tracks as of right now to finalize the project. "Motion" and another untitled track that I'm working on in collaboration with my newest partner "Yung Cubb".
10 — Finally, if you weren't an artist today, what else could you see yourself doing?
Being a pro-CoD player. 💀
---
CONNECT WITH LEGACY NOW!