Luca Draccar Details Upcoming EP 'No Sometimes Yes' In Interview

'No Sometimes Yes' is the upcoming EP from Berlin-based producer, Luca Draccar. Be sure to mark your calendars on January 17th, 2020 if you want to dive into electronic soundscapes. Not for nothing, the stunning snippets made it clear this material was designed to keep the underground scene renewed. Learn more below.
1 – What's the best thing about your upcoming EP 'No Sometimes Yes'?
The obsessive flavour research of new sounds and compositional metrics. It's like breaking the rules by respecting them. I am very enthused having in mind the principles, more than fracture the discipline: conversing with them, seeking the happiness, finding the areas of tangency, rather than those of "divergence". The arrangement is the metric issue: I basically need a story to be told. Like a movie, it needs to thrill me. The rest as always: DDD > Deep / Delirious / Dark or let's say: DDDD > Deep / Delirious / Dark / DRACCAR.
2 – In your opinion, is this a club or festival material?

Club or Festival: Both.
Definition: Everywhere.
Compromise: Anywhere.
Genre: Electronic.
Example: No Sky.
The song sounds wide such as a big location, even if it brings parallel you back to the heavy low. To the compressed crushed basement.
3 – What's your inspiration behind this project?

I wanted to make a record of incoherence. "Bipolarity" and contradiction as balance. That's why I started thinking about a name project like: 'NO SOMETIMES YES'. Create something from nothing, being coherence could have been the rational nightmare. Consequently, some arbitrariness of choices regime backs the necessary balance.

4 – I know this EP will feature a total of 4 tracks, which one is your favorite?

"Blackout"… ( someone already says "Knives Out" ) It's a nervous stripped wicked dark funk. I could never be tired of evolving that story, even if for reasonable compromises I had to stop it at 11:54 min. Which frankly already goes beyond the established equitable time limit.
5 – Can you tell us more about software, instruments or tools that were used at the studio?

I think there is nothing more or less than anything else/somewhere else. Doing what that stuff does. But my special tool is fantasy, is the ocean, the dizziness: and I concentrate my self on this transformation. Software can do it. I don't pay particular attention to technique, it's not driving for me. Maybe is disturbing. Although by contradiction I am interested in improving the technicalities, every day. I find Ableton Live such a blast. Bringing together many different styles of mind setting, producers with opposite approaches. I have a liking for Logic, it has a special navigation layout. About instruments I pretty go mad for everything, starting from guitars ending with sequences. I am addicted to bass, I love drumming, and I excited by everything scratching around me. And I am stuck on silence. Such an incredible instrument.
6 – What do you think is the biggest challenge that underground Techno artists face these days?

These days I think you simply have to live your choices with sincerity and spontaneity. They will take you where you need to go. I don't believe in definitions, because everything simply changes, everything is in motion. Fast movements, slow movements.

The challenge may be to go back to the truth. (don't we live in the reality era?) Or maybe challenge the truth is the new frontier of the modern lie? Underground Techno artists should absolutely break the rules of underground Techno.
7 – What would you like to see happen to change this?
To change itself. To land far away, and be surprised.
8 – What keeps you motivated to produce Techno?

I am not quite sure about definitions. More likely I dialogue with crossover, there are a lot of different musical flavour and influences that dominate my needs. At the same time, there is the desire to get as far as possible in terms of sound and related connected sensations, but then you have to operate vertically to the park of directly available possibilities. This is great. Joining dreams with mere "banal" reality.
9 – Have you ever considered experimenting with new music styles or vocals?

Definitely. I am already working on it, and gonna have great surprises in terms of vocals. As for new musical genres, it is more a necessity than a desire.
10 – Finally, what three songs can you play in your DJ sets forever?

Hard to say… Can I mention my own tracks? 🙂
If not … I can randomly say:
Technasia – No Fear (Kama Sutra Lovers Remix)
Sinisa Tamamovic – Broken Machine
Alberto Dimeo – You know this
Sounds around the globe inspire me, but I have the priority to melt them in my pot. And if I can't do it in terms of live set, using my tracks, as a DJ set the connections are tight and fast. And if it's slow and repetitive then could be more rapid and fleet than the fast one.
---
CONNECT WITH LUCA DRACCAR NOW!
Interview With Legacy: Rap, Poetry, New Music & More

Get to know Legacy, a skillful rapper who dominates the art of poetry like none other. Hailing from Arizona, his songs are gaining a lot of traction with almost 15K streams on SoundCloud. If you are looking for fresh Hip-Hop talents, then scroll down to read this interesting interview.
1 — Can you recall the moment when you thought you could be a rapper?
Honestly, I don't think I really decided lol. I was writing some poems one day and started learning how to time the syllables to the instrumentals I would find on YouTube and it became something I couldn't stop doing.
2 — How do you think your hometown has influenced the kind of music that you make?
My hometown influences everything I do, it's why I'm anxious, depressed, and happy all at the same time. Every day can be good or bad, someone can give me a dirty look one day or trash talk me and I remember the instance and add it to the stories.
3 — What's so special to you about poetry that you seem to love so genuinely?
Poetry requires you to face the darkest emotions. It makes you think about and actively reflect on everything you do and say. So when I've had a bad day, instead of bottling it entirely, I can vent through a verse – which in turn people hear and support my efforts to make it through my everyday life.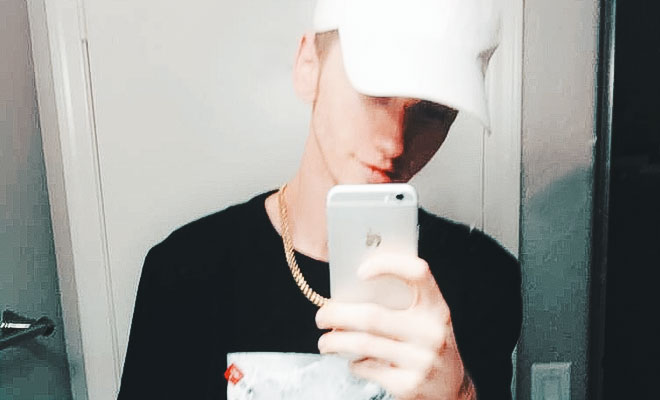 4 — Where did you take the inspiration to write most of your lyrics?
The inspiration lives in the lifestyle, the good experiences, and the bad.
5 — Do you think a good rapping performance comes from a good rapping technique? If so, what's yours?
In my opinion, if the fans/listeners are connected to what you're saying emotionally, and mentally, your performance has achieved its goal. People like having people they can relate to, all I'm doing is bringing those emotions into a poem and instrumental.
6 — Please tell us more about your song "Bad Feelings". What's the message behind it?
"Bad Feelings" is actually quite old and I'm just now really pushing for the exposure while my page is still young. However, the message never dies. What I really want people to take away from this song is that no matter what happens, no matter how hard it gets, just keep doing your thing. Time will make it better. Set goals. Keep dreaming. The longer you wait the harder it gets.
7 — As an artist, how do you deal with criticism?
Criticism is everywhere. You can walk a certain way and be judged for it. Listen to the bad things, only sometimes, when they help you improve. And hold the good things close and carry them with you. The good comments and feedback are almost a shield to the bad. They help you realize that one bad comment is one of many other really good ones. So all you can do is keep moving.
8 — Are you afraid to experiment with different music styles?
Yes, and no. It depends on the meaning of "style." Like, I hate my singing voice but I'm not afraid to try out other flows and techniques.
9 — What are your current projects?
The "Mindset EP." I'm dropping two more tracks as of right now to finalize the project. "Motion" and another untitled track that I'm working on in collaboration with my newest partner "Yung Cubb".
10 — Finally, if you weren't an artist today, what else could you see yourself doing?
Being a pro-CoD player. 💀
---
CONNECT WITH LEGACY NOW!