Top 5 Stylish Fitness Gadgets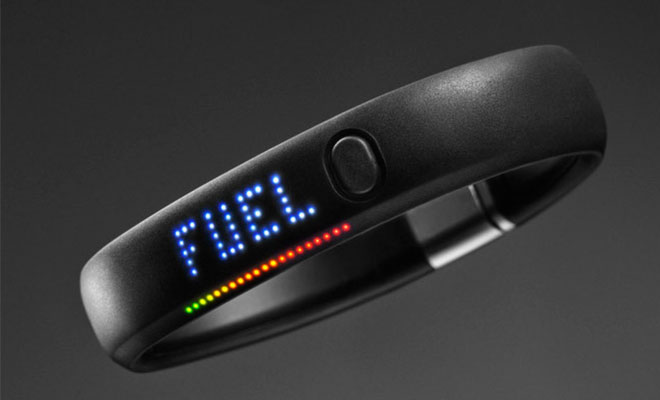 Keeping fit is not easy but it is not impossible. This has especially been made possible with the use of various devices designed to be your partner in your fitness journey. There are so many such fitness gadgets flooding the market choosing the best may not be easy for you. Here are the leading 5 in this category:
The more active you are in your daily routines, the fitter you are. Keeping track of this progress can go a long way in enabling you to give yourself a pat on the back. It motivates you to strive to do better and keep fitter fir better health. It is with this in mind that the Nike Fuelband was designed. It keeps track of the number of steps a person takes in a day and records them as fuelpoints. The more points you get, the healthier the lifestyle you are living. This band keeps track of the points by many others in the program hence boosting the morale to keep doing better than those who beat you and improving your score.
The heart is the main organ running the body band its optimal health is important as it determines the difference between life and death. With the LG HRM earphones, you can keep track of your heart's functioning while enjoying your favourite music. Simply download the app to your android or iOS device, place the strapping onto your waist or arm and plug in your earphones. You will get all the information you need to your ears, from the metabolic rate to the maximum oxygen consumption. The built-in microphone will come in handy in case of any abnormalities to help you get in touch with your doctor as soon as possible.
Are you a person who keeps stooping or assuming the wrong posture most of the time? Then this device is the right solution for you. Improve your pose and gain more esteem by simply placing the device on your back, installing the app on your smart device and learning how to be disciplined. Upright will simply teach you how to be upright by reminding you whenever you stop doing so. This is achieved by vibration of the device whenever the wrong posture is assumed. The good news is that the device is so small you can forget you are even wearing it and the comfort is simply unbeatable.
Whether you are performing your runs indoors or outdoors, this will prove to be your number one partner. By using QuickGPSFix Technology, it will keep track of your location and guide you to where you need to go fast and easily. An in-built heart rate monitor will keep track of all the changes in the heart during runs and help you ensure that you are not harmed while attempting to keep fit. You can link it to a device of choice via Bluetooth.
Just like the Tomtom runner cardio, this device has an in-built heart-rate monitor. This however is not all it offers. Keeping track of calories burnt and measuring the quality of sleep are its other functions. With an LED indicator to show when over-exertion is reacged you can be assured that with this device on your wrist you will not have to deal with any major health issues. All you need to do is stop when warned to do so.
How To Accessorize With Face Masks

A quick Google search for "face masks for men" returns over a billion results. Many of the results are for disposable, one-size-fits-all masks with a sterile, medical appearance. With the CDC reporting that COVID-19 may affect the United States for at least the next year and Americans newly concerned about how future viruses may spread, it appears that masks are here to stay. So, how can discerning men turn this necessity into a style statement rather than an odd outfit after thought?
First and foremost, the disposable mask has to go. Not only do these masks clash with everything other than physicians' scrubs, but their disposable nature also has an ill effect on the environment. In fact, Guardian has reported that there are now more masks than jellyfish in the ocean – not cool.

Instead, be sure to opt for a collection of reusable masks that can be washed and re-worn to help keep yourself safe while also keeping the health of our planet in mind.
You can evaluate the durability of a reusable mask based on two main factors:
Materials: Some mask materials are sturdier than others and can stand up to the elements. Opt for masks made out of stronger materials like bamboo to be sure that your mask won't need to be replaced sooner rather than later.

Manufacturer: Is your mask hand-stitched, or was it made by a company specializing in mask production? While you may want to support a small, independent seller, hand-stitched masks may not provide the same layers of filtration and same durability of materials that a professionally manufactured mask can provide. When it comes to durable personal protective equipment, it's best to opt for a producer that is well versed in face masks.

This will help to ensure your masks meet safety requirements while also holding up to whatever you throw at them.
Aside from eco-friendliness, it's crucial that your face masks fit correctly. You wouldn't wear one-size-fits-all pants, and face masks are no different. However, most face masks on the market today are only available in one size; in the best cases, they may come with clips to tighten your ear loops. Would you wear a drawstring pair of pants to the office? We thought not.
Your fit depends on both your weight and facial shape. Make sure the face mask company you use offers a variety of sizes as well as a sizing chart to help you find the perfect fit. If you have larger facial dimensions, you may need to size up to make sure your mask fully encompasses your nose and mouth to avoid any gapping around the cheeks, jawline, and/or chin.

Finally, let's talk about style. As you know, the key to accessorizing is to choose colors and materials that best reflect you and your personality. It may be tempting to opt for one single, neutral-colored face mask to use every day; however, this doesn't provide you the opportunity to wash your face mask appropriately or to truly let your personality shine through.
Instead, opt for at least three face masks in navy, black, and white or grey. You can swap them in and out of rotation whether you need to match a t-shirt or a tie. If you're feeling a little more daring, bright colors don't just have to be reserved for your socks. There are many reusable face masks on the market that come in a range of colors (like green, yellow, blue, and more!) to make your face mask the focal point of your outfit.
And besides, couldn't we all use a little more fun right now?