Warm Up Those Moves With Latin Artists Lucky Bossi And J Mado
Don't miss the stunning music video for "CONTIGO" by Latin artists Lucky Bossi and J Mado. This is a Reggaeton love song that will have you dancing and enjoying yourself wherever you are.
Lucky Bossi, straight from the Colombian city of Cali, and J Mado, the Texas-based talent known as "The Poet of McAllen," are on a mission to conquer fans around the world with their infectious Spanish tunes.
Conversely, the eye-catching visuals were filmed in the vibrant city of Miami, featuring popular locations such as a downtown bar and a rooftop with breathtaking views. As a matter of fact, Jose Javi Ferrer, a Puerto Rican filmmaker whose clients include Daddy Yankee, Anuel, and J Alvarez, directed the entire clip.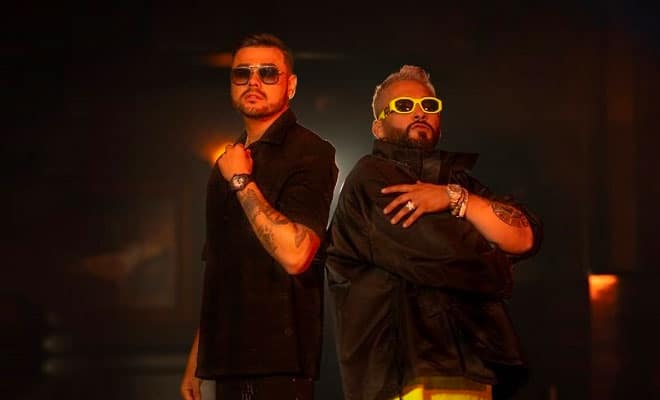 Above all, these Latin artists will embark on an international tour, which includes stops in Central and South American countries. Definitely, a great opportunity to witness their energy and passion in person.
Without further ado, "CONTIGO" is worth a listen because it combines your love for dance-friendly rhythms with heartfelt/romantic lyrics. Not to mention, this singularity makes it easy for you to connect with the whole composition emotionally, and it doesn't require you to be bilingual.
CONNECT WITH J MADO NOW!
La Favi & Ms Nina Deliver New Fan-Favorite Song, "Bebiendo"
La Favi and Ms Nina have teamed up to deliver a new fan-favorite song called "Bebiendo." This Reggaeton track is already gaining traction on streaming platforms and social media, with listeners praising the catchy sounds.
It's worth mentioning the music video for "Bebiendo" takes place in a bar and features a poker game session, adding to the tune's overall vibe of forgetting your worries… Beyond that, the location also captures the essence of the song, with its cabaret aesthetics.
So, the Spanish lyrics in "Bebiendo" are all about chugging drinks to get numb and erase a broken heart. That's a message that hits home for a lot of folks who've been there before, which is why the song is so relatable.
What's more, La Favi and Ms Nina's vocals complement each other harmoniously. Definitely, "Bebiendo" is a collaboration that was well worth the wait.

In short, "Bebiendo" is a fantastic addition to La Favi and Ms Nina's discographies, showcasing once again their creative ability to paint pictures with their clever rhymes.
And believe every single word when I say this fresh release is a new fan-favorite song and a staple in the Reggaeton genre!
CONNECT WITH LA FAVI NOW!
Top Latin Dance Song: J Prince, Maria Lamuela – Que Rica
There are several factors that contribute to a song's popularity in the Reggaeton genre, including its beat and overall energy. Well, here's a top Latin dance song called "Que Rica" that will get you twerkin' today.
Hailing from Spain, J Prince and Maria Lamuela unleash one of the most impressive collaborations of 2023. Plus, it's impossible not to get moving thanks to the uptempo sound and rhythmic dynamism of their rapid-fire delivery.
Needless to say, such a top Latin dance song was designed to be enjoyed by audiences worldwide. And just in case you were wondering, the lyrics express a burning hot passion between them, despite facing many ups and downs.
It's apparent J Prince and Maria Lamuela have good chemistry when it comes to creating earworms. By following regional preferences and cultural trends, you can tell this is another piece of contemporary urban music that deserves chart-topping success.
Add to this, Reggaeton has become increasingly mainstream in English-speaking nations, with thousands of radio stations and online platforms featuring similar artists. At the end of the day, whether you like it or not, its growing popularity is inevitable.
CONNECT WITH J PRINCE NOW!
Reggaeton Made In Argentina Is Taking Over, Meet Tiago PZK
Hey guys, have you heard about Tiago PZK? This rising star from Argentina is quickly making a name for himself in the world of urban music. Just recently, he released the video for his new single "Me Olvidé" and it's got everyone talking.
If you haven't seen it yet, the visuals take place on a party plane, and is seriously one of the coolest clips I've seen in a while. Moreover, the whole vibe is fun and upbeat, and you'll be tapping your feet and bobbing your head along to the catchy beat.
Now, you might be wondering why Argentina seems to be producing such amazing Reggaeton talents lately. Well, the truth is that the country has always had a vibrant music scene, and lately their up-and-coming singers are just as good as the best artists coming out of Puerto Rico where the genre was born.
But what really sets Tiago PZK apart from the rest is his unique style and relatable lyrics. "Me Olvidé" talks about a relationship where someone gets betrayed. Consequently, he forgets all the dreams and illusions with his girlfriend.
At the end of the day, it's a theme that many of you can relate to, and Tiago's delivery is so heartfelt and honest that you can't help but feel the emotion in every Spanish word.
CONNECT WITH TIAGO PZK NOW!