Interview | Questions & Answers With Enzo Sprigg

Last month, I reviewed Enzo Sprigg's new album 'Cosmic Bipolar Nebula' and my initial impression was quite positive. In no time, this left me with the desire to know further details. Currently, he is expanding his artistic vision to new horizons. So, I was fortunate enough to interview him. Enzo took his time and literally explained everything about his latest release!
1 – What was your first exposure to electronic music?
I clearly remember seeing Gary Numan's "Cars" video and being completely blown away. Not only did he look like no one else I'd see before, the sound of the music was so futuristic and slick sounding. It also had a subtle edge and he seemed very forward thinking. I think that's why I like electronic music so much. It constantly sounds like the future.
2 – Does Enzo Sprigg has his own signature style?
 I would say my voice and lyrical approach brings a lot of my signature sound. Vocally I sing higher than most other male electronic singers. My voice is more like Martin Gore (Depeche Mode) than Dave Gahan. I think that gives my songs a bit more vocal range and is also a big part of my sound. I also play with genres a lot so I try to stretch and expand my songs beyond standard electronic music. I'm still developing but I don't want to stay in one place musically.
3 – Why did you name your newest album 'Cosmic Bipolar Nebula'?
I wanted something memorable and descriptive to what the album is about. "Cosmic" because I make it a habit to try to think beyond myself. I also wanted the album to sound spacey and psychedelic. "Bipolar" because I pressed myself to explore both the lighter, euphoric side of my personality as well as the sorrow and pain I carry. I knew this would make the body of songs dynamic and varied. "Nebula" was my last word because I always strive to be shifting, growing and changing, moving beyond myself into new territories musically. What's weird is after I released the album I found out that Bipolar Nebulas actually exist! Google it!
4 – I read that you were involved in almost all its recording process. How good and bad is to be a multifaceted artist in today's music industry?
I personally think it's great and suits me well. I doubt it's better for my career but to be honest that's not my main motivation. I'm always looking to grow and learn as an artist. Doing as much of the work myself helps me do that. Besides, I tend to be hyper-productive anyway and would prefer to work on something musical or artistic than nearly anything else.
5 – Was David Bowie's music your biggest inspiration on this album?
A bit of Bowie's direction is in everything I do. He is just a blueprint for the sort of artist I want to be. Musically, I don't think we sound the same though. I'd say his approach to songwriting (i.e. doing his own take on shifting genres) is definitely there on this album. The spacey theme is a subtle nod back to his Ziggy days. Sort of a tribute to his passing which was a big loss for me.
6 – Which song features the most profound lyrics?
I think the song "Oh Mother" is the most personal song on the album. I'd been wanting to write a song for my mother for a few years now. She is a very creative person and early on in my life showed me the way to express myself and encouraged everything I did artistically. The song also talks about how the world and time can take you away from the ones you love. The loneliness of that. It's a pretty heavy song emotionally for me and when I was recording I had to take time to collect myself. I think you can feel it in the song.

7 – How many instruments, tools, and software were used?
Well, there are acoustic and electric guitar parts here and there but for the most part I wrote, sequenced, and produced it all in Reason 9. It's incredibly flexible music software and I feel I can create any sort of song I want with it.
8 – I really like the Space art concept on your album artwork. Do you believe life exists anywhere else in our Universe?
I sure hope there is. Not the most efficient use of space if not. One side note about the album cover. The porthole on the cover is actually what my mirror looks like in my bathroom. I look at my face every morning through it so it has sort of an inside meaning. This album is meant to be a journey inward so that's why the cover looks like that.

9 – Are you planning to release a music video anytime soon? If yes, give us more details.
Yes and I think the first one will be for "Oh Mother". I also want my mom to be in the video. I think that would give it so much emotional power and I'd love to share that moment with her. I've already started the planning on it so expect it in the new year. I'm also planning another hand-drawn music video. That will come after "Oh Mother".
10 – Finally, I know besides being a musician you're also a Makeup/Costume Designer. What is your favorite past Halloween costume?
Actually, I'm pretty happy with how this year's Halloween costume turned out. I handmade a Night King costume (from Game of Thrones). It was very complex both in makeup and clothing but was also a lot of fun to make! The reaction people gave me when I walked in the room was worth all the time I put into making it.
---
CONNECT WITH ENZO SPRIGG NOW!
Facebook
Twitter
YouTube
Instagram
Interview With Legacy: Rap, Poetry, New Music & More

Get to know Legacy, a skillful rapper who dominates the art of poetry like none other. Hailing from Arizona, his songs are gaining a lot of traction with almost 15K streams on SoundCloud. If you are looking for fresh Hip-Hop talents, then scroll down to read this interesting interview.
1 — Can you recall the moment when you thought you could be a rapper?
Honestly, I don't think I really decided lol. I was writing some poems one day and started learning how to time the syllables to the instrumentals I would find on YouTube and it became something I couldn't stop doing.
2 — How do you think your hometown has influenced the kind of music that you make?
My hometown influences everything I do, it's why I'm anxious, depressed, and happy all at the same time. Every day can be good or bad, someone can give me a dirty look one day or trash talk me and I remember the instance and add it to the stories.
3 — What's so special to you about poetry that you seem to love so genuinely?
Poetry requires you to face the darkest emotions. It makes you think about and actively reflect on everything you do and say. So when I've had a bad day, instead of bottling it entirely, I can vent through a verse – which in turn people hear and support my efforts to make it through my everyday life.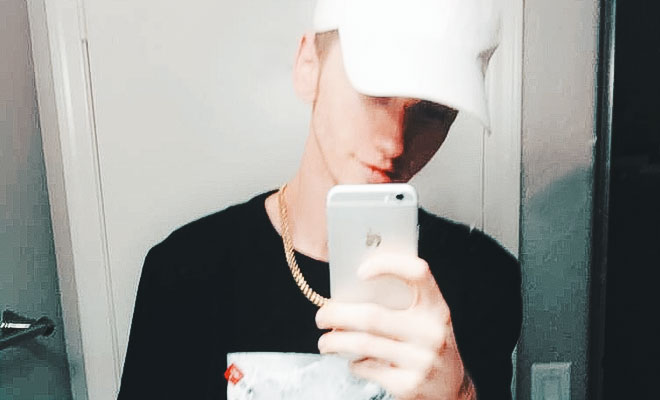 4 — Where did you take the inspiration to write most of your lyrics?
The inspiration lives in the lifestyle, the good experiences, and the bad.
5 — Do you think a good rapping performance comes from a good rapping technique? If so, what's yours?
In my opinion, if the fans/listeners are connected to what you're saying emotionally, and mentally, your performance has achieved its goal. People like having people they can relate to, all I'm doing is bringing those emotions into a poem and instrumental.
6 — Please tell us more about your song "Bad Feelings". What's the message behind it?
"Bad Feelings" is actually quite old and I'm just now really pushing for the exposure while my page is still young. However, the message never dies. What I really want people to take away from this song is that no matter what happens, no matter how hard it gets, just keep doing your thing. Time will make it better. Set goals. Keep dreaming. The longer you wait the harder it gets.
7 — As an artist, how do you deal with criticism?
Criticism is everywhere. You can walk a certain way and be judged for it. Listen to the bad things, only sometimes, when they help you improve. And hold the good things close and carry them with you. The good comments and feedback are almost a shield to the bad. They help you realize that one bad comment is one of many other really good ones. So all you can do is keep moving.
8 — Are you afraid to experiment with different music styles?
Yes, and no. It depends on the meaning of "style." Like, I hate my singing voice but I'm not afraid to try out other flows and techniques.
9 — What are your current projects?
The "Mindset EP." I'm dropping two more tracks as of right now to finalize the project. "Motion" and another untitled track that I'm working on in collaboration with my newest partner "Yung Cubb".
10 — Finally, if you weren't an artist today, what else could you see yourself doing?
Being a pro-CoD player. 💀
---
CONNECT WITH LEGACY NOW!