Man Parrish On The Meaning Behind 'The Art Of Pop' — Interview
It's an incredible privilege to interview an influential figure in the history of American electronic music like Man Parrish. He is ready to impress this decade with a brand new album, 'The Art Of Pop'. A collection of re-invented Pop classics from the Godfather of Electro along with some great vocalists. Be the first to discover the most important details of this fantastic project exclusively here!
1 – Can you reveal to us the artists that inspired you to compose your new album 'The Art of Pop'?
Wow! That's everyone in the '70s, 80's and 90's! I absolutely LOVE pop music [always have] and these tracks, 24 of them, are the top picks that I enjoyed growing up. Let's do some "name dropping"!
Soft Cell, Depeche Mode, Dead Or Alive, Telex, Bowie, Eurythmics, Erasure, Robert Miles, Bananarama, Ramones, Yazoo, Buggles, Freeze [a,e,I,o,u], Giorgio Moroder, Michael Jackson, Irene Cara, Donna Summer, Madonna, The Normal [Warm Leatherette original version] … I could go on, but these are the artist we used for inspiration on this new album "The Art Of Pop". I would like to mention that these are NOT remixed but true REMAKES of the original tracks from scratch. No sampling here. I went back to the original synthesizers that the original artist used and re-programmed their sounds. Of course, I added my own new stuff to make it fresh, but you'll definitely recognize a few familiar things and be surprised but some new twists and turns!
2 – What does the "Art Of Pop" represent?
"The Art Of Pop" is really about paying respect to a genre that most people take for granted. Yes, I know… people roll their eyes around many pop tunes because they are so cheesy or un-cool, but in fact, a well-crafted pop tune is quite difficult to create. You're bound by "pop" guidelines, time [like 3 minutes 46 seconds] and song structure. It's crafted to sound effortless, but it's quite difficult. That's why many groups have only a few pop hit songs. This for me was a big challenge to keep the original feel AND still keep the pop aspect. I'm paying homage to a genre that most people don't consider important.
3 – Can you reveal to us your favorite tracks from this album?
I programmed, played, produced and mixed everything, so it's like asking, "what's your favorite child". But a few that I really like are "Share Your Body Down" [Michael Jackson] because it's a dangerous one to redo. When you do a monster hit, you risk ridicule, This one really works! Also, Telex Moskow Diskow, Flashdance, Warm Leatherette, Situation for starters..!

4 – What is your writing process like?
Varies on my project. This one, since I knew the tracks were LISTENING! I know that sounds stupid, but if you can't REALLY listen, break down not only the parts but the feeling and movement of the music, you can't re-create it with any quality. Once I FEEL the track, I usually do a scetch on my MacBook Pro in Logic. Sometimes laying in bed! Once I get a good demo idea, then I got to my big studio and start layering sounds and playing parts to make up the track. THEN, and this is important, I sit back, make-believe I never heard the track [usually a day later] and edit anything that rubs me the wrong way. It's a hard one because I love this part and that, but I'm not making this for myself. I'm making this for you to enjoy. Editing is critical. Then it's mixing and mastering.
5 – Did you collaborated with other artists?
Always, but in this album, it's Steven Jones, Corey Tut, myself and Mikey Redvenom for vocals. I did the rest.

6 – Where exactly was this album recorded? How long did it take you to complete this project?
I have a place in Manhattan and in Florida. I love Florida because I can escape the craziness of the city, think and focus on work. So both places. I can work pretty fast, but these 24 tracks took about 6 months [with a week here and there for rest] to finish.
7 – How different is 'The Art Of Pop' from your previous records?
Most other works have original content. This is the first album of ALL remakes. I've matured musically and I don't think I would have been able to have done this 5 years ago. I'm quite proud of the "interpretations" that came out. Funny, these things have their own life. They seem to take on a personality and develop and I go with that flow and help it become realized. I know that sounds weird, but it's how it works for me.
8 – Are you planning to drop a music video?
YES! We secured some amazing footage for VOGUE. It's not Madonna, but it's a twisted version of the original Vogue video. I think it's going to be really cool.
Since streaming came about, indie artists find it expensive to tour. Like $100,000 just to rent venues and sound systems and lights. That not even including a crew and hotels, transportation and food! YES, I WOULD LOVE TO TOUR, but we don't have that kind of money. But if anyone wants to fund us, we'll work out a very fair deal!
10 – Any words of advice for those fearing with rejection in the music industry?
Yes… F*CK them if they reject you. It's not meant to be. Seriously. Don't go against the grain and try to force something the universe is trying to keep you away from.
I know many artists that pursued big or glamorous deals, either to be rejected or pushed themselves in those situations, only to fail.
In today's online world, you can be massive WITHOUT a manager, big label or producer. Do your THING, and if it's pure and true to yourself, the world will notice. Now… Will that be instant or 10 years later, who knows, but it will be yours, pay you back for your hard work and YOU will be in control and never ripped off. Listen to me, I've been doing this for 45 years! One more thing. If you think you'll sit back and be discovered, you'll fail. EVERY successful person, no matter what profession puts in long hours of work. Think of it this way [and here's the real key] … The energy in – Energy out. Put in a lot of work and you'll succeed. Just show up and wait to be discovered, and you'll be waiting forever. No matter what you do in life. Much love to you, and now that you have the real info, go out and conquer the world!
---
CONNECT WITH MAN PARRISH NOW!
Interview With Legacy: Rap, Poetry, New Music & More

Get to know Legacy, a skillful rapper who dominates the art of poetry like none other. Hailing from Arizona, his songs are gaining a lot of traction with almost 15K streams on SoundCloud. If you are looking for fresh Hip-Hop talents, then scroll down to read this interesting interview.
1 — Can you recall the moment when you thought you could be a rapper?
Honestly, I don't think I really decided lol. I was writing some poems one day and started learning how to time the syllables to the instrumentals I would find on YouTube and it became something I couldn't stop doing.
2 — How do you think your hometown has influenced the kind of music that you make?
My hometown influences everything I do, it's why I'm anxious, depressed, and happy all at the same time. Every day can be good or bad, someone can give me a dirty look one day or trash talk me and I remember the instance and add it to the stories.
3 — What's so special to you about poetry that you seem to love so genuinely?
Poetry requires you to face the darkest emotions. It makes you think about and actively reflect on everything you do and say. So when I've had a bad day, instead of bottling it entirely, I can vent through a verse – which in turn people hear and support my efforts to make it through my everyday life.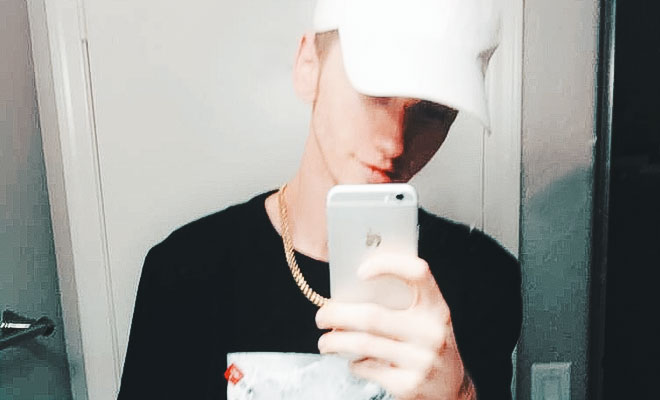 4 — Where did you take the inspiration to write most of your lyrics?
The inspiration lives in the lifestyle, the good experiences, and the bad.
5 — Do you think a good rapping performance comes from a good rapping technique? If so, what's yours?
In my opinion, if the fans/listeners are connected to what you're saying emotionally, and mentally, your performance has achieved its goal. People like having people they can relate to, all I'm doing is bringing those emotions into a poem and instrumental.
6 — Please tell us more about your song "Bad Feelings". What's the message behind it?
"Bad Feelings" is actually quite old and I'm just now really pushing for the exposure while my page is still young. However, the message never dies. What I really want people to take away from this song is that no matter what happens, no matter how hard it gets, just keep doing your thing. Time will make it better. Set goals. Keep dreaming. The longer you wait the harder it gets.
7 — As an artist, how do you deal with criticism?
Criticism is everywhere. You can walk a certain way and be judged for it. Listen to the bad things, only sometimes, when they help you improve. And hold the good things close and carry them with you. The good comments and feedback are almost a shield to the bad. They help you realize that one bad comment is one of many other really good ones. So all you can do is keep moving.
8 — Are you afraid to experiment with different music styles?
Yes, and no. It depends on the meaning of "style." Like, I hate my singing voice but I'm not afraid to try out other flows and techniques.
9 — What are your current projects?
The "Mindset EP." I'm dropping two more tracks as of right now to finalize the project. "Motion" and another untitled track that I'm working on in collaboration with my newest partner "Yung Cubb".
10 — Finally, if you weren't an artist today, what else could you see yourself doing?
Being a pro-CoD player. 💀
---
CONNECT WITH LEGACY NOW!